'With folded hands, on humanitarian grounds, if she can get temporary bail on medical grounds so she can get treatment.'
'If she dies, the whole trial gets derailed.'
Vaihayasi Pande Daniel reports from the Sheena Bora murder trial.
Illustration: Uttam Ghosh/Rediff.com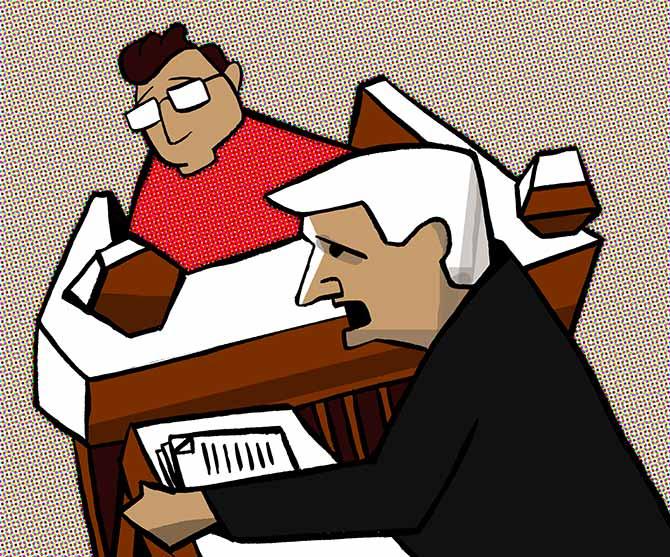 Last night I dreamt of Indrani Mukerjea. The dream took me back six years in time.
Instead of a journo I was a sleuth tracking her mysterious movements in 2012 in the immediate run up to Sheena Bora's murder.
Indrani in the dream was peripatetic, leading a breathless, exotic life, booking air tickets to travel here and there and journeying between Goa and Mumbai and elsewhere. But it all had an odd purpose behind it. For that reason I was her tail.
It wasn't clear, when I woke up, whether I was able to, filmi heroine-style, save Sheena, but maybe I had.
Dreams have a way of rewriting timelines and sometimes adding a new and happier twist to them.
They make people who have died, and you dearly miss, come alive. And pencil in more exciting events in your life than you would normally have.
Someone had once tweeted: Wouldn't the entire country rejoice if Sheena was found alive and well somewhere?
Yes, wouldn't we all be delighted to discover that the remains of the body found in the dense underbrush at Gagode Khurd, Raigad district, were not young, beautiful Sheena's?
And instead she might come treading noiselessly, any day, into Courtroom 51 to tell us she was alive.
What a miracle that would be.
Meanwhile, apart from dreaming, the very best one can do for Sheena is to keep reporting on her murder trial hoping she finds justice in death.
Her trial is representative of innumerable tragic murder cases across the nation and affords a peek into what a country finally does for the innocent victim of a murder.
We need to know. We owe it to them.
Back to less-rosy reality: Thursday, August 30 saw the arrival of Prosecution Witness No 16 in the witness box in the Sheena Bora murder trial before CBI Special Judge Jayendra Chandrasen Jagdale at the Mumbai city and sessions court, Kala Ghoda.
He was Irfan Fakrullah Khan, 37.
Khan, who works for a real estate brokering firm named Reshamwala Estate Consultants in Marol, Andheri, north west Mumbai, was a man of medium height, clean shaven and wearing black glasses, a red-and-black-checked shirt, and dark trousers.
His role in the case was rather peripheral. It seemed innocuous.
Khan's introduction into the trial looked to be a formality, to make sure that together the testimonies of all the witnesses built a sturdy, unbroken record while constructing a solid, complete picture of the events of the case, as projected by the prosecution.
CBI Special Public Prosecutor Bharat Badami guided him through his deposition of evidence.
Khan's connection with the murder began, apparently, out of the blue, on September 1, 2015. He was at his tiny office in Marol.
Khan got a call from his boss Aslam Reshamwala (whose display picture on Facebook features Aslam posed dramatically with shades and a pistol; he seems to be a small-time actor too) deputing him to visit Flat 607, B2, at Lok Raunak Apartments, a housing colony with a few buildings of six or seven floors each, located near Bori Colony, Marol and meet some police personnel there.
Inspector Pawar and Constable Rakesh Kamble of the Bandra police station, north west Mumbai, were waiting at Lok Raunak. They told Khan they were investigating the Sheena Bora murder, news of which had broken six days before.
The flat was owned by a young couple named Domnic and Melanie Machado and had been given on rent for two years to Sheena Bora and Rahul Mukerjea, Peter Mukerjea's son from his first marriage to Shabnam Singh.
Badami, who had been steering Khan along ably, asked him to summarise what transpired at that meeting.
Badami: "Kya-kya documents produce kiya? (What documents did you produce?)"
Khan said he had to submit the leave and license agreement made with Sheena and Rahul and one more document.
"Police documents ko custody mein liya (The police took these documents into their custody)."
The documents had the Machados' signature on them already.
A panchnama (recording of evidence in presence of witnesses) was drawn up and "Saath mein koi banda tha. Sign liya (There was one more fella there with me. They took our signatures)."
The two policemen signed too.
In one or one-and-a-half hours the job was done.
The way Khan described the events, like he was out buying dal-chaval-doodhi, with hardly any excitement/inflection or colour in his voice, it seemed September 1 that year was just one more rather ordinary, average day in the life of a small-time Mumbai real estate broker.
And not his minor debut into the investigation of a shocking murder that had every news channel in a breathless tizzy and was shaking up the country at the time.
A filicide that was beyond India's imagination, because Indian mothers, who are invested with a special divine holiness they may not want, are supposed to be incapable of even contemplating killing their daughters (in a land where if a father kills his daughter it may be euphemistically regarded as an honour killing).
After that Khan got a call from the CBI and he visited the CBI office at Nariman Point, near the Air India building to give his statement to their Investigating Officer Kaushal Kishore Singh there.
Usually CBI Special Public Prosecutor Kavita Patil verbally escorts witnesses through their 'examination in chief' in this trial. She was absent, so Badami was conducting it.
The CBI prosecutor, who has 30 long years of experience under his belt, is a white-haired man with a loud voice and an authoritative courtroom presence. He usually argues in Hindi or English, not breaking into Marathi that much.
Badami, 62, has been appearing in these courts for three decades, working on at least 100 cases a year during his tenure. But this senior prosecutor hasn't always been a lawyer. He came as a young boy in Class 8 to Mumbai from the village of Variav on the banks of the Tapti river, near Surat, Gujarat.
In Mumbai he finished his studies earning a BCom degree and got a job as a factory worker making pipes at Polyolefins Industries Ltd, Ghansoli, Thane, north of Mumbai.
His nani had always dreamed he should become an advocate, so every evening Badami left the Ghansoli plant slightly earlier than the rest, with the owner's blessings, exchanging his boiler suit for street wear, travelling 41 km, to attend night classes at the Siddharth College of Law, south Mumbai, and earn a legal degree. He joined the court in 1982.
Once Khan had provided the last details of his interaction with the CBI, Badami asked him if he could identify the documents he had signed on that afternoon in 2015.
The lady clerks opened up a couple of trussed up dusty cloth bundles and pulled out the relevant papers. Khan scrutinised them and vouched for his signature.
His 15-minute recording of evidence and 900-second stint in the spotlight was over.
Badami, bowing his head to the judge: "That's all. Obliged."
Indrani's lawyer Gunjan Mangla said the as always dizzily-busy advocate Sudeep Ratnamberdutt Pasbola had been delayed in another courtroom, among the 15 or so he would probably attend that day, but that he would be along in 15 minutes to cross examine Khan.
After 20 or 25 minutes there was still no sign of Pasbola. Mangla despatched a small search party to comb the dingy building for the dapper, indefatigable advocate. His fellow team members and junior colleagues, who are quite used to this, set out looking for him, as did Mangla.
Meanwhile Abad Ponda, the well-known lawyer, came popping by, trailed by five assistants, to have a word with the judge. The lawyer spoke about having to bring the 'whole board' to court and since Monday was Janmashtami, he was seeking an early time on Tuesday.
He swept out and stopped to chat with one of his clients outside the courtroom and announced, half-humourously, "I am giving you some homework to do too."
The natty-looking Ponda, whose parents were once equally famous in these court corridors, said he was now representing five of the Nirav Modi-PNB scam accused, all past employees of that bank apart from one -- Bechu B Tewari, Yashwant Joshi, Praful Sawant, Mohinder Kumar Sharma and Sanjay Rambia, partner in the chartered accountacy firm Sampat and Mehta.
During the breather, Peter Mukerjea's lawyer Anup Pandey got up to make a few corrections in the evidence transcript of last week's cross examination of Mekhail Upendra Kumar Bora by advocate Shrikant Shivade.
Indrani, in white and light green, wasn't looking herself at all in the accused box behind. Listless and drained, moody, her eyes were unnaturally large. Her drawn face was wiped of its customary vigour and chirpiness. She was a pale shadow of her usual self.
Mangla finally came back and announced that Pasbola would not be able to make it and had asked her to proceed.
The judge beamed with approval.
Looking at the team of young lawyers in front of him, representing Accused 1, 2 and 4, he offered positively: "Every senior should tell their junior to handle such types of 'cross'. All of you must (each) have 10 years of experience."
Mangla meekly, modestly: "No sir, half of that."
Badami, magnanimously rah-rahing Mangla along, added something about her competence and exclaimed: "In spite of her age!"
Judge Jagdale: "Unless a junior gets a chance to cross..."
As inconsequential and harmless as Khan came across, Mangla, who was on Thursday wearing a fetching white kurta with sequins, a black churidar and glittering Kolhapuri chappals, was all out to discredit him as a witness.
Mangla had a well-defined trajectory of how she was going to go about it and that quickly became evident, as she began adding fact by fact to the picture to make the court view Khan slightly differently.
Addressing him courteously as "Irfanji", she asked him about his work experience and education -- he was a 12th class pass (St Lawrence High School, Marol) and had been working for 11 years.
Mangla then pointedly checked with him about his fluency in English, Hindi and Marathi, given that his statements to the CBI and Mumbai police would have been in English and Marathi.
Mangla: "Aap Hindi, Marathi, English padh, likh aur bol sakte hai? (Can you read, write and speak Hindi, Marathi and English?)"
Khan could speak Marathi but not read or write much in that language. And his "fluency" in English he said was not very good.
She did a quick rewind of the events, checking timelines and sequences with Khan.
Hadn't his boss told the CBI that Khan had got a call from the Bandra police?
From the Bandra police station had he gone to the CBI by himself or accompanied by police officers?
Khan hadn't mentioned anything about visiting the Bandra police station in his just-concluded testimony.
He started saying, "Sure nahin hai. Bandra police station mein gaye the. Wahan se gaadi mein CBI office gaye (I am not sure. Had gone to Bandra police station and from their by a vehicle to the CBI)..."
Confusion set in. His statements reflected one sequence. His testimony before court another.
Khan was stumbling around. Initially one could not understand why.
Slightly ruffled, he now denied going from the Bandra police station to the Marol address, well because he had just said two minutes before that he went from the Bandra police station to the CBI.
His statements were conflicting bringing to life that simple Mark-Twain adage: If you tell the truth, you don't have to remember anything.
Mangla: "Did you go from the Bandra police station to Andheri?"
He shook his head.
Mangla plaintively appealed to the judge: "My Lord, my Lord," and asked him to see Khan's statement.
Badami, mocking her perhaps for being immature: "My Lord, my lord kya kar rahi hai? (Why are you going on saying 'My lord, my lord'?)"
Mangla complaining to the judge: "I am not going to address the court in any other way. Why is he saying 'My lord, my lord kya kar rahi hain?'"
The judge ignored their bickering.
Later Badami told Mangla he was just deliberately countering her at every point so that she could learn and become "strong."
Mangla, in reference to Khan's written statement: "This is different from what he is saying."
The judge, reading it, nodded and mused smilingly: "Every omission is a contradiction. The sequence has changed." Inexplicably.
Now who was this Khan? Was all he appeared to be?
Apart from jumbling up the sequencing, Khan had told the court he got a call from his boss asking him to meet the police officers, but in his statement said he got a call from the Bandra police station.
Further, Mangla pointed out that the documents produced before the court which had Khan's signature on them were xeroxes.
The judge carefully examined them and over Badami's objections concurred with Mangla.
Mangla, strategically asked: "Kamble ko pehle se jaante hai iss liye bola tha aane ke liye? (Did you know Kamble from before and that was why he asked you to come?)"
Khan: "Nahin janta the (I didn't know him)."
But Khan more or less maintained his bland equanimity throughout the cross examination, not getting particularly riled or discomfited by Mangla's questions or their direction, right to the end, as if this too was an experience as run of the mill as showing a client a flat or sitting in his Marol daftar (office).
Mangla: "Bandra police station mein kabhi gaye the 1/9/2015 ke pahele? (Have you ever been to the Bandra police station before 1/9/2015?)"
Khan: "Iss relation mein? (In relation to this matter?)"
Mangla: "Koi bhi relation mein? (In any connection?)"
Khan: "Nahin gaye the (I have not been)."
Mangla, who was now in the swing of things, striding ahead boldly with her queries, a glint in her eye, wondered why Khan would just up and leave his office to meet some random police officers on a sudden and extraordinary request from his boss.
Wouldn't he have first refused or protested saying he didn't want to deal with the police, which is a daunting task for anyone?
She too was trying to rustle up some excitement and emotion out of Khan, perhaps sensing something strange about his unflappable composure.
Khan impassively: "Flat toh humne diya tha (We gave this flat on rent to them)."
Mangla's line of questioning was clear, as the unexpected bright sun in Thursday's less cloudy monsoon sky.
She was wondering if Khan already knew the police officers from before and had been called in as a convenient panch (witness), with whom the police were acquainted with.
While ending Khan's cross examination, Mangla accused him, saying she didn't believe he had even gone to the housing society or signed the panchnama there.
She didn't think the panchnama had been drawn up in front of him and he was giving false testimony at the behest of the police and the CBI.
Khan disagreed, saying he had only said what had happened. Calmly. Unworriedly. Without heat.
He left the court, half an hour later, in his athletic shoes, unhurriedly, to go back to Marol and his mundane real estate-ing, like a girl named Sheena Bora had never interrupted his life momentarily.
The next hearing in the trial was set for September 6.
Indrani's bail application is still pending. So is former Mukerjea driver Shyamvar Pinturam Rai's.
There is no word on Rai's plea. Badami had on the CBI's behalf already delivered his final arguments against Indrani's bail plea on August 28 countering Pasbola's earlier arguments.
On that day Badami made a couple of critical points in his ponderous style.
Preparing for a court appearance or replies to pleas/applications/petitions is much easier these days and requires just a little additional work in the evening, the prosecutor said.
It does not require "burning the midnight oil" like it used to, with the advent of the Internet to look for case references and material to bulk up arguments.
Badami argued that the grounds and circumstances for refusing Indrani's 2016 bail plea were not any different two years on, he told the court, except on one count, her testimonies in two different cases (The death of Byculla jail inmate Manjula Shetye and in the Karti Chidambaram INX case).
As far as her medical and physical security went, Badami believed Indrani was safer in prison, where an ambulance was already available always on government expense he emphasised.
"Medical treatment is being given to the applicant whenever and without looking if daytime or night. Without wasting time. Can't take a chance, absolutely, on the life and liberty of an individual and there have not been even one instance her not being given aid, or reluctance or non-cooperation," Badami said.
If she still felt unsafe they could:
1. Move her to another jail in Maharashtra and video conference her in for the hearings. "Day and night and day and day video conferencing facility is available."
2 Keep an ambulance, 24/7 reserved just for her, so just like "one call Olas and Ubers to go here and there, an ambulance will be there."
Grounds for refusing bail also rested on the fact, Badami declared, painting the pale Indrani ten shades darker and sinister than she already has been depicted, that Indrani had a British passport, could flee any time.
And outside jail she might tamper with witnesses: "She can tamper with the prosecution witnesses having two powers -- money and muscle."
Pasbola, who was also present, countered him saying: "With all due respect to my learned friend there is no question of absconding. Her passport is with the court. It is not so easy for a person to abscond."
"My learned friend was saying muscle. I don't find any muscle on her!" perforce making the court summon up a vision of the rail-thin Indrani.
He also added three points. That quarterly medical assessments of Indrani were not happening. And even if an ambulance was kept on call, there were always delays in getting an undertrial to a hospital, because police escorts had to be organised.
Moving her to another jail would not help her apprehensions about there being a threat to her life because, as he had said earlier, associates of the accused in the Shetye case were all over Maharashtra.
Pasbola: "With folded hands, on humanitarian grounds, if she can get temporary bail on medical grounds so she can get treatment. If she dies, the whole trial gets derailed."
Badami said he had not made a stereotype submission and he felt she definitely had the ability to tamper with a witness.
Pasbola asked him to substantiate.
Badami said he did not want to then and instead whispered something to the judge.
The prosecutor concluded saying that in jail Indrani had access to any kind of medical attention and purely medical grounds was not reason to grant bail.
The judge will give his ruling on Indrani's bail application on September 5.
Rai's future is still up in the air.