A mere pair of shoes sets off the kind of harsh condemnation Indrani draws in these corridors of justice.
That she being a woman who killed her daughter -- never mind that she is an undertrial and the crime has not yet been proven -- apart from making her an object of curiosity, also makes her, by perception, more evil than the men that flood these corridors, facing trial for similar or worse crimes.
Vaihayasi Pande Daniel reports from the Sheena Bora murder trial.
Illustration: Uttam Ghosh/Rediff.com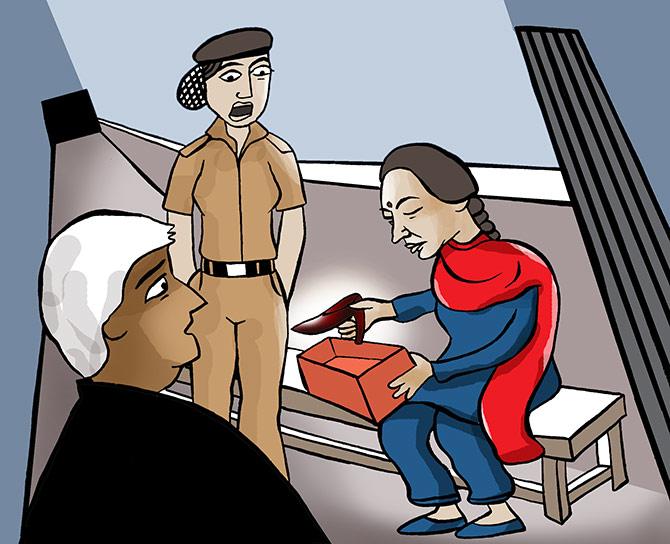 Indrani Mukerjea got a trendy new pair of shoes on Friday, January 5, 2018.
An elderly lawyer friend, who is not representing her in the Sheena Bora murder trial but supports her, brought her a New Year gift, it would seem.
A tan pair of high heels emerged for her from a box emblazoned with the logo Rosso Brunello, an online store for designer shoes.
Indrani, who was anyway looking girlish beyond her years on Friday, in a red and blue kurta ensemble with her French pleat hair do, became even more girly in her glee, as she contemplated the pretty footwear, her eyes snapping with delight.
She gave her friend a little foil-wrapped bar of chocolate, no doubt purchased from the jail shop.
The shoes, their expensive wrapping and Indrani's joy set off a chain of reactions down the gloomy corridors of the city civil and sessions court.
The smart-looking policewoman, her bun tucked under her hat, wearing a neat pair of regulation brown police shoes herself, who brought Indrani from Byculla jail to the court, glanced at the shoes and then carefully at Indrani.
She looked part-amused, part-uncomprehending, part-exasperated and muttered in Marathi something to the effect that she is getting small happiness and why not, but that then she always had to also remember who Indrani was and what she had done.
CBI Prosecutor Bharat Badami, who was circling between the CBI special courtroom 51 and the hallway outside, stopped in his tracks as he viewed this tableau.
He wondered aloud, in his theatrical manner, as to where Indrani planned to wear the shoes. Then he pondered if she could use the heels to attack someone in jail because she was, he alleged, a ringleader type over there.
Later, close to 1 pm, after Indrani (Accused No 1) had been escorted back to jail, Badami began chatting, in a mildly interrogative style, with the kindly lawyer who brought Indrani her heels.
He wanted to know what kind of lawyer he was and why he should be running these errands for Indrani and why didn't he send a "man" instead.
The advocate, who helped Indrani with her financial matters and apparently had known her and the Mukerjea family for many years, said he was trying to help her.
Badami seemed taken aback as if not all people were worth helping.
The prosecutor went on to talk about Indrani, the substance of his dialogue being to point out disapprovingly who she was like the lawyer may not remember.
He said he was "not doubting her character", but reminded Indrani's lawyer friend roundly, "But she killed her daughter!"
That conversation -- that, if you think about it, a mere pair of shoes set off -- was quite reflective of the kind of harsh condemnation Indrani draws in these corridors of justice.
That she being a woman who killed her daughter -- never mind that she is an undertrial and the crime has not yet been proven -- apart from making her always an object of curiosity, also makes her, by perception, more evil and reject-able than the men that flood these corridors, facing trial for similar or worse crimes, including the co-accused.
Friday's hearing was a washout and ended with an adjournment.
Even post 11 o'clock, when the trial was meant to start, no one was outside or inside courtroom 51 apart from Judge Jayendra Chandrasen Jagdale who had been on leave earlier, and his team of clerks and peons.
When Shrikant Shivade, Accused No 4 Peter Mukerjea's advocate, showed up, he looked perplexed wondering if he had got the date wrong.
But no the matter was up on the board outside the courtroom and a CBI officer was waiting further along the corridor.
Although Investigating Officer K K Singh was absent -- likely still in Ranchi, vital to the final wrapping up of the fodder scam case where former Bihar chief minister Lalu Prasad Yadav's sentence was to be delivered, but has been postponed to Saturday.
Then Sanjeev Khanna, sporting a new, red and black checked shirt for 2018, and a less attractive grey stubble of a beard, wandered in, without either Peter or Indrani in tow.
Evidently Peter didn't make that jail truck from the Arthur Road jail to Kala Ghoda, south Mumbai, because he was in the "beauty parlour", which is shorthand for his long toilette.
Someone sent by Peter's friends or family -- neither his sister nor his brother nor his adopted daughter were present -- waited anxiously with a hot flask of coffee/chai, a ceramic mug and a packet of sandwiches, wondering if the former CEO of Star India, and later INX Media, would finally show since Friday's trajectory of events at courtroom 51 was showing itself to be already quite peculiar and unpredictable.
Sanjeev was not brought into the apekshee (accused) enclosure of the courtroom.
It transpired that there would be an adjournment because due to a "law and order" problem Accused No 3 turned approver, Shyamvar Pinturam Rai -- the Mukerjeas' former driver -- had not been brought from the jail in Thane, an area still simmering from the Maharashtra bandh called on Wednesday following Monday's violence at Bhima Koregaon, near Pune.
Shivade and Judge Jagdale had a long exchange in Marathi about a critical application the senior lawyer had filed on Friday on behalf of his client 'Pratim@Peter Mukerjea'.
Shivade's courtroom style never wanders into theatrical territory and he never raises his voice, but his soft-spoken, persistent, long-winded detailed manner is quite effective in wearing anyone into agreement.
The application, Shivade explained to the judge, contended that the call data records the defence received of Rai's 2015 Airtel phone -- that took many months to arrive because Airtel's nodal officer first said that the company did not have them -- had been tampered with.
The CDRs had been converted into excel sheets via wrong legal procedure and when Shivade and his team examined the soft copy of it they discovered that it was "edit enabled", allowing whosoever to tamper with the data especially the "call timing", Shivade said.
As the application said: 'That the Nodal Officer Airtel has produced certain printouts purportedly of telephone number 9004812319 allegedly belonging to PW2 Shyamwar Rai. The said printout appears to have been downloaded from server maintained by the (sic) Airtel for the purpose of billing and other purposes.'
'Whenever a Nodal Officer is required to retrieve CDR, he has to make request to the concerned authority that in turn provides the CDR to the Nodal Officer in electronic format. The Nodal Officer takes its printout in Excel format which is essentially having an option of "Enable Editing".'
'Once this option is selected, any column or rows can be deleted, altered or added by the nodal officer. Thus the law requires generate such document by giving a certificate under 65B of the Indian Evidence Act and the same is mandatory while producing such electronic document provided either as a soft copy or in form of print out.'
Initially Judge Jagdale remonstrated with Shivade saying, "You are not making a contention but an allegation against the service provider."
Shivade agreed and added, "There has to be some connivance of the prosecutors."
The judge suggested it was a "technical point" that a "technical expert" had to explain.
The advocate offered, "I have a cyber expert with me," pointing to his colleague lawyer Vishal Gupta.
"This is a generation gap (issue)," Judge Jagdale said with a laugh.
The application also alleged that the cellphone handset number was spurious, with 'Further the prosecution has supplied IMEI (cell phone instrument serial number) no in column 9 throughout in the said CDR the number 358914057081990 has been given as IMEI number which is clearly fictitious one.'
'The accused states that the entire incident of seizure of weapon at Carter Road (north west Mumbai in 2015) has been seriously disputed by the accused and in order to support this fictitious incident the CDRs have been manipulated by the police.'
The judge then proposed that he needed to give the issue much more consideration and that he was not sure.
"At this stage I cannot convince myself," Judge Jagdale added with some thought. "One should not conclude anything at the primary stage."
The judge firmly requested that this issue should not interfere with the ongoing cross-examination of Rai -- although Shivade's application on Peter's behalf suggested it did -- which is in its final stages, ever since it began last August, and that Shivade should conclude his querying of the driver on January 9, the fresh date set for the next hearing, after an unshaven Badami swept in.
Shivade reluctantly consented and Friday's abbreviated matter came to a close.
Sanjeev's lawyers were not there, nor any family, and he sat about killing time. His police escorts finally took him away.
Shortly after Peter arrived, he pored over legal documents with Shivade and Gupta, had his meal and then departed.
Finally Indrani wandered in looking for her lawyer team -- "Have you seen Gunjan (Mangla)?" -- who were not in either.
Instead she sat around on the wooden benches outside, bantering with her lawyer friend, the women police, after she had opened her shoes.
She probed Badami about why he was trying a new look. If Narendra D Modi could sport a look like his, Badami said, so could he.
"Are you trying to be like Modi?" Indrani asked.
When Indrani was taken downstairs she met Peter and Sanjeev in the outer courtyard of the sessions court, where the prison trucks rumble in.
2018 seemingly had brought more bonhomie between the three accused, as they chatted and Indrani gave her past and present partners a bar of chocolate each and they got on the bus and went back to jail.