Throughout, Mekhail spoke calmly, with hardly an inflection making even the barest attempt to hijack his tone.
His tone was so empty it made his narrative all the more touching.
And ugly and grey, as the monsoon sky beyond the window.
Vaihayasi Pande Daniel reports from the Sheena Bora murder trial.
Illustration: Uttam Ghosh/Rediff.com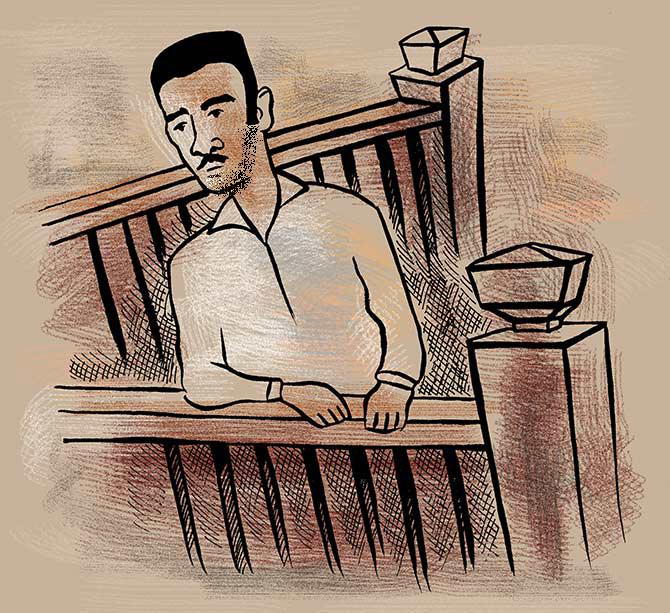 When Indrani Mukerjea's 28-year-old son Mekhail Bora took the stand on Monday, July 23, and swore to tell the truth and nothing but the truth in the Sheena Bora murder trial in CBI Special Courtroom 51 at the Mumbai city civil and sessions court, south Mumbai, the gasps emitted around the room were loud.
Firstly, because he could not be recognised.
Secondly, because he had not been expected.
Thirdly, because he looked not in the least similar to his mother or his slain sister. It was difficult to believe they even shared the same DNA.
The trim, dusky, Assamese young man, wearing a crisp white shirt, dark blue-black pants and polished black shoes and sporting a neatly manicured beard, long pencil-thin sideburns and moustache, was nothing like the pictures that have appeared, on and off, of him on television, since the murder investigation began in 2015.
Gone was the 10 stone of extra flab he once carried around on him.
Gone too were the grubby black T-shirts with beer glass and liquor motifs and the scruffy, dishevelled appearance of three years ago.
In its place was neat, well-mannered, brand new Mekhail Bora.
Mekhail, who now works as a steward (he pronounced it "styuward") in a Guwahati restaurant, told the room later that he shed 60 kilos (10 stone) apparently over the last four months eating mainly boiled vegetables.
Indrani's second-born was in the witness box, Monday, giving the first part of his testimony or examination in chief, as Prosecution Witness No 15, for about 90 minutes, articulately recounting the story of his life before CBI Special Judge Jayendra Chandrasen Jagdale.
His voice was level, emotionless, his eyes guarded, darting back and forth, as he put forth, mainly in Hindi, the bald details of a tale that was both incredible and gloomy.
A tale of two unwanted kids.
Of a motherless and fatherless duo of brother and sister.
Of longing and loss.
Fear. Contrasts. Lack of privilege. But surprisingly not much overt hate.
As you looked at Mekhail and heard him speak, his English at times halting, you could not help remembering Indrani's third child Vidhie, who was in this building quite some months ago.
She did not seem to be rooted in the family background that Mekhail came from, though they were cut from the same cloth.
Mekhail was the small-town, marginally-educated, brother of a doted-upon, international jet-setting sister, she at this moment living either in the UK or Spain.
No one seemed to have doted much on Mekhail.
He and Sheena were born a year apart in Guwahati, Assam -- she on February 11, 1988 and he on September 9, 1989.
"Mera biological mother Indrani Bora hai. Mera biological father Siddhartha Das hai. Sheena Bora meri badi behen...thi," he said with special emphasis on the last word.
"Mera biological mother aur Siddhartha Das ka separation mere bachpan mein hua tha, ye sab knowledge meri nani bachpan mein batayi thi (My biological mother was Indrani Bora and my biological father was Siddhartha Das. Sheena Bora was my elder sister. In my childhood they separated. These facts I got from my grandmother)."
His parents, he said, ran a bakery at the Six Mile locality in Guwahati and his grandparents owned a guesthouse named Chanakya Inn, located in the ground floor of their home in the Sundarpur neighbourhood that provided a modest rent.
Just three months into Mekhail's little life: "Ek din dono ka jhagda hua tha aur hum log ko idhar chod ke chala gaya. Hamare saath mein naukrani thi. Nani ke ghar mein aake chod diya (One day they had a fight and they left us and went away. A lady who was the help brought us to our nani's house)."
The sad, stark, picture Mekhail drew, with these sparse few words, of two young children, born probably when Indrani was in her teens, as per records available online, being abandoned, he hardly months after his birth, was moving.
It simultaneously silently and grimly reminded the room, without needing the words to do so, of how it ended, for Sheena, as miserably as the manner in which it all began -- sadness heaped upon sadness, a tragedy of unending proportions.
And with Sheena's death Mekhail was left without a single relative in the world, given that his 'biological' mother was now in jail and alienated from each other and he had lost touch with his father.
His grandparents, he told the court, had died in 2015-2016; he initially got the date of his grandfather's death wrong and corrected himself.
Repeatedly Mekhail clarified, at CBI Special Prosecutor Kavita Patil's prodding, that he knew of these facts because that was what his nani told him.
Indrani, wearing white on Monday, did not show much surprise to see Mekhail in the courtroom.
She gave one of her enigmatic splashy smiles when she spied him, her eloquent eyes widening. But they did not really exchange a glance.
In 1992, a few years after Siddhartha and Indrani left their children behind in Assam and vanished virtually forever as parents, an affidavit was filed in a Guwahati court by Indrani's parents Upen and Durga Rani Bora legally adopting Sheena and Mekhail.
"Affidavit banaya tha aur usme banaya ki Durga Rani aur Upen Bora hamara legal parents hai (An affidavit was drawn up making Indrani's parents their legal parents)."
Mekhail said Indrani did this so there would be no difficulties when the children were admitted to school.
That was that. For some years Indrani disappeared totally from their lives and was untraceable, the way Mekhail told it.
Das, who had also totally abdicated all his fatherly obligations, according to his nani, tried to make contact with the brother-sister, but was denied access by Indrani's dad.
"Jab hum Class I mein the Siddhartha Das milne ke liye aaya. Nana mana kiya ki aapne unka responsibility nahin le sakte toh (When I was in Class I Siddhartha Das came to meet us. But nana did not allow it because Das had never taken charge of his children)..." Mekhail said in a sentence that petered off abruptly.
Through the account Mekhail referred to his mother awkwardly as Indrani. This was how she had agreed to have him address her.
More odd and poignant, if not revealing, was the way he stiffly referred to his father, speaking of him formally always as Siddhartha Das.
Throughout, Mekhail spoke calmly, with hardly an inflection making even the barest attempt to hijack his tone.
His tone was so empty it made his narrative all the more touching. And ugly and grey, as the monsoon sky beyond the window.
When Mekhail was up for his Class 10 board exams -- according to newspaper reports from 2015 he had dropped out of school and did his exams privately -- their grandparents began facing financial difficulties as they contemplated how they would be able to educate Sheena and her brother further.
Indrani was clearly not around at that point. Her elderly parents did not know where to contact her and they were raising her by then teenage children by themselves.
Upen Bora one day -- luck by chance -- read a report in The Telegraph newspaper that Indrani had married Peter Mukerjea. It was apparent that Indrani had carved out a new life for herself in Mumbai and was doing well.
"Nana ko mila photograph ke saath. Star India ka address jo tha Net se nikala. Newspaper mein likha tha ki woh Star ka CEO tha. A letter was sent to Star India addressed to the CEO. Us me mention kiya ki Indrani meri daughter hai. Hame urgently us se baat karna hai (Nana found the report with a photograph. The address of Star India was taken from the Internet. It had said in the newspaper that Peter was the CEO of Star. A letter addressed to the CEO saying Indrani was his daughter and he needed to speak to her urgently was sent)."
The letter did not mention her having children who needed her.
Mekhail said he did not exactly remember the contents of the letter but: "Letter bheja gaya yaad hai (The letter was sent I remember)."
Beyond doubt sending a letter to a long-lost, mysterious, mother, about whom an article appeared in a newspaper, was not something a teenager could have forgotten easily.
Of a mother perhaps he had only seen younger pictures of, in maybe a family album.
At the back of the court, as Mekhail related this strange part of his unusual life, Peter, in the accused box, listening hard, screwing up his face in bewilderment, indicating perhaps that he had no recollection of such correspondence coming to him.
The letter evidently reached and Indrani got in touch on "landline par phone aaya (a phone call came on the landline)" -- and sent two tickets by courier asking her two eldest children to meet her in Kolkata in what was to be an important moment in their lives.
Patil methodically and precisely asked question after question of Mekhail to get the exact picture fleshed out, not that the picture didn't grab you from the beginning: "Ticket kahan se kahan tak? (A ticket from where to where?)"
Mekhail: "Guwahati se Kolkata (From Guwahati to Kolkata, airline not mentioned or asked)."
Patil: "Kis kis ke liye tickets? (Tickets for whom?)"
Mekhail: "Sheena aur mere ko (For Sheena and me)."
Patil: "Kaise bheja ticket? (How was the ticket sent?)"
Mekhail: "Courier."
Patil: "Aap gaye the? (Did you go to Kolkata?)"
Mekhail said matter-factly, without any emotion in his voice of the first meeting with his birth mother as a teenager or providing further details: "Ha gaye the (We went)."
Patil: "Aap ko receive karne ke liye kaun aaye? (Who came to receive you at the airport?)"
Mekhail: "Aiport mein Indrani aayi receive karne ke liye (Indrani came to the airport to receive us)."
Patil: "Airport se kahan gaye? (From the airport where did you go?)"
Mekhail: "Five star hotel Oberoi mein ruki thi (She was staying at a five star hotel, the Oberoi). She took us there."
"When we were reaching the hotel she said kuch discussion karna hai. Uske baad bolee ki financial help kar sakti hai. Aur bolee ki abhi mera status society mein bahut high ho gaya hai (Before reaching the hotel she said she had something to discuss. She said she could help them. But she said her status in society had become high)."
Indrani told Sheena and Mekhail that she had married Peter Mukerjea and had another daughter named Vidhie who had come with her on that trip to Kolkata.
The way Mekhail said it there was no mention of Sanjeev Khanna being once a husband or a father to Vidhie.
Indrani further added that her offer of help was forthcoming if "Peter ko maloom nahin hona hai ki yeh unka beta-beti hai. Isi condition mein help karenge. Sab ke saamne mujhe Badi Didi address karna padega (Peter cannot know that you are my daughter and son. On this condition I can help you. In front of everyone you must call me Big Sister)."
Mekhail said they could not agree -- "inkar kiya" -- because she was their mother and it would have felt odd.
But since they desperately needed her financial help for their higher education they agreed to call her Indrani.
Sheena and Mekhail stayed on with Indrani in Kolkata for two days and then returned to Guwahati by air.
Mekhail finished his Class 10 exams while Sheena was studying at the Faculty High School, Guwahati, when Indrani called him to Mumbai: "Bombay aa jaana. Vacation hai. Ghoom phirne ke liye (Come to Mumbai. You are on vacation. You can wander about)."
Mekhail said Indrani sent him a ticket and he came to Bombay and stayed at their home in Marlow, Worli, south central Mumbai.
He was, it seems, warmly welcomed and stayed there for 2-3 days. She took him to her INX Media office and introduced him around.
Always, of course, as her "Chota bhai" or younger brother.
On this trip, on the third day, Indrani abruptly informed Mekhail that she would be admitting him to Bangalore International School (where fees at that time would have been a couple of lakh rupees a year as per online information available) and that they would be taking a flight that evening.
Mekhail explained to the court that he was not prepared for this sudden plan and was uneasy with it, but he had no choice but to go along with it.
They flew to Bangalore and stayed with a friend of Indrani's in the Koramangalam area (Mekhail stumbled over this word, unsure) and met the principal the next day.
Mekhail was immediately admitted. He was also found hostel space on the school campus.
Indrani went back to Mumbai.
Mekhail spent about five minutes describing to the court why he was unable to continue studying at Bangalore International. He said he came from a very different background from the children at the school, the majority of whom were foreigners.
His pocket money, that he got from Indrani, he said was "One percent" of what the other children got.
Patil: "Kya mahaul tha udhar? (What kind of atmosphere existed there?)"
Mekhail: "High funda wallah. Bahut high standard. Unka jo rahan sahan, pocket money aur hamara mein vast difference tha (It was a fancy school. There was a vast difference between my fellow students both in terms of pocket money and life style)."
Indrani, sitting at the back, looked amused at Mekhail's description.
Mekhail said after a few months he called Indrani and said he was not happy. "Badak gayee (She got angry)," he recalled because she was upset that he didn't like the arrangements she had generously made.
"I told her style ke liya humko school mein nahin jaana hai... Phir mein Indrani ko bola ki hum situation ko nahin manage kar sakte hai. Guwahati wapas bhej deejiye. Chota school mein manage karenge (I told her I could not manage. I asked her to send me back to Guwahati where I could manage in a small school)."
She told him to come to Mumbai to "relax for some time, mind fresh karne ke liye (And put your mind at ease)."
The reception Mekhail received in Mumbai was quite different on his second trip.
Indrani told him a driver would come to meet him at the airport. It was Shyamvar Rai, the Mukerjeas' then driver and Accused No 3 turned approver in this case.
Rai told him some work was going on at Indrani's home and he would need to stay in a hotel.
After checking into the hotel Mekhail didn't hear from anyone.
He finally called Indrani. She told him to come to her office the next day.
At her office he was once again introduced to her colleagues and clients including a man named Sanjeev Khanna.
This time it was Sanjeev, on hearing his name, in perhaps strange circumstances, perked up at the back of the room and offered up a puzzled expression.
That day mother and son had a probably rare lunch together at Bombay Blues, Lower Parel, given that was where INX was first located.
The lunch was memorable too because it was the first time a Guwahati boy was sampling Chole Bhatura.
He told the court with a grin, "Bombay Blues naam yaad hai because first time in my life mein Chole Bhatura khaya. Guwahati mein nahin milta tha (I remember the restaurant's name because it was the first time that I ate Chole Bhatura. You didn't get it in Guwahati)."
Indrani smiled from the accused box, perhaps remembering the first time she ate the dish.
After that lunch Indrani gave him Rs 1,500 and told him that in the evening her client Sanjeev Khanna would take him out to the disco "mind refresh karne ke liye."
At that bit of the testimony both Sanjeev and Indrani looked startled, their eyes widening with amazement.
Indrani turned to Sanjeev, waggling her finger at him, perhaps so much to say as "I told you."
That evening Sanjeev never showed up and when Mekhail called Indrani she said he was probably busy and he would take him the next day.
"Next day 8-9 baje Sanjeev Khanna mere ko disco le gaye (At 8 or 9 pm Sanjeev Khanna took me to the disco)."
He did not name either the hotel he was staying at (and was not asked to) or the area or the disco, but that he could only recall it was on the ground floor of a hotel and not its name.
"Unhone poocha tequila try karenge. Sanjeev Khanna khud ke liye whiskey order kiya (He asked will you try a tequila. Sanjeev Khanna ordered a whiskey for himself)." Sanjeev made another surprised face hearing that.
Mekhail told Sanjeev he had not tried tequilas before: "Phir do shot liya aur unconscious jaise ho gaya (I had two shots and became as if unconscious)."
Mekhail's account got darker as it twisted and wound its way onto an eerie, disquieting, too-preposterous-to-believe path, where life was certainly substantially stranger and more shocking than a horror film or a noir novel.
The details were enough to feel your toes curl.
"Jab consciousness regain hua locked room ke andar tha. Bed par tha. Haath-per bandha hua tha. Hair was shaved. Brown colour ke kuch kapda pehna hua tha. Mein phir chilaya. Do-teen saphed kapde pahne hue ward boys aaye. Ek do baar hit karke injection de ke chala gaya. Aur behosh ho gaye (When I regained consciousness I was in a locked room on a bed and my hands and legs were tied. I was wearing brown clothes. I screamed. Two or three ward boys wearing white uniforms came. They hit me and gave me an injection and left and I became unconscious again)."
When he regained consciousness again the ward boys untied his hand and legs and there was a group of doctors in front of him.
They told him his sister had admitted him there -- the psychiatric ward at the Masina Hospital, Byculla, south central Mumbai.
"Bole ki Indrani 1-1½ mahine ke baad aayegi. Indrani bolee thi ki hum drugs lete hai. Phir ek mahina bahut torture kiya. Room mein bandh karke rakhte the. Baki mental patients ke saath zameen mein baith ke khana khate the. Electric shocks. Injections. Uss situation ke baarein mein aur nahin bolna hai (They said Indrani would be back after 1-1 ½ months. She told them I took drugs. For one month they tortured me. They kept me tied up in a room. I had to sit on the floor and have meals with the mental patients. Electric shocks. Injections. I don't want to say more about that situation.)" he concluded, his eyes perhaps glistening, indicating it was too traumatic to speak any more about that horrific chapter of his life.
Judge Jagdale looked at him and indicated he could sit if he wanted to.
"Relax," the judge gently reassured him.
Mekhail said he was okay and continued, "Kabhi aaj tak zindagi mein drugs nahin khaya. Baad mein feel kiya, agar ek do bandhe ko bola ki Indrani meri ma hai. Believe nahin kiya. Aur pagal samjhenge (I have never had drugs, till date, in my life. Later I felt she did this to prove I was mentally unstable in case I told one or two people that Indrani was my mother)."
Mekhail's testimony of Monday ended there, on this tragic and dramatic point in his life and was to be continued on Tuesday.
His entire 90 minute evidence mentioned no dates except his and Sheena's birth dates, apart from also adding very unusually that Indrani had later had his birthdate changed to January 10, 1990, causing Indrani's head to jerk up in surprise and look at him bemused, when he said that.
Nor did Patil, who is usually very particular to ask dates, query him about a year or a time or a further fact.
His, till now, hair-raising account, while casting the whole situation into a new light, imbuing even more pathos into a murder case that had already grabbed the nation, was missing many details and was at best sketchy. Tuesday will perhaps bring more substantial facts.
Mekhail was the second witness to give evidence on Monday.
Before him a clerk at Sri Maruti Couriers, a resident of Kalwa, Thane, named Kanji Ramji Dhumliya took the stand.
Dhumliya testified in Hindi that he had received a letter at his Mulund courier office that was despatched to Colonel Shubodoy Mukherjee at Mumbai Metro One (currently senior vice-president Reliance ADAG) on the basis of the bar code sticker which he insisted also indicated it had been received.
After Mekhail's Monday testimony ended, the defence lawyers complained bitterly to the judge that they had not received enough notice that Mekhail was giving his evidence on Monday or given sufficient time to prepare.
Gunjan Mangla said Mekhail was a "Huuuuge witness" and they ought to have been told much earlier. It was not clear when they got to know.
Indrani's defence lawyer, Sudeep Ratnamberdutt Pasbola, who had been present earlier when Dhumliya testified, was also missing when Mekhail began to speak, probably buusy with another case
Mekhail, who told the judge that he had started a new job and could only be in Mumbai till Saturday, sat in the courtroom for a further half an hour after the hearing.
As he waited to speak to Patil his eyes went about the room curiously examining those present. But he did not look at Indrani sitting with her lawyers.
Later he sat down with Patil -- the prosecutor was probably giving him advice on how to handle his evidence on Tuesday.
Meanwhile, after about ten minutes had lapsed, his mother exited the courtroom, to go back to jail.
From the furthest corner of her eye, the tiniest of glances went to Mekhail. You wondered what her thoughts about her son could have been at that moment.
Close to 5.15-5.30 pm Mekhail, who has high security after he appealed to the court about fears to his life, was bundled out of the building, a black mask on his face, to a waiting Tata Sumo CBI jeep, even as press photographers sprang towards him, bringing to a close his first day in court in his real Badi Didi's murder trial.