Something about the big car and its passengers, standing solemnly outside their vehicle, piqued the biker's interest.
Vaihayasi Pande Daniel reports from the Sheena Bora murder trial.
Illustration: Uttam Ghosh/Rediff.com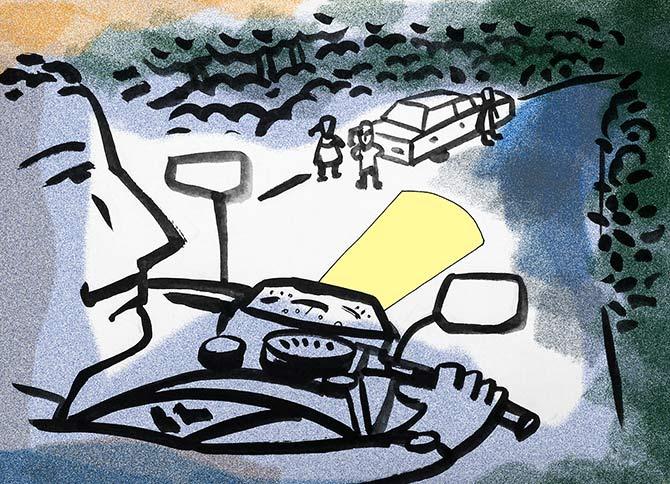 On an early summer morning in April 2012 a young man was travelling in the pre-dawn hours, on a Pulsar Bajaj motorcycle from Shiravali to Pen, in Maharashtra.
He had been rumbling along, through rugged rural landscape, at "60-70 km per hour speed," he remembered, for 15 to 30 minutes, as dawn was breaking -- sunrise occurred at 6.14 am that day in this district* -- when his motorcycle neared Gagode Khurd, a village then of a population of 600 odd**, in Raigad district, on the Khopoli-Pen road (SH-88).
It was then he spotted a silver car parked on the shoulder of the lonely road.
Something about the big car and its passengers, standing solemnly outside their vehicle, piqued the biker's interest.
Perhaps because the hour was way too early. Or maybe they didn't look like your average Gagode Khurd folks. He slowed his speed as he passed the car and had a close look, in that 30 seconds, he said.
"I saw three people. One of them was wearing glasses and was fair and tall. A driver was standing on the driver's side, he was of savla (dark) complexion. A fair woman was standing to the rear of the car," Sandeep Patil recalled, explicitly, before CBI Special Judge Jayendra Chandrasen Jagdale, in Courtroom 51, in the Sheena Bora murder trial, at the Mumbai city civil and sessions court, Kala Ghoda, on Wednesday, July 11.
The beefy-looking Patil, wearing a red T-shirt with little anchors on it, faded blue jeans, floaters and a tattoo on his bulbous left bicep, that kept popping out from under his sleeve, is from the village of Mohopad in the Rasayani belt, Khalapur taluka, some 16 km from Panvel.
Rasayani is close to several large chemical and manufacturing plants, one of the largest being the Patalganga Reliance plant.
Patil called himself a businessman and runs what he termed a vyayamshala (Maharashtrian-style gym) there named Sandy's Fitness Care Gym.
Sporting a gold earring in his left ear, a beard and handlebar moustache, Patil looks like a bit of a wrestler and definitely must spend down time building his body in his gym.
He offered up his account of the brief and chance encounter with the alleged trio of murderers six years ago, in Marathi in soft tones, that were barely audible, considering he was competing with the harsh disruptive sound of a drill or marble cutter a floor above the courtroom.
But we are getting ahead of the tale.
Patil was Prosecution Witness 12 or PW12 and his was the second testimony of Wednesday. More on Patil a little later.
Wednesday's deposition began with the short evidence given by PW11, 54-year old Ajit Mangilal Gogade, who owns a small convenience store on the old Pune highway at Lonavla, halfway between Pune and Mumbai.
The hearing started at 2.50 pm, five minutes late.
I entered court complex on Wednesday just behind a young, bespectacled, man in a tearing hurry. He was carrying a paper bag containing a burger and fries, a paper cup of coffee and bottle of soda. He sprinted through security, without being frisked, to the lift, holding his prize aloft.
He and what had to be Peter Mukerjea's lunch ascended to the third floor and the man dashed out of the rickety elevator to deliver the still probably warm fast-food meal to the former Star India CEO, with just a few minutes to spare.
The corridor was packed with policemen, the accused and relatives on Wednesday.
Indrani Mukerjea and her security shared a wooden bench, outside Courtroom 51, with tired-looking PNB fraud accused Vipul Ambani and a large group of his family and friends.
Before the Sheena Bora murder hearing began, a lawyer for the scam accused spent about 10 minutes, before Judge Jagdale, pursuing further arguments for the case's transfer from the enforcement directorate to the CBI, before wrapping up for the day.
Lawyer Sudeep Ratnamberdutt Pasbola first got up to announce that he had filed an application on behalf of Accused No 1 Indrani Mukerjea, charging the prosecution of allegedly identifying and pointing out the accused to the witnesses before Wednesday and last Friday's hearings.
Judge Jagdale stated: "I have taken note of it," promising to look into it.
Then Gogade took the witness stand.
Looking older than his years, the store owner was primly dressed in a white shirt and belted grey trousers, a black watch on his left hand and pen in his pocket.
A thin man, of wiry build, studious-looking, he was silver-haired, wearing glasses, and seemed more like an accountant or a government official than a Lonavla shopkeeper.
His store, uniquely named Name and Style, which also stocked large-sized jerry cans, is located on the Pune-bound lane of this highway, a stone's throw away from local landmark Rama Krishna Hotel, that serves some of the town's best dosas and idlis.
It is a busy, bustling, road, even if most Pune-headed traffic now takes the newer expressway that arcs overhead.
CBI Special Public Prosecutor Kavita Patil flagged Gogade off on his "examination in chief" by asking him, in Marathi, what his "dhanda" or trade was.
Gogade, replying, in Marathi: "I run a shop selling groceries, plastic items, cosmetics, stationery. On August 30, 2015 the Khar police (from north west Mumbai) came to my shop. They said they were investigating the Sheena Bora murder. They were accompanied by more police, one person and the panch (witness for a panchanama or statement to the police). They verified what items I sell at my shop."
Patil: "Aani? (then?)"
Gogade, who had an-old fashioned demeanour about him, in a clear, careful, tone, carried on: "They asked me if I could identify a person in their custody."
He was taken over to the police vehicle, parked outside, where he said he identified an individual who had bought a jerry can from him in 2012.
The shopkeeper related to the court that the person he identified (who would be the Mukerjeas' former driver Shyamvar Pinturam Rai) had driven up to Name and Style in a silver car and a "lady" was sitting in the rear seat had looked at him and his shop.
The person he identified had alighted from the car, checked the rate of a plastic 30 litre jerry cans and purchased one.
After paying in cash, he put the can in the "dicky" (boot) of the car and got back into his vehicle. He and the woman exchanged a few words and then drove off.
Patil asked if Gogade could recognise any of the persons, of that day, in the courtroom on Wednesday.
Gogade carefully looked around the room, his head painstakingly moving from far left all the way to right.
On its rebound, his eyes fastened on the accused box and he identified, without pointing, Indrani Mukerjea as the woman in the car in April 2012.
Indrani, wearing light green and white, and a green bindi, her head bent to her papers, looked up at him. They exchanged glances.
Indrani's lawyer Pasbola took over the witness.
The advocate initially determined the location of Gogade's store in relation to the Rama Krishna Hotel and confirmed that it was 50 to 60 feet away on the other side of the road.
And that Kumar Resort, a hotel with a water park, that was established in Lonavla over two decades ago, was 80 feet away
Pasbola asked quietly, in polite tones: "Heavy traffic on this road would prevent the police from allowing a vehicle to park in front of your shop?"
Gogade nodded. But he added there was a little space near his shop.
The owner had been running his store on this road, that is on the State Transport bus route, for 30 to 32 years. The road now witnessed heavy traffic, he agreed.
He told Pasbola he started selling plastic jerry cans in his little shop around 2008. The cans were not of any particular make or "brand".
The lawyer, who addressed Gogade courteously as "mota sahib", the Marathi word for Big Sir, was in a gentle mood on Wednesday, reasoning very patiently and reverentially with both witnesses.
Mercurial Pasbola, even when he is not fulminating and hollering at a witness during a 'cross', still has a kind of fearsome presence, without saying a word. He may be about 5 foot 3 inches tall, but his aura of authority makes him seem a towering 6 feet.
He queried: "Is there any evidence to show that you sold plastic jerry cans and were still selling them in 2012? Is it correct to say that you cannot recall what items you might have sold to whom?"
The shopkeeper, listening attentively to Pasbola's question, cautiously concurred.
After a long pause, with a small smile, he added slowly, after consideration, "Sometimes you can remember something you sold. You remember it because of an event or because you recall the person."
His answer made Pasbola grin too.
Pasbola smiling: "But over the years you must have sold sekdo (hundreds of) cans?"
Gogade calculated that he had sold roughly a dozen cans a month in those days but he had no records of his can sales and added his was a "chotta dukaan" or small shop indicating its sales figure could not be mind-boggling. He concluded with another tiny smile that he no longer sold cans.
The former jerry can seller could not remember what part of the afternoon Indrani Mukerjea and her former driver Shyamvar Rai visited his store that day in April 2012.
He customarily took a break at 1.30 pm to have his mid-day meal at his home that was at the rear of his shop. He was not certain if the duo of accused came to the shop, that had in those days jerry cans hanging out front, before or after his lunch.
The lawyer's onslaught of questions didn't seem to unsettle Gogade. He peacefully digested each query and spent a few minutes pondering before offering a reasoned answer.
His replies resembled the kind of quaint answers one receives when one goes driving outside of Mumbai -- lacking the typical Mumbaiya briskness.
Pasbola dissected Gogade's interaction with Rai that afternoon. The shopkeeper could not remember the price at which he sold the can.
He did remember coming out of his shop to give the can over to Rai, but did not recall seeing exactly where the person went with the can.
Pasbola: "Did you see the number of the car or its make?"
Gogade: "Nahi (No)."
Pasbola: "Did the car have windows of dark glass?"
Gogade thought for almost a full minute and ventured: "The window was open."
He added that they were not open on the driver's side. The windows of the car were then rolled up as the car pulled away and he could not recall or see if they were dark.
The Khar police he detailed spent 20 minutes at his shop in 2015.
Pasbola: "Did the car Khar police ask you to describe the lady?"
Gogade: "Nahi."
He continued smiling: "I saw the lady on TV later."
Pasbola laughed. So did Judge Jagdale.
The lawyer asked: "Did Singh Sahib (CBI Investigating Officer Kaushal Kishore 'K K' Singh) point out the lady to you today?"
Gogade, firmly and carefully: "Nahi."
Clarifying that K K Singh had never visited his shop in Lonavla, Gogade confirmed that that the police, when they visited had asked him where the car had been parked that day: "Ho, ho, ho (Yes, yes, yes)," he said emphatically.
Pasbola: "Did they measure by tape the distance to the spot?"
Gogade, unflappably: "They verified certain things but no they did not measure by tape."
Pasbola: "How did you describe the car to them?"
Gogade: "Silver coloured, lambh (long)."
Pasbola: "Did the police call you to see the car?"
Gogade: "Nahi."
Pasbola: "Did the police call you again to see the man who bought the can?"
Gogade: "Nahi. I was shown the man who bought the can only once (in the vehicle that day in 2015)."
Pasbola: "Did the police ask you if he was the same person who bought the can?"
Gogade: "Nahi."
Pasbola: "Did the police ask you the colour of the can? What was the colour of the can you sold?"
Gogade couldn't remember but offered that they were usually grey.
The police checked with him the price of the can and in 2012 a 20 litre can sold for Rs 120 or Rs 130 and when the police came that day plastic cans were hanging outside his shop.
Pasbola: "Did you speak to the person they brought? Did he speak to you? Did he speak in front of you?" Gogade said he hadn't nor had that person.
Pasbola narrowly questioned the shopkeeper further and accused Gogade of identifying Indrani Mukerjea only because she had been shown to him on Wednesday or from what he saw of her on television.
He declared the Lonavla store owner was deposing falsely about someone coming to his shop to buy a can and the existence of the woman in the car.
Gogade insisted, calmly: "What I saw I told."
The lawyers for Peter Mukerjea and Accused No 2 Sanjeev Khanna declined the opportunity to cross examine Gogade.
After offering a small sort of gesture of pranam to the judge, Gogade quickly departed from whence he had come, but not before speaking a few words with Singh and Patil.
Sandeep Patil, the accidental witness, took the stand and one Patil guided another Patil through his testimony.
The burly man said he was a gym owner.
Kavita Patil: "When did you go to the Khar police station?"
Patil: "September 9, 2015 to give evidence in the Sheena Bora murder case."
Kavita Patil: "Why did you go to the Khar police?"
Patil: "I came to know on television that she had been murdered and (her body) burnt at Gagode Khurd. On television I saw Indrani Mukerjea and Sanjeev Khanna."
Patil did not mention Rai. Kavita asked him about this. He said he saw Rai too on television.
He went on, "I realised I had seen these three persons near Gagode Khurd."
Kavita Patil: "When did you see them on the news?"
Patil: "August 2012. I have seen these three people three years back."
A small controversy broke out over Patil's flip-flopping time frames. Pasbola declared that Kavita Patil was trying guide the gym owner to the right date.
Judge Jagdale felt he had just made a calculation error.
Patil in a very low voice, hands behind his back: "It was early morning at about 6.15-6.30 am. I was coming from Shiravali to Pen. I had seen the three of them standing outside a vehicle."
"I slowed down my motorcycle and moved past them slowly while watching them. On that day I had gone to Shiravali at 5 am to hire a tempo from a friend. While coming back I had seen them."
It was not entirely clear on Wednesday which Shiravali, Patil had biked to that morning, considering Maharashtra has three. And none of them appear to be 15 or 20 minutes away from Gagode Khurd.
As Patil spoke, Pasbola, a half smile playing on his face constantly, sat listening very alertly but pensively, shaking his body in concentration and twirled his spectacles in his hands.
His complacent smile seemed to suggest that he had many a hole to pick in the body-builder's account, when he dealt with him on Thursday.
Patil described the accused and then declared. "Yeh bolne ke liye (to say this) I went to the Khar police station."
At the station Patil met Inspector Dinesh Kadam and the policeman wondered if he would be able to identify the three he saw that day three years before.
Patil, the independent witness, felt sure he could.
He was also taken to the Versova police station to have a look at an Optra Chevrolet. And to the Arthur Road Jail twice and to the Byculla Jail once.
Patil said on September 23, 2015: "At Arthur Road Jail five or six people were asked to stand in a line. I was told to identify one person."
"I identified one man. He was called forward and I again identified him. He was Sanjeev Khanna. I had seen him near the car that day."
When Patil went back to the jail some time later -- perhaps a few days -- the process was repeated.
"I identified Shyamvar Rai."
At Byculla jail he remembered: "Five or six ladies were lined up and I was asked to identify one of them. I identified one lady. She was Indrani Mukerjea. I had seen her at Gagode Khurd."
At the Versova police station, "I identified a silver car. I was not knowing the number or model of the car."
Kavita Patil asked him again if he any further details of the car.
Mildly irritated, Patil, who seemed a sturdy, tough, sort, repeated pointedly that he had not noticed the car number or its model.
Kavita Patil: "You saw at Gagode Khurd, Shyamvar Rai, Sanjeev Khanna and Indrani Mukerjea. Can you identify two out three of them today?"
Patil: "Ho." Looking at the back of the courtroom he declared steadily, "Sanjeev Khanna. Indrani Mukerjea."
Patil was passed over to the defence for the cross-examination. But the judge wanted to wind up the hearing early so Pasbola began with just a few questions.
The lawyer queried: "Did you stop your vehicle when you saw the car that day?"
Patil said he had not.
Pasbola: "You were driving your vehicle at average speed that day, barabar (right)?"
Patil: "Ho", and sensing where the line of questioning was leading him reminded the lawyer that he had slowed down.
Pasbola coolly interrupted him in Marathi with the words: "Ghai, ghai ruko (Wait wait). Is it true to say that there was not much traffic on that road that morning? And usually there is."
Patil agreed.
Pasbola: "You would have been driving your bike at 70-80 km per hour?"
Patil differed: "60-70. But I slowed down..."
Pasbola: "How long did it take you to cross that car?"
Patil: "Half a minute."
The Q and A was interrupted abruptly as an angry Kavita Patil got to her feet to complain to the judge, "Accused No 1 is signing papers her lawyer is giving her," indicating that Indrani was signing papers while in the accused box.
Indrani quickly, in a placating tone: "Madam, I have not signed anything. Nobody has done anything."
Judge Jagdale, annoyed: "I have given you half an hour to meet your lawyers after the hearing. When evidence is being deposed and cross examination is going on, how can you disturb the court? The decorum of the court had to be maintained!"
Pasbola apologised deeply on Indrani's behalf and on behalf of the other lawyer, Edith Day, who is the advocate dealing with Indrani's family matters. "She apologises. I also apologise."
The defence lawyer will continue his cross examination of the brawny Rasayani gym owner who stumbled, six years ago, into a crime scene near the village of Gagode Khurd, on Thursday.
Incidentally, all Google maps of the Raigad area show the village and its sister village Gagode Budruk and a place called Sheena Bora Body Discovery spot as if it is a local landmark.
* timeanddate.com
**Census 2011