Though on the face of it appeared Pasbola was asking a series of odd questions that would be difficult for anyone to answer, there was, it gradually emerged, it seemed, a method to the questioning.
Somehow, somewhere instinctively, Pasbola knew there was something not right with Riyaz's account.
Vaihayasi Pande Daniel reports from the Sheena Bora murder trial.
Illustration: Dominic Xavier/Rediff.com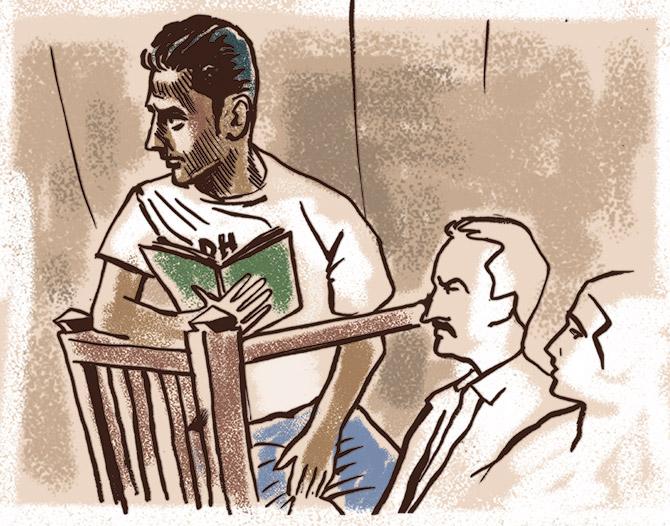 Sayid Sadik Riyaz and Angel Tony Chang appeared in court in the Sheena Bora murder trial on Wednesday July 4.
Both run small family-owned businesses on Worli seaface, south central Mumbai. Both are, regardless of their varied backgrounds, typical Mumbaikars.
Riyaz's father owns Shan Auto Garage.
Chang is a hairdresser and the proprietor of Chang Ladies Beauty Salon.
The reticent Chang, a woman of few words, dressed in a dark floral shirt and black jeans, who once coloured and styled Indrani Mukerjea's hair, gave a bare-bones testimony that lasted not even ten minutes.
She was more than eager to exit CBI Special Courtroom 51 at the Mumbai city civil and sessions court, south Mumbai, as quickly as possible.
Riyaz, a tall, muscular man in his late 20s, wearing jeans, a bright white T-shirt, sports shoes and often an angry expression on his face, was a bird of a different feather entirely.
During his short testimony, but one-hour plus cross examination, Riyaz, while in the witness stand, inadvertently served up a slice of life in a Mumbai auto workshop -- a masala chapter from Worli Garage Diaries.
His set of oddball facts, his take on life and his Mumbai-rasta (roadside) brand of pragmatism were both entertaining and educational.
One learned on Wednesday how garage businesses run. About the small-scale daily commissions they must pay out, commissions that are all part of the machine oil which keeps Mumbai chugging.
The hearing commenced at 2.45 sharp.
CBI Special Prosecutor Kavita Patil, in a striped black and white sari, gently started up a Q and A with Chang (whose name appears, probably incorrectly spelled, as Angele Tony Chung in CBI records) about who she was, the name of her business and how she ran it.
Chang's parlour opened its doors in 1972, but she had been running it since 1995.
Chang spoke softly, her voice barely audible and was observably uncomfortable and reluctant to be in the witness stand.
Bespectacled, sporting a fluffy haircut and bangs, she was perhaps in her 40s and probably an Indian of Chinese descent. Her children or maybe her colleagues -- a young man and woman -- sat in the back of the court.
Patil: "Do you know Indrani Mukerjea?"
Chang confirmed: "Yes. She comes alone regularly to the salon." She used the present tense as if Indrani was still visiting the salon instead of being in jail for three years.
Patil: "For approximately how many years do you know her?"
Chang: "Twelve or 13 years."
A little later on in the testimony Chang was asked if Indrani was in the room.
Chang: "Yes she is there."
She looked towards the back of the room where Indrani, who was fetchingly dressed on Wednesday in a handloom printed kurta, matched with a light green, gold studded chunni and salwar, and a bright green bindi, was sitting.
They exchanged smiles and Indrani, former media executive and Accused No 1, gave a half wave.
The hairdresser recounted that she had been called to the CBI office in December 2015 where the investigators checked her connection with Accused No 1 and if Indrani had visited Chang Ladies Beauty Salon on April 24, 2012, the day of Sheena's alleged murder.
That morning, Chang recalled, Indrani had called up on the parlour's landline at 9 am and made an appointment for 10.30 am.
She was at the parlour for one to one-and-a-half hours and paid cash.
Chang's evidence ended there and Patil did not ask what Indrani had done at Chang's establishment that day.
But Gunjan Mangla, Indrani's lawyer, who started Chang's cross examination, did.
Chang answered: "Hair colouring, threading of eye brows and nails."
Indrani smiled coyly at this analysis of her beauty routine from the accused box.
CBI Special Judge Jayendra Chandrasen Jagdale wondered aloud about the relevance of putting all those small details down on the court record.
Patil helpfully suggested they write instead: "Hair colour etc."
Mangla: "Let it be. There is a reason." She requested the judge: My Lord is aware of these things." Someone later wondered aloud how Indrani could have accomplished so much beautification at a parlour in just 60 or 90 minutes.
Mangla efficiently and crisply ran through 14 or 15 questions with Chang that quickly constructed a picture of how the parlour ran.
Mangla: "When you went to the CBI office, who recorded your statement?"
Chang pointed out CBI Investigating Officer Kaushal Kishore Singh who grinned like a Cheshire Cat at the room in general.
Mangla: "Did you tell him the number of your landline... 011... You did not tell him?... There is that number in your statement?"
Chang didn't understand Mangla's question at first, looked confused and then shook her head.
From the back a loud giggle erupted from Indrani.
Judge Jagdale laughingly suggested: "Because the IO (investigating officer) is from Delhi (he wrote 011-). Singh, who hails from Ranchi, is based out of Delhi.
Mangla: "Today you said Indrani had a 10.30 appointment (that day). Did you tell that to Mr Singh (while recording your statement to the CBI)?"
Chang: "Yes."
Mangla: "This fact is not in your statement. Can you assign any reason for that?"
Mangla checked with Chang if she remembered the other dates on which Indrani visited the parlour and how she happened to remember the April 24 date.
The hairdresser said Indrani visited often but did not supply any other date of when Accused No 1 had been to Chang Ladies Beauty Salon.
Mangla: "Was this date informed to you by the CBI?"
Chang nodded her head in agreement.
Singh shook his head vigorously.
Mangla firmly, victoriously: "She said yes."
The judge dictated the answer to the court stenographer and it went down on record that the date had been given by the CBI to the hairdresser.
A few questions later PW7's testimony and cross examination was done and Chang departed hastily.
The judge, in Hindi, loudly summoned Riyaz, PW8 into the courtroom and the witness box: "Ha idhar aao (Yes, come here)."
Patil began: "Aap kya kaam karte ho? (What work do you do?)"
Riyaz: "Sir, garage ka kaam (garage work) at Shan Auto Garage."
Patil: "Kiska garage hai? (Whose garage is it?)"
Riyaz: "Pitaji ka. Daddy ka (My father's)."
Patil lead the young garage worker through his testimony. Riyaz had been working in his father's garage, which he described as a small local garage, since 2012.
On April 25, 2012 the Mukerjeas' then driver Shyamvar Pinturam Rai called Riyaz up asking if he could bring a car for polishing and "interiors" (cleaning its interior).
A man named Raja, had referred Rai to the Shan Auto Garage.
Riyaz had not met Rai before, he stated firmly: "Woh mujhe nahin jaanta tha, na mein usse jaanta tha (He did not know me nor did I know him)."
At 11 am Rai brought the car and by noon the work was done.
Rai drove up in a Chevrolet Optra. Riyaz was asked to repeat the name of the car and the judge had its name spelled out -- O-P-T-R-A -- to him.
Judge Jagdale evidently has very little interest in both brands of cars or the jobs that occur in beauty salons.
Patil: "Kya kaam tha? (What work had to be done?)"
Riyaz: "Polishing kaam hua tha (Polishing work had to be done). Interiors."
Patil, who hails from Gholvad, north Maharashtra, asked in her picturesque Hindi: "Interiors bole toh kya matlab? (By interiors what do you mean?)"
Riyaz: "Cleaning."
The job was done by two of the workers at Riyaz's garage named Bahadur and Raja. Rai paid an advance of Rs 1,000 and Rs 400, all in cash, when he took the car. A commission of Rs 100 was given to Raja.
Patil: "Sayid, jo bhi ghadi aata garage mein, aap uska register maintain karte ho? (Sayid, do you maintain a register of whatever car comes in the garage?)"
Riyaz politely: "Ha Madam."
Patil: "Do you have an entry for the day when Shyam brought the car?"
Riyaz: "Ha kiya hua hai (Yes it is)."
Judge Jagdale dictated: "Kiya hua hoga (Must have done)."
Riyaz correcting the judge, emphasised: "Kiya hai (I did)."
Riyaz has a loud, aggressive and fearless manner of speaking. He occasionally breaks into a few words of English.
The garage man then said that each time a car was brought in he would make an entry into his register of the model of the car, the driver or owner who brought it, the job required and the address/phone number.
When the CBI called him to their office on December 27, 2015, because Riyaz explained, to ask "Ghadi ke baare mein (About that car)", he took the register with him and showed the entry he had for Shyam that day, which included Peter Mukerjea's name and address.
The CBI kept the register and Riyaz signed a production memo that he had handed over the register to the CBI.
The court clerks pulled out this particular register, a small green one.
Riyaz readily identified his entry for the Optra Rai brought six years ago and his signature on the memo.
There was a short break as the court awaited the arrival of Indrani's trial lawyer Sudeep Ratnamberdutt Pasbola, who was keen to conduct Riyaz's cross examination.
Why this cross examination was important became clear later.
In the interim Peter and Indrani at the back and a group of lawyers in front carefully examined Shan Auto Garage's 2012 register and the production memo.
Meanwhile, Sanjeev Khanna, Accused No 2, a Kolkata businessman who was once married to Indrani, sat in his quiet corner of the accused box, using one of the trunks next to it as a table and solved the 'Jumble', scrambled word game, in the latest newspaper.
Close to 4 pm, Pasbola walked in. He was first briefed by the team of lawyers.
His initial question to Riyaz in Hindi was: "At this Shan Auto Garage what kind of vehicles were serviced?"
Riyaz: "Four wheeler motor garage hai (It is a four-wheeler motor garage)."
Pasbola: "Sab tarah ka repair kiya jaata hai? (All kinds of repairs are done here?)"
Riyaz: "Ha sir, sab tarah ka repair (Yes sir, all kinds of repair)."
Pasbola asked how many men had been working in Riyaz's garage in 2012.
Riyaz: "Us time char-panch aadmi kaam karte the (Then 4 or 5 men worked)."
Pasbola: "Polishing ke liye kitne log the? (For polishing how many people?)"
Riyaz: "Ek aadmi ka zaroorat thi (Only one man was needed)."
Pasbola corrected him: "Zaroorat nahin! Kitne (Not the need! How many?). Bahadur?"
Riyaz: "Ravi."
Pasbola in Hindi: "Approximately how many cars did your garage work on in a day?"
Riyaz flatly and intractibly: "Kaise boloo? (How do I tell you?)"
Pasbola: "Andaaz se (Approximately)."
Riyaz shrugged, then started to explain why it was difficult to say, when Pasbola cut him off sharply.
Pasbola in Hindi: "First, listen to my question!"
Again, Riyaz attempted to answer the question differently and the lawyer interrupted him.
It all went south after that.
Pasbola, who was perhaps not in the best of moods, Wednesday, for whatever reason, did not like many of the answers Riyaz gave.
Riyaz chose to answer every question put to him slightly circuitously or with stubbornly not the answer Pasbola expected or didn't understand the question.
The lawyer at many points appealed to the judge asking him to make Riyaz answer one question or another.
The judge, Patil and CBI Special Prosecutor Bharat Badami for their part kept attempting to calm Pasbola down and allow Riyaz to speak.
The garage man also had a sharp temper and reacted angrily to the lawyer, his face like thunder, his eyes snapping.
Several times the cross examination ground to a halt, like a landlocked ship, and after a bit of nifty referee-ing from all sides, mainly by Judge Jagdale, the dialogue limped on.
The lawyer made several bids to understand from Riyaz the kind of records his garage maintained, how he kept track of jobs that needed to be done or his employees and the turnover.
Riyaz was also at pains to explain that his was a small garage that didn't have elaborate systems of record keeping in place either of jobs done or its employees, who were not the permanent kind.
Pasbola suggested Riyaz would know from his job cards the number of cars he worked on.
Riyaz, his hands folded on his chest, stone-faced with anger, said: "Register mein entry hai (There are entries in the register). No job cards."
Pasbola asked him to look at this register.
Riyaz asked what he was to look for in the register. "Koi din chaar ghadi aata hai. Koi din do. Koi din koi bhi nahin (Some days four cars come. Some days two. Some days none at all)."
His entries for the end of April 2012 had a similar pattern.
Pasbola asked why he didn't issue receipts or note down the registration number of the cars in his register.
Riyaz said he issued a receipt if a customer asked for it. And that they didn't write down registration numbers.
Pasbola: "Wajah kya thi? (What is the reason for that?)"
Riyaz, grumpily: "Local garage hai. Number note nahin karte. Job card nahin dete. (It is a local garage. We don't write down the number of cars or give job cards)."
The lawyer wondered how Riyaz remembered so vividly the details of the visit Rai made to his garage in 2012.
Riyaz: "Woh aisi baat hua toh yaad rahega (It was a kind of thing that you would remember)."
Pasbola, murmuring to himself, repeated Riyaz's answer, thoughtfully.
Pasbola: "You didn't know this Shyam when he came to you that day. Uss din pahele baar aur aakhir baar dekha usko (That day you saw him for the first time and the last time)."
Riyaz warily: "Right."
Pasbola: "Did the CBI ask you to describe him?"
Riyaz: "Nahin (No)."
Pasbola tried to understand on what basis Riyaz inspected a car before he took a job on.
Riyaz said it depended on the job.
That discussion went into a tailspin as Pasbola endeavoured to calibrate what kind of jobs earned what kind of inspection from Riyaz.
The exercise exhausted Riyaz, who had by then gathered that Pasbola needed some kind of answer for every seemingly irrational question he put to Riyaz, to make him happy or the questions didn't stop.
The garage man accordingly tailored his replies.
Pasbola checked if cars that came for polishing merited an inspection from Riyaz.
Riyaz: "Zaroorat nahin (There is no need). What would I check? Why would I need to check a car that has come for polishing?"
Pasbola: "Abhi sir (now sir) did you have a look at the car that Shyam brought (that day)?"
Riyaz obstinately: "Puree tarah check nahin kiya. Ek nazar maara (I did not give it a full check. Just one glance)."
Pasbola: "Andar check kiya? (Did you check inside?)"
Riyaz: "Andar ek nazar maara (Just a glance inside)."
Pasbola: "Ghadi khol ke? (Opening the car?)"
Riyaz: "Ek nazar maara (Just one glance inside)." He added, as if he was explaining something to a two year old, that the car was open because it had to be open if it was being washed and he could see its interiors.
His sarcastic "nazar maara" replies amused the room, with Indrani laughing the loudest at the back.
Though on the face of it appeared Pasbola was asking a series of odd questions that would be difficult for anyone to answer, there was, it gradually emerged, it seemed, a method to the questioning.
Somehow, somewhere instinctively, Pasbola knew there was something not right with Riyaz's account.
He was not entirely sure what he was looking for, so he kept asking a series of disruptive questions, in case, pertinent clues were uncovered in the bargain.
Peter made several trips out of the accused box to the lawyers at the front giving his inputs.
Pasbola turned his attention to the commission Riyaz paid the man named Raja who recommended Shan Auto Garage to Rai.
He wanted to know how many people they paid commissions to.
How many times before had he paid Raja a commission.
Who were these people Shan Auto Garage paid commissions to?
And the size of the commission.
Riyaz said, once again in his Alice in Wonderland White Rabbit style, it depended on the job. Maybe Rs 200. Maybe Rs 300. Maybe Rs 400.
But then declared that if he paid a commission of Rs 200 for a Rs 5,000 job it was way too much.
The Q and A once again spun out of control with Pasbola's questions not getting the answers he sought and Riyaz's answers sounding more and more logically illogical.
Finally the Little Green Book saved the situation.
It was resolved that Riyaz would look into his green register and read out who he had given commission to and the amount.
Riyaz was asked to sit down on his stool in the witness and get down to some serious homework.
Looking into the register, the garage owner began to reel off driver names and amounts, outing perhaps half the drivers of Worli in the bargain.
Pasbola asked Riyaz how many times he visited the CBI office in 2015 and did he know why he had been summoned.
The garage man, rolled his eyes and said just once. And that he knew Rai was the reason he had been called.
Riyaz, confirmed, with a touch of excitement in his voice, his eyes wide: "Ha Sir. Maloom pada. Media mein dekha. Channels par (I got to know. Saw it in the media. On the channels)."
Pasbola in Hindi: "Did you get to know from the news that a car was also involved?"
Riyaz: "No sir."
Pasbola then enquired why he had also taken his register along, so fortuitously, that day when he went to the CBI office.
Riyaz, smartly: "Mein ne apna safety ke liye le ke gaya. Nahin toh mein cross mein phas jata! (I took it along for my own safety. Or I would get trapped during my cross examination!)"
His answer had the room again in splits, although Riyaz seemed puzzled by his own effect on the room.
Pasbola then levelled a series of charges at Riyaz.
He said no car had ever been brought to him for cleaning and polishing that belonged to Peter Mukerjea.
Pasbola: "Yeh jo address likha hai aap ne CBI ke kehna par likha (You have written this address, the Mukerjeas' address, into this register on the instructions of the CBI)."
Riyaz: "Galat baat (You are wrong)."
The advocate said there was a reason that the green register did not have the registration numbers of the cars.
"Yeh book jo aap maintain kar rahein the yeh sab Singh Sahib ke kehne par banaya. Jhoota hai (This book that you have been ostensibly maintaining you made on instructions from Singh Sahib. It is a pack of lies)."
Riyaz didn't say anything, but his eyes popped and he smiled oddly at Pasbola.
Pasbola continued that it would have been impossible to write the car registration numbers in the register because then it might have been apparent that the information was fake and "Aap ka jhoot pakad jaata. Shyam aap ka dost hai aur usko madad karne ke liye aap jhoot bol rahein ho. (And your falsehoods would have been exposed. Shyam was your friend and to help him you have said all these lies). There was no one called Raja either."
Pasbola sat down and finished with Riyaz -- probably to their mutual relief and the court's.
Sanjeev's lawyer Harsh Mann Chauhan announced they declined from cross examining Riyaz.
Amit Ghagh, Peter's lawyer, took over the cross examination and said: "Only one question."
Turning to Riyaz he asked: "Sayid Bhai Peter Sahib ka naam ka spelling batao (Sayid Bhai tell me the spelling of Peter Sahib's name)."
There was a sudden uproar as Badami, Patil and Singh took objection to the question in loud unison.
Pasbola roared back at them: "Why not!! Let us hear the objection. Please let him say."
Judge Jagdale, amused by this interesting turn in the cross examination agreed with the defence, even as Badami kept saying there could be many spellings to a name.
Riyaz gingerly began: "P-i-t-e-r".
At the back of the court Indrani shook her head.
Riyaz continued: "M-u-k-h-a-r-j-i."
Ghag concluded charging that Riyaz had manufactured his statement at the behest of the CBI.
Riyaz: "Ek dam galat baat hai sir (That is completely wrong)."
At the close of the hearing Pasbola said he would like to put in an application that the prosecution was interfering with the cross examination of the witnesses.
Judge Jagdale, umpiring again, offered constructive criticism.
After the hearing was over Badami went to Pasbola and held his hand, pacifying him, asking him how they could remedy the situation.
Singh, still at his spot, muttered aloud in Hindi, sadly. "The witness numbers are not yet in double digits."
Sanjeev's lawyer congratulated Ghag: "You asked the best question."
Shorty after Peter (post his Mac lunch), Indrani and Sanjeev left to return to jail, they were followed by a heavy-set man in a wheelchair wearing blue jeans and a white shirt.
Gangster Ashwin Naik was also headed back to prison after a hearing.