The lesson Waghmare sternly received on Monday from CBI Investigating Officer K K Singh and CBI Prosecutor Bharat Badami about the way a witness must answer questions from the defence seemed to have had only a marginal effect on him.
On Tuesday the timid former office boy still chose, unpredictably and remarkably, to answer many a question in the manner of his choosing.
He told the room categorically that he had asked Indrani's former secretary Kajal Sharma not to forge Sheena Bora's signature on her resignation letter.
Vaihayasi Pande Daniel reports on the Sheena Bora murder trial.
Illustration: Uttam Ghosh/Rediff.com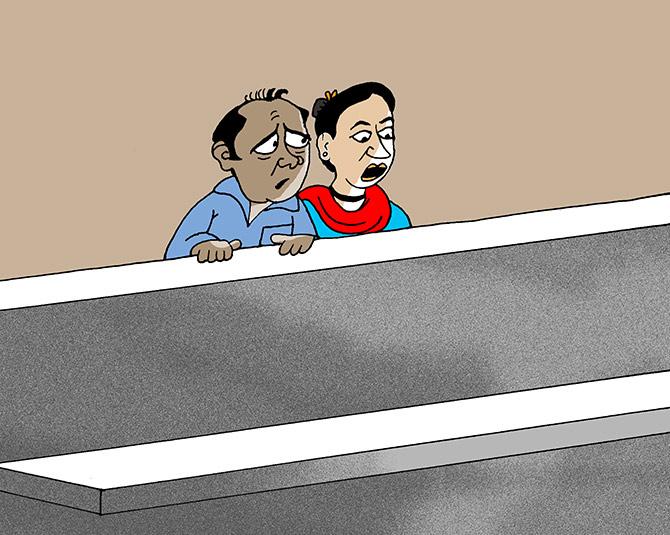 The community that once hunted tigers in the western part of the Indian sub-continent was called Tiger Killers in Marathi.
Or the Wagh Mares.
Pradeep Waghmare, who once worked in Indrani and Peter Mukerjeas' Mumbai home and in the office of INX Media Services Pvt Ltd, no longer has to hunt tigers for a living.
But certainly some distant spunky spirit of his tiger-hunting forebearers must be still in him.
The little lesson Waghmare sternly received on Monday, post the Sheena Bora murder trial hearing, from CBI Investigating Officer Kaushal Kishor Singh and CBI Special Prosecutor Bharat Badami, about the way a suitable witness must answer questions from the defence seemed to have had only a marginal effect on him.
On Tuesday June 12, the timid former office boy still chose, unpredictably and remarkably, to answer many a question in the manner of his choosing.
He told the room categorically, for instance, that he had asked Indrani's former secretary Kajal Sharma not to forge Sheena Bora's signature on her resignation letter.
At points, wary of the startling answers he might offer to a question asked, the prosecution would hurriedly shut Waghmare down, suggesting a more appropriate, tame response instead.
Waghmare, it was now obvious, could not always be brought to heel and was a bit of a maverick. Not a Suitable Witness.
On Monday he had apparently apologised to a probably rather startled Sudeep Ratnamberdutt Pasbola, Indrani's trial lawyer, about the quality of his answers in court.
He was thereafter reminded firmly, by the prosecution, that he had no need to be tendering apologies to the defence.
Waghmare lives in Badlapur, a township with a population of 200,000 plus strong, outside Mumbai in Thane district. He no longer works in an office and now earns a living selling food items in his town.
His wife Rohini, who evidently also once worked in the Mukerjea residence for a time, doesn't hold a job anymore and is at home looking after their child.
Before the hearing started, the Waghmare couple sat in the front row of the courtroom -- she wearing a pretty blue kurta, a red chunni and an elaborate bindi, clutching a brown purse; he in a slightly shabby brown and white striped shirt and the same grey slacks -- muttering it seemed, prayers, under their breath, to themselves.
The Tuesday proceedings began fairly punctually.
Pasbola, fresh from defending Rahul Gandhi at a hearing, in a defamation suit filed against the Congress president, at the magistrate's court in Bhiwandi -- a township 57 km north of Mumbai -- at 11.15 am and be at CBI special courtroom 51 at 3 pm.
On some days, it is said, Pasbola has up to 18 to 20 matters to attend in different courtrooms. He must be a wizard at time management.
The busy lawyer, who was sporting four pens in his pocket instead of the usual three, spent a portion of his Tuesday cross-examination further questioning Waghmare about his strange Indrani-sponsored-and-directed 2014 mission to Kolkata.
He checked how many times more he had been in touch with the mysterious Sujit, from whom Waghmare had to collect medicines for "Indrani's mother."
The Q and A was conducted in Marathi, with CBI Special Judge Jayendra Chandrasen Jagdale translating it in English for the court stenographer to type up.
Pasbola from time to time addressed Waghmare politely and gently as "Bhau (brother)."
Waghmare initially told the Khar police station, north west Mumbai, that after not finding Sujit he sat at the Kolkata railway station for two-and-a-half hours to meet yet another unidentified person.
The erstwhile office boy denied having told the police that.
Pasbola took 20 minutes to point out the omissions between Waghmare's testimony in court earlier this month and his previous statements to the police and the CBI.
The crucial few omissions were: The fact that Waghmare discovered "daru (booze) and water bottles" when he went to the Mukerjea flat the day after Sheena's alleged murder in April 2012 and that there was no mention of finding a "nightgown."
Pasbola: "You said you found gents slippers and a nightgown. But the nightgown is not in your statement to the police or the CBI?"
Badami interrupted: "Gents' slippers is there."
Pasbola: "Nightgown is the omission."
Badami offered gingerly: "It said nightie? Nightie? Nightgown?"
Judge Jagdale laughed heartily, his laugher always lighting up the courtroom.
Waghmare was asked about meeting Rahul Mukerjea, Peter's son from his first marriage, the day after the alleged murder, when Waghmare had gone over to clean up at Marlow, the building where the Mukerjeas lived in Worli, south central Mumbai.
Pasbola wanted to confirm if they met in the garage.
Waghmare looking slightly clueless: "Doosra baar? (The second time that day?)"
It was Pasbola's turn to appear baffled because Waghmare had told the court he had met Rahul only once that day.
Waghmare backtracked and agreed that he was in the garage cleaning when Rahul arrived and it had been only one meeting.
The cross examination turned to the signing of Sheena's name by Kahal Sharma on Sheena's resignation letter to Reliance Mumbai Metro One.
Pasbola: "You were aware that Kajal had signed as Sheena on the letter. Are you aware that copying (fabricating) the signature of someone else's is wrong?"
Waghmare: "Ho (Yes)."
Pasbola: "Did you tell Kajal Madam that signing someone else's signature is wrong? And that she should not do it?"
Waghmare: "Ho (Yes)."
Pasbola: "Did you tell her that before she signed?"
Waghmare confirmed that he had tried to reason with her, but she did not heed his advice because she said she was doing it on Indrani'instructions.
Pasbola: "Did you see Kajal Madam forging the signature?"
Waghamre said he had.
Badami interjected: "Signing. He can't be saying forging?!"
Pasbola, reiterated wryly: "Forging. Even he knows."
Pasbola: "Did you see her practicing writing the signature?"
Waghmare: "Yes."
This was contrary to what Kajal Sharma had stated to the court last month when she said no one had seen her practicing signing like Sheena.
She also had very forcefully told the court that she did not know what forgery was.
But the office boy, who worked under her, said he had warned her not to forge the signature.
Pasbola: "Did she write the signature the same way she had practiced on the letter?"
Waghmare said she did and that he had posted/couriered the letter she signed.
But he could not remember if she had signed the letter using a ball point pen or an ink pen or if it was signed in blue ink or black.
Waghmare was shown the six-year-old letter Sharma had signed, and sent in Sheena's name to Mumbai Metro One.
He was asked if it was the very same later. He studied it for a few moments and asserted that it was.
Indrani's lawyer then turned to the former office boy and flung a bunch of accusations at the unsuspecting and astonished Waghmare.
Pasbola: "Khar police station did not record your statement on August 27 and August 28, 2015. They detained you."
Waghmare smiled in disbelief and said that was not true.
Pasbola continued: "You recorded a false statement on August 29. And then you were allowed to leave. You never went to Marlow on April 25 (2012). Or met (Mukerjea driver and Accused No 3 Shyamvar Pinturam) Rai there. Or took a bag from there (the suitcase Rai had given him)."
Waghmare hesitantly opened his mouth to start to refute Pasbola's charges.
Unsure of what surprising statement Waghmare might pop out in response, Badami swiftly intervened and cut him off immediately, instructing him to say it was not true.
Pasbola's accusations didn't stop there.
He said Waghmare was not given any resignation letter to post by Sharma nor had he gone to post the letter.
Pasbola, added, stumbling awkwardly over the brand name of the tooth powder: "You were never given bottles of Dabur dant manjan powder (to carry to Kolkata and empty and then fill with the medicine given as recorded in his testimony)."
Badami quickly and explicitly corrected Pasbola, emphasising: "Dabur Lal dant manjan."
Judge Jagdale smiled.
One mused if random bottles had to be chosen to bring medicine back in: Why were the bottles of the very unlikely Dabur Lal dant manjan chosen by Indrani.
She, who once lived flitting between homes in Bristol, England, Goa and Marbella, Spain, doesn't look like a Dabur dant manjan type.
Pasbola: "Indrani Madam did not tell you that if the police catches you, you should throw away those bottles. You had not been sent to (collect) medicine for Indrani Mukerjea's mother. You have testified falsely that there were bottles of liquor and water lying in the kitchen in Marlow and black slippers... You have said all this under pressure from the police and the CBI!"
With that Pasbola promptly wound up his cross-examination of Pradeep Waghmare and took his leave.
Shreyansh Mithare, the lawyer for Indrani's former husband and co-accused Sanjeev Khanna, got up to request till Wednesday to start their cross-examination of Waghmare. They said they would require very little time.
Judge Jagdale enquired from Peter's lawyers when they would start their cross examination. Anup Pandey, who works with advocate Shrikant Shivade and represents Peter, said Shivade was away in Goa and could only be in court by Monday June 18.
Shivade has been appearing at the in-camera trial in a court in Mapusa, Goa, on behalf of former Tehelka editor Tarun Tejpal in the rape case filed against him by a then staffer at Tehelka.
The delay didn't please Judge Jagdale at all. He said daily wage earners like Waghmare could not be expected to make so many trips to court.
He asked Pandey why he could not start the cross-examination himself.
Mishra demurred and said that Shivade would like to be there.
The judge then called Peter and asked him why his lawyers were causing this unseemly delay.
The irrepressible Waghmare then piped in, uninvited, from the witness stand, and said it was extremely difficult for him to come, daily, two-and-a-half hours each way by train, from Badlapur (67 km away).
He said he had to leave his seven-year-old son alone at home.
The judge looked, with surprise, at Waghmare and asked him where was his "Bai (wife)" and why was she not looking after their son.
Waghmare pointed to his wife and said she was sitting in the courtroom to offer him "support."
It was a definite, unexpected aww! moment, underlining that Mr and Mrs Waghmare were a charming and more modern Indian couple than one might have expected.
Badami commented, with a smile, that Mrs Waghmare did not need to be there to support him and that they were there to give him all the support he needed.
The CBI special prosecutor then took off, agitatedly, at the defence, as he addressed the judge: "Waiting till 18-19th is too long. We have to worry about the safety and security of the witness. And the inconvenience."
"The trial is going on. We have to accommodate and adjust. But we have other things to do too. They are busy, we understand, but at least some priority should be given to an ongoing cross examination."
"We never know what can happen. This is India."
The judge interrupted him with a chuckle: "Anything is possible anywhere in the world. Not just India!"
Pandey steadfastly: "We are just asking for three days' time. We are bound by his (Shivade's) instructions."
Still unhappy, Judge Jagdale stated irritatedly: "That means you have no voice!"
He asked Mishra to file an application as to why they could not appear earlier and June 18 was chosen as the next date.
Peter and his lawyers were instructed to compensate Waghmare.
The court ordered that since the defence advocate was absent, the witness had to be compensated.
"An adjournment is granted, subject to a cost of Rs 1,200."
The Rs 1,200 was quickly produced and handed over to Waghmare.
The voluble Badami cheerily kept up a stream of commentary in the background, saying Accused 4 and Co could as easily afford to offer Rs 12,000 compensation and when the money was given to Waghmare he specified it was not "ghoos (a bribe)."
Peter then took the stand to put in an application. He said very respectfully that his grasp of Marathi was not particularly good and sitting at the back of the courtroom he could hardly hear the proceedings.
He requested time after a hearing, of at least 15 to 20 minutes, with his lawyers to understand what had transpired.
His application immediately got Badami riled up.
A heated and lengthy exchange fired up rapidly between him and Peter's lawyers.
Badami said they were always trying to be accommodating and give extra time.
"I am very reasonable. I am a human being. They are also human beings."
Pandey countered him, saying the police had not given them any time at the last hearing and that they had just abruptly whisked Peter away, even after he had appealed to Badami.
The judge brokered peace, suggesting to the lawyers to remember that they were much more educated as LLBs and were dealing with cops who had only minimum education and had to find a way around a situation satisfactorily.
After the lawyers and the accused left, Badami complained to the judge that he had to always be on constant alert for the security of the accused.
He said they had 'Z' class security, but he mentioned that the accused often compromised their own security.
In example, he mentioned that two women, related to individuals charged in the Punjab National Bank scam case, had met Peter in the court on Monday and he got to know.
The judge looked mildly surprised, but did not say anything.
Judge Jagdale asked for Singh, wanting to know when the CBI officer would reply to Shyamvar Rai's bail application.
The driver had sought bail over two months ago, when he sent in a hand written request from Thane jail.
The matter was fixed for June 15 and Rai would make an appearance.
After the judge exited, there was some good-natured banter in the room about the fact that the witness was named Waghmare and so was the peon at Courtroom No 51.
And further, at a hearing, a few days before, one of the policemen, who came with the accused to the court, was also named Waghmare.
There was a robust round of laughter over the profusion of Waghmares in that courtroom -- the tribe had taken over No 51, unbeknownst to all.
And everyone was in agreement that Pradeep Waghmare was no pushover.
The ex-office boy was waiting in the corridor outside for further instructions from the prosecution.
He and his supportive missus stood at the open grill of the corridor, that overlooked the courtyard below, where the aged blue prison buses park.
They were totally absorbed with watching Peter, Sanjeev and Indrani being led off back to jail.
One would certainly offer a penny for their thoughts at that moment.