Judge Jagdale, with a severe expression shadowing his face, looked sharply at Manoj Patil, Airtel's nodal officer, and told him plainly: "It is difficult to digest what you are saying (about) giving call data, but not giving call timings and durations."
Vaihayasi Pande Daniel reports from the Sheena Bora murder trial.
Illustration: Uttam Ghosh/Rediff.com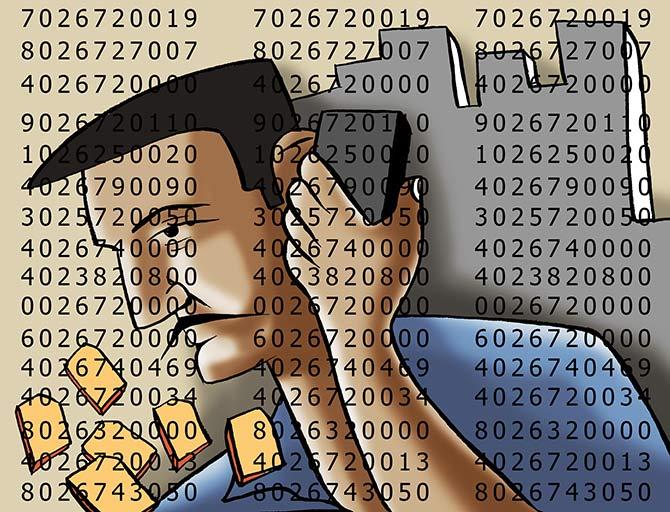 A high-voltage courtroom face-off was meant to happen on Saturday January 20. But Saturday went by peacefully.
Instead it happened on Tuesday, January 23.
Between a Bharti Airtel nodal officer and Peter Mukerjea's lawyers at the Sheena Bora murder trial, which is unfolding at the Mumbai city civil and sessions court, Kala Ghoda, south Mumbai.
Tuesday actually saw a hearing of a short, terse, duration in this trial. Probably just 20 to 25 minutes. But it was a dramatic one.
On January 19, Shrikant Shivade, Peter's trial lawyer, informed CBI Special Judge Jayendra Chandrasen Jagdale, in Courtroom 51, that the call data records of the cellphone belonging to the Mukerjeas' former driver Shyamvar Pinturam Rai, accused and subsequently approver, handed over to the defence by the prosecution, had been tampered with.
The senior lawyer charged that it was not at all surprising that the CDRs had information deleted, and showed signs of being fudged, as they were of the SIM belonging to the cellphone Rai had in his possession, at the time of his arrest on August 21, 2015 by the Khar police, north west Mumbai.
The defence's contention, since early December 2017, has been that Rai was never arrested.
They believe he was taken into protective police custody a few days before August 21 of that year, as they alleged Rai had a yet undisclosed role in the supposed framing of a case against the Mukerjeas and Sanjeev Khanna, Indrani's former husband.
The CDRs of the driver's 2015 phone took several months in coming from cell communication provider Airtel and when checked subsequently have allegedly shown signs of tampering and someone, either the nodal officer/CBI/Khar police, was responsible, charged the defence.
Shivade and Sudeep Pasbola, Indrani Mukerjea's lawyer, also gravely wondered how the sanctity of the court could have been violated by the submission of cooked up records.
When a concerned Judge Jagdale heard the charges last Friday he immediately asked for Manoj Patil, Airtel's nodal officer, to be called to court right the next day, January 20.
Patil didn't show up on Saturday and Judge Jagdale ordered that Patil be in court at 11 am Tuesday or "coercive action will be taken" since "the officer remained absent without any lawful excuse."
"It has to be remembered that serious allegations were levelled against the nodal officer," Judge Jagdale warned. "If he doesn't remain present again, the court will pass necessary orders."
When Patil arrived on Tuesday, along with a CBI officer, CBI Prosecutors Kavita Patil and Bharat Badami were absent.
There was a slight delay in the hearing starting up. The judge was busy with several earlier matters and the CBI advocates were awaited.
One of their colleagues suggested they could be held up for any number of reasons like traffic.
Nearly half an hour after the hearing time there was no sign of them. Or a message.
Judge Jagdale suggested they proceed without the prosecution lawyers. "Let us find out the discrepancies in his (Patil) presence."
Patil, a silver-haired, bespectacled man of medium, thickset build, who has garnered much more than his fair share of unexpected attention at this trial, took the witness stand and smoothly started off telling the judge and the court, "I think so that you have not read my letter sent along with the CDRs."
He went on to explain that the letter stated that because of the length of time that had elapsed -- the CDRs are for 2015 calls and cell/SIM activity -- "and the records were (extracted) from archived tapes, 100 per cent accuracy cannot be there. Whatever has happened has come."
Breaking into Marathi he added, "Juna data copy karaich (Old data is being copied). They have been stored on tapes and restored by the IT people."
Patil's glib manner immediately provoked Shivade's ire.
Judge Jagdale also looked at Patil closely, his brow furrowed.
Shivade started off softly, lethally, his face stern, "You have produced soft copies... CDRs without call timings?"
Patil resorted to the same explanation. "They have been retrieved from old archived tapes. Restoration of them has not happened 100 percent. See my letter. It has happened on a best effort basis."
Vishal Gupta, a lawyer on Shivade's team, then cut in and informed the court firmly, "I am a computer engineer."
Gupta described the mechanics of retrieving data stored on a magnetic tape and said there could not be part retrieval in the manner in which Patil was suggesting.
Because of age, data can get haphazardly fragmented but neat packets ie columns of particular data could not disappear.
"That is not possible," Gupta concluded.
Patil: "I don't agree."
Shivade: "Selective reproduction is impossible!"
Shivade and Gupta then asked Patil for his career/educational qualifications.
Patil: "I am a commerce graduate."
Gupta, crisply: "I am a Microsoft-certified systems engineer."
There was a moment of silence in the only half-filled court. The accused were not present, nor their relatives.
Patil then ploughed on, undeterred, "I have produced the same data that has come from my back end team. I am not saying he (Gupta) is wrong or he is right..."
He went off an a tangent, speaking about the challenges of extracting data for one SIM number, among millions, from nearly three years before and the huge expense it involved because he said a special team was employed to work on the data.
"We have not even charged."
Patil then asked Shivade: "How can you say the data has been deliberately deleted?"
Shivade stuck to his guns: "Deliberately deleted."
Judge Jagdale: "We need an expert. We have to proceed on this matter."
Shivade said he knew such an expert and lapsed into a longwinded description of his qualifications and that he was a police expert, who even held classes for Supreme Court judges.
The judge -- always blunt but not harshly so -- was dismissive. He said with a large smile that all kinds of people came to lecture judges, including him, but reiterated that a specialist was the need of the hour.
Shivade told Judge Jagdale that he could not proceed with the cross examination of Khar police station Inspector Ganesh Dalvi unless the "tampered" CDR issue was not sorted out first.
Judge Jagdale was taken aback and asked what the connection was.
Shivade: "He has made calls to Ganesh Dalvi and Dinesh Kadam (of the Khar police too)."
The advocate expounded that he was certain the CDRs would prove that Rai had been earlier to the Pen location, where Sheena Bora's remains were allegedly found, with the police inspectors and that the timings of his earlier recces were also wrong.
Judge Jagdale irritated: "I cannot accept this answer. We are not here to decide if a witness is reliable."
The judge and Shivade sparred over that point for a bit and then once more a discussion ensued on the manner in which CDRs are presented to the court.
Shivade to Patil: "Let them show me even one single CDR without the call timing!"
Patil replied in his same, now tired, vein about how it was about tracing the CDR of only one particular number among millions etc etc.
Shivade told the judge that in the Mumbai bomb blast case of 2011 too CDRs were relied upon and the data in that case was five to seven years old and showed none of the issues Patil was suggesting.
Shivade and Patil again began to trade charges, Shivade for the third or fourth time stressed the deliberate deletions.
After initially repeating "I have not done any such thing. If it has not come, it means it is not there," Patil meandered on about the data being what was presented to him by the IT teams hired to extract this data and that there was no reason for the back end teams to tamper with data given that they were disconnected from the issue and located all over the place, "MP, Pune, Delhi, Mumbai."
Shivade angrily to the judge: "Let him (Patil) file an affidavit (saying that). Let us cross examine him. Let him prove it!"
Questions were raised, with Judge Jagdale joining in, about billing and the impossibility of call records existing without timings, as they were part of a cellphone company's billing records.
The hearing then ended without a conclusion.
It was decided that CBI Special Prosecutor Bharat Badami needed to be present to take the matter forward.
Judge Jagdale, with a severe expression shadowing his face, looked sharply at Manoj Patil and told him plainly: "It is difficult to digest what you are saying (about) giving call data, but not giving call timings and durations."
The afternoon hearing of the Sheena Bora murder trial was adjourned to Friday, February 2. Neither the accused nor did the next witness Ganesh Dalvi show up.