And then came the chief moment of Friday.
If the courtroom had a soundtrack, Beethoven's 9th would be playing, providing a triumphant, dramatic prologue to the production of this last clip.
A woman reporter was asking Mekhail about Sanjeev Khanna.
He says clearly, without mincing words, emphatically: 'Never seen him. First time I am hearing his name.'
Vaihayasi Pande Daniel reports from the Sheena Bora murder trial.
Illustration: Dominic Xavier/Rediff.com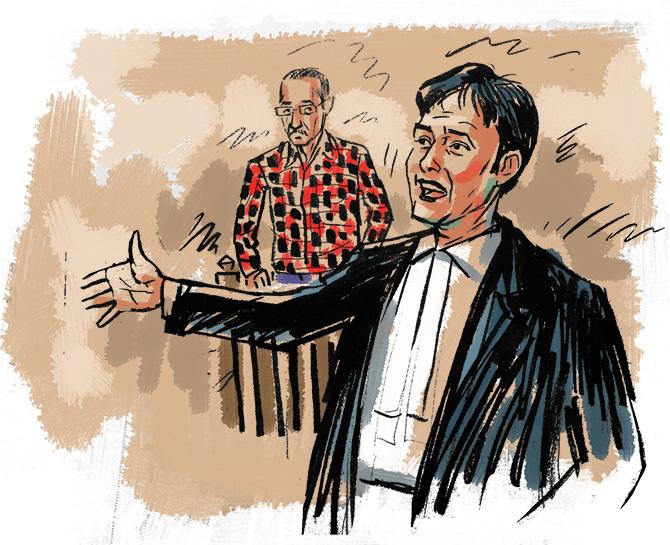 There is one lesson Mekhail Upendra Kumar Bora should take away with him on Monday evening when he likely departs Mumbai for his hometown of Guwahati after appearing as a witness in his sister's murder trial, against his mother, through 12 landmark appearances.
It is: Don't speak to the media. Especially not to television cameras. Or to TV hosts, no matter how famous.
The defence lawyers, astutely realising the undeniable impact, in a courtroom, of loosely made statements before rolling cameras, made full use of the plentiful footage Mekhail generously gave television channels after Sheena Bora's murder was discovered in August 2015.
None of the bites or interviews showed him up particularly well, even if today the seemingly more mature, sober Mekhail-2.2 2018 Version does not come across anything like that character who grabbed national attention in 2015.
At the Mumbai city civil and sessions court, Kala Ghoda, on Friday, August 24, Niranjan Mundargi spent nearly two hours cross-examining Mekhail in the Sheena Bora murder case in CBI Special Courtroom 51 before Judge Jayendra Chandrasen Jagdale.
He wrapped up his cross examination of Mekhail on Friday too.
The lawyer for Sanjeev Khanna, Accused No 2, Mundargi had plotted out his battle strategy as dextrously as a general and the blueprint was evident as he started up his campaign to corner Mekhail.
He first asked a few questions attempting to establish Mekhail's credibility. Or rather lack of it.
And then moved to the showy centrepiece of his defence of Sanjeev, a critical, few-second sound bite Mekhail gave India Today's Guwahati correspondent in late August 2015, that the prosecution must have heard with sinking hearts.
Each lawyer has a different cross examination style and way of preparing for a 'cross'.
Indrani's lawyer Sudeep Ratnamberdutt Pasbola, who finished his session with Mekhail on Thursday, believes in thorough study of all the documents relating to a case and prefers what he terms non-shifty' witnesses, who don't keep on saying they don't remember.
Pasbola's questioning method is more organic, free style and instinctual.
Mundargi, a tall, cheerful, polite man, comes equipped with a whole list of not-very-neatly written pointers, from which he may stray, depending on answers received, after reading the chargesheet, the 'examination in chief' and hunting around for statements of extraneous other people on the case that could prove valuable.
His questioning style is tidy and very to the point and you appreciate his logical, minimalist approach and the-plain-as-the-nose-on-your-face-type queries that get him surprising answers from witnesses.
Friday's hearing in the Sheena Bora case was delayed till noon.
That afforded one the occasion to wander over to the courtroom where the Sohrabuddin Sheikh alleged fake encounter trial is being conducted two doors down.
Within a few minutes two clerks started interrogating me on what my business was, why I was sitting there in their courtroom (which is in fact a public courtroom and affords access to all) and brusquely instructed me to leave.
"Chale jaiye (Go away." Only when they were told that I represented the media did they back down.
Judge S J Sharma, a man with sharp, austere features and a stern presence, entered shortly after and took his seat in a tall, ornate chair and the hearing began with a forensic expert from Ahmedabad deposing as a witness.
It was time to scurry back to Courtroom 51 where the judge's sunny manner lights up a gloomy room.
One of the many policemen on duty at Courtroom 51 had once told me, in Hindi, that he keeps re-applying for duty there because the "Judge Sahib" is a peaceful ("shaant") man.
Mundargi began his questioning of Mekhail a few minutes before noon.
Indrani's son took the stand wearing the same mustard shirt and dark pants, of the past week, that now had dark stain on it near the pocket.
Mekhail in the Mustard Shirt is going to be engraved in the collective memory of the court. Can one buy such a colour of shirt without thinking of Mekhail in the future?
Mundargi's first question was how many other police stations had Mekhail ever visited before he came to the Khar police station in 2015 to depose in the Sheena Bora murder case.
Mundargi: "28/8/2015. Jis din aapki zuban record hua Khar police station mein. Koi bhi police station ho -- (either in) Kolkata, Bangalore, Guwahati (kahi bhi) mein jaane ka occasion hua prior to 28/8/2015? (On August 28, 2015 your statement was recorded at the Khar police station. Before that did you have any occasion to visit a police station, be it Kolkata, Bengaluru, Guwahati or anywhere else?)"
Mekhail, stroking his beard: "2015? Iske pehle? Guwahati Dispur police station gaye the (Before that? I had been in Guwahati to Dispur police station)."
Mundargi: "Tareek yaad hai? (Remember the date?)"
Mekhail: "Tareek yaad nahin (Don't remember the date)."
Mundragi: "Aap ke gaadi ka accident hua tha uss silsile mein gaye the? (Your car had an accident, did you go there for that reason?)"
Mekhail agreed.
Mundargi, a young, striking-looking lawyer in his 30s, then speculated if that was the only case or had he also had to encounter the police in Bengaluru, when he was going to school there.
Mekhail flatly: "Galat (Wrong)."
Next the lawyer wanted Mekhail to do a painful rewind and wondered when the news of his sister Sheena Bora's murder broke, where did Mekhail first get to hear of it.
Mekhail, gravely: "News khol ke dekh rahein the. Channel yaad nahin (Was watching the news on television. Don't remember which channel it was)."
Mundargi: "Sheena aur aapke rishte ache the, barabar? (Your relationship with your sister was good, right?) As a sister you had love and affection for Sheena?"
Mekhail nodded solemnly, his eyes had a slightly faraway look.
And after that wasn't he rooted in front of his television, flicking between channels searching for more news there about his sister's death and even from the newspapers?
Had his relatives come over and were they also following the news with concern?
Mundargi in Hindi: "You must have tried to find as much news about her murder, searching all the channels and the newspapers. She was after all your sister for whom you had love and affection."
Mekhail said softly, his expression still distant, that he didn't want to look for more news on her death at that time. And he didn't know what his relatives were doing.
Looking into his face one wondered if he was recalling that dreadful, ghastly day in August 2015.
What must it be like for a brother to turn on the television and catch a news flash that his dearest sister had been murdered.
A day he never wanted to remember and also would hardly ever want to forget.
The day he finally realised a young woman he called Didi with lively eyes, elfin features and a lovely smile would never reappear.
Could he still hear his sister's voice or her laugh in his head? Or remember the way she addressed him, her little brother?
A few questions, after that, were devoted to Mekhail's biological father Siddharth Das.
When had he seen him last?
What did his father do?
Where was he living?
Had he ever tried to contact Das after he reached adulthood and reacquaint himself with his biological father?
Mundargi: "Aap unke beta the. Aap bade hone ke baad apne Papa se milne ki koshish ki thi? (You were his son. After you grew up, did you try to meet your Papa?)"
Mekhail said he had not. He said he had last seen his father when he was in Class 1. He heard from his Nani-Nana that Siddhartha Das lived in Kolkata and worked for Hitachi.
Then subtly, laced with mild suggestion, given contact with the much more well-to-do Indrani had existed, Mundargi asked: "Unka financial condition utni achchi nahin thi (His financial condition was not very good)."
Mekhail: "Mere ko nahin patta (I didn't know)."
Mundargi asked if Mekhail had seen or heard about the interview Das gave to the media in 2015 and how the media had been camping non-stop outside his Kolkata home and had first caught a bite from his father as he was rushing out (to escape the media) of his home to get on his motorcycle and had his helmet on.
Mekhail said he had. But that he had not seen the interview/s.
Judge Jagdale flabbergasted for a moment, began to laugh, his mirth unstoppable. "TV serials... Escaping on motorcycles..."
He wondered where Mundargi and the other lawyers got all their material, some of it so extraordinary.
"Where do you get the time? I am curious about that!"
Mundargi, smiling too, said something to the effect that these were interviews that had appared in the media and it was part of the material the defence had collected.
The trickiest and the weirdest part of Mekhail's cross-examination by Mundargi revolved around his Class 12 pass certificate.
Mundargi: "Mekhailji, barvee ke baad kahan admission liya tha? (After your 12th where had you taken admission?)"
Mekhail, dully: "Barvee pass nahin kiya (I didn't pass my twelfth)."
The judge chipped in saying he had a false certificate that said he passed his 12th grade.
Mundargi asked if he had taken admission in a hotel management course and if he produced the false certificate there.
The lawyer delved into Mekhail's ethics wondering why he had a bogus 12th pass certificate.
"Kisee authorities ko bola ki galat certificate hai? (Did you tell the authorities that you had a false certificate?)"
Mekhail: "Mere ko patta nahin tha (I didn't know)."
Mundargi: "Aap ko patta kab chala? (When did you get to know?)"
Mekhail: "Jab mein 2011 WNS (a call centre company) mein gaye the (to apply for a job) Gurgaon mein. Udhar ka HR department ne bola aapka certificate bogus hai (When I went in 2011 to WNS in Gurgaon to apply for a job. The HR department over there told him his certificate was bogus)."
Mundargi: "Yeh bolna sahi hai ki aap ne 12th exam pass nahin kiya? (Is it true to say you had not passed your 12th exam?)"
Mekhail, laconically: "Diya hi nahin toh kaise pass hoga (I never gave it, so how would I have passed it?)."
So then why was he carrying about a certificate that said he had given and passed the exam?
What kind of logic of nonsense was that? It was that classic Lewis-Carroll-have-I-gone-mad-afraid-so-let-me-tell-you-the-best-people-are-mad moment.
A bit of bewilderment settled on everyone's faces.
Mekhail was obviously one of a kind. A species all by himself.
Indrani, amused, watched the interplay from the back of the room.
Still attempting to somehow process the absurdity Mekhail had just told him, the advocate then checked why he had produced the certificate at a job interview.
Mekhail swiftly exonerated himself and passed on the blame like a hot potato -- dumping blame is a bit of a hallmark of Mekhail's answers -- saying he had not created the certificate.
INX Media executive Vivek Mittal, who had taken Mekhail under his wing those days at Indrani's request, while he was in Delhi, had, Mekhail alleged.
When they went for that interview Mittal had pulled out a xerox of the bogus certificate and added it to Mekhail's application.
Mekhail, painting a complicated picture of himself as a blameless marionette, said he had nothing to do with the certificate and that it had been foisted on him by Mittal.
Mundargi didn't let it go.
But hadn't he hung onto the certificate and presented it at places including at an interview?
Mundargi: "Yeh bogus hai patta chala. Phir bhi company mein diya naukri ke liye? (After knowing that it is a bogus certificate still you give it to the company for obtaining employment?)"
Mekhail started to explain that he didn't give it and he didn't know it was bogus till the staffer at the HR department told him.
But he knew it was bogus, because he hadn't given the exam.
Mekhail again insisted that he hadn't known it was bogus and he had not submitted it.
Mundargi started to lose his cool and the Q and A began turning slightly ugly as Indrani's son outright refused to acknowledge his role in bandying about the forged certificate.
Mekhail maintained that it simply wasn't his doing. He said he didn't know it was forged.
That was pointed out to him by the HR manager of a company where he was applying for a job, said the man, who knew he had never given the Class 12 exams in the first place, over and over again.
That one had to be finally let go, since no amount of adroit pinning down was working, as deftly as Mundargi tried.
CBI Special Public Prosecutor Bharat Badami and Mundargi exchanged glances and Badami made a circular gesture with his left hand to indicate it was going nowhere. And both grinned.
Mundargi: "Mera yeh kahna hai ki aap ka certificate kahani jhoot hai! (I declare that your whole certificate story is a lie!)"
Ten to 12 questions followed about the evidence Mekhail gave on August 28, 2015 to the Khar police, north west Mumbai, where the murder investigation began.
Who did he meet?
How long did it take?
At what time of night did it finish?
Mekhail said the questioning took an hour or an hour-and-a-half and he went to the station "shaam ko (in the evening).
He said he was questioned by three or four police personnel, the senior-most of whom was an Inspector Pawar and they had an open laptop in front of them on which they might have been taking notes.
He agreed the whole process went on for a while, but didn't commit to the fact that it was late at night when it finished.
The police didn't give him dinner. He had dinner after the process with a friend at his hotel.
Mundargi examined the nature of Mekhail's interactions with the media and how many interviews had he given before he gave his statement at the Khar police station.
Mekhail: "Zyada nahin. Kuch hi hoga. Yaad nahin hai. Interview nahin the aate jaate (kuch bolte the) (Not many. A few. I don't remember. They were not interviews, but statements I made as I exited or arrived at my home in Guwahati)."
Mundargi: "Bites boliye (You could call them bites)."
Mekhail concurred.
Mundargi asking one of those self-evident but required queries: "Aap agar interview dekhoge toh khud koh pehchanoge? (If you see an interview, would you be able to recognise yourself?)"
Mekhail: "Ha (Yes)."
The lawyer asked the judge if he could confront Mekhail with a television clip and whipped out a CD, already certified by the necessary authorities and mounted a sudden surgical strike, with the first advantage, on the witness, crossing into alien territory.
CBI Prosecutor Badami, rightly, was not happy: "I have not received anything in advance."
A copy was handed over, right there: "Now I have received it. This you could have given yesterday also."
The judge agreed that Badami had a legitimate point.
Badami got to his feet to complain and strike a righteous blow back: "Any time they can do anything. They should have given me one day in advance. I don't know what is happening... Life, liberty, freedom of speech we have no doubt, but the prosecution was totally unaware."
Judge Jagdale: "Same channel?"
Mundargi said it was from the India Today news television channel.
The first clip was of Mekhail announcing that he has some crucial evidence: 'My evidence is the conversation between Peter Mukerjea and Sheena or Indrani Mukerjea, I have some evidence on them.'
Mekhail told the court they were e-mails and he had given them to the police subsequently.
In the next clip Mekhail announced he didn't feel threatened by anybody.
Judge Jagdale remarked thoughtfully: "This is a double-edged weapon. Not been specific (but) he was accusing a person in custody at that time."
The advocate said he was aware of that and the lawyers of the other accused were agreeable. "A slight risk is there."
The judge: "But you have to take it."
The normally reticent CBI Investigating Officer Kaushal Kishore Singh, who was wearing a white striped and dotted shirt on Friday, looked over at Indrani, at the rear of the court, to read what she thought of it.
Indrani in yellow and white, put her hands up in the air to indicate she was resigned to it.
And then came the most significant, key, part of that little interview and the chief moment of Friday.
If the courtroom had a soundtrack, Beethoven's 9th would be playing, providing a triumphant, dramatic prologue to the production of this last clip.
A woman reporter was asking Mekhail about Sanjeev Khanna.
He says clearly, without mincing words, emphatically, leaving no one in the room in any doubt: 'Never seen him. First time I am hearing his name.'
After the clip ended, there was a moment of suspended motion in the courtroom.
Like a 30 second spell had been cast on the occupants fleetingly.
Mekhail was asked about his statement of 2015 and offered cautiously but manfully an answer. But it was deficient, definitely not up to par.
"Shayad woh time par naam patta nahin tha (Maybe at that time I didn't know his name)."
The reason for Mundargi's surprise method of introducing this CD in court was now, of course, crystal clear. A master stroke.
Sanjeev, wearing a red and black checked shirt and black jeans, was standing in the accused box in the back watching the proceedings intently.
Mundargi then pondered aloud when Mekhail had come to know of Sanjeev Khanna and at what point had he recalled he had met him before. Had he told the police?
Mekhail said till then he had not seen Sanjeev's face and only when he saw his face did he recall who he was.
"Police ko bola tha (I told the police)."
Judge Jagdale: "You are not sure?"
Mekhail: "Bola hoga (Must have told them)."
The judge repeated: "Bola hoga?!"
Mundragi quietly queried why it was not in his statement to the police
Mekhail: "Shayad bola (Maybe I said)."
The enigmatic K K Singh gave Mekhail a long, unfathomable look.
The investigating officer hardly says a word in court on any day except maybe under his breath, or with tart humour, to CBI Special Public Prosecutor Kavita Patil or Badami and sometimes to Indrani's lawyers Gunjan Mangla or Pasbola.
Yet his presence is significant. Unignorable.
When your eyes roam the courtroom attempting to watch for reactions and noting expressions of the major players in this case, they always bump smack into Singh's who surveys every part of the room with an alertness, mentally taking reams of notes, his eye missing nothing, his face mostly impassive, though sometimes those searchlight eyes crinkle with a faint sardonic smile.
The only other person in the room, ironically, with the same alert gaze is Indrani, from whose eyes escapes very little.
Mundargi addressed a few more questions to Mekhail about his supposed interactions with Sanjeev and if they recorded in his statement to the police and the CBI. He pointed out a few omissions between the statements.
Mekhail's interactions with the CBI were then tracked. He had met the CBI three times. Once was in Guwahati in his home -- House No 8, Sundarpur, Zoo road. The other two interactions happened in Mumbai and his statement was recorded in 2016.
The lawyer also took a count from Mekhail of the occasions he had met Sanjeev.
He first said two and then volunteered that Sanjeev Khanna had also come to pick him up at the Chaitanya Mental Care Centre, Pune, where he was undergoing treatment, in a silver Honda City with Sheena.
The room looked a bit startled.
Judge Jagdale to the court stenographer: "Witness volunteers..." and the details of the interaction were keyed in.
The judge turned to Mekhail with a smile and said wryly: "If you continue to volunteer information (like this) you will stay here for another week!"
Mekhail quickly pacified the judge hastily saying he promised to not offer any further information.
Closing his cross-examination of Mekhail, Mundargi declared: "Mera aisa kehna hai ki aap Sanjeev Khanna ko kabhi nahin mila tha! (It is my declaration that you have never met Sanjeev Khanna!)"
Mekhail: "Galat!"
Mundargi continued in the same vein, saying Mekhail had never been introduced to Sanjeev as a client by Indrani, or taken to a "disco-pub" by Sanjeev, or given shots or tequila, or taken from Chaitanya by Sanjeev, or met him at Marlow, the Mukerjeas's Mumbai residence, on the day of Sheena's murder and the whole tale was a giant fabrication from start to finish.
He asked Mekhail if he had any evidence to prove he had come to Mumbai between April 24-April 25, 2012.
When Mekhail said he hadn't, Mundargi proclaimed he didn't believe Mekhail had come to Mumbai on the 24th and returned to Guwahati on the 25th of that month, that year either.
"On the police's instructions you have developed this whole story about Sanjeev Khanna."
Accused No 4 Peter Mukerjea's lawyer Shrikant Shivade would be available, to Mekhail's dismay, only on Monday and that day too his cross examination would come to an end.
Mekhail said he was running out of money and needed to be reimbursed for his expenses. The judge directed the defence to give him Rs 1,500 towards three additional days of stay.
Typically an independent witness testifying in court in a CBI case is only eligible to the most minimum hospitality -- sleeper class train fare, stay in a basic hotel and reimbursement towards meals, although his within city transport is taken care of by the CBI.
Mekhail had been flitting to and fro between the court and his place of stay in Mumbai, his black face mask firmly in place, in a white CBI Tata Sumo.
Why the mask? Given Mekhail's talent for giving multiple interviews, the CBI had probably not wanted to take any chances this time around, when he was one of their most valuable witnesses.
As the hearing came to a close, the accused were given just a few minutes to wind up their consultations with their lawyers.
The police started getting restive, edging closer to them.
Indrani approached the front of the court to talk to CBI Investigating Officer K K Singh and three police officers swiftly circled her from the rear.
One of the prosecution, watching the scene, commented dryly to the overenthusiastic police officers: "Unko uthake le ke jaana hai? (Are you wanting to physically lift her up and take her away from here?)"
Ten minutes after Peter, Indrani and Sanjeev departed back for jail, Peter's lunch -- a steaming cup of coffee and probably a burger -- arrived.
The young man who brought it, the son of a close Mukerjea family friend, looked miserable to have missed Peter.