Peter told Judge Jagdale that there was only jewellery in the locker -- some of it that he had "gifted to my wife" and some that "she had received" at the time of their marriage, that the CBI had already inspected the locker in his presence and were aware of what was there.
Vaihayasi Daniel reports from the Sheena Bora murder trial.
Illustration: Dominic Xavier/Rediff.com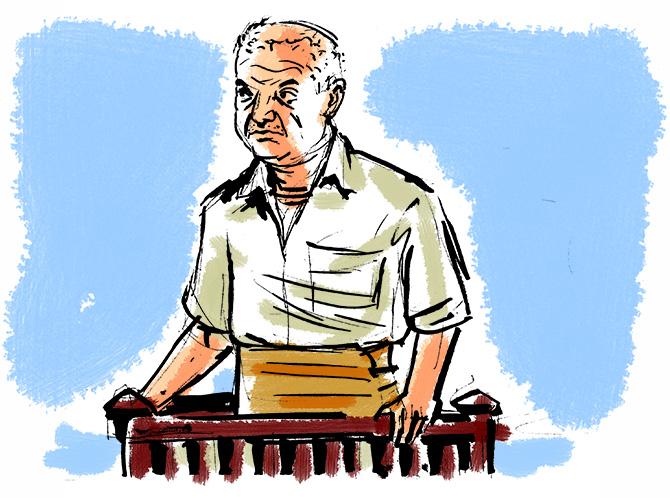 Hardiyal Mehra entered the witness box in Courtroom 51 on Tuesday, November 27, with the weight of the world on his shoulders.
A timid young man, who stooped and spoke in quite a gentle voice, his eyes faraway, he didn't look comfortable to be there.
Mehra, 25, had travelled all the way, perhaps by train, from Azadpur, north Delhi, taking leave from his waiter's job to appear in this Mumbai sessions court at Kala Ghoda in the Sheena Bora murder trial.
The bearded waiter, a Class 12 pass and the son of a farmer, who hails from the tiny village of Nainichek, outside Betalghat on the Kosi river in Nainital district, Uttarakhand, had once worked in Mumbai for a brief few years -- first at the Indian food outlet Nayak's Restaurant in the city's north western suburb of Goregaon East as a dish-washer and later as part of the room service staff at the three-star Hotel Hiltop, Worli, south central Mumbai.
That slim chapter of his life, many years before when he was a raw 17 year old, saw him inadvertently brush up against a guest who was eventually accused of murder.
The fleeting contact was responsible for bringing Mehra back to Mumbai and, probably reluctantly, into the stand from 1,400 km away six-and-a-half years later.
Wearing a red-black-white checked shirt, black trousers, blue sports shoes and an assortment of bands, threads, karas (steel bracelets) on his wrists, Mehra recorded his evidence, aided by CBI Special Prosecutor Bharat B Badami. He offered largely one-word staccato answers, in a sort of simple-minded manner.
Badami: "Aap Bombay kaun sa saal aaye? (In what year did you come to Mumbai?)"
Mehra: "2011. June."
Badami: "Kahan kaam karte the? (Where did you work?)"
Mehra: "Goregaon."
Badami: "Udhar kahan kaam karte the? (Over there where did you work?)"
Mehra: "Goregaon."
Badami again: "Udhar kahan kaam karte the? (Over there where did you work?)"
Mehra again: "Goregaon."
Badami rephrased to ask where exactly in Goregaon he was working and was rewarded with: "Nayak restaurant."
Badami: "Kya kaam karte the? (What kind of work did you do?)"
Mehra answering mouse-like, his eyes transfixed: "Bartan dhote the (I washed dishes)."
After moving to work at Hiltop some months later Mehra was drawing a salary of Rs 4,500 per month. He stated he was on night duty at the hotel on April 24, 2012, which was also the night Sheena was murdered.
Badami: "Kaun sa room mein gaye the? (In which room did you go?)"
Mehra: "216 mein gaye (To 216)."
Badami: "Kya le ke gaye? (What did you take there?)"
Mehra answered that no-brainer with: "Khaana (Food)."
The room service bill for Room 216 of April 24 with the time stamp of 9.36 pm of that year was shown to him and Mehra viewing it gingerly agreed it was the same bill.
He was requested to identify the accused he had served food to that warm April night. He seemed nervous.
Mehra's diffident eyes prowled the room, like a deer surveying the outside of a forest, for a long, painful 120 seconds. He looked closely at the knot of journalists reporting on the trial standing up front, the assemblage of black-coated lawyers seated in the rows in front of the accused enclosure and at Accused No 4 and No 1, Peter and Indrani Mukerjea, in the aaropee box.
It seemed like he was about to fail this identification test when finally, almost laboriously, his gaze alighted on Sanjeev Khanna, Accused No 2, wearing a black and red check shirt and black jeans. He pointed in slow motion at him.
Khanna's lawyer Niranjan Mundargi then took over.
Holding his hands delicately in front of his chest, the tips of his fingers touching, sometimes contemplating them, Mundargi regarded the waiter carefully.
Hardiyal Mehra, who spent a total of 20 minutes in Courtroom 51 testifying and being cross-questioned, might have come across to most spectators in the courtroom as an insignificant, witness.
But his statements were critical to Khanna's defence.
Khanna, as per the CBI chargesheet, had been linked to the Sheena Bora murder because on April 24, 2012 he arrived on a flight from Kolkata, checked in at Hiltop at 6.04 (as per hotel records) before joining Indrani in Bandra, north west Mumbai, where she was meeting Sheena at around 6.30 pm.
He was later said to have gone over to Marlow, Worli, where Indrani lived at 9.30 pm, as per CBI records, where he attempted to do away with Indrani's son from her first relationship, Mekhail Bora.
But since it was established that his flight arrived five-ish and he needed time to check in at the hotel and go up to his room (as was established with front office manager Minguel D'Souza at the October 31 hearing), Sanjeev's lawyers had been pointing out, right from the start, that the timeline of the Bandra and Marlow expeditions were awry or unfeasible.
The timeline would have gotten considerably more skewed if you added the 'fact' that Sanjeev ordered something to eat that night, which he had to have done from his hotel room's intercom, as per the hotel arrangements D'Souza had testified to last month and he (Sanjeev) signed for it too.
Mehra was the man of the moment, of that moment. He, according to the CBI, was the waiter on duty who delivered Sanjeev's order to his room.
Addressing him, in a pleasant voice, as Hardiyalji, and trying to make him at ease, Mundargi asked him a string of questions about how a room service waiter at Hiltop first got to know that an order he would have to serve had arrived, who received the order, where was the bill printed and the time taken to bring an order to the room.
He also tested Mehra's 6.5 year-old memory of other events of that night.
Mehra, mumbling in a low, inaudible voice that a mildly exasperated CBI Special Judge Jayendra Chandrasen Jagdale strained to hear, had tentative answers for most of the lawyer's queries or he simply agreed nodding his head.
It transpired that room service orders were received by the captain, who from Mehra's narration of it, sounded like important people.
Hiltop had two captains and that night the order was received and signed for by the captain whose name Mehra only hazily recollected was Louis.
Louis, according to the waiter, instantly -- "uske ke just baad" -- transmitted details of the dish ordered to him (Mehra).
The order was conveyed to the cook, that Mundargi confirmed was a different "department."
As per the note on the room service menu in each room at Hiltop, food took 30 to 40 minutes to reach a guest and Sanjeev's food was made from scratch that -- Mundargi re-confirmed that with Mehra.
Instantly received too -- that is, with minimum delays -- was the printout of the bill that accompanied the order up to the room for which Sanjeev, Mehra remembered nearly seven years later, signed for and did not pay cash.
Mundargi: "Unka order alu ka tha? (Was his order of potato?)"
Mehra doubtfully: "Italian kuch mangaya. Uska naam nahin maloom. Shayad Italian (Something Italian was ordered. I don't remember its name. Maybe Italian)."
Mundargi in Hindi: "The order you served on 24/4/2012 to room 216 that was prepared in the kitchen and andazan kitna time laga? (approximately how long did it take?)"
Mehra, like a tubelight that has suddenly come on, was clear on that score and quickly and confidently supplied: "Zyada se zyada dus minute (Nothing more than ten minutes)."
Mundargi: "Woh hone ke baad, panch minute ke baad upar gaye. Kya aap bol sakte hai ki 20, 25 minutes laga totally. Uske baad upar gaye order ke saath. Barabar? (So after it was ready, after five minutes you took it up. Can you tell me if it took 20, 25 minutes to reach the order up. Right?)"
Mehra agreed with a hesitant nod.
Before dictating Mehra's answer to the court stenographer, who is now a young man who has move to 51 from Courtroom 50, Judge Jagdale, who it would seem was aware of the importance of time in this witness's testimony, prudently confirmed with both Mehra and Mundargi: "20 minutes?"
Mundargi corrected him: "20, 25 minutes."
Mehra, who was on duty from 8 pm to 8 am that night and even the previous three nights, he remembered, took the order to Sanjeev's room, which he remembered was 216.
He took it into the room and did not deliver it at the door, but did not serve the "Italian kuch (whatever)" on a plate and left, he remembered.
He didn't collect the dishes that may have been kept outside the door by the "gast (guest)" and take them to "jahan bartan dhote hai (where dishes were washed)," he remembered too.
Mundargi, sometimes leaning his elbows on the little lawyer table in front of him or crossing his arms across his chest or his hands interlaced before him, tested Mehra's memory further, in a chatty voice like they were discussing the weather.
After all you, never know what a waiter remembers...
Mundargi asked: "24/4/2012, aap ne kaun kaun se rooms ke liye order liya? (On 24/04/2012, which rooms did you take orders from?)"
Mehra: "Panch rooms ka order liya (I took orders from five rooms)."
Mundargi: "Room numbers?"
Mehra: "Yaad nahin (Don't remember)."
Mundargi: "Woh chaar ya panch dishes mangaya hoga, toh who kya tha? (They would have ordered four or five dishes, what were they?)"
Mehra, less exact, the tubelight now off again: "Indian mein (Something Indian)."
Mundargi, helping him along, nudging his memory, checked if they ordered rice dishes or bread or if they were vegetarian or non-vegetarian guests.
Mehra: "Yaad nahin (Don't remember)."
Mundargi asked Mehra to tell him anything about the guests in the other five rooms that he served April 24 that year that he could remember. Were they single or couples? Who were they?
Mehra said he did not remember.
Mundargi verified how attendance was kept track of at Hiltop. There was a biometric process in place agreed Mehra in one word.
Did Mehra have any proof that he had been on duty at the hotel that day in 2012?
He didn't.
Had the police/CBI asked him for that kind of proof.
They had not.
Mundargi, finishing his cross-examination of Mehra, informed him almost politely that he had never served the guest in 216 on April 24, 2012 -- Sanjeev Khanna -- nor had he even been on duty that night at the hotel.
Mehra muttered something unintelligible. But he was not taken aback by Mundargi's counter-accusations or startled.
He was directed off the stand and he sat meekly in a chair behind the witness, his shoulders hunched, waiting for transport back to his boarding or to the railway station.
Peter's lawyers Sushmita Sherigar and Amit Ghag stood up to approach Judge Jagdale with an application on his behalf.
Peter needed access to his bank locker at Syndicate Bank, Worli, and was willing to legally provide access to one of his lawyers to go there.
As part of the terms of their divorce petition that was filed with the Bandra family court both parties -- Indrani and Peter -- are meant to each hand over possessions they have agreed to give each other.
Ghag: "A4 (Peter) is okay with having her (Sherigar) open it."
Badami got up to forcefully object, and his eyes flashing, asked how a lawyer could access the locker.
Judge Jagdale mildly to Badami: "But the locker is in the bank. He is in jail..."
Badami: "But we don't know what is inside the locker. It could be jewellery, it could be..." He later mumbled outside that who knows there might be 1,000 currency notes in it.
Ghag suggested that the only other way was for the jail authorities to give permission to Peter to come to the bank.
Judge Jagdale began to get irritated with the discussion because he felt it was not a concern of his court: "Why are you bothering me with this? I have enough to do."
Badami insisted that it was an issue because only the owners of the locker could operate it.
Ghag explained that the locker was in the names of Peter, his son Rabin and his second son Rahul. Rabin was in London. "And one son is a witness in this case."
Judge Jagdale, amused at the predicament, smiled and tried to mollify Badami.
Ghag further clarified that there was jewellery in the locker that needed to be gotten to.
Badami murmured: "I hope they are gold ornaments and not gold-plated ornaments."
Peter, who had been following the to and fro bemused and slightly incredulous, from the rear of the room, swiftly came to the front and took the stand. He was wearing a spine support belt over his white shirt and khakis.
He told Judge Jagdale that there was only jewellery in the locker -- some of it that he had "gifted to my wife" and some that "she had received" at the time of their marriage (November 8, 2002) and that the CBI had already inspected the locker in his presence and were aware of what was there.
Judge Jagdale wondered when that was.
Peter: "I was free for three months (after Indrani's arrest)."
Badami said he would issue a reply to Peter's petition after two days on Friday, November 30, and requested the next hearing be scheduled for December 4.
The judge looked puzzled at Badami, grinning, and again asked why he was so exercised over this matter that seemed simple enough.
In answer, the prosecutor stood his ground simply said he would file his reply.
After the hearing, Indrani, wearing a peach-coloured sleeveless kurta, beige churidars and a prominent spot of red sindhoor and Peter sat together, side by side, in the courtroom, probably discussing ornaments, access to bank lockers and the tricky business of dividing possessions from jail. Peter was eating his lunch his old friend had brought him.
Indrani spoke to all her lawyers -- Gunjan Mangla, Ayaz Khan, Sudeep Ratnamberdutt Pasbola -- and even her lawyer friend. He was instructed to ask her third child and daughter Vidhie Mukerjea to meet her either that day or the following day.
Sanjeev hung around speaking to his lawyers, waiting for Peter and Indrani to leave and collecting his two P G Wodehouses to take back to jail with him. One was titled Laughing Gas.
At some point Sanjeev and Badami made some small talk in the corridors outside the courtroom.
Badami told Sanjeev: "Kya hua, bahut fresh lag rahein (Why, you look very fresh)."
He added something to the effect that he would like to look at Sanjeev's face "roz (every day)" because it reminded him that one did not have to look one's age.
Sanjeev smiled wryly.