Each time they held the leafy bedsheet over the window for a few seconds, a clearer but very grey visage of Indrani came into view.
In the barely discernible image, Indrani seemed to look tired and downbeat.
But then the bedsheet would be taken away and Indrani would disappear into the darkness once more.
Vaihayasi Pande Daniel reports from the Sheena Bora murder trial.
Illustration: Dominic Xavier/Rediff.com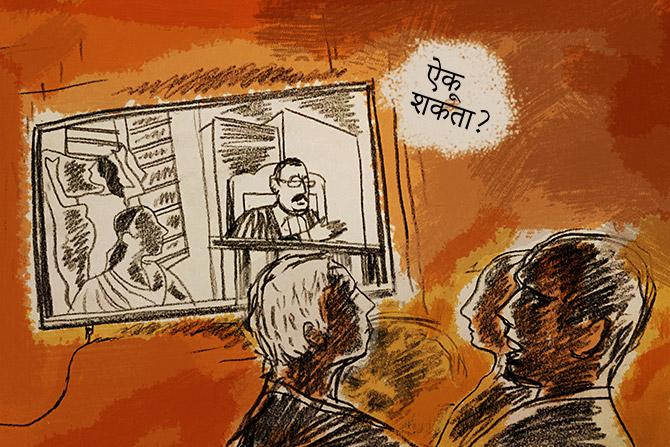 April 12 should have been Prosecution Witness 3's first appearance in court in the Sheena Bora murder trial.
The day had clearly been reserved for PW3 Kajal Sharma. It belonged to her.
But Indrani Mukerjea, Accused No 1 and Kajal's former boss for five years at INX Media, swiped it.
Kajal, a young, nervous, woman, wearing a red kurta, shiny tan-gold leggings and pointed black, strapped closed flats and sindhoor, should have debuted in the witness stand at Courtroom 51, Mumbai city civil and sessions court, Kala Ghoda, south Mumbai. Her debut was already a day late.
The hearing was scheduled to begin at 2.45 on Thursday, April 12.
Kajal, once a secretary at the media company, was already waiting in the courtroom with a tall man in a striped shirt, black jeans, sports shoes and a tikka, who seemed to be her husband. They whispered together, both seeming somewhat apprehensive.
At 2.30, Accused 4 and Indrani's present husband Peter Mukerjea, and Accused 2 and Indrani's former husband, Sanjeev Khanna too were waiting on the benches outside Courtroom 51.
On Thursday Indrani would return to court for the first time after she was hospitalised last Friday, April 6, for, as per medical reports released, a drug overdose.
The Wednesday hearing, where Kajal was to appear, had been adjourned to Thursday, as Indrani had sent a message to CBI Special Judge Jayendra Chandrasen Jagdale, through her lawyers, saying she wanted to attend court, post her discharge from the Sir J J Hospital, central Mumbai.
Indrani Mukerjea being Indrani Mukerjea, one was expecting to hear, in the courtroom, in special, breathtaking detail, of this latest unfortunate adventure that nearly cost her, her life.
But where was Indrani?
The answer to that question was available inside Courtroom 51.
In the courtroom, the large, probably 42-inch television that hangs on the wall next to the lawyer's bench had its thin styrofoam curtain removed. It was switched on.
That was the first clue to Indrani's unexpected coordinates.
Sure enough, as the lawyers, policemen, journalists and the accused all filed into the room, two technicians were still fiddling with microphones, speakers and connections that were to beam Indrani live, and in technicolour, into the courtroom, from the superintendent's office at the Byculla Jail, central Mumbai, about 7 or 8 km away.
There was a certain thrill in realising one was now getting to witness a procedure which is usually reserved for high-security prisoners.
There was immense curiosity at how the process was unfolding.
The screen was split into two. On one side, labelled Self View, the technicians were attempting to bring the judge into focus from an oddly-tilted angle, accessing him from ground up.
It was the confusion at the other end, labelled Mumbai Supdt Byculla, that was more engaging.
For the longest time just an oscillating fan and a ugly tubelight were in view in a gloomy dingy room.
No Indrani. No superintendent. No focus.
The picture finally began to bounce around a bit and the movement of people at Byculla jail was discerned.
The lady clerk from Courtroom 51 ordered Byculla jail: "Indrani Mukerjea produce kara."
While Indrani was being produced from the bowels of the Byculla jail and Peter and Sanjeev looked intriguingly at the screen from their perch, in the accused box, at the back, her lawyers Gunjan Mangla and Ayaz Khan began to argue before the judge about the inappropriateness of this video-conferencing procedure, that seemed to have been sprung as a googly on the defence by the prosecution.
It was plainly a situation that neither Indrani nor her lawyers were happy with.
Khan, who was representing Indrani on Thursday, as her trial lawyer Sudeep Pasbola was away, said: "The evidence is to be taken in the presence of the accused... It is the right of the accused to be present during the hearing of evidence from a witness... Cannot be deprived of his right to be present."
The lawyer based his arguments on a recent Bombay high court judgment -- Kishan Mazgaokar vs State of Maharashtra -- and cited bits and pieces from that ruling which lucidly stated that the 'presence of the accused would be necessary to facilitate instructions to be given to his lawyer who is appearing for him.'
Khan -- a senior Narcotics Drugs and Psychotropic Substances Act advocate known for his defence of actor Fardeen Khan -- declared that Indrani's absence was "impinging" on the fairness of the trial.
Any argument saying she should not be brought to court, Khan said, because of the "untoward incident" that had occurred -- which referred to Indrani taking seriously ill post her April 6 appearance in court -- was based on "specious grounds."
Khan, a tall, handsome, man with a strong courtroom voice and perfect diction, concluded, saying it was his submission that Indrani needed to be present during the hearing of evidence and it was not correct to deny her the right to come to the court.
Judge Jagdale asked: "You are suggesting she be brought here?" The judge added that they could "take the advice of the (Byculla jail) medical officer."
The doctor and Indrani's medical records had both arrived in court on Thursday.
A Dr Khan from the Byculla Central Prison took the stand to provide a bulletin on Indrani's health. "She is unable to walk on her own."
Mangla: "Today?"
Dr Khan agreed and added: "She is (suffering) weakness."
Judge Jagdale, referring everyone to the television: "She is here. Just a minute."
All eyes in the courtroom turned towards the screen and its grainy, wavering, picture.
The black, dense outline of Indrani loomed into view.
Her face was not visible.
She was just a dark blob against a jail window.
In a thin, thready voice she said weakly: "Indrani Mukerjea present."
Her features were totally blanketed by the shadow.
At the Byculla jail, as a colleague muttered, they clearly could not get the concept that you cannot place the subject of a streaming video against a window of bright sunlight.
The courtroom 51 technician began to gently prod them to make a change: "Thoda opposite side... Ithi mooh kar de (Turn her face the other way)."
Still for the next ten to 15 minutes one could only see the two different walls of the Byculla jail room -- one blue and the other cream -- a window, some fluttering curtain in the middle of the room and the silhouette of Accused No 1 as if she was wearing a black hood over her face.
There was some frantic scrambling taking place at the Byculla end to improve the situation.
The middle-of-the-room curtains were swished together and subsequently opened and then closed again, to no effect.
These curtains had nothing to do with the window and seemed to serve as a partition to the room.
Two people then arrived with a bright bedsheet, that had bold orange and maroon leaves all over it and were attempting to hang it up on the window to prevent the blinding summer sunlight from streaming in.
Quite obviously, the Byculla jail was not familiar with the requirements of a video-conference hearing.
Each time they held the leafy bedsheet over the window for a few seconds, a clearer but very grey visage of Indrani, probably wearing white, came into view, but they could sustain that for only a few seconds at a time.
In the barely discernible image, Indrani seemed to look tired and downbeat.
But then the bedsheet would be taken away and Indrani would disappear into the darkness once more.
Judge Jagdale attempted to converse with the black outline, but without much luck
Indrani replied, "Your honour I cannot hear you clearly," although she said she could hear the voices of her lawyers.
The judge once again asked her about her wish to be present in the courtroom while the evidence of the next witness was being recorded.
Indrani: "Yes please."
"I am not in a position right now to meet lawyers."
Judge Jagdale: "Whether you want to talk with advocates?"
There was some confusion on where and when Indrani wanted to meet her lawyers or if she had already.
What was crystal clear was Indrani's desire to be present when PW3 deposed.
Byculla Jail, Indrani and the bedsheet were logged out of the courtroom.
Judge Jagdale told the lawyers: "It seems she is insisting."
Special Public Prosecutor Bharat Badami mumbled something about how it could happen through video-conferencing.
But Judge Jagdale cut him off.
Badami was not to be silenced.
He started up again, asking about the cost of Witness 3, who had attended court for two days in a row, uselessly.
Special Public Prosecutor Kavita Patil joined in, to reiterate that there had been extra costs because the witness had had to travel into court and to a hearing had not taken place and nor had she deposed.
From the sound of it, it seemed the witness had been coming, on both days, from some faraway town or London even. But it turned out to be apparently Thane.
Judge Jagdale still considered the prosecution's contention: "She (Indrani) has a point."
Khan jumped up to add, "She is the responsibility of the State. Her well-being is the responsibility of the State. The accused got sick while in the State's custody."
Badami grimly and mystefyingly: "It is easy to say she is the responsibility of the State. An enquiry is going on, so I don't want to open my mouth."
Attention turned to when the trial could resume, given that Indrani had stated she would like to be present.
Could she appear on Friday? If not, which day?
Judge Jagdale consulted the worried and grave Dr Khan again.
Dr Khan: "Not possible, sir."
Judge Jagdale: "She is insisting on her presence."
Dr Khan: "She will spend half a day travelling here... At least six days of rest is required."
Badami was of the view that the next date for the trial could be April 17 or 18, based on Indrani's progress.
Judge Jagdale was inclined to agree
Gunjan felt there was no purpose in having PW3 Kajal again incur cost to reach the court, only to find that Indrani could not make it.
The judge again checked with Dr Khan.
Dr Khan was in agreement, but added straight-faced: "Provided she does not get another 'ailment'..."
Judge Jagdale smiled broadly: "Arre!", but conceded that it was possible.
Finally April 18 was chosen, giving Indrani a full 6 days to recover.
Badami got down to arguing, for half an hour, in extensive detail, another application he had put before the judge, asking permission for CBI Investigating Officer K K Singh to be in the courtroom during the deposition of evidence by the next witness.
When Prosecution Witness 1 and 2 had deposed, the defence had asked that Singh not be present in the courtroom, in case the witnesses were intimidated, especially since PW2 had been approver and driver Shyamvar Rai.
Further, since Singh would eventually be a witness in the case too, it is not a practice for one witness to hear another witness' evidence.
The CBI lawyer felt there was no need to continue this routine in the case of PW3 and set down his reasons forcefully.
Badami chewed away meticulously at several points.
He first mentioned that Singh was not a witness based on facts, but was a witness based on the fact that he carried out the investigation.
He mentioned that the trial was "very complicated and very voluminous" and the "assistance of the IO would be sought by the prosecution."
Badami began to inject outrage and sentiment into his arguments, upping the ante all the time.
He said there was no law that barred an IO's presence in court.
He spoke about the humiliation an IO has to undergo because he had to sit outside the courtroom.
If the IO did sit in the courtroom, Badami pointed out, he sat in his designated place in Courtroom 51, which is behind the witness box: "He has no occasion to signal or gesture (to the witness). I cannot understand!?"
He then launched into a deft turn-the-tables argument and said it was not actually a case of a witness feeling pressured by the IO. "It is the other way around. Witness is under fear of pressure of the accused!"
Badami ended his arguments with his favourite appeal, a serious one, but one that nevertheless makes you imagine the closing bars of a triumphant march: "They are not the only ones seeking justice! I am asking for justice for Sheena. For murder."
"It is not to be taken lightly...It is about the comfort level of the witness. My witnesses are poor people, simple, small people."
Shrikant Shivade -- Peter's trial lawyer -- quickly got to his feet and first attempted to deflate Badami's balloon by announcing to the judge that Badami's application had "no prayer" and that "each and every sentence had been copied" from a certain Delhi high court judgment, without the proper context being provided for that ruling.
Like for instance that trial had been voluminous because it involved lakhs of documents, unlike the Sheena Bora trial.
In reference to Shivade's copying remark, Badami reacted with an irritable: "So what? I am admitting it. What is wrong in copying?"
Shivade then unleashed an equally lengthy and structured reply, that was at times hard to keep track of in the stifling 33 degree C heat.
Peter's lawyer's arguments were about the falling standards of police officers, police machinery and that was reflected in the calibre of the CBI too.
"Police officers are not to be trusted," Shivade declared.
The court, Shivade felt, was the country's last bastion of hope, a place not polluted by police influence.
"At least a court is free from police influence. The traditional belief is to not trust the police officer. The presence of the police vitiates the (atmosphere of the court)."
Wondering why Badami still needed assistance during the trial, when he had three years to prepare and Patil at his side, Shivade said Badami was also implying that the court needed the assistance of an IO.
"Why should the court seek the assistance of an investigating officer. Never seen that! That will be the end of the free and fair trial!" Shivade declared in ringing tones.
Judge Jagdale listened to both sets of arguments patiently, expressing at points his amusement -- either with an outright chuckle or a smile quietly tucked into his moustache -- when exaggeration levels peaked lavishly on both sides.
The arguments on this application were scheduled to continue and be completed on Friday afternoon.
On Wednesday, Judge Jagdale -- in reaction to Indrani's ingestion of unknown substances that caused her hospitalisation -- instructed Peter and Sanjeev Khanna to not eat outside food while at the court.
Peter, who usually has special lunch sent to him at each court hearing, took the witness stand on Thursday for permission to eat the food that had arrived.
Judge Jagdale wanted to know who had brought him the food.
Peter: "He is my friend."
The former Star TV boss explained that since his sister Shangon Das Gupta was away, a friend was bringing him meals.
Judge Jagdale: "There is apprehension about your safety and well-being. It is painful for me to not allow you to have food that is a basic necessity of all human beings."
Peter mentioned: "My sugar drops. I have hypoglycemia."
The judge wanted to know what food Peter would be eating.
Peter's Thursday lunch menu was duly recorded in the court register -- a puff, a burger and a cup of coffee. Were there fries too?
The friend was called to the stand. Peter and friend J P Swami both stood in the stand together as details of the man were recorded.
Peter was given permission to eat his lunch at the back of the courtroom after the judge departed.
Two beady-eyed police constables looked on as Swami zipped open a red and black lunch case. The burger and puff emerged.
Swami was made to take a bite of each before Peter could begin chomping it, in case someone was out to poison the former media boss.
The flask of coffee was given similar treatment.
As Peter ate, both constables had their eyes glued, steadfastly, to Peter and his khana as he polished off his lunch, morsel by morsel, with gusto.
Sanjeev sat to outside, talking to his cousin, while Peter "lunched" till nearly 5.30 pm or so.
Then both men returned to jail, looking oddly incomplete without the woman who was their only connection to each other and to this trial too.
The woman who has turned their life upside down.
Upstairs, Courtroom 51's peon disconnected thewire of the television and reverentially re-covered it.