Indrani's words were quick, her hand gestures quicker.
She kept pointing to certain paragraphs in their consent terms.
Savera R Someshwar reports from the Sheena Bora murder trial.
Illustration: Dominic Xavier/Rediff.com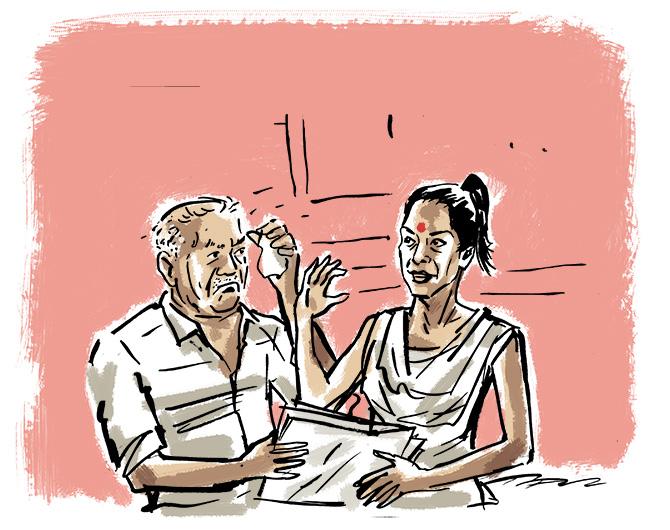 Many of the main players of the day seemed slightly out of character in Courtroom 51 of the Mumbai civil and session court, where the next hearing of the Sheena Bora trial was taking place on Monday, October 22.
As Witness No 20, Faisal Nisad Ahmed, director, A M Motors, was being cross examined, Accused No 4 Peter Mukerjea was writing something. At one point, he even came up to his lawyer, Shrikant Shivade, who was to cross-examine Ahmed next, for a quick, whispered, discussion.
As her lawyer, Sudeep Ratnamberdutt Pasbola, continued with his 'cross', Accused No 1 Indrani Mukerjea's head was bowed. It looked like she was reading something that consumed all her attention.
It is rare for Indrani to not follow a 'cross' or an examination and sometimes interject with dramatic, non-verbal commentary.
Sitting at Indrani's right, at the far corner of the aaropi (accused) enclosure, Accused No 2 Sanjeev Khanna had his head down as well.
Witness No 20, Ahmed, seemed to have mellowed down over a cancelled hearing (since Prime Minister Narendra Damodardas Modi was on his way from Shirdi on October 19, the police personnel scheduled to bring the three accused to court had been assigned bandobast (security) duties) and the weekend that followed.
His stance towards Pasbola was noticeably less aggressive. Had CBI Public Prosecutor Bharat Badami -- his colleague Kavita Patil has been missing for the last two hearings -- offered a suggestion or two? Or did someone else do so?
Everyone was in the courtroom. Judge Jayendra Chandrasen Jagdale was in his chair, on the elongated, raised podium that included a slightly lower chair for the court stenographer.
The two efficient lady clerks were seated facing the lawyers, ready to open the cloth bundles in front of them and whip out any document that was needed.
Faisal Ahmed had been sworn in.
The lawyers were seated at their table, facing the clerks. The little stool, used to indicate which lawyer is speaking, had been placed on the table in front of Pasbola.
Accused No 1 and Accused No 2 were in the aaropi enclosure; representatives of their police escorts were seated in the row before them.
Khanna's cousin and a slim, older man -- a relative or friend who has dropped by to meet Peter quite a few times -- were seated in the courtroom as well.
But the proceedings could not begin.
Accused No 4 was still outside, deep in conversation with his sister, Shangon Das Gupta, who shows her steadfast support for her elder brother, Pratim (Peter's given name), with her presence and advice at almost every hearing.
She also brings him his favourite meals and the tea/coffee that he sips from the lid of a silver coloured flask.
A slim-built police officer, with a handlebar moustache, stood at the entrance to the courtroom, with one eye on the judge's mood and the other on Peter, who his police escort had been unsuccessfully trying to get into the courtroom.
At 2.51 pm, Peter walked in with an apologetic bow.
And Pasbola began.
"Okay Faisal, tell me, in 2009, Peter Mukerjea sold his cars before shifting to the UK, right?"
Ahmed asked the question to be repeated in a tone more mellow than the one he was using on October 16.
And, after the question was repeated, answered, "Yes."
"After 2009, no cars (belonging to Peter Mukerjea) came to your workshop for repairs?" Pasbola asked.
"That's right."
"Peter sold his cars with your help?"
"Not with my help."
Pasbola moved on to explore Ahmed's relationship with Accused No 3-turned-approver Shyamvar Pinturam Rai.
Ahmed's answers indicated that Rai only came to his office to take cars when Peter needed one, that he was "not aware" if Rai ever visited his office for any other reason and that he (Ahmed) did not remember making or keeping any kind of record about Rai's visits.
Peter, meanwhile, continued to stand and write, using the stacked-up, silver-painted evidence trunks as a temporary desk.
Ahmed, under Pasbola's questioning, stated he had not noted the dates on which he lent cars to Rai or the dates on which the cars were returned to his workshop.
Nor did he maintain any kind of records of the dates on which Kajal Sharma, Indrani Mukerjea's then assistant, called to request a car.
Ahmed was, however, familiar enough with her name to correct Judge Jagdale when he mispronounced her name as Kajol.
"Kajal," on October 16 he corrected Judge Jagdale, who was dictating Ahmed's answer to the court stenographer."It's Kajal."
"Do you remember the dates on which the cars were asked for?"
Ahmed, who again seemed to have not heard Pasbola clearly, asked for a clarification.
"How many times have you given the car to Rai?" asked the lawyer.
"No, you were saying something about dates..." Ahmed corrected the lawyer.
"Mr Faisal, let me ask the questions. Don't tell me what to ask."
"5-6 times.... But you were saying something about dates..."
Pasbola: "Don't be jumpy. On what dates have you given the car?"
A question that is slightly tweaked and repeated many times.
"I have not made notes of the dates... More than 5-6 times."
Ahmed could not remember the make and model of the cars either.
Pasbola then wanted to know if, as someone who repaired, sold and purchased cars, if Ahmed ever had an Opel Astra in his possession.
Ahmed's reply had a trace of impatience. "I said that the last time I was here, that I bought the car."
"Did you give it to Rai?"
"I said it the last time, yes I did."
"Was that the last occasion on which you gave the car to Rai?"
"Yes."
"After April 2012 (Sheena Bora was allegedly murdered on April 24, 2012), did you on any occasion lend a car to Peter Mukerjea?"?
"No."
No one -- not Badami who led him through his initial testimony; or Pasbola, who conducted the first cross; or Shivade, who followed up with his cross -- asked Ahmed how he remembered the make, model and licence plate of the last car he had lent the Mukerjeas -- a metallic grey Chevrolet Optra with the licence plate, MH01 2605, in which the murder allegedly took place -- and that it was returned after five days, when he could not remember these details about any of the other cars he had lent to them.
Ahmed even remembered in his testimony on October 16 who he had sold the Optra to and the price he had sold it for (Rs 85,000 to Mr Kedar from Auto Palace).
Witness No 20 was first questioned about the Chevrolet Optra in which the murder allegedly took place in August 2015 -- nearly three years and three months after Shyamvar Rai had picked it up from his office -- when police officers from the Khar police station, north west Mumbai, visited his office.
So what was it that had embedded the car, and the number of days he had lent it to the Mukerjeas, in Ahmed's memory?
Pasbola then wanted to know if the car had been cleaned after it was returned.
"Which car?"
"The car that had been given to Peter Mukerjea."
"The cars are cleaned every day," said Ahmed.
"They are cleaned inside and outside?"
"We have a cleaner who cleans the cars every day. Yes, inside and outside."
Did Ahmed, Pasbola wanted to know, "note down how many kilometres the car had been used"?
According to Shyamvar Rai's testimony, which began in July 2017 and ended on January 2018:
He followed Indrani's instructions, delivered via a Skype conversation on April 19, 2012, and took a recce drive on the old Pune highway from Mumbai to Lonavla and check out some isolated spots. It is not clear, however, if he drove this route in the Optra.
Once Indrani arrived in Mumbai on April 23 -- the express reason why, according to Ahmed's testimony -- Kajal had called and requested a car -- Indrani and Rai travelled the same route in the Optra and stopped at a particular place in Khandala where, according to Rai, Indrani said, 'This a fit place for Mekhail'.
He said he was then ordered by Indrani to drive to Pen Road in Khopoli, Raigad, where they checked out three more isolated spots. The third one, he said, met Indrani's specifications and she told him, 'Remember this place. This is a very good place for Sheena'.
He was then asked to drive her back to Mumbai, where Indrani got off near Plaza theatre in Dadar, north central Mumbai. He circled the area in the car as he waited for her. She returned with two big bags that were loaded in the boot of the car.
His duty as Indrani's driver began early on April 24, he said. Indrani spent some time at a beauty parlour and later shopped for two saris, three pairs of shoes, alcohol and mineral water.
In the afternoon, they drove to Bandra, north west Mumbai, where they picked up Sanjeev Khanna and, after some time, Sheena Bora.
Later, in a quiet Bandra lane, said Rai, the three of them strangled Sheena to death.
Rai then drove Indrani to the Taj Landsend hotel, near Bandstand, Bandra, where she spent some time before being driven home in Worli, south central Mumbai.
Later, she asked Rai to bring the food she ordered from a Chinese restaurant. She also asked him to pick up Sanjeev along the way.
Early next morning, even before the sun had risen, Rai claimed he drove Indrani and Sanjeev to Pen Road, Raigad, where they disposed off Sheena's body.
On the return trip, he dropped both Indrani and Sanjeev in Bandra, from where they told him they would take an auto to the airport.
As per Indrani's instructions, said Rai, he drove the Chevrolet Optra back to Marlow, the building in Worli where Indrani and Peter stayed.
On April 25, he said he followed Indrani's instructions to get the car cleaned. He took the car for "polishing" and "interiors" cleaning at Shan Auto Garage, which was recommended to him by a man named Raja. It was the first time the driver was going there. Rai brought in the car at 11 am and the work was completed in an hour. The details were noted in the garage's register.
Two days after the alleged murder, Rai picked up Peter from the airport in the suspected murder vehicle.
A day later, he drove Peter to the airport to pick up Indrani, who was arriving from Kolkata.
After a few days, the Mukerjeas left again. A few days later, Rai got a call from Indrani saying they would not be back again and he should look for a new job.
According to Ahmed's testimony on October 16, 2018, Rai picked up the Chevrolet Optra on April 22 and returned it after five days.
If one looks at Rai's testimony, it was just after this period of five days that he drove Peter to the airport to pick up Indrani. And the Mukerjeas left Mumbai a few days later.
Had Ahmed lent the Optra to the Mukerjeas, asking for it to be returned within a specific number of days?
His testimony seemed to indicate that the cars were lent to them as per their need, for as many days as they wished, with no specific time frame ever mentioned for their return. Was a different car used for these last two trips?
Pasbola's 'cross' of Ahmed continued.
He wanted to know if any of Ahmed's employees had been questioned by the Khar police or the CBI. Ahmed said no.
"Do you have a record or recollection of all the cars in your possession in 2012?" Pasbola asked next.
"When we buy and sell the cars, we have the delivery note."
"Not the delivery note," said Pasbola impatiently as he listened to the same answer he had heard, and was not happy with, on October 16.
"Yes," said Ahmed. "We have records."
"Did the police ask for the records?"
"No."
"Last time you said you had produced the delivery note to the Khar police station."
"You are telling me this..." Before he could complete his statement, Badami shushed Ahmed.
Pasbola then wanted to know if Ahmed was friendly with police officers. "You met the ADG (additional director general of police)," inquired Pasbola.
"No, I didn't."
Pasbola insisted.
"What's his name?"
"Never mind the name."
Judge Jagdale intervened soothingly. "He may not know the designation."
More "You met" and "I have not met" followed, ending with "You are lying, Mr Faisal", from Pasbola.
Ahmed smiled.
As a member of the Willingdon Club, "one of the most prestigious clubs in the city where many police officers and judges were members" -- which Judge Jagdale quickly refuted, saying judges were not allowed to be members -- and as the owner of A M Motors, Pasbola said Ahmed knew a lot of senior police officers and had tried to intervene on Peter's behalf.
"At the insistence of these police officers, you gave a false statement."
"It isn't very correct to say that."
"Very correct?" Pasbola smiled.
"Not correct at all." Ahmed smiled back.
Accused No 2 Sanjeev Khanna's lawyers declined to 'cross'.
Shrikant Shivade, Peter's lawyer, who now has the stool standing in front of him on the long lawyers's table, wants to know if Ahmed can read or speak Marathi.
"Only English and Hindi."
The implication -- if there are discrepancies in Ahmed's statement to the Khar police, which was recorded in Marathi, he would not know as he was dependent on the Hindi translation provided by the police.
Shivade, in a voice softer than usual, wanted to know how often Peter and Ahmed interacted in a year.
"Which year?" asked Ahmed.
"Since you know him..."
"Many times. It could be 10, 15 times. I don't count these instances."
"Peter left for the UK in 2008-2009..."
"I think so. I am not sure."
Shivade then confirmed that a car was lent to Peter every time a request was made by Indrani's secretary Kajal.
Peter was still writing, not really paying attention to his lawyer's 'cross'.
"You never verified these requests with Peter?"
"Before he left, he told me to give a car whenever his family required it."
Shivade was patient. "You didn't verify..."
"No, I didn't," says Ahmed. "Trusted it came from Peter."
"Peter's personal driver is a man named Prashant Chakravarty."
"Yes."
"You knew him because he brought Peter to your place, to the club. He brought the car for repairs."
"I know him because he came for repairs."
It was a clever 'cross'; if Chakravarty was Peter's driver, and if Rai picked up the cars whenever needed, as instructed by Indrani's secretary, then maybe Peter didn't know what was happening using his name.
"You didn't charge Peter for the use of these cars."
"No."
It was Kajal, according to Ahmed's earlier testimony, who would send a "small, unspecified" remuneration for which "no invoice was raised".
"It was the first time you had ever gone to a police station to give a statement (on August 13, 2015)."
"That's right."
"You were aware that Indrani had been arrested in the Sheena Bora case through the news reports on print media and TV?"
"Yes."
"Were you called to the Santa Cruz police station?"
"No. Was asked this the last time as well."
Shivade again underlined that Ahmed trusted that every time Rai asked for a car, it was for Peter Mukerjea's family and there was no reason for Ahmed to verify the request.
"That's right."
Then came a slightly bizarre, slightly funny part of the testimony.
"During your interactions with Peter, you found him to be an upright and honest man?"
"There was no doubt about it that he was a nice man," said Ahmed.
"You found him to be upright and honest."
"He was a gentleman to deal with."
"He was upright and honest."
"Upright."
"And honest,"insisted Shivade.
"And honest." Ahmed gave in.
"In 2014, you invited him for the opening ceremony of your new company."
"I did call him."
And the 'cross' concluded.
"All ok?" Ahmed smiled, raising his hands to gesture at the lawyers.
His un-witness-like exit drew a smile from the judge and almost everyone else in the room.
Like at the end of every session, the accused were allowed to consult their lawyers and eat the food their families had brought for them.
Peter, who is 64, had an application to make. He wanted a bed in his cell.
He was sleeping on the floor and found it difficult to get up multiple times to visit the loo. According to his lawyers, he had to visit the loo at least four to five times every night.
Badami said he needed time to reply.
Judge Jagdale was not too happy. "Every inmate in the jail must be given the same facility. The earlier inmate was a politician holding a big post. He was given a bed."
The reference here is to Chhagan Bhujbal, Maharashtra's former deputy chief minister, who is now an undertrial facing charges of corruption, embezzlement and cheating. Bhujbal obtained bail earlier this year.
"Are you taking objection?" Judge Jagdale asked Badami.
"I have to take instruction," said Badami placatingly.
The judge then wanted to know when Badami would reply on Peter's remaining applications -- certain corrections in Mekhail Bora's testimony and for an additional monitor that would allow the lawyers to check, in real time, what was written by the stenographer so that corrections could made instantly instead of having to file an application to do so.
Badami promised to file his responses by the next hearing, October 25.
Indrani, busy in consultation with her divorce laywer, Edith Dey, was paying no attention.
And then came yet another reason why one admires Judge Jagdale.
A few months ago, Sanjeev Khanna, the quietest of the three accused -- and most compliant if you asked the police escort for the accused -- requested the judge to ensure he was treated for a skin condition he had contracted.
The judge called him to the stand to check how Sanjeev's treatment was progressing.
Sanjeev said he was getting adequate treatment, and was also being treated for an eye condition that required him not to strain his eyes and to use eye drops.
"It is age-related. Age affects the liquid in the eye balls," he told this correspondent later as he tucked into the puffs and sandwich brought by his cousin.
Sanjeev seems to spend his time in jail reading fiction; he returned a few books to his cousin and selected a few more.
All three books -- Nevermore, a book from the Daniel X series and a book from the Witch and Wizard series -- were by the acclaimed author, James Patterson.
Sanjeev handed the books to his guard who flipped through them and shook them, before handing it back for Sanjeev to put into his jute bag.
Peter was talking his sister Shangon and lawyer Shivade. She was holding onto a bunch of keys -- it was not clear if Peter had given it to her -- but it made her slightly emotional.
Peter and Indrani had requested the judge's permission to discuss the terms of their divorce, which he granted.
Peter walked and sat down next to Indrani, taking off his spectacles and wiping the sweat brought on by the muggy October weather.
Indrani's white salwar kameez had been rendered limp by the heat which, clearly, had not brought on any kind of lethargy. Her words were quick, her hand gestures quicker. She also kept pointing to certain paragraphs in their consent terms.
Peter did seem to agree, at one point, even handing the sheaf of papers back to her.
After about 10 minutes, Judge Jagdale asked them to wind up.
"Mr Mukerjea," he gestured at the waiting police guard, "how long will you keep them standing?"
"Two minutes," Peter requested.
"Just two minutes," Indrani chimed in with a smile.
The judge looked at the courtroom clock. "Exactly two minutes."
Peter: "Yes, your honour."
Indrani: "Thank you, your honour."
In a minute, they were ready to leave.
Sanjeev was already waiting outside.
There was a dichotomy in Courtroom 51, brought on by the murder of an innocent life.
A family -- Peter and Indrani -- were breaking up.
But two families -- Sanjeev Khanna's and Peter's sister -- were holding strong, standing firmly behind the sibling who had been accused of that murder.