Indrani, radiant in an immaculate white and gold salwar-kurta that matched the moment, her hair open, a bindi gleaming on her forehead, beamed placidly, fully enjoying this small minute of victory.
Vaihayasi Pande Daniel reports from the Sheena Bora murder trial.
Illustration: Uttam Ghosh/Rediff.com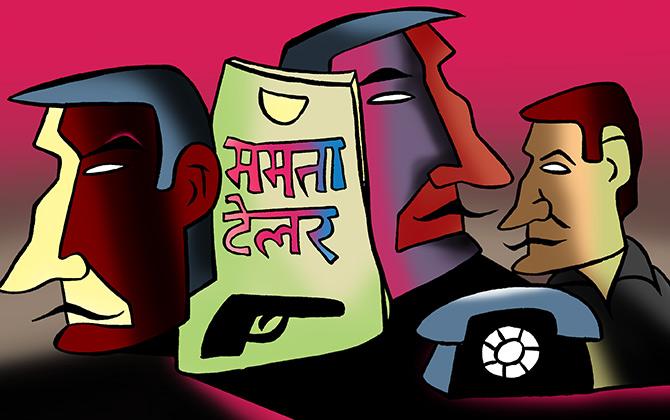 It has been 127 days.
Indeed 127 days after he began the cross examination of prosecution witness/approver Shyamvar Pinturam Rai in the Sheena Bora murder case in Courtroom 51, south Mumbai's sessions court, advocate Sudeep Pasbola passed the baton on Friday, December 8, onto the next lawyer -- Niranjan Mundargi, who represents Accused No 2, Sanjeev Khanna.
As perhaps was expected -- and this time quite like it is in the movies -- Pasbola wrapped up his key part of the cross examination, before CBI Special Judge Jayendra Chandrasen Jagdale, with a climactic flourish.
He announced to the former driver of the Mukerjeas, and the courtroom at large: "Yeh murder mein Indrani Mukerjea ka koiee haath nahin hai (Indrani Mukerjea has no hand in this murder)."
"You are deposing falsely against her!"
The three accused -- Peter Mukerjea, Indrani and Sanjeev -- were all on their feet, in the rear accused enclosure of No 51, obviously rather keenly watching Pasbola's final serve/volley against Rai.
Indrani, radiant in an immaculate white and gold salwar-kurta that matched the moment, her hair open, a bindi gleaming on her forehead, beamed placidly, fully enjoying this small minute of victory.
Like on Thursday, Pasbola's questioning of Rai was rigorous, uncomfortable and covered some new and unexpected ground.
And like earlier too, Rai, who in the witness box comes across as a simple, not very lettered, unfortunate driver, revealed himself to be a man of even more astonishing complexity, as yet more aspects to his dealings, not proven yet, were uncovered.
Pasbola, with almost a storyteller's skill -- aided by the call data records that were obtained from Airtel -- merely through his dexterous questioning of Rai, painted to the courtroom yet another picture of the man the police arrested on August 21, 2015.
This case began two-and-half-years ago with Rai's arrest for the possession of an unlicensed katta or country-made pistol and cartridges, somewhere along the seafront near Khar, north west Mumbai.
On Friday, with the final winding up of his cross-examination, Pasbola ironically brought it back to that very same point and with a sharp and sudden tug, pulled the rug from under Rai's bare courtroom feet.
Rai, he said, may have never been arrested at all and that he was certainly not arrested that August evening in 2015.
This was how the line of questioning went:
Pasbola: "How much time elapsed (on August 21) between the time you left your home (in Mosambi Tabela, Vakola, Santa Cruz, north west Mumbai) and when you were arrested by the police (at Khar)?"
Rai didn't answer.
Pasbola to the judge, who was dictating to the court stenographer: "Jawab diya? (Did he reply?)"
Judge Jagdale with a grin, patiently: "Vichar kar rahein hai (He is thinking)," as if Rodin's The Thinker was in residence at Courtroom 51.
Rai finally very carefully answered: "Do aur 4 ghante ke beech mein (Between 2 and 4 hours)."
Pasbola repeated, thoughtfully: "Do aur 4 ghante ke beech mein!"
A few questions later Pasbola posed this: "August 21 jab aap ghar se nikle, aap ko time yaad nahin hai. But subah ka time tha? Doophar? Shaam? (On August 21 you don't remember what time you left your home. But do you remember if it was morning, afternoon or evening?)"
Special CBI Prosecutor Bharat Badam interrupted, saying the answer to that was already on record. Pasbola ignored him mostly.
Rai conclusively: "In the afternoon."
Pasbola attempted to push Rai into going off track and asked him if, apart from katta and cartridges, was the parcel, that had been kept in Indrani's garage in April 2012, also in the bag he was carrying that day, that was labeled, it turned out Friday, Mamta Tailor.
Rai seemed nonplussed for a few seconds at the question, but was not caught off guard.
He demonstrated emphatically, using his hands, his eyes flashing, that the parcel was the katta and cartridges and how he had placed it in the bag.
Pasbola, after dealing with some queries in between, came back to the Mamta Tailor bag. Calmly, but forcefully, he declared: "Theli le ke jaa rahein the aur police pakra... Yeh sab baat jhoot hai."
"Aap ke paas koi theli-weli nahin thi. Na toh koi kata-watta. Na golee..."
"Kayee din pahale se aap ghar se gayab the (That you were taking a plastic bag and going somewhere and the police caught you is all lies. You had no bag. No gun. No cartridges. You were missing from your home from many days before this)."
Rai took these accusations in his stride. Either his thespian talent is top class. Or Pasbola got it entirely wrong. Whichever, the driver was truly convincing.
He smiled, and then laughed out loud, his mouth opening in surprise and looked incredulously at Pasbola: "Nahin ghar se gayab nahin the (No, I was not missing from my home)."
Pasbola continued in a ringing tone: "From (some) days before August 21 you were in the custody of the police!"
The lawyer contended that Rai had already agreed to help the police, in what capacity exactly was not made clear.
Rai taken aback: "Nahin!"
Pasbola: "Police ke saath mil ke natak kiya (Hand in glove with the police, you created this drama)."
Rai categorically: "Galat! (Wrong!)"
Judge Jagdale dictating to the court stenographer: "All story was made up."
Pasbola then worked meticulously to cement this line of argument. He began by asking where Rai was working when he was arrested.
Rai, from the angry, quick-witted man in the witness box of a few minutes before, floated away into his special Province of the Vague and Uncertain.
He didn't know where he had last been working when he was arrested in 2015.
Or how long he had been jobless. Or who his last job was with and how long he had been working with his last employer.
He hadn't the vaguest clue.
It is moments like these, in this trial, that make you wonder if you are actually in Courtroom 51 or in , Alice's Wonderland, where one learned to always yield to the whimsical and also about the truth of advice like: We're all mad here. I'm mad. You're mad. Or: Sometimes I've believed as many as six impossible things before breakfast.
In spite of Rai's absence of details, Pasbola persevered.
Rai at first in answer to Pasbola's question: "Yaad nahin."
Later he added: "Mein khalee tha (I had no work)."
Judge Jagdale, with a laugh, half grumbling, who had also probably had 127 days too many of Rai's Wonderland, where loss of memory ruled: "Woh toh bolo na! Yaad nahin. Yaad nahin (Say that!... Don't remember. Don't remember)."
Pasbola: "Kitne din se khalee tha? (How many days were you without work?)"
Rai looked totally blank.
Judge Jagdale, helping it along: "Two days? Four days?"
Pasbola, with a big grin, tinged with irony: "Kuch bhi bol sakte, bindaas! (Say whatever you like. No worries!)"
Rai: "10-15-20 days. Yaad nahin."
Pasbola asked the name of his last employer.
Rai with reluctance: "Sameer Sir."
Pasbola: "Sameer Buddha who has an office at Hasnabad Lane" and he reeled out an office address in Santa Cruz, north west Mumbai and Rai agreed.
Buddha, once an associate of the Mukerjeas, operates a security agency. Rai, it had been disclosed earlier, exchanged 21 calls with him in the six or seven days running up to Sheena's murder.
Again Pasbola returned to the earlier accusation: "Yeh jo aap bol rahein the. Kaam par nahin ja rahe the. Aap khalee nahin baitha tha. Aap police ke custody mein the (All this stuff you were saying. That you were not working. You were not without work. You were in police custody)."
Pasbola asked Rai about two more numbers that the driver was calling every day "gari-gari (over and over)."
Rai was clueless. Or played clueless.
A little bit of classic Pasbola prodding, through different lines of interrogation, did not elicit the answer.
Pasbola pronounced with conviction: "Through these two numbers you came in contact with the police. Through them you joined hands with the police. Roj toh baat kar rahein the (You were talking to them every day)."
While checking cell numbers with Rai, based on the records of the Airtel phone he was using in 2015, Pasbola pointed out that Rai had also been repeatedly in touch or made calls to a man named Sitaram and someone named Suman. Rai denied knowing either, nor could he remember why he had called them.
Shortly after this, Pasbola declared his client Indrani Mukerjea was innocent and that Rai had conjured up reams and reams of evidence to nail her. The motive was not dissected.
During Friday's session Pasbola brought up a few more key issues too.
There was one more strange contradiction between what Rai first told the officers interrogating him at the Khar police station in 2015 and what he told the CBI special court in 2017, that cast light on his reliability.
It was about how Sheena's corpse was transported to a village near Pen, Maharashtra's Raigad district, where it was burned.
The police learned from Rai in 2015 that Sheena's body had been taken inside a suitcase all the way to Gagode Khurd in Pen.
The court learned from Rai in 2017 that the corpse had sat in its own car seat all the way to Pen.
The court learned from Pasbola on Friday that Rai had first said to the police that Sheena's dead body went in a suitcase to Gagode Khurd.
The court learned from Rai on Friday that "Nahin. Seat par (No. In the seat)."
Once more the panchnama (record of observation in front of five people to the police) was produced.
Rai saw his contradiction and said, dry mouthed, but only marginally perturbed, inexplicably "Aisa likha hai. Aise hua nahin (It is written like that. But that is not how it happened)."
A long exchange between Rai and Pasbola, for no definite reason, dwelled on the last round of tailoring Rai did before he landed up in jail. Perhaps the cream bush shirt and grey trousers he was wearing oin Friday was part of that round.
At Mamta Tailor (whose plastic bag he had with him when he was arrested) he ordered three new pairs of pants and three shirts. His bill was Rs 3,500. But he paid only Rs 2,000 towards it using money borrowed from his buddy and INX peon Rajendra Desai.
Rai denied borrowing the money. It then turned out that Rai had once deposited money in Desai's account.
Rai did not specifically remember this transaction but said "Kiya hoga (Might have done)." He was not sure how many bank accounts he had.
Pasbola: 'Aap ke kaun sa bank mein account the? (In which bank did you have an account?)"
"Yaad nahin."
The driver who could not remember how many cell numbers he had had, now, could not remember how many bank accounts he had either.
Pasbola repeated, disbelievingly, a smile playing on his face: "Yaad nahi? Apne bank accounts yaad nahin (Don't remember?! Don't remember your bank accounts)" and he winked at his fellow lawyers.
After a little bit of thought Rai agreed that he had only two accounts, one of which was in his village Danwa in Chhindawara district, Madhya Pradesh and that Desai was paid out of his HDFC Mumbai account at Prabhadevi, north central Mumbai.
Rai's mysterious conversations and peculiar relationship with Indrani's son and Sheena's brother, the Guwahati-based Mekhail again found place in Pasbola's cross examination on Friday.
On Thursday it had been made known that Rai and Mekhail had been in Delhi together in 2012.
Pasbola asked Rai if it was correct to say that he had been in touch with Mekhail in 2015.
Rai appeared confused: "2015 ke baad? (After 2015?)"
Pasbola: "2015 ke baad aap andar aa gaye. To phir 2015 ke baad kyo puch rahein hai? (After 2015 you went inside. So why ask after 2015?)"
Rai: "Yaad nahin. Shayad (Don't remember. Maybe)."
Pasbola very reasonably and sweetly: "Koi baat nahin. Abhi aap ko yad dila doonga (No worries. I will refresh your memory right now). On May 3, 2015 you called Mekhail for 265 seconds."
Rai, in his standard woebegone, sorry-I-no-longer-recall voice: "Yaad nahin."
The photograph of the attractive and allegedly long-dead Sheena Bora, wearing a cropped black top and blue jeans, that was introduced into the court two months earlier once more saw the light of day.
This picture, that was found in Rai's Vakola home by the police, was taken out of its brown, sealed envelope home.
Showing it to Rai, Pasbola said the picture was from Poonam Labs, Worli, near the Mukherjeas' home at Marlow, and wanted to know if Rai had been to the studio ever.
Rai was dismissive and said that though he didn't remember, there was a good chance he had.
Pasbola: "Yeh photo aap wahan se liya tha (You picked up this photo from there)."
Rai shrugged and said indifferently, "Yaad nahin. Shayad."
When Pasbola announced his cross examination of Rai, that began in August, was through, except for a few stray details, which he would take care of on Monday, Badami, part-jesting and part-sincere, made a great show of congratulating him for such a "marathon" job.
After hardly a two minute break, reflecting Judge Jagdale's zeal to keep the trial moving along, at as brisk a pace as was possible, in spite of the always unforeseen delays, especially since the winter break was just a few days away, Sanjeev's lawyer the lanky, youthful Niranjan Mundargi took over the show and dove right in.
Badami welcomed him with a pranam (folding of hands).
Mundargi, who has a slightly high-pitched voice, that takes some getting used to, after 127 days of Pasbola's baritone, started off energetically by calling for Rai's driving license, which had been filed away among the exhibits by the lady clerks.
It was produced and the lawyers all pored over it.
Judge Jagdale enquired what the issue was. The date of the license was being deciphered. The judge too looked at it and said it was 2014.
Mundargi first told Rai disarmingly and charmingly that he had no knowledge of licenses, drivers etc and that Rai being a driver was an authority on driving and cars and more etc.
In that light he wanted to know about Rai's trips to the RTO (Regional Transport Office), how the license was renewed and for how long.
A lively discussion on the procedures for renewal began in which Rai animatedly participated, losing again much of his earlier vagueness.
The driver agreed -- after some time-consuming skirting around, with Judge Jagdale shepherding the cross-examination back onto the right path -- that he must have renewed his license in 2014 for a further three years, two years after he left the employ of Indrani and Peter Mukerjea and INX Media.
Mundargi closed his Friday cross examination of Rai with a sudden accusation at Rai: "It is my contention that you falsely said you were still working for INX Media when you renewed this."
Rai firmly right back: "Aapka kehna galat hai (Your contention is false)."
Mundargi's cross examination of Rai will continue on Monday.
The trio of accused at the back of the room -- all three of them standing in the enclosure, Sanjeev in green in the middle -- had earlier gestured, with exaggerated sign language, that they would have liked to have seen Sheena Bora's picture that had been produced, once again, Friday.
This was allowed as they exited the courtroom.
First Indrani stopped by to carefully and curiously look at the photograph, under the clerk's watchful eye.
Peter did too, briefly, abstractedly, looking at the back of the picture as well.
The photograph went back to the files. Peter, Indrani and Sanjeev, after consultations with their lawyers, went back to jail.