Trepidation made its home firmly on his face on Thursday, announcing its presence with lines of anxiety and the repeated jumpy widening of his eyes.
Vaihayasi Pande Daniel reports from the Sheena Bora murder trial.
Illustration: Dominic Xavier/Rediff.com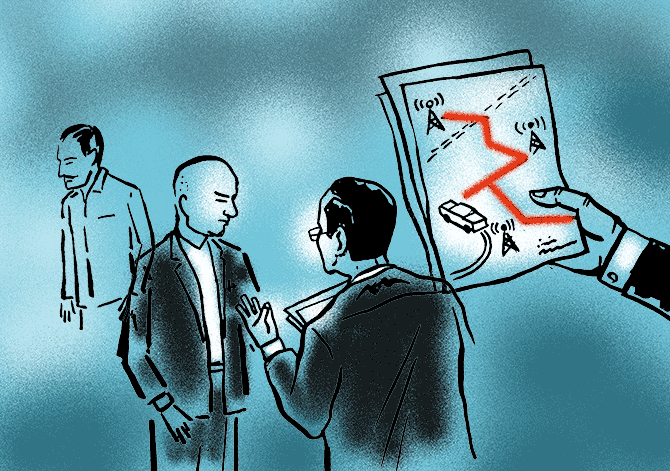 Thursday, December 7, was possibly the worst day of the Sheena Bora murder trial for Shyamvar Pinturam Rai.
Its toll was fairly visible.
By the end of trial lawyer Sudeep Pasbola's three-hour cross examination of Rai, who was the Mukerjeas' driver, he was exhausted.
More, he appeared insecure. Worried. Edgy.
He gave off, at times, tense glimmers of smiles to CBI Special Judge Jayendra Chandrasen Jagdale.
He was not the chirpy Rai of previous court sessions who reeled off blithe "Yaad nahins" to every question put to him,
Trepidation made its home firmly on his face on Thursday, announcing its presence with lines of anxiety and the repeated jumpy widening of his eyes.
The hands that grasped the railings, Rai sometimes flexed restlessly. He kept scuffing his toes and transferred weight from one leg to the other.
Three hours is a long time for anyone to stand, like Rai did, in the witness box, especially when good portions of the proceedings, though directed at him, bypassed him.
At points he looked disconnected and ready to drop off for a quick nap such is the slightly numbing and unreal pace of court-room procedure.
The severest moment of discomfort for the Madhya Pradesh-born, Class 10-educated driver arose when Pasbola, who represents Accused 1 Indrani Mukerjea, brought up a critical contradiction between what Rai told Courtroom 51 a few months ago and what he initially said in his first statement to the police two years ago.
Contradictions -- which are often a series of little points that seem like minutiae, whose nuances those unfamiliar with trial procedure might not understand -- are brought up by defence lawyers to discredit the reliability of a prosecution witness. They are an important part of a witness' cross examination.
When Rai was arrested in August 2015, for possession of a firearm without a license, and brought to the Khar police station, north west Mumbai, he came out with the entire tragic but strange narrative of Sheena's murder to Ganesh Dalvi, the constable interrogating him. That was his first statement.
At the end of that account to Dalvi, Rai described the grim manner in which he, Indrani and Accused 2 Sanjeev Khanna (Indrani's former second husband), disposed of Sheena's body the day after they strangled her in April 2012.
The trio, he said then, took the corpse to the jungles near Pen, in Maharashtra's Raigad district, and placing it inside a large suitcase, they poured some 20 litres (Does 20 litres burn a body?) over it and burnt the suitcase with the corpse inside it.
Pasbola to Rai on Thursday: "Khar police station mein jab aap ka puch-taach (ho raha tha) aap Dalvi Sahib ko bataya tha ki hum log Sheena Bora ka dead body bag (suitcase) mein daal kar petrol se jala diya (At the Khar police station when your interrogation was on in 2015 you told Dalvi Sahib that we put Sheena Bora's corpse in the bag and then burnt the bag with petrol with her in it)."
Rai heard Pasbola and commenced a long, intricate, process of thinking, like a professor of quantum physics.
CBI Prosecutor Bharat Badami then crucially started up some quibbling with Pasbola: "The 24/8 statement? Which are you referring to?" and mildly chided Pasbola with something to the effect that he was being vague about which statement he was highlighting.
Pasbola, stiff necked: "I am not bound to reply to you... Are you not the master of your own case?"
More quibbling. Badami told Pasbola he should refer to the said statement as the panchnama (record of observation in front of five people to the police).
Pasbola said it was understood. The judge, mediating, suggested it is was "a law point."
Meanwhile Rai, attired in a grey bush shirt and khaki trousers, was still thinking in professorial mode.
Pasbola nudged him.
Rai: "Yaad nahin (Don't remember)."
Pasbola in a silky, savouring-the-moment tone -- no bang of drums and tooting of the trumpets for him -- quietly asked: "Aise hua tha Rai? (Did it happen that way?)"
Rai finally: "Bag ke andar nahin jalaya (the corpse was not burnt inside the bag)."
Pasbola to Judge Jagdale, courteously: "Milord we can show him the panchanama now?"
The judge assented. The efficient duo of lady court clerks, in a matter of two minutes, after shuffling through the umpteen piles of paper on their broad desk, which is dotted with large white cloth bundles of files, whipped out the panchnama and took it over to Rai at the witness stand.
Pasbola still silkily: "Hindi toh parhi lete ho? Rai... Last line... Yeh jo likha hai, sahi likha hai? (You do read Hindi? See the last line. Is what is written there correct?)"
Rai looked at those specific lines in the panchanama long and hard, as if the panchnama was suddenly some ugly alien object attacking him. He kept looking at it. Ostensibly thinking.
His eyes popped. He shuffled in the stand. And then his eyes took off for some distant point in the room.
More thinking. More discomfort.
The prosecution was also wordless.
Badami, who has recently shaved his head and is minus his distinctive shock of white hair, and his colleague Kavita Patil sat quietly waiting. So did the CBI officers in the back of the court.
CBI Investigating Officer K K Singh hovered in the hallways outside (his designated place during this trial).
Indrani, wearing dignified white and pale green, sat alertly and serenely, expectant.
Sanjeev sat at her side in an orange shirt. And Peter Mukerjea, Accused No 4 at his.
After a long time Rai said the suitcase had been burnt separately and offered an inadequate "Aisa likha hai par aise nahin hua (It is written there, but it didn't happen that way)" and after a pause, offered his standard response, perhaps to shut down the line of questioning, "Yaad nahin."
The judge looked at him carefully and gravely: "Tum ne wahan par likha hai. Sahi nahin likha hai. Tum uska koi karan de sakte ho? (You did write that there. It was not correct. Can you give any reason why that is so?)"
Rai squirmed and seemed to mumble in a very low voice something about how he didn't know but he must have said something like that. But he kept pondering.
Judge Jagdale smiled gently at Rai and he returned the smile: "Itna sochne ka kya zaroorat? (Why the need to think so hard?)"
But Rai could not substantiate, in any effective way, why two years ago he remembered helping burn a suitcase with the victim's corpse in it. But two years later, in 2017, he recalled that he assisted in burning first the girl's body and then the suitcase separately.
The exposing of this key contradiction was the highlight of Thursday's proceedings. One defence lawyer felt Rai was on the verge of a breakdown and said he had actually "wiped a tear away."
Thursday, winter returned to Courtroom 51 and the Sheena Bora trial, which began in February. Half the fans were shut.
Judge Jagdale, in spite of his robes and tight collar shirt, had all the fans around him switched off.
Peter sported a white T-shirt under his standard court wear of white shirt and khaki trousers.
Without the whir of the fans, the courtroom, which was packed with lawyers, many of them spectators, perhaps to observe this essential part of the trial, was ominously quiet and solemn. Time seemed to drag.
Next up was the lengthy and tedious denial procedure.
A long-drawn-out affair, that legal process commandeered the bulk of the session on Thursday. It consisted of taking every bit of Rai's statement/testimony to the CBI special court, in a rewind fashion, and denying any parts that could go, as it was explained to me, "against Indrani" whom Pasbola was representing.
If it wasn't denied it could be considered accepted.
Hence the denying was crucial.
Each paragraph that could possibly be incriminatory to Indrani was outlined by Pasbola to the judge and Rai.
Rai was asked over and over again, in a dramatic fashion, that wasn't this something he quite obviously falsely said. Each time Rai had to also dramatically deny it.
The judge and the court stenographer then made a careful record.
These denial sequences often travelled the same loop each time, like a mantra or a responsive prayer:
Pasbola would repeat a portion of Rai's earlier testimony to the court, given in July.
Pasbola would question: "Aisa hua nahin! (It did not happen!)" Or "Yeh sab jhuth hai! (This is all lies!)"
Rai would aver loudly and spiritedly: "Hua! (It happened!)" Or "Gaye (I did go)." Or "Sach hai! (It is true!)"
At times Rai was cut out of the process, making it hard for him to sustain attention and alertness -- it was assumed he would be denying it -- and Pasbola and the judge merely exchanged paragraph details. An hour elapsed like this.
But prior to this procedure, and at the start of the session, Pasbola spent about half an hour asking some odd, stray questions, that often got Badami riled up.
He checked a bunch of numbers out with Rai.
The driver could remember his wife's number and who she was.
He could remember his friend and the Mukerjeas' peon Pradeep Waghmare's number and who he was.
He couldn't remember the number of Sitaram or who he was, but offered cautiously, "I did know him. I don't remember now."
When asked if he had ever told K K Singh, when he visited him in Thane jail, that he wanted to give a confession, Rai waffled for a bit and finally, when pushed to it, said no.
He was not aware, he insisted that the statement he gave to the lady magistrate at the killa court, near VT station, amounted to a "kabuli javab" or confessional statement or that he was told that he had become a "sarkari gavai" or prosecution witness for the CBI.
Rai no longer remembered what kind of conversation he had with Kajal Sharma, Indrani's secretary at INX Media and whether she had asked him about his movements and where he was on certain days, given that he often reported to her in Indrani's absence. Or even if he met her on the day of the murder.
Pasbola recalled before Rai how he had said that at Marlow -- the building in Worli, south central Mumbai, where the Mukherjeas own an apartment -- on the night of the murder, the medicine and whiskey bought at a local store had been mixed together and offered as a drink to Sheena's brother Mekhail who was visiting that evening too.
Pasbola then asked if the medicine had been poured into the whiskey bottle. Rai said it had.
Pasbola: "It has a non-returning valve. You can't pour it in."
Rai disagreed violently: "Milaya toh mein ne! (I mixed it!)"
Badami interjected: "Brand ke upar hai (It depends on the brand)."
Rai was then asked about the trip he made, on Indrani's instructions in April 2012, by flight from Delhi to Mumbai to Kolkata carrying that mysterious medicine.
Pasbola queried, using vague wording: "Bottle plane ke andar le ke gaye? (You took the bottles on the plane?)"
Rai, perplexed at the odd question said: "Yes."
Pasbola didn't explain further.
At the tail end of the session, like the geography period or practicals one remembered from school, a sheaf of coloured maps were introduced by the defence into the courtroom causing a little ripple.
Pasbola requested permission to spend half an hour "fixing" the driver's "location" on those significant days in April 2012 when Sheena was killed.
Rai was asked whether he was up to it. Despite his earlier drubbing, he said he preferred to get down to it on Thursday.
The lawyer tabled three to four maps of Rai's movements that had been rather slickly created by mapping the coordinates that the call data records had thrown up.
Copies were offered to the judge and the accused at the back of the courtroom.
The maps created a little stir. They were an unusual tool for these courts apparently.
Badami wanted to know why he and Patil had not been given copies of the map.
Pasbola: "It is part of thecharge sheet", indicating it was created from information in the chargesheet.
Badami: "But you have something in colour!"
Patil: "Limited editions."
Judge Jagdale laughed heartily.
Badami: "Giving it to us afterwards is no point."
Patil, after the complaints, nevertheless asked Pasbola to start his mapwork: "Continue."
Badami echoing Patil: "Continue."
Pasbola mischievously: "So nice of you."
Patil firmly with a big smile: "Always nice."
Later Badami told Indrani's lawyer Gunjan Mangla that since she was the one getting the maps printed -- "You didn't print them yourself" -- that she should each time print maps for him too.
"Instead of pressing the print button twice, press it three times!"
The first map was of Rai's movements on April 23, 2012, the day he and Indrani allegedly went to Pen and Lonavla to hunt down places to burn and dump Sheena and her brother Mekhail's remains.
The plan had been then, according to Rai, to kill Mekhail too.
The CDRs and the maps showed that Rai returned to Marlow after the day's recce at 7.33 pm via Mumbai's northeastern suburbs of Mankhurd and Chunabatti.
Rai agreed with the timings and said, "Ho sakta (Possible)."
Two other maps were of Rai's movements on the day of Sheena's murder on April 24.
One of the morning before the murder. The other was actually of the evening when Sheena was allegedly strangled to death in Bandra, north west Mumbai.
The map of April 24 am revealed that Rai had wandered in the Worli area between AM Motors, where he hired cars for the Mukerjeas, and a Chinese-run beauty parlour Indrani frequented (where haircuts start at Rs 800), but also made that morning a mysterious and unaccounted for trip to the Kamla Mills area on Tulsi Pipe road, central Mumbai.
Rai's response: "Gaya hoga (May have gone)."
The map of the murder route on April 24 evening showed a halt at a popular department store at Bandra for nearly an hour and then movements at 7.16 pm towards a jeweller on Turner road, before heading at 7.24 towards an area in the Pali Hill section of Bandra and then to Taj Land's End at 7.33 pm.
Rai was not flummoxed with what the CDRs revealed.
He insisted he had never heard of the jewelers and that "Pali Hill to tha. Time maloom nahin (Yes it was Pali Hill. I don't remember the time)."
The clock in the courtroom was meanwhile almost striking 6. Pasbola, lawyer-turned-Thursday's-geography-master, said he would continue the lesson at the next hearing which was scheduled for Friday, December 8.
It appeared he has a few more maps up his sleeve.