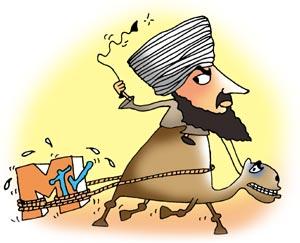 Rediff India Abroad Assistant Managing Editor Syed Firdaus Ashraf was part of a nine-member team of senior journalists from South and South East Asia recently invited to the United States for a two-week seminar. The invitation was extended by the East-West Center, a think tank based in Honolulu, Hawaii.
The visit included trips to Washington, Detroit and Seattle, and its purpose was to provide opportunities for Asian and American journalists to discuss the relationship between Asian countries with large Muslim populations and the US, especially in the post-9/11 period.
In this, the second part of a series, he shares his experiences in the land of the free.
Illustration: Uttam Ghosh
One of the most interesting things I learnt from my trip was why Osama hated America -- at least from an American right wing newsperson's perspective. According to the latter, Osama and his potential suicide bombers hate the basic concept America stands for -- 'freedom.' In their opinion, he also hates freedom of the press, democracy, and MTV.
On the topic of Iraq, a section of the American media highlights the fact that more Iraqis were killed under Saddam's rule compared to now. Apparently, the killings are only mentioned now thanks to a free media policy in Iraq that didn't exist before.
There are also research foundations whose job it is to conduct polls asking Americans what they think of the war in Iraq. These are some of the questions being asked: When must Americans quit Iraq? Was Saddam linked to 9/11? How safe do Americans feel in their country? The answers to these then become topics for national debate.
No researchers bother to ask Iraqis how they feel about their country post-Saddam. Do they feel safe under American occupation?
Read Part One: Mr Ashraf goes to Washington
Giving peace a chance
One person I cannot stop admiring is Brenda Rosenburg from Detroit. A successful fashion designer, her life changed overnight with 9/11.
Brenda feels there is too much hatred in the world. She wants to give peace a chance. According to her, peace begins with one person and spreads like a ripple in a pond. "If we find the real purpose of our life," she told us, "peaceful existence is possible."
Rosenburg is Jewish. She conducts workshops and is working on a documentary to bring Jews, Christians and Muslims together on one platform. In her opinion, you can change the views of an extremist only if that person is willing to listen to another viewpoint.
I pointed out that extremists were rarely in the mood to listen. She agreed. The important word, she added, was 'willingness'. So, the next time you encounter an extremist, first check if he or she is willing to listen. If not, give up. I know I would.
Bridging the gap
Among the more wonderful dinners I had in America was one at the home of Sharona Shapins, with her cute children and extremely sweet husband for company.
We were joined by local Muslims as well, including prominent personality Dr Abdul Rahman Nakadar, who runs a newspaper Muslim Observer. He talked about resolving issues between religions through dialogue and education. Both Sharona and Dr Nakadar claimed to have had their share of arguments in the past, but said they always came together in times of crisis.
To bridge a widening gap between communities, they hold regular inter-faith meetings in Detroit and follow the dictum: 'We agree to disagree.'
Agreeing to disagree?
After meeting with Sharona Shapins, I simply could not digest her idea of agreeing to disagree. Wherever we went in America, people said, "We have a democracy. We are a tolerant society and we agree to disagree."
After a while though, I could not buy this argument. It was possibly the biggest lie I had ever heard.
Americans agree to disagree because they know their opponent is weak and that even if a voice is raised in protest, it is not a threat. The day these voices become threats -- like Iran or North Korea -- they promptly dump their theory of agreeing to disagree and start bombing. What do you think?