"When people came to us with work, our male colleagues would say, 'Why are you giving her work, she's a woman; after some time, she will go away.'
"If you're one in 26, there is going to be bias.
The first woman chief justice of a state in India, Leila Seth, talks about the problems she faced when she started her career as a young lawyer and tells us how she went on to fight male bias and discrimination.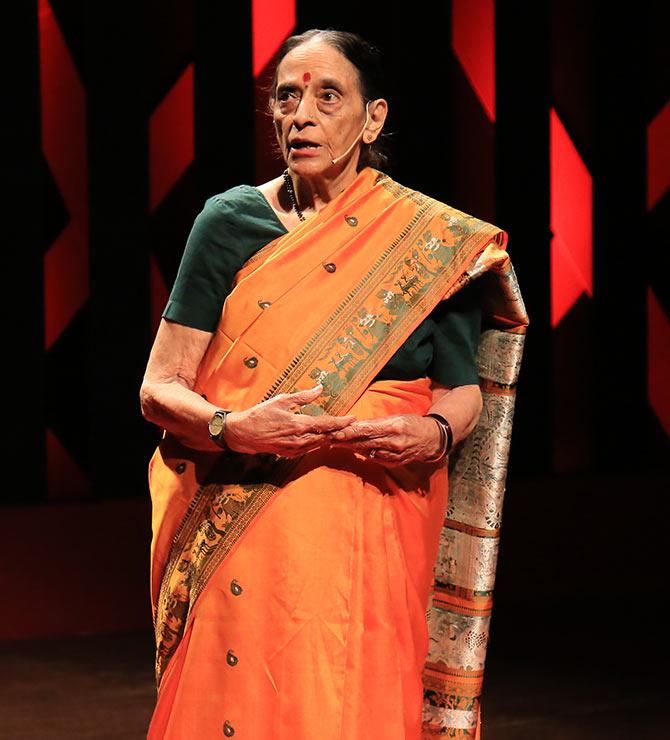 It is not every day that you meet a personality like Leila Seth.
The first woman chief justice of a state in India and the first woman judge at the Delhi High Court, she is 84 now and is still sought after for her legal acumen.
I met her at the National Centre for the Performing Arts in Mumbai, where she delivered a TEDx Gateway Women lecture on why she prefers inheritance over dowry.
As she spoke to me about her early days as the only female barrister in the country, two adjectives came to my mind -- confident and assertive.
Seth was born in Lucknow, got married when she was in her early twenties and moved to London.
She studied law in London and, in 1958, became the first woman to top the London Bar exam.
After the family returned to India, she practised law.
She handled cases on income tax, company law and fought and won several criminal cases, matrimonial suits and writ petitions.
In 1978, she became the first woman judge of the Delhi High Court.
In 1991, she was appointed chief justice of Himachal Pradesh, the first woman to be appointed chief justice of a state in India.
She has written two books – On Balance: An Autobiography (2003), and We, The Children Of India, (2010), which explains the Constitution and preamble to children.
We listened as the distinguished legal eagle recounted her career and experiences.
Did you always want to become a lawyer?
I had wanted to become a teacher and open a small Montessori school.
I became a barrister in London only after my marriage. After getting married, I moved to England with my husband.
I wanted to do something but I had a small child to take care of.
At that time, law was one of the few professions where you could pursue a degree without attending college. When the results were out, I realised that I had stood first in the whole of England. Everyone was so thrilled that they put the news in the newspapers!
When I came back to India, everyone persuaded me to practise law and put my degree to good use.
That's how I started the journey.
What were your early years as a barrister like?
When I started my practice in Patna (Bihar) in 1959, there was just one female colleague working with me.
Men would ask me, why are you wearing this type of blouse? They did not think it was wrong to ask such a question to a woman.
In the office where I worked, there was no toilet for women because no one felt the need for one. An old file room was converted into a bathroom (for the women). Every time I pushed the door, the bats inside would start flying. I was terrified and did not know what to do.
My colleague, the other lady, was from Bihar. She was senior to me and did not seem to mind these things at all. At times, she would forget the (bathroom) keys at home.
Those were challenging times.
Since I was new and learning the profession, I would have to go to mofussil areas to argue. Crowds would come out of their homes to see me as if I was something unusual. They would tell each other, 'Lady barrister aayi hai, dekhne chalo.'
Even when people came to us with work, our male colleagues would say, 'Why are you giving her work, she's a woman; after some time, she will go away.'
After 20 years of practice, I was asked to become a judge.
After 14 years of serving as a judge, I became the first female chief justice of Himachal Pradesh.
Did you face gender bias in your career?
I moved to Calcutta (now, Kolkata) in 1968. I was asked to give a legal opinion for a company. I studied the case and gave my opinion, but the solicitor never paid me.
I met him four months later and asked him to explain. He said that even though I was competent, they had wanted a male opinion. So they had sent the case to the senior-most lawyer in town, along with my opinion.
This lawyer had apparently sent it back to them with a single line 'I endorse the opinion of Leila Seth'.
They told me they paid this lawyer 10 times the fee they would have paid me, but a male opinion is ultimately a male opinion.
My brother used to work in an English company and he once asked me for my legal opinion. I asked him why he didn't ask for my opinion officially and he told me that, for professional purposes, the company would prefer a male opinion.
Over the years, I realised that it is not important for women to be just equal to men. Women have to be equal plus to get work and get their due.
I had to move three times -- Patna, Calcutta and then Delhi -- in my career. Each time I moved, I lost my clientele. After I moved to Delhi to work in the Supreme Court, I got work from clients in Calcutta and Patna.
When I became a judge, I realised that with great power comes great responsibility. I had to be very careful; if something went wrong, they would blame me.
I was very persuasive with people.
If you're one in 26, there is going to be bias.
When I was in Patna, the judges were very helpful but the lawyers were not. When I became a senior lawyer, some of my male colleagues would say, 'Hum aurat ke seniority me nahi kaam karenge.'
There was resentment. Some of the judges would also treat me differently, particularly during social events. It's quite natural for men, when they see a woman, to want to push all the domestic work onto her. Even when they had to introduce me to someone, they would say: Meet our new woman chief justice.
I would tell them, 'Listen, my sex is quite apparent so why do you have to mention it? You never say -- meet our new gentleman judge.'
So, there were these trivial things men would do to pick on me at work.
When I became the chief justice, men were not used to seeing a woman in my position. Many came from feudal societies so they had huge egos.
I never boasted about my power. I believed in team work and would take the opinion of my colleagues and persuade them too. I never made them feel small because women know how sensitive men can be if they are not given importance.
How did you motivate yourself to look beyond the challenges before you?
I believe that, no matter what, you have to do your best. My mother used to say, 'It's no disgrace to be a shoemaker. But it's a disgrace to be a shoemaker and make bad shoes.'
I believe that, if you do it well, you will enjoy any profession and, if you enjoy your profession, you will perform well.
My husband was extremely supportive of me. I always felt I got to do my best. That's the maximum I can do and I would do that. After that, let the damn judge decide what the verdict will be.
One day, I realised that I am the damn judge. I understood that there has to be something special about me that I was chosen for this service.
The judge holds a very onerous position in society. He can take away your property and even someone's life if proven guilty. Judges have a lot of power.
Women used to ask me why I wasn't favouring them in court. I told them I am not a judge for women. I can't favour a woman who's not right.
During my career, I consciously did not take up women's cases; I wanted to prove myself in the mainstream sectors. So I did institutional law, company law, income tax, sales tax, etc.
After I retired, I did a lot of work for women and continue to do so.
Do you see any changes in the legal system now?
The positive change is that there are more women than men in law schools, but that doesn't translate to employment.
The number of lawyers in the district courts has gone up, but there are not enough women.
If there are 600 judges, about 30 or 60 of them are women. The percentage is very low. This needs to change.
What according to you are the rights that women are not aware of?
Property rights is one. It's also my prime appeal to women: demand inheritance not dowry.
Women in India forget, or perhaps don't realise, that they have all the inheritance rights -- both father's ancestral property and existing property -- but they are not assertive at all.
A woman has equal rights. For example, if you have three brothers and two sisters, each one should get 1/6th of your father's property. If the six siblings were brothers, each one would have got an equal share, then why don't women ask for their share?
Also, men have to change their attitude towards recognising these rights.
Another right that women tend to ignore is criminal rights and matrimonial rights. They become aware of these rights only when there is a problem.
Women need to know more about company and constitutional law.
It helps when we file PILs (public interest litigations). For example, if you know constitutional law, you would know the clause of 'equal pay for equal work'.
Recently, a young woman was denied accommodation in Mumbai because she is Muslim. What are your thoughts on this?
I think it is ridiculous. Everyone in this country has equal rights, irrespective of religion.
I have explained every word of the preamble (to the Constitution) in my book We, The Children Of India.
I would urge everyone to follow your own religion, pursue it.

Diversity is so important for our country. There is no country as rich as ours.
In Bihar, the culture of Muslims and Hindus is blended well and everyone respects each other.
I feel children, unless you make them conscious, are not aware of religion.
If anyone suffers discrimination on the grounds of inequality, I would go to court and say it's a human right to live where I want, practise my religion, to mix with whom I like.
The difficulty with going to court is you may get the order, but you won't feel comfortable. There will be 20 people who will look at you and make you uncomfortable. It's for society to make you comfortable.
You were part of the Justice Verma committee that made crucial recommendations on the law regarding rape in India. Can you share the experience with us?
The Justice Verma committee report, compiled in January 2013, comprised of 600 pages.
We made very strong recommendations. But the government did not take all our recommendations; they rejected some, changed some.
We made recommendations to change the Representation of People's Act.
Our argument was: how can you have MLAs and MPs who have committed sexual assault becoming our leaders and being part of the Constitution? We wanted them to resign, but that did not happen.
However, they (the government) did consider the issue of 'stalking'. Earlier, a man could follow a girl and the girl could do nothing about it. Today, a woman can address this as harassment, thus preventing instances of abuse, rape and acid attacks.
How can we speed up trials in India?
The problem with our courts is that there are not enough judges and lawyers. The ratio of judges in comparison to the number of cases registered is very low compared to England or America. Besides, some lawyers cannot capture all aspects of a case.
I personally feel judges and lawyers should ensure they collect as many documents and as much evidence relevant to the case as possible so that the trial begins sooner and does not drag on for years.
As for domestic cases, there should be Lok Adalats and mediation outside the court so that they don't appeal in higher courts.
In America, most cases are settled outside of court, thus bringing down the backlog.
How can we empower women to pursue their dreams?
In India, parents give their children education and nutrition but don't give their daughters independence to do the things they want to do. If you tell them you want to pursue something new, they will say -- I don't think it is safe for women.
When I was young, teaching, nursing and doctors (gynaecologist, paediatrician) were the top careers for women.
Earlier, men would also say, why should women go to work, they should be good mothers and daughters.
This attitude of differentiating responsibilities and careers based on gender needs to change.
In which professions would you like to see more women?
We need more women in policy making and as parliamentarians.
Panchayati Raj has also made a significant difference.
Yet, there are very few women MLAs and MPs. We need more of them.
Who inspires you?
My inspirations have been Gandhi and Nehru.
I am a product of British India and spent a good part of my growing up years watching the Indian Independence movement.
Mahatma Gandhi always felt that you have to be the change. He'd say change yourself before you ask others to. Plus, he always respected others' religion.
Nehru was a democrat and was willing to be criticised. Through him, I learned how important it is to look at yourself and introspect.
Your advice to or readers?
Work hard, enjoy your work and go where your heart takes you.