When Subir Roy met Ruchira Gupta at The Telegraph 35 years ago, she was not quite 20 and not a graduate.
Today she is the indomitable founder of Apne Aap, which has touched the lives of over 21,000 women who were victims of sex trafficking.
IMAGE: Ruchira Gupta, right, with actress Demi Moore at the Clinton Global Citizen Awards in New York City in 2009. Gupta was one of the Clinton Global Initiative awardees that evening. Photograph: Bobby Bank/Getty Images
There was something special about The Telegraph, founded by M J Akbar in 1982 in Calcutta, as it was then called.
It provided a springboard for a set of remarkable young people from which they could discover their talents and go forward to win the world.
I have talked about some of them. Time now to apologise and seek to correct the gender gap by celebrating Ruchira Gupta and all that she has done, most notably by founding and taking forward Apne Aap.
Ruchira started it 15 years ago (in 2002) to stand by trafficked girls and women and bring some hope into their lives.
To date, its work has touched the lives of over 21,000 women, over a thousand young girls are able to go to school and over 3,000 women have been helped to exit prostitution -- today's version of slavery or bonded labour.
A person finds it next to impossible to get out of its clutches until she is a depreciated commodity without any exploitable value and often thrown out.
During this work and that as a journalist, Ruchira has won several awards, the latest, news of which has just come in, being designated a Knight of the National Order of Merit by the president of France.
How did the girl, who joined The Telegraph 35 years ago when she was not even 20 and in her second year in college (the new paper broke conventions and took in bright young people, so what if they were not yet graduates) and whom we seniors called 'Kiddy', get here?
As a journalist and documentary filmmaker she came to focus on women's rights, caste conflict and minority issues.
Two milestones shaped her focus in life -- the need to 'speak up'.
One was the demolition of the Babri Masjid in 1992, which she went to cover, report from the trenches, so to speak.
There she was personally attacked by the kar sewaks. What was worse was the 'hatred' she faced for speaking up against this.
The second was when she got to making the documentary film The Selling of Innocents on sex trafficking in Nepal and India and thereby immersed herself in the issue.
This documentary won her an Emmy under the category 'news and documentary' in 1997.
Ruchira is clear that she must stand up for truth and against its silencing.
Being born into a prosperous Marwari family helped her in two ways.
One, they could back her up. But perhaps more important, her Gandhian parents gave her a home where standing up for truth was a cornerstone of belief.
Apne Aap seeks to empower 'prostituted' women (not prostitutes) in four ways -- by working on their right to legal protection, education, a dignified livelihood and safe and independent housing.
On the last, Ruchira recalls how she was amazed when a woman told her what she wanted most was 'a room of one's own', exactly the title of the celebrated Virginia Woolf novel.
How far has Apne Aap succeeded in delivering what it believes in?
Mudar Patherya, who is active with the forum Kolkata Gives, which brings well-run and deserving NGOs and philanthropists face to face, rates Apne Aap very high.
Also, the fact that it has been around for 15 years now speaks for its durability.
In fact, Apne Aap is in a different league from most of the other NGOs with Kolkata roots. It has a New York presence through Apne Aap Worldwide (Ruchira works closely with the UN in her advocacy role) and also a local presence in India, like running a residential school in Forbesganj.
Ruchira's upper class background helps. She, and through her, Apne Aap has visibility among the city's rich and also credibility.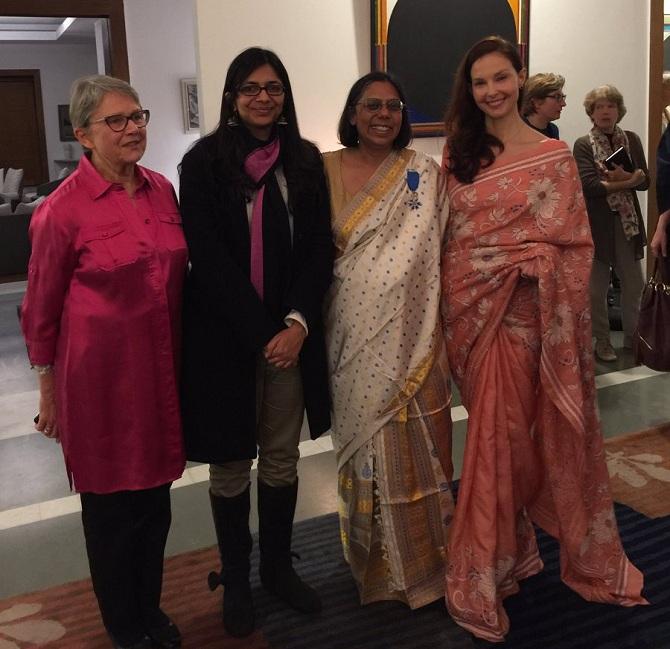 IMAGE: From left, French lawmaker Catherine Coutelle, Delhi Commission for Women Chairperson Swati Maliwal, Ruchira Gupta and Hollywood actress Ashley Judd celebrate Gupta receiving the Knight of the National Order of Merit from the French president. Photograph: Kind courtesy @Ruchiragupta/Twitter.com

Where does Apne Aap go from here?
It will continue its work through international networking for a world in which no woman is bought or sold.
How borderless the world actually is was explained to Ruchira by a Soviet astronaut who said when he looked down upon the earth from up there in space it was all one.
The aim is to literally walk round the world in support of the idea of making the last person first -- the last person is the last girl -- and to illustrate how trafficking takes place across borders.
Also, there is a oneness among the victims, their lot is the same everywhere.
The last person is the last girl who is female, poor, a teenager, low caste in India, black in the US, indigenous in Canada, refugee or religious minority in Europe and ethnic minority in Africa.
The moral sustenance will come from the legacy of three great souls -- Gandhi's antyodaya, which focuses on the least of us; Ambedkar's antaj, which sought to create self-esteem among untouchables; and John Ruskin's idea of 'unto the last', which sought to share fully with the last among us.
The various strands that come together in Apne Aap were all there at a recent fundraising meeting in a posh neighbourhood of Kolkata organised by Kolkata Gives.
Ashley Judd, the Hollywood actress who came to express her solidarity, was the global connection.
Ruchira, representing what Apne Aap stands for, gave a forceful speech.
And uniquely, there was a young girl whose mother had been prostituted and whom Apne Aap helped go to school and beyond. She was now reading at St Xavier's College and was up on the stage to read out a poem of hers.
I sat bemused at the thought of how indomitable a spirit Kiddy had turned out to be, not the least because she had somewhere in between conquered cancer.
---
MUST READ: The slavery we live with