In some ways, Jyotiraditya parting ways with the Gandhis was similar to the saga of the Gandhis and the Bachchans, largely a story of friendship that turned sour.
A fascinating excerpt from Rasheed Kidwai's The House Of Scindias: A Saga Of Power, Politics And Intrigue.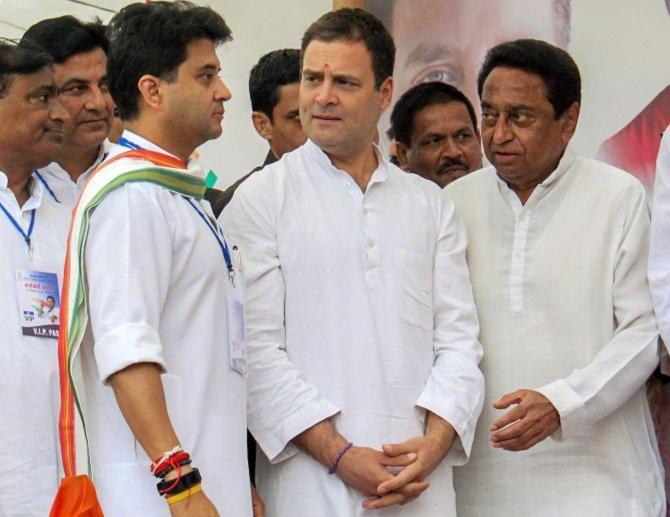 Jyotiraditya had been restless and edgy since May 2018, when the Congress leadership (Sonia Gandhi and Rahul Gandhi) picked the veteran Kamal Nath as state party chief. Six months later, when the Congress wrested the state, ending fifteen years of BJP rule, Sonia and Rahul chose Nath as chief minister.
Jyotiraditya, who had till then fancied himself as a contender, went into a prolonged sulk, but sources close to Sonia said an informal headcount conducted among the newly elected Congress MLAs had given Nath the thumbs-up.
Maharaja Bhanu Pratap of Narsingarh, a subject of the erstwhile Gwalior empire, had succinctly explained why Jyotiraditya lost the battle for the chief minister's post to Nath.
'There are two reasons for it,' Bhanu Pratap, a former parliamentarian, told veteran journalist, Nirmal Pathak, and a few others when he met them in the Central Hall of Parliament. 'Everyone knows Maharaj Jyotiraditya Scindia in Madhya Pradesh but he knows very few of them there. Secondly, the maharaja's kurta reportedly does not have pockets.'
The reference to kurta and pockets was an allusion to the Scindias' (in) famous ability to spend money and extend patronage. Nath, on the other hand, has the reputation of being a generous patron of all those who are fond of worldly possessions. He was also credited with funding the Congress campaign in Karnataka, coinciding with his appointment as Madhya Pradesh Congress chief.
According to informal convention within the Congress, a party unit chief is perceived as the chief ministerial face in a poll-bound state. But Jyotiraditya had fought hard to dispel such an impression. He was the chairman of the Congress campaign in Madhya Pradesh and had projected himself as a young and 'credible face' to take on the then BJP chief minister, Shivraj Singh Chouhan.
Till May 2018, Jyotiraditya and Nath were on the same page and often spoke with a sense of camaraderie. 'We are one. You can check with Jyoti...,' Nath would often tell this author.
Jyotiraditya, a little more guarded, would say he was open to the idea of supporting anyone the party high command chooses. At that juncture, these regional satraps seemed to be making a concerted bid to keep out the third player in the race, Digvijaya Singh, who was busy with his 1,100-mile-long Narmada river parikrama on foot.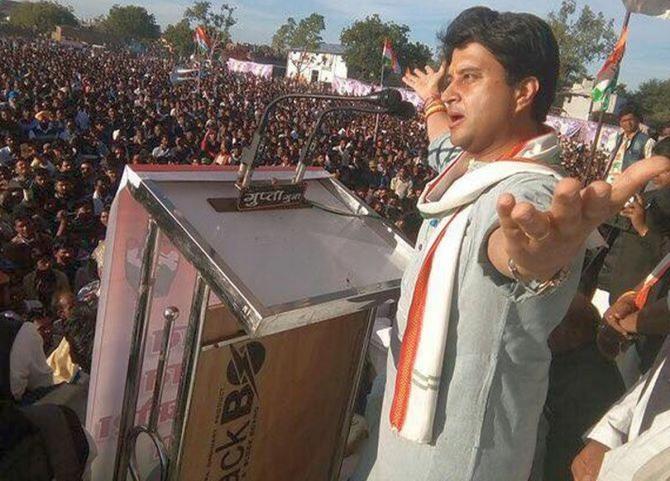 In December 2018, the Congress emerged victorious in Madhya Pradesh, Rajasthan and Chhattisgarh. Virtually everyone in the Congress and outside had expected Rahul, who had been crowned the 87th president of the grand old party around the same time, to usher in young blood.
It was not to be, as Nath, Ashok Gehlot and Bhupesh Baghel earned their jobs in Bhopal, Jaipur and Raipur, respectively, not just through grit and hard work, but also because of some lastminute, behind the scenes deliberations. There was some arm-twisting and a fair bit of cajoling, as well.
After the chief ministerial candidates for Chhattisgarh and Rajasthan were selected on 14 December, all eyes turned to Madhya Pradesh, where Jyotiraditya was counting on his friend Rahul.
The two had known each other from the age of four and had gone to Doon School and St Stephen's College together -- Jyotiraditya as a BA pass course student and Rahul as a student of history honours. Both had left midway, gone abroad and then returned to India, one as an investment banker and the other as a management consultant.
Minutes after Nath was picked as chief minister of Madhya Pradesh on 14 December 2018, Rahul, who was the Congress president then, tweeted a picture of him with Nath and Jyotiraditya Scindia and quoted Leo Tolstoy to say that the 'two most powerful warriors are patience and time'.
The choice of Madhya Pradesh chief minister had moved to the stage of number crunching. Jyotiraditya's supporters still claim they had won 26 of the 34 seats in the Gwalior-Chambal region (the Scindias' political citadel accounts for only 15 per cent of Madhya Pradesh's voters) as against Nath's 24 out of 38 assembly seats in the Mahakaushal region.
That was when Digvijaya took centre stage, sharing a photograph of 31 newly elected MLAs calling on his son Jaivardhan, who had won from the Raghogarh principality that was part of the erstwhile Gwalior empire. The subtle message was that Jyotiraditya's support of 26 MLAs meant little when a 'non-contender' had 31 MLAs behind him.
While this battle carried on, Nath, in Bhopal, messaged party bigwigs to say that over eighty MLAs from various Congress factions, smaller parties and independents were with him.
Rahul went public, demonstrating his figurative confidence in Jyotiraditya by ensuring that he was by his side when he travelled from Delhi to Jaipur, Bhopal and Raipur for the three swearing-in ceremonies.
The idea was to showcase the 'young face' of the party when, in effect, the old guard was calling the shots. The chief ministerial selections of December 2018 once again underlined the old guard's grip on the Congress and palace intrigue.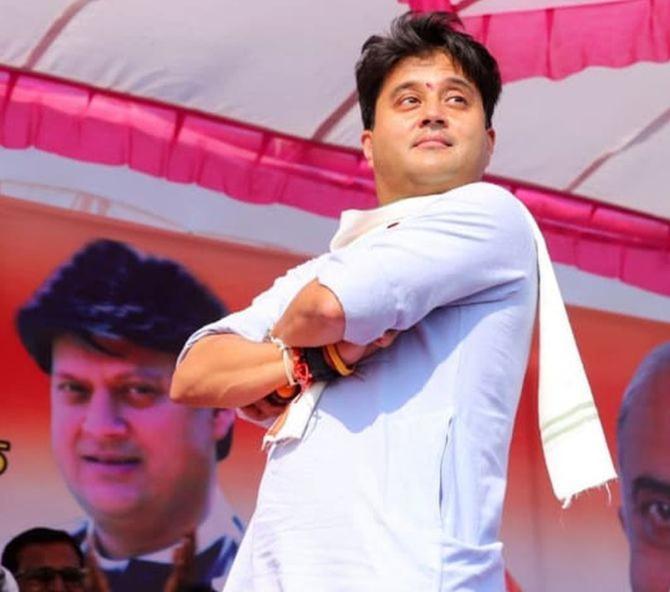 In some ways, Jyotiraditya parting ways with the Gandhis was similar to the saga of the Gandhis and the Bachchans, largely a story of friendship that turned sour.
And just like much of the real cause(s) of the split between the Bachchans and the Gandhis has remained in the realm of speculation -- ranging from tussle over finances, ego, one-upmanship and infatuation with astrology -- the real reasons for Jyotiraditya's devastating goodbye has not come out in the public domain yet.
One guess is that Sonia and Rahul failed to fulfil some of the informal promises that had been made to Jyotiraditya in 2018 and then 2019, the year the Lok Sabha polls were held.
Jyotiraditya was reportedly reluctant to contest the Lok Sabha polls from Guna, as he was working full-time in Uttar Pradesh as an AICC general secretary, but Rahul and Priyanka forced his hand. Jyotiraditya lost the Guna Lok Sabha seat to his one-time associate, Krishna Pal Singh Yadav, suffering his first electoral defeat.
Sources close to Jyotiraditya maintain that the Gwalior scion held Rahul responsible for his defeat in Guna -- a point of view based on the rather simplistic assumption that the 2019 Lok Sabha elections were a personality battle between the Congress leader and Prime Minister Narendra Modi, where individual party nominees such as Jyotiraditya were inconsequential.
Jyotiraditya believed that many of his supporters voted for Modi as he was representing a 'loser' in Rahul.
The defeat created a deep wedge between Jyotiraditya and the Gandhis as the former could not reconcile with his electoral defeat.
Some senior Congress leaders think the seeds of discord between Jyotiraditya and the Gandhis date back to UPA I, when the younger lot of MPs were not made ministers despite Prime Minister Manmohan Singh's eagerness to induct fresh blood.
In 2014, the year the Congress lost power at the Centre, Jyotiraditya had not been made party leader in the Lok Sabha. The job had gone to a rather listless Mallikarjun Kharge with Captain Amarinder Singh as his deputy.
In 2017, Amarinder became the chief minister of Punjab but, for some unexplained reason, the post of deputy leader was kept vacant in spite of Jyotiraditya's obvious and legitimate claim. During many crucial debates on issues such as Rafale, the farm crisis and national security, the party preferred other speakers over him.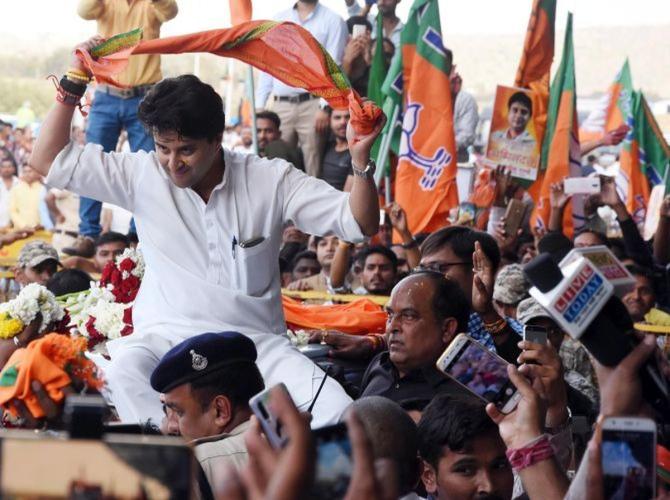 On the national political scene, sweeping changes were being made, resulting in the abrogation of Article 370 and the introduction of the Citizenship Amendment Bill, the National Register of Citizens and the National Population Register, while the Ram temple verdict capped the virtual vertical divide among citizens.
Jyotiraditya was seen as taking a contrarian line on most of these issues but, each time, he was prevailed upon by Sonia, Priyanka and Rahul to make amends.
On one occasion, Priyanka is said to have chastened Jyotiraditya in a rather affectionate manner, similar to the way she deals with Rahul, when she is known to put personal prestige at risk. Jyotiraditya is said to have obliged, albeit with a degree of reluctance.
Sources close to Jyotiraditya said that while he had easy access to the Gandhis, their repeated promise to intervene in Madhya Pradesh politics seldom translated into action.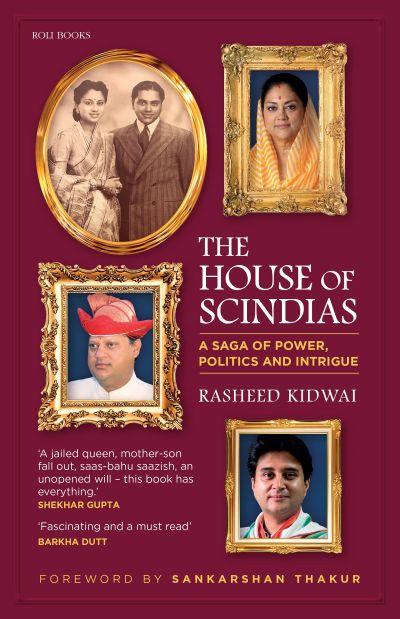 Increasingly, Jyotiraditya felt that either the Gandhis were complacent about the functioning of the Nath government or were unable to intervene. Either way, his sense of disillusionment was complete.
The Gandhis, on their part, failed to fathom why Jyotiraditya could not be a bit more patient or loyal, or both. After all, there was very little that Sonia or Rahul could have done. The informal headcount among the newly elected party MLAs in Rajasthan and Madhya Pradesh had clearly gone against Sachin Pilot and Jyotiraditya.
Rahul Gandhi broke his silence after almost a year over Scindia's decision to leave the party and join the BJP.
Interacting with young party leaders during Indian Youth Congress national executive meeting in New Delhi on 8 March 2021, Rahul said the Congress has always given importance to patience and ideology.
'I had advised him [Jyotiraditya Scindia] to wait for his time. You will definitely be made the CM (of Madhya Pradesh). However, he decided to join the BJP. He should know that he would never be made CM by that [BJP] party,' Rahul Gandhi said.
Jyotiraditya responded wistfully commenting how Rahul Gandhi wasn't so concerned about this particular topic at the time and that it could have been a different situation had that been the case.
'It would have been a different situation had Rahul Gandhi been concerned the same way as he is now when I was in Congress,' Jyotiraditya told the media on 9 March 2021.
This edited excerpt from The House Of Scindias: A Saga Of Power, Politics And Intrigue by Rasheed Kidwai has been used with the kind permission of the publishers, Roli Books.