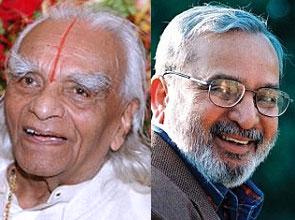 What B K S Iyengar and U R Ananthamurthy embodied was a cultural self-confidence... Celebrating and nurturing this legacy of deeply rooted strengths would be the best tribute to these two lives so richly lived, says Rajni Bakshi.
When yoga guru B K S Iyengar and literary giant U R Ananthamurthy passed away last week it was not just a loss for India's cultural life.
Wrapped in the legacy of both creative geniuses are resources that are key to India's possibly crucial role in the world.
Iyengar brought ancient texts on yoga into living practice in ways that found dedicated adherents across the world. Ananthamurthy's literary works in Kannada took complex insights about the human condition to readers to people in various world languages.
But their legacy is about something far more important than global reach.
At a time when identity, politics and culture often intersect in ways that generate conflict and tension, the life and work of both Iyengar and Ananthamurthy stand out like a beacon.
Iyengar, who passed away on August 20 at the age of 95, made the intricacies of the 2,400 years old yoga sutras, attributed to sage Patanjali, accessible to millions not just as a set of exercises but as a philosophy of life and as a science of how to know the mind.
In Light on the Yoga Sutras of Patanjali, published in 1993, Iyengar precisely translated and gave a detailed commentary for each of the Sanskrit aphorisms. By doing this Iyengar affirmed that anyone can practice yoga.
Like Swami Vivekananda, Swami Yogananda and various other spiritual leaders, who emerged in India over the last century and a half, Iyengar built upon India's multiple traditions by democratising them.
Equally significantly, as Yehudi Menuhin wrote in his foreword to this volume: 'There are not many practical arts, sciences, and visions of human perfection of body, mind and soul which have been in practice over so long a period without attachment to a particular religious creed or catechism.'
Today it might be controversial to suggest that yoga is not part of a creed, namely Hinduism.
Iyengar belonged to a generation that experienced the extensive body of Hindu traditions, rituals and disciplines as a faith rather than a creed with clearly marked boundaries or identities.
Similarly, Ananthamurthy grew up in a strictly orthodox Brahmin village in Karnataka and could be both empathic to and critical of the vast universe of traditions that were intrinsic to his clan. This placed him within a long lineage of tradition where wisdom and knowledge have grown due to self-critical enquiry.
Ananthamurthy's novels were at the same time rooted in that heritage and also influenced by Gandhi and socialism. He was passionately opposed to all forms of discrimination -- particularly those based on caste and religion.
Inevitably, Ananthamurthy also opposed Hindu nationalism or Hindutva -- because he saw them as shrinking and diminshing the richness of India's traditions. This often put him at the receiving end of a barrage of hate mail -- a reality that he handled with good grace and even humour.
Above all what Iyengar and Ananthamurthy embodied was a cultural self-confidence. This is why their sense of being Indian and Hindu was non-competitive, non-combative and even non-comparative with other cultures and religions.
Celebrating and nurturing this legacy of deeply rooted strengths would be the best tribute to these two lives so richly lived.
Rajni Bakshi is the Gandhi Peace Fellow at Gateway House: Indian Council on Global Relations.