'The way to pay tribute to Guruji would be to continue on his path and principles and be steadfast on true and genuine practice, which I want my students to learn from me.'
Nivedita Joshi, who overcame her physical ailments thanks to yoga guru BKS Iyengar, speaks to Upasna Pandey about his legacy.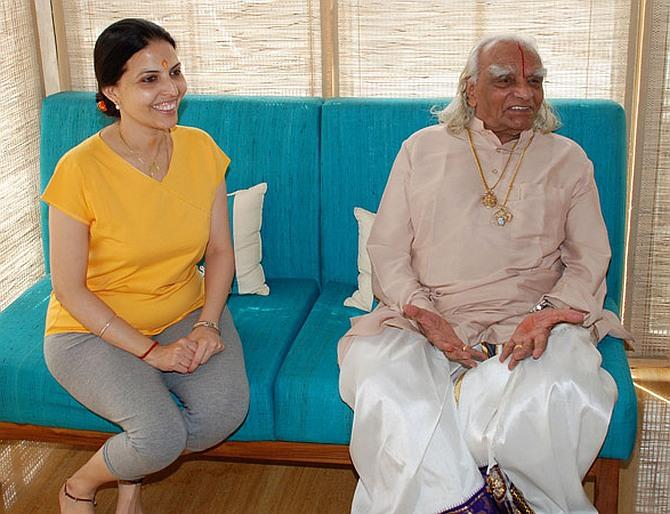 Nivedita Joshi spent 12 years virtually bedridden until she met legendary yoga guru Bellur Krishnamachar Sundararaja Iyengar, who passed into the ages on August 20 at the age of 95.

Born and educated in Allahabad, Nivedita was 15 when she was stricken by slip disc-cervical spondyloysis which rendered her virtually bedridden. She lost all hope as she suffered perpetual pain for almost 12 years and was practically on a wheelchair.

Talking to rediff.com, she recalled:"I was around 26 when (RSS veteran) Nanaji Deshmukh, friend of my father (senior BJP leader Murli Manohar Joshi) introduced me to Guruji's yoga. I realised after six months that something was incomplete in my practice. I met a physiotherapist who was Guruji's disciple; she guided me to him."

She recalls not discussing her condition or sharing her reports with Iyengar when she first met him, but "Guruji saw the skin of my neck and said 'I am ashamed that for six months you have been practising my yoga and you don't have any confidence and progress in your condition'. You will start coming to me from tomorrow'."

The conviction in Iyengar's voice made her "surrender to his vision". And by the 12th day of her practice regained the confidence she lost 12 years ago.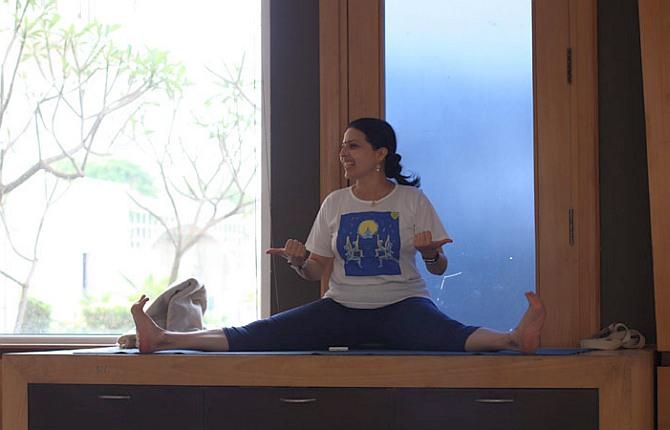 "I continued my practice for a month and extended it to a year. Then over the next three years, I took short breaks and continued to go to Guruji to practise yoga."

"The most wonderful day of my life was when my MRI showed that I was out of danger post three years of yoga practice," she said.

She shares another moment of pride when Iyengar tied a 'ganda' of Patanjali to her some years back, as a mark of recognition of her devotion to yoga.

Having learnt from the master for 18 years, Nivedita now runs a state-of-the-art Iyengar Yoga Centre Yogakshema, in New Delhi.

Trained as a microbiologist, Nivedita decided to give up her career to practice yoga to improve her condition.

"I wanted to do something for Guruji, but I was sure that I did not want to teach yoga. So I created two television series, Dharohar and Arogya Yog; the second series has been translated in 12 regional languages and is still running on some channels."

"Guruji taught me yoga with unparalleled zest. I was among his devoted students; I applied scientific approach, was a disciplined student and always tried to capture his energy and learnings."

She added that Iyengar was unfailing in his efforts and hard work on every student and she resolved not to let this go waste.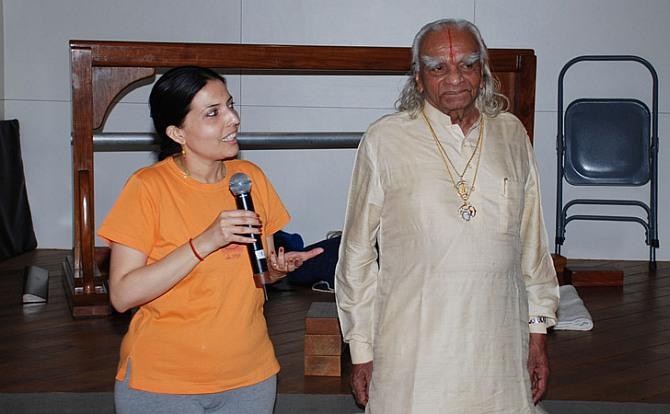 Reminiscing about her yoga journey with Iyengar, she said: "Guruji was keen that I start teaching yoga and set up a centre in Delhi. I wasn't sure and did not agree."

Iyengar then called Nivedita to attend an international workshop of senior Yoga teachers and students in Pune. He along with his son and daughter taught at the workshop, which was "an amazing symphony of yoga learnings."

Guruji again asked Nivedita if she was ready to teach yoga. This time she said 'yes'.

"From there began my journey of teaching yoga during which I was blessed to learn by sitting next to Guruji. He was not only an intense teacher, but remained focused on my healing process all along."

Iyengar continued to visit Nivedita's Delhi centre till recently, holding workshops and training students.

"In our last interaction in June this year, he asked me about my lower spine and directed me to work on some asanas along with his grand-daughter, which I did, and it worked wonders for me," Nivedita said.

She said, "Guruji used to say that patients make the best teachers because they have compassion and sincerity to learn."

Nivedita is convinced that Iyengar wanted her to teach all along apart from healing her from her prolonged pain.

She said, "The way to pay tribute to my Guruji would be to continue on his path and principles and be steadfast on true and genuine practice, which I want my students to learn from me."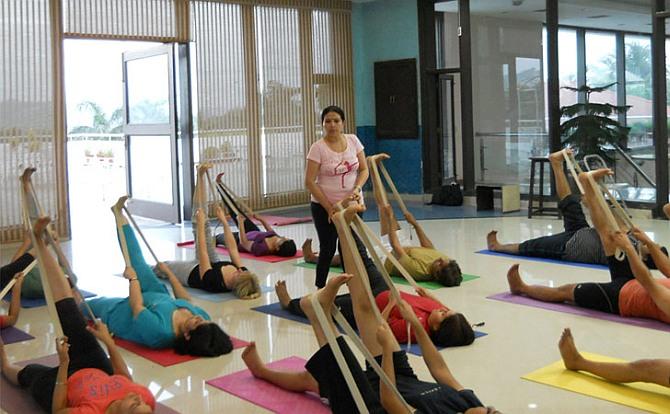 Choking with emotions over Iyengar's demise, she said: "Indeed there is a vacuum in the world of yoga with his demise, but I am sure his son and daughter who are both great practitioners will continue to disseminate his learnings."

Nivedita also spoke about her students -- both Indian and foreign of mixed age and backgrounds.

She lamented the absence of reverence for "guru-shishya" culture, which is intrinsic to the process of learning and healing through yoga.

"Unless we are willing to be open and humble, how can a guru fill our minds with learnings and wisdom?" This is something which Nivedita wants to carry forward from the learnings of Iyengar.

She finds the middle-aged and elderly students more open and earnest in their attitude and capable of adapting to the yoga regimen while it is the youth who come to her with too many problems of work-life stress, poor lifestyle habits etc.

"I am a hard taskmaster, as I instruct my students to leave their ego outside the room along with their footwear because yoga is all about being humble and willing to adapt and follow a path of core practice," Nivedita said.

Photographs courtesy: iyengaryogakshema.org