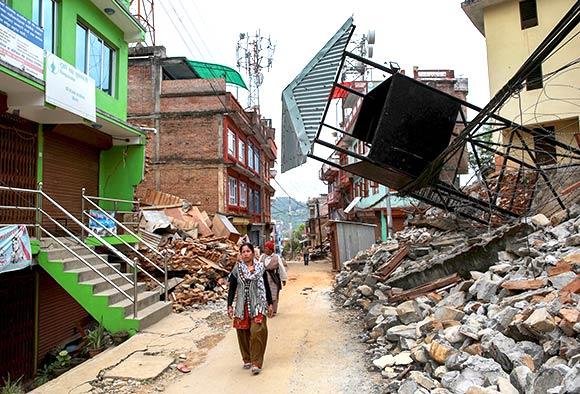 Indian cities will go down like a pack of cards if hit by a powerful earthquake, seismologists tell Rashme Sehgal.
This is a catastrophe waiting to happen. India has among the most densely populated cities in the world. Unfortunately, it also has some of the most poorly designed buildings. This makes 70 per cent of the urban population vulnerable to earthquakes.
Dr Harsh Gupta, India's preeminent earthquake specialist and former member of the National Disaster Management Authority, pointed out that the recent Kathmandu earthquake measuring 7.9 on the Richter scale released energy which was the equivalent of 700 Hiroshima bombs.
"With the epicentre of the Nepal earthquake located 80 km away from Kathmandu and with the temblor being relatively shallow in nature, this energy was relatively dissipated by the time it reached Nepal's capital city. The lives lost have therefore been fewer and are presently between 4,000 and 5,000 people but is likely to go up to 10,000," said Gupta.
By contrast, the Muzaffarabad earthquake in Pakistan Occupied Kashmir in the year 2005 claimed 75,000 lives while the Sichuan earthquake in China in 2009 claimed over 95,000 lives, said Gupta.
Gupta fears the worst for Indian cities, with over 344 towns presently falling in the high risk category of Zone 5. "An earthquake measuring 9 on the Richter scale is equivalent to the unleashing of 27,000 Hiroshima bombs with its aftershocks carrying on for several years," he said.
Experts, however, warn that even an earthquake measuring 6 on the Richter scale will result in the destruction of 70 per cent of India. "I see eight million Delhi-ites dead if we have an earthquake of the same magnitude," warned leading Delhi-based town planner Sudhir Vora.
These details are further corroborated by former vice chairman of the NDMA, Dr Shashidhar Reddy, who has warned that the 344 cities highlighted by Gupta remain extremely vulnerable to temblors and therefore "dangerous" to live in.
Reddy pointed out, "Another 813 Indian cities, including seven out of 24 metros with populations in excess of two lakh, fall under the Zone 4 category. These metros include Delhi, Patna, Thane, Ludhiana, Amritsar, Meerut and Faridabad. All these cities are extremely high risk."
Delhi is among the most risk-prone because its population is presently touching almost 20 million.
A statutory mapping has been done of all these cities by different urban bodies belonging to both the central and state governments. "In each city, the structure of the soil varies in different parts of the city. In Delhi, trans-Jamuna has a sandy soil which is not safe for high rise constructions. So trans-Jamuna remains unsafe as compared to houses built in the Ridge area. Unfortunately, despite having building codes in place, these are not being implemented. Houses in Delhi and in many other cities are often constructed overnight using three-inch brick walls which will not be able to absorb even a temblor after shock," Gupta added.
He cited the example of the Chamoli earthquake which took place in Uttarakhand in 1999, causing cracks to appear in several buildings in the capital.
The NDMA has released statistics that show that at present only three per cent of buildings use concrete while 85 per cent of buildings are using brick and stone with no steel reinforcements.
This country-wide survey of the NDMA highlights how even new buildings in a city like Ahmedabad do not have seismic retro-fitting. The survey further highlighted that out of 8.22 lakh engineers and architects in India, only 14,700 admit to being trained in safe seismic engineering. Of an estimated 32 lakh masons, only 34,000 were found to have any knowledge of seismic design.
Vora warned that with the constant movement of tectonic plates of the entire Himalayan range pushing upwards against the Eurasian plate at the rate of one centimetre a year, the enormous pressure being built is going to result in frequent earthquakes.
"We have been witnessing a series of earthquakes in the last two decades. Two occurred recently in Afghanistan, Muzaffarabad, Chamoli in Uttarakhand, Bhuj in Gujarat, Latur in Maharashtra and more recently two in Sikkim. There were fewer deaths in Sikkim because the population density of northern Sikkim is miniscule as compared to the population of our major metros," said Vora who regretted that Indians refuse to implement even the most basic building codes.
"We are sanctioning unauthorised colonies which is also a recipe of disaster because no norms have been followed in their construction. The government talks of the retrofitting of unauthorised colonies. Retrofitting means strengthening their foundations but if the buniyaad is poor, then how can retrofitting take place?" Vora asked.
"There are no regulatory norms being enforced on the powerful builder lobby either," Vora warned.
The Nepal earthquake has once again brought to the forefront the adage that earthquakes do not kill, unsafe buildings kill people.
It was keeping this in mind that the NDMA had planned to kick-start a National Earthquake Risk Mitigation project to make all new buildings disaster-resistant and also to retrofit old buildings early this year.
"The scheme has yet to take off," said Reddy, who has frequently voiced concern at how new multi-storied constructions are being built on stilts in order to provide for parking. "Stilts around the world have been found to be unsuitable for earthquake zones. And yet we have given them the green signal," he lamented.
In Nepal, houses were largely of unreinforced masonry which is why they were destroyed. By contrast, Japan, which witnesses several temblors every year, is extremely strict in observing building codes. Buildings are made quake-resilient with reinforced walls, and foundation slabs of a certain thickness are mandatory making them leaders in earthquake-proof structures.
The ministry of home affairs, under which NDMA falls, is planning to launch a campaign to create public awareness about the need for quake-resistant buildings. The Supreme Court had also mandated that all five-storey buildings and above housing more than 100 people must have an engraved metal plate to ensure it is earthquake resistant. Experts warn that unless the National Building Code is not strictly implemented, India can go the Nepal way if hit by a major earthquake in the near future.
Image: The destruction caused by the earthquake in Sindhupalchowk, Nepal. Photograph: Danish Siddiqui/Reuters