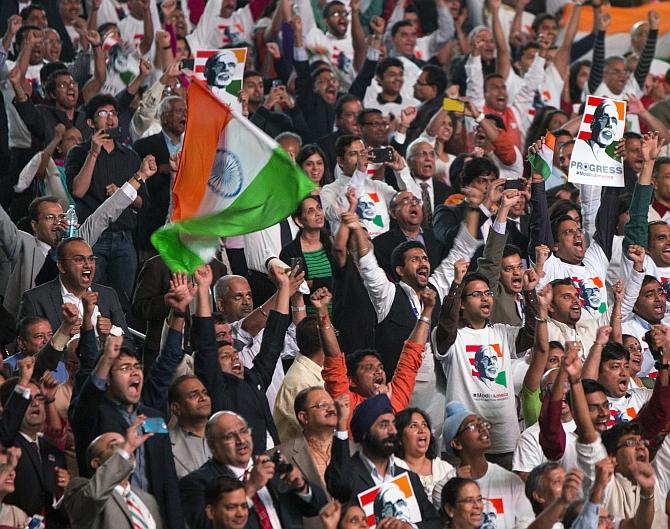 The Diaspora is no longer a mere remittance economy. It today claims dual loyalty and demands a say in Indian politics, says sociologist Shiv Visvanathan.
As India gears up to honour its pravasis on January 9 to mark their contribution in the nation's development, Rediff.com presents perspectives from eminent writers on the Diaspora.

Earlier in this series:

A salute to India
Pravasi Special: A look back in anxiety
The coup that changed India's Diaspora policy
Pravasi Special: Friends of India
The India I want to see
'India has stayed in my blood'
Bharat Mata and her children
Bollywood is India's most successful myth maker. It can take any set of contradictions and create a drama and a unity around them.

In fact, in many ways, Bollywood is ahead of the social sciences in its anticipations and its cultural analysis.

Bollywood classics reconcile the opposition of town and country, the tangle between law as an impersonal norm and the more emotional claims of family.

In most of these narratives, the device or resolution was the idea of the double.

This was a story where two lost brothers or two lost sisters were reconciled eventually.

In some narratives, one of the brothers became a cop and the other a dacoit or there was reconciliation between the urbane sisters and the rustic one.

From Dilip Kumar to Hema Malini, from Amitabh Bachchan to Sridevi, India had been subsistent on the secret unities of these battles.
As long as the opposition can be treated as twins and reconciled successfully, the double worked as a successful literary trope.
There has, however, been one literary opposition where Bollywood has not been so successful.
This relates to the Diasporic trouble.

Movies like Dilwale Dulhania Le Jayenge did create an initial rapprochement between the Diasporic and the residence at the level of marriage and family.

But the Diaspora as a political force, as an attempt to mimic Indian nationalism, has never been played out successfully.

One can witness successfully only when the movie script moves abroad as in Kaante or Kal Ho Naa Ho or My Name is Khan.

Here, the reconciliations are carried out abroad. The foreign land is a separate site for playing out these categories and the rules are different from those of India.

The nature of the Indian Diaspora has been honest, hard working and becomes almost overtly obvious.

Of late, the Indian Diaspora has been in the news with Indian American businessman Rajat Gupta's arrest for insider trading. Eventually, Gupta's arrest and trial was itself conceived as a battle between two sets of Indians led by the lawyer and Gupta.

This reassuring picture of the Indian migrant as industrious, the Silicon Valley nerd, the Spelling Bee champ, consolidates a picture of a well behaved ethnic group as a positive presence in the country they have migrated to.

As a Diaspora consolidates its reputation it feels embarrassed about the country of origin. Diasporic Indians feel they match the best in the USA, sees themselves merit wise as equal to the Chinese and Jews.

They feel schizophrenic, caught between their own sense of achievement and the reputation of India as a second-grade country.

Prime Minister Narendra Modi is an excellent salve on these moves.

Through his decisiveness, through his leadership, his sense of solidarity with their aspiration, he provides them an enthusiasm for the India of the present.

They now feel doubly enthused, both with India's civilisational past and the contemporary aspirational India, and in a flow of gratitude become Modi's biggest supporters.

The event at Madison Square Garden consolidated the social contract between the Indian Diaspora and the Modi regime.

It has turned the Diaspora into a major political force both in the USA and India. It is the political implication of this process that India must confront.

I remember talking to the anthropologist Paul Richards who was reflecting on his work in Africa and on the Diaspora in general. Richards claim that every genocide showed a connection to the Third World Diaspora.

Think of Sri Lanka, think of Khalistan. A Diaspora becomes a problem in politics for the nation States.

Khalistan could have only happened because of the long-distance nationalism or the Sikhs in California or Ottawa.

The Diaspora thus becomes a twofold problem. First, through its politics of nostalgia and, second, for its new found enthusiasms for the nation State.

It obtains a new surge of confidence, of pride, of ethnocratic machismo when India becomes a nuclear power.

It feels that India's election to the prospect of a seat in the United Nations Security Council is a vote of confidence in the emerging influence of the Diaspora.

The Diaspora becomes not only a trigger for terror, but a market for cultural nationalists proclaiming the purity of culture.

A brilliant musician I know complained that Chennai in December was flooded with Diasporic feeding on culture, demanding a purist idea of classical Brahminic music.

The Diaspora thus creates a particular form of technocratic fundamentalism which combines Silicon Valley confidence and cultural nationalism.

It creates a new hybrid which is a perfect back up for the Rashtriya Swayamsevak Sangh and the Bharatiya Janata Party.

The Diaspora today is no longer a mere remittance economy sustaining Punjab and Kerala. It today claims dual loyalty and demands a say in Indian politics.

The long line of Gujarati Diasporics who supported Modi in his rise to power is an illustration of this.

In subjects like social science, the Diaspora has become not only a major intellectual force serving only the experts during election times but is deeply involved in moulding the direction of Indian study through centers at Brown, Columbia, King's College and SOAS.

There is a social science divide which needs to be looked at dispassionately.

The epidemics of scholarships they provide shape the choice and direction of the subject. There is a potential strewing of the subject, which one needs to be sensitive to.

An affluent Diasporic social science department can easily turn local departments with limited funds into satellite stations.

I can think of several institutions which informally functioned as hospitality houses and wayside stations for visiting Diasporics.

As the Modi government comes to power, Diaporics as experts claim a greater say in policy.

One merely witnesses the performances of Arvind Panagariya and Jagdish Bhagwati as symptoms of the movement to the right to market economics. These emerging ideas are influenced as a symbolic capital the Diaspora possesses.

The presence of such intellectuals also adds to the power of conservative think tanks and foundations making tacit determinants of policy.

I have heard a leading educationist claim the home loan is no longer welcome. The visiting Diasporic and the foreign degree adds a sliver of globalism which locally produced careers and scholarship isn't capable of.

I am not denying there is occasional eccentricities and brilliance, but what one is witnessing is a collective pressure from the Diaspora to alter the fundamental direction of society.

In many ways, the Diaspora is the new colonial. It would be interesting to compare the role the Chinese and Indian Diaspora will play in the coming decade. Will they serve as alternative role models, critical thought experiments, or as mere movements of sentimental nostalgia? The future alone will tell.

Image: Audience members react as they attend the reception in honour of Prime Minister Narendra Modi at Madison Square Garden in New York, during his visit to the United States on September 28, 2014. Photograph: Lucas Jackson/Reuters