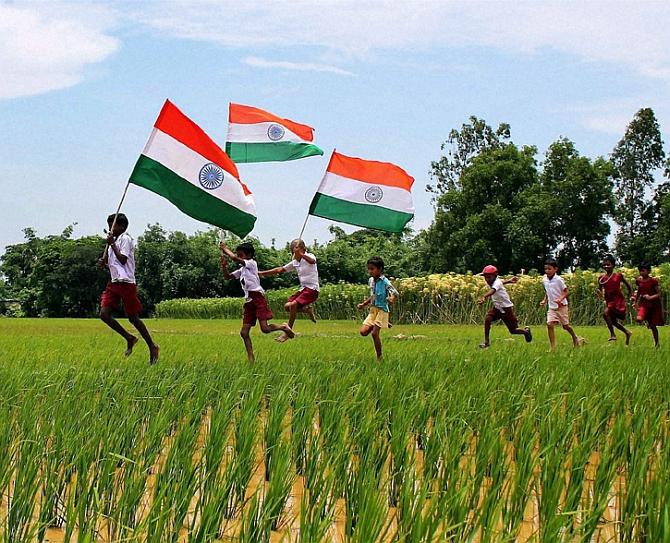 Pravasis have created a great impression among Americans about their maternal country, India, says Dr Joy Cherian, the first Asian American to be appointed to a sub-cabinet level position in the US government.

As India gears up to honour its pravasis on January 9 to mark their contribution in the nation's development, Rediff.com presents perspectives from eminent writers on the Diaspora.

Earlier in this series:

A look back in anxiety
The coup that changed India's Diaspora policy
Friends of India
The India I want to see
'India has stayed in my blood'
I am an Indian American who is very proud of India, the country of my origin.

Recently, someone asked how I see modern India and what changes I would like to see in India.

I admire modern India. This country has emerged as a shining star among democratic societies around the world.

This great nation, the largest democracy in the world, is a cradle of many admirable and valuable traditions with a centuries-old history. It effectively practises a policy of unity in diversity.

The Indian population with over a billion people belongs to many religions, languages, cultural and sub-ethnic groups.

All of them want to uphold the greatness of their mother country's national traditions including a peaceful and pragmatic approach in order to solve various national and international disputes.

Even though India has built a very strong defence mechanism with modern facilities and large armed forces, India has made itself a commitment to use this defence structure only whenever the absolute necessity arises to protect and preserve its own national security and sovereign integrity.

This self-controlled and matured national policy has earned India great respect among peace loving people around the world.

Another reason for the present glowing image of India in foreign nations is the efforts of the growing number of Indian immigrants living in various countries.

They create and develop indirectly a wonderful image of India in their work places and local communities through their professional performances and social engagements.

Many of these Pravasi Indians work hard in their adopted countries as healthcare professionals, business people, public service leaders, educational experts, technology providers and employees of various institutions.

In the United States, I have noticed their sincere performance in employment places and generous involvement in the societies around them.

In addition, they have created a great impression among their fellow Americans about their maternal country, India.

Americans know that many of these overseas Indians who uphold admirable family values have received basic education and training from their country of origin, India, before they migrated to the US.

The admirable performance of Indian Americans would help to maintain a great image of India in the US.

With respect to the second question about the need for any change in current India, I have only one humble suggestion: Please facilitate appropriate ways to attract more foreign tourists to India. They would enjoy India's natural beauty and visit various centuries-old historical sites.

Many foreign tourists admire great historic Indian wonders like the Taj Mahal, the Red Fort and the Qutab Minar.

Whether it is right or wrong, there is a wide perception outside India that many Indian tourist centres don't have adequate sanitary or hygienic facilities for the convenience of visitors.

One thing has to be appreciated -- several large hotel chains and reputed travel groups provide wonderful facilities for tourists.

In the future, attracting more foreign tourists would enable India not only to achieve financial gain but also to earn goodwill in foreign countries.

Perhaps, the present national, state and local level government authorities have already taken necessary initiatives in this direction.

I would like to mention one of my dreams -- that future generations of Indian Americans would go often to India with their families to admire the greatness of the birthplace of their ancestors, the peace loving Republic of India.

Dr Joy Cherian is the founder of the Indian American Forum for Political Education, and was the first Asian American to be appointed to a sub-cabinet level position in the US government when he served as Commissioner of the Equal Employment Opportunity Commission in the Reagan administration.