His recent walkout from Chief Justice Dipak Misra's court earned him critics in courts.
'Yet, even the senior-most judges give him the respect that he deserves.'
Veer Arjun Singh meets senior advocate and activist Prashant Bhushan.
Illustration: Dominic Xavier/Rediff.com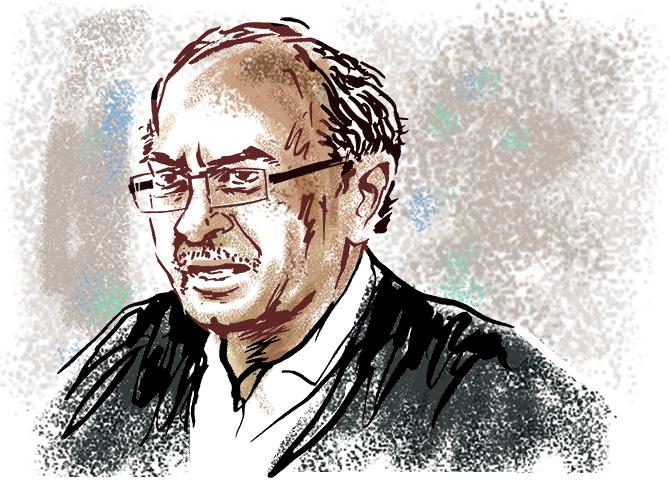 It is 10.30 am on a Tuesday morning at the Supreme Court.
Tense-faced people are stumbling across the gates and multiple security checkpoints to make it to their respective hearings in time.
Keeping pace with them are lawyers and their associates carrying hefty files.
Most of the 15 courtrooms seem packed to capacity and, yet, people keep pouring in.
The lords finally arrive to take their high chairs.
For many thousand others who aren't present, a hearing has commenced in Court No 4 which could decide how they will sleep at night.
In E R Kumar Vs Union of India, senior advocate and activist Prashant Bhushan, through a writ petition, questions the implementation of the Centre's scheme that was to provide adequate night shelters for the urban homeless.
The courtroom has a barrage of men and women in black robes, a few visitors, some scribes and very little breathing space.
It is Bhushan's turn to argue.
His forbearing disposition outside the court is uncharacteristic of a lawyer in litigation, especially one who is often at loggerheads with governments and their civic arms.
But in the courtroom, where the mics are turned off and none of the three judges is audible, Bhushan's voice echoes in sharp notes, prompting several young lawyers to take notes.
An earlier bench had sought answers from the Centre and state governments for 'underutilising funds' and had reprimanded the municipal bodies for 'tardy implementation'. But little headway is made and the matter rests until the next hearing.
Bhushan is in his element here.
The 61-year-old says he spends 70 to 80 per cent of his working hours fighting pro bono (without fee) cases, a bulk of which are PILs (public interest litigation) and writ petitions representing low-income individuals or NGOs.
"I have been focusing on PILs for quite a while now," he says.
Bhushan heads the Campaign for Judicial accountability which pushes for reforms to make hearings more transparent, and has represented many public interest associations, such as the Centre for Public Interest Litigation and the Public Union for Civil Liberties.
"Most activists aren't sound lawyers," says Pranav Sachdeva, who worked for eight years with Bhushan before starting his own practice, "but Bhushan's cases have a decisive impact on public policy."
Sachdeva says his erstwhile boss would let his team draft petitions, strategise and even argue in high-profile cases regardless of their inexperience.
"In the 2G spectrum case, Bhushan and I were arguing against a hundred lawyers that the respondents had hired from multiple law firms," he says.
The Supreme Court cancelled all 122 spectrum licences while hearing Bhushan's PIL in 2012.
In a recent PIL on behalf of two Rohingya immigrants, Bhushan is going head-to-head with Additional Solicitor General Tushar Mehta, who is representing the Centre, which is determined to deport the 40,000 Rohingya Muslims said to be present in India.
The Supreme Court has stayed the deportation till further orders.
"He's a real tiger in court," says senior advocate Colin Gonsalves, who heads the Human Rights Law Network and is often at Bhushan's corner.
Both Gonsalves and Bhushan are fighting cases for the rehabilitation of Rohingya immigrants.
"It is because of Prashant's leadership that the judges' view of those people has changed," says Gonsalves.
Much of Bhushan's style of advocacy was shaped by his father's law career.
Shanti Bhushan, former law minister and Rajya Sabha member, commands great respect among his peers and wields considerable influence in courts.
He is best known for taking on the Indira Gandhi government on behalf of her opponent Raj Narain -- a judgment that got Gandhi's Lok Sabha election annulled.
Bhushan, 19 years old at the time, attended those hearings and was witness to the chaos that ensued thereafter during the Emergency.
Penguin Random House has recently re-released The Case That Shook India, Bhushan's first-hand account of the case that he wrote in 1978.
"I was interested in physics and philosophy," says Bhushan. But the high-minded activism of those times altered his plans.
After dropping out of IIT-Madras, he did a two-year BSc course in philosophy, economics and political science from Delhi University, and then followed it up with a law degree from Allahabad University.
He spent the next two years at Princeton University for a PhD in philosophy, but gave it up to return to India and practise law.
Bhushan is candid about both his father's influence and about Bhushan Senior facilitating the work he chooses to do.
"I live in my father's house in Noida. And I don't pay rent for office space," he says, sitting upright in his chamber opposite the Supreme Court building.
The chamber has just about enough space for him, a wall-mounted bookshelf, two chairs for visitors and a section for two assistants.
He says a lawyer's fee in the country is so absurdly high, especially for cases in the Supreme Court, that even 25 per cent of it is enough to keep him financially afloat.
Even today, the father-son duo makes for a powerful team, its influence most recently on display with their participation in the India Against Corruption movement, which led to the founding of the Aam Aadmi Party.
Much water has flowed under that particular bridge but, as Bhushan says, "it was still a good idea to make the movement political, a chance at parallel politics, till it became a one-man show."
Bhushan's acrimonious exit from AAP has resulted in an unyielding animosity towards the AAP government, and his left-leaning advocacy makes him a direct opponent of the Modi government.
His recent walkout from Chief Justice Dipak Misra's court also earned him critics in courts. "Yet, even the senior-most judges give him the respect that he deserves," says Gonsalves.
Bhushan's work has earned him fans and critics, bouquets and brickbats.
He has been accused of deliberately taking on cases that keep him in the public eye; equally, he is seen as championing the cause of the underprivileged.
Delhi resident Zeenat Bano is an ardent member of the latter group.
A 130-square foot one-bedroom house in Delhi's Masjid Moth where she lived with her mother, Shamim Bano, and her two younger siblings was partially torn down and sealed.
Zeenat, the household's lone breadwinner who tutors neighbourhood children, says they had permission from the South Delhi Municipal Corporation to repair the house, which was damaged while an adjacent building was being constructed.
"The builder refused to fix the damages, and after we filed a case against him, he conspired with a municipal officer to get our house sealed," she claims.
The family lived under a makeshift roof outside their house for several days while Zeenat took their case from one lawyer to another. All refused, because she could iot afford their fees.
One day, weeping on the stairs of the Delhi high court, a young lawyer came up to her and recommended that she seek help from Bhushan.
"He is the only lawyer I have met who didn't start with how much it would cost. And after patiently hearing my case, when I asked his fee, he said I didn't have to pay anything,"? Zeenat says.
Her mother, a heart patient, died before the first hearing.
Bhushan's team, notably Surabhi Kumari and Govind Jee, convinced the judge in a special hearing to get her house de-sealed for two days so the family could perform her last rites.
In the following two hearings where Bhushan led the argument, the judge ordered the SDMC to de-seal the house. The case is still in court.
"I had only seen him on TV. I never thought he'd be fighting my case. He's a god-send for my family," Zeenat says over the phone, sobbing through the conversation.
Many people who can't afford legal aid as well as organisations that represent public interest at large routinely turn to Bhushan -- for his legal acumen, experience with PILs and the simple fact that he is accessible.
He recently represented Common Cause, a non-profit, in a high-profile case that led the Supreme Court to rule in favour of passive euthanasia.
Even though he appeared in front-page news, Bhushan does not consider the case a victory.
He explains that even though a 'living will' entitles a person the right to be taken off life support when the primary doctor declares the body can't be revived, the multiple riders diminish the will's applicability.
According to the ruling, each case must be evaluated by the primary doctor, followed by another team of doctors in the hospital and finally a larger, district-level team of medical experts.
For Prashant Bhushan, justice delayed is justice denied.