The sad thing is that
They don't know how to make me die
Imprisoned in the Nagpur Central Jail's notorious 'Anda Cell' is a professor trapped in a wheelchair.
Diagnosed with permanent post-polio paralysis of the legs, he is 90% disabled, and needs help to perform necessary bodily functions.
Additionally, he has high blood pressure, spinal pain and a heart problem.
Professor G N Sai Baba of Delhi University was convicted in March 2017 under the Unlawful Activities (Prevention) Act for having links with Maoists, and sentenced to life imprisonment by a sessions court in Gadchiroli.
You can read more about Professor Saibaba and the case in the Related Links alongside.
From the Anda Cell, Professor Saibaba sent his wife Vasantha Kumari a series of poems, the first of which is published here: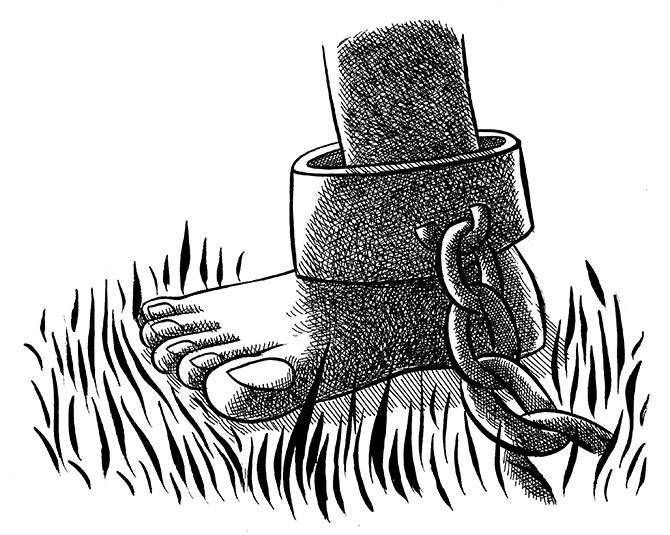 I REFUSED TO DIE
When I refused to die
my chains were loosened
I came out
Into the vast meadows
Smiling at the leaves of grass
My smile caused intolerance in them
I was shackled again
Again, when I refused to die
tired of my life
my captors released me
I walked out
into the lush green valleys under the rising sun
smiling at the tossing blades of grass
Infuriated by my undying smile
They captured me again
I still stubbornly refuse to die
The sad thing is that
They don't know how to make me die
Because I love so much
The sounds of growing grass
November 2017. (Remembering October 1917)
Illustration: Uttam Ghosh/Rediff.com