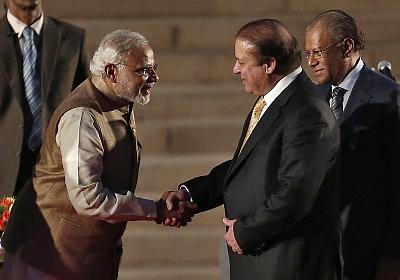 Prime Minister Narendra Modi has brought Hindi into vogue in the external affairs ministry and managed a diplomatic coup by inviting SAARC leaders, including Nawaz Sharif, to New Delhi for his swearing-in. Sheela Bhatt's impressions of the Indian prime minister's first day in office.
Prime Minister Narendra Modi created history of sorts by holding one-on-one talks with his Pakistan counterpart Nawaz Sharif on his very first day in office. Not only that, he also gifted a shawl to Sharif's mother.
This kind of fast-paced diplomatic development is not usually seen in New Delhi. Modi, says a source in the ministry of external affairs, learned the drill of greeting foreign dignitaries and conducting of bilateral talks, "too fast".
Modi remembered well that the host always stands to the left of the guest. When Sharif reached Hyderabad House on Tuesday, Modi stretched out his right hand with vigour to shake hands with Sharif. Then he deftly took Sharif to his right and shook hands again and posed for photographers, remembering to stand with the Indian flag in the background.
Vikram Sood, former chief of the Research and Analysis Wing, told Rediff.com, "I think Modi's body language was all right. He was a warm host and greeted the leaders with dignity. He appeared as a confident host."
Sood supports Modi's move to invite South Asian Association for Regional Cooperation leaders for the swearing-in ceremony. The unconventional and unprecedented event has concluded successfully.
In the world of diplomacy it takes a long time to organise such a high-level meeting, but India and Pakistan have succeeded in doing so in the shortest possible time.
Although the Indian media has not highlighted it, the Pakistan media has reported widely about both leaders' highly significant one-on-one meeting without any aides.
Rediff.com has reconfirmed with sources in both capitals that the historic talks did take place between the two business-minded leaders. In the world of diplomacy, such meets have many implications and can be interpreted in many ways.
Such meetings give a rare opportunity for leaders to build rapport, start the unique and exclusive process and also helps keep things moving without external issues disturbing it.
It's not known what transpired between Modi and Sharif but it's most likely that Modi must have promised to lend India's support to Sharif in his efforts to put Pakistan back on the path of growth and greater democracy. After all, Sharif had defied the opposition in Islamabad to accept Modi's invitation. Sharif, too, must have ensured that he addresses India's concerns.
Both the leaders, sources say, spoke in Hindi. On Tuesday Modi spoke in Hindi with all the eight SAARC leaders. This is a big departure in the Indian diplomatic world.
Prime Minister Manmohan Singh spoke in English while with few Pakistani leaders he did speak in Punjabi. But, it's now official that Modi has brought Hindi into vogue in the Videsh Mantralaya. Modi will use interpreters from now onwards.
On Tuesday he took the help of a joint secretary in the MEA in the meetings with SAARC leaders.
Talking about the actual outcome of the Modi-Sharif talks, a serving diplomat explained, "Modi and Sharif have opened a window of hope. Our PM has scored a sixer in the first ball of his first match."
Another officer said, "In view of Modi's hardliner image, the way he conducted an aggressive and bitter campaign, there were apprehensions. He talked about Pakistan and mentioned (fugitive gangster) Dawood Ibrahim while chiding former home minister Sushilkumar Shinde. But by calling SAARC leaders and conducting such talks on his very first day in office, Modi has tried to remove those serious apprehensions. Normally, for any new PM it takes around a year to meet with all neighbours and conduct bilateral talks. Here it was done in just a day. Now, they know bit about Modi and our PM knows them and the issues."
Back home in Pakistan, Sharif got flak for not mentioning Kashmir in his statement before departing from New Delhi. In Sharif's defence, the Pakistan daily Dawn has quoted a member of the Sharif delegation saying that 'Mr Modi's promise to visit Pakistan, the resumption of secretary-level talks, and taking forward the Lahore declaration signed by then prime minister Sharif and then Indian Prime Minister (Atal Bihari) Vajpayee back in 1999 which has a clear mention of the Kashmir issue.'
However, Modi's first day in office ended with many controversies. Smriti Irani's selection as human resources development minister, minister in the Prime Minister's Office Dr Jitendra Singh's remark on Article 370 and the appointment of Muzaffarnagar riot-accused Sanjeev Baliyan as MoS in the agriculture ministry raised tempers much before Sharif could depart from New Delhi.
Image: Narendra Modi greets Nawaz Sharif in New Delhi on Monday. Adnan Abidi/Reuters