Dancer-choreographer Astad Deboo met Queen Elizabeth, William and Kate at Buckingham Palace on Monday at the launch of India-UK year of Culture. He tells Archana Masih/Rediff.com that the Queen even did a cute little dance mudra!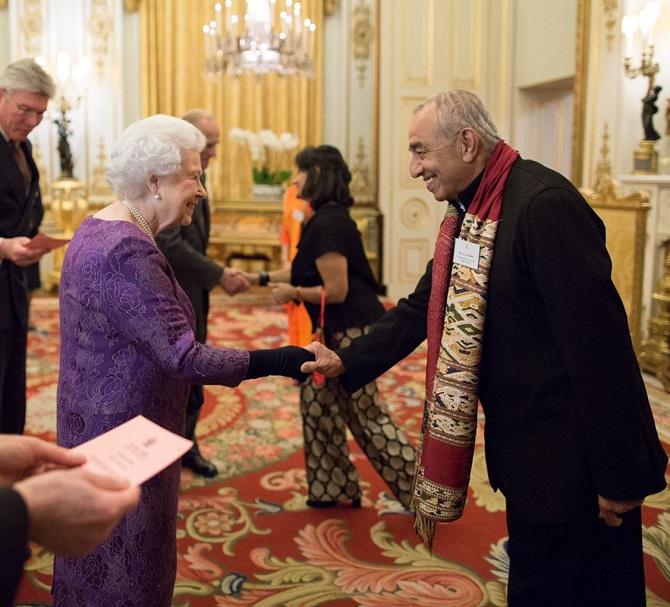 IMAGE: Dancer-choreographer meets Queen Elizabeth at Buckingham Palace at the launch of the India-UK year of Culture.
The most spectacular part of the evening was being presented to the Queen.
The member of the staff standing next to her whispered in her ear that I was a dancer and she said, 'You are a dancer? I hear you are a pioneer.'
Then she sort of started showing little hand gestures -– and said, 'See this is how I move'. So that was very cute!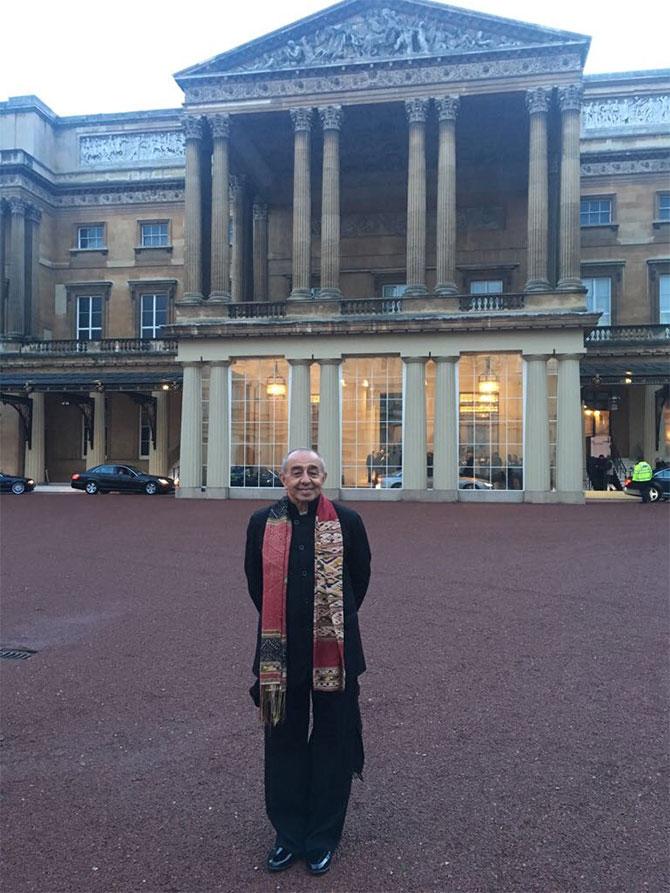 IMAGE: Dancer-choreographer Astad Deboo in the courtyard of Buckingham Palace in London. Photograph: Kind courtesy, Astad Deboo.
It was a lovely party meeting all sorts of people. There was a great attendance by the fashion industry. Manish Arora had arrived from Paris and was very animatedly talking to the Queen. Rajesh Pratap, Anita Dongre [Kate wore earrings designed by Dongre], Sabyasachi Mukherji, Manish Malhotra and Bibhu Mahapatra, the fashion designer from New York…
Then there was Kapil Dev, L Subramaniam (violinist-composer), Anoushka Shankar (sitar player) with her mother; also Shrabani Basu who has written Victoria and Abdul, Arun Jaitley, Gurinder Chadha (whose film Viceroy's House opens next week) were among the others.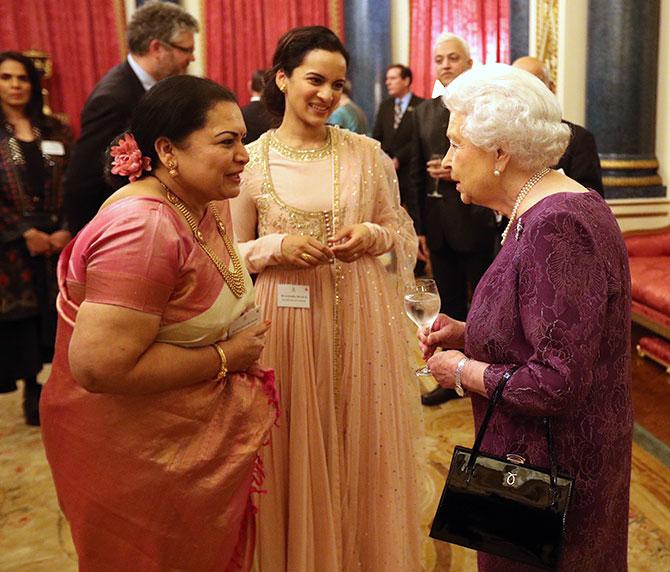 IMAGE: Sitar player Anoushka Shankar and her mother Sukanya Shankar with the Queen. Photograph:

Jonathan Brady/WPA Pool/Getty Images.
When you entered, the Queen and Prince Philip stood in line. The Indian ladies either curtsied or did a Namaste with a bow. I did a head bow.
It was amazing how the queen and the entire royal family worked the floor. When I spoke to Princess Kate, she spoke about how she enjoyed her visit to Mumbai. William had learnt to do Bollywood steps. Kate also said she loved cooking. They are such a charming couple.
I was presented to British Foreign Secretary Boris Johnson, who is quite a lot of fun. He said his wife is half-Indian and she was in Goa at the moment, teaching how to cook.
I thought the Queen was the most charming of the royals. I did speak to Prince Michael of Kent. He comes to India every year for the Cartier event and said how much he enjoys his visits.
What I found very interesting was speaking to one of the Queen's ladies in waiting who had been with her for 38 years. She said she was one of the younger ones because others have been with her for 50 years!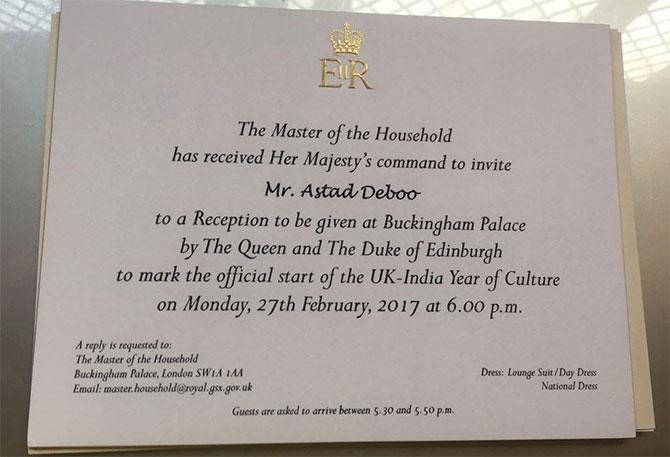 IMAGE: The invitation card sent by the palace to Astad Deboo.
The menu was a tad disappointing. There was Rajpuri (fried unleavened bread), boondi chocolate rock, fried chickpeas flour kernels with chocolate, salmon blinis and rhubarb and crème brulee tartlets.
It was raining and the palace looked very nice. There were quite a lot of things that were displayed. I was there for nearly two hours.
I met a very interesting person who looks after the Queen's horses at the palace. He said when the Indian High Commissioner came to present his credentials, there were horses that went ahead of the carriage. It had never been done before.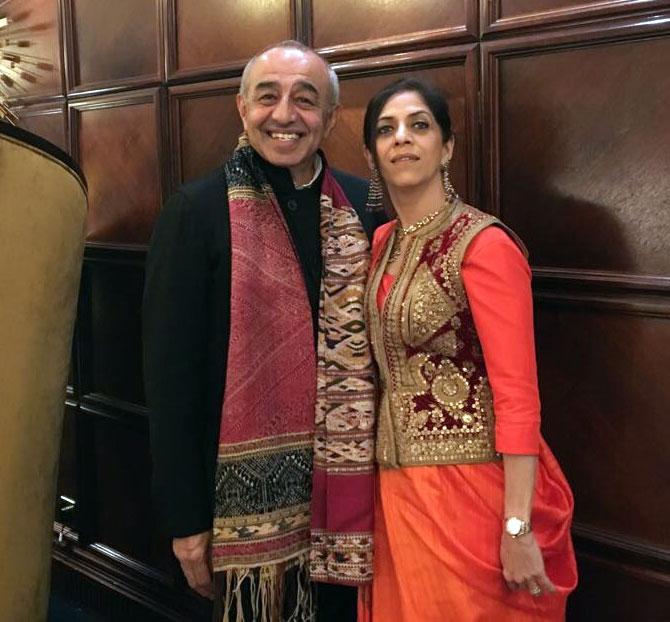 IMAGE: Astad Deboo with dancer Aditi Mangaldas before the reception. Photograph: Kind courtesy, Astad Deboo.
One has been reading, hearing, watching the Queen. I have encountered her before when the Sydney Opera House opened in 1973 and I was part of the opera as a cast member but one did not have such a close encounter.
She is such a figurehead and an amazing woman. I am not being blasé because one has met other royalty but this particular one makes everyone more excited because she is the Queen of England.
It was a memorable evening that I will remember for a very long time. The fact that my work was acknowledged was by itself very gratifying.
Scroll down to see who else was at Buckingham Palace: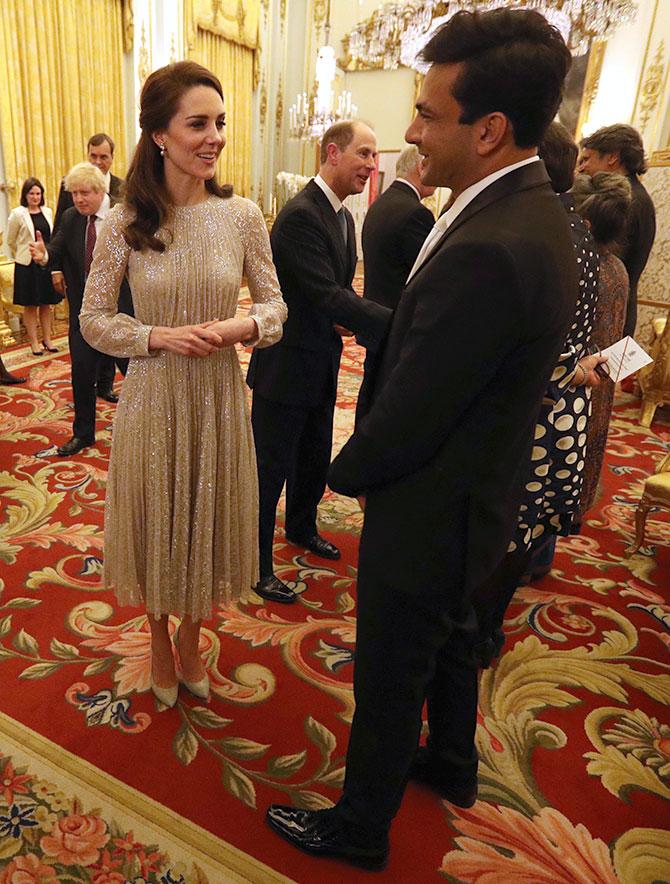 IMAGE: The Duchess of Cambridge with Chef Vikas Khanna. British Foreign Secretary Boris Johnson is in the background behind the duchess. Photograph:

Jonathan Brady/WPA Pool/Getty Images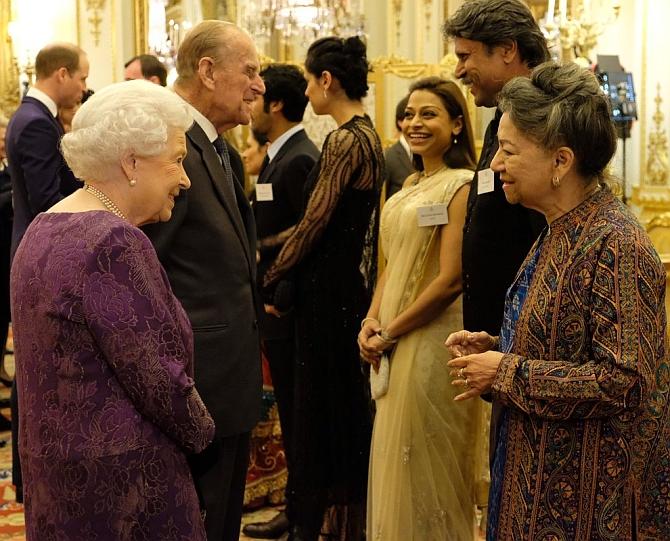 IMAGE: The Queen interacts with Aloka Mitra, founder of Women's Interlink Foundation. Also seen is Prince Philip, the Duke of Edinburgh, engrossed in a conversation with actress
Ayesha Dharker
and former cricketer Kapil Dev. Photograph: @RoyalFamily/Twitter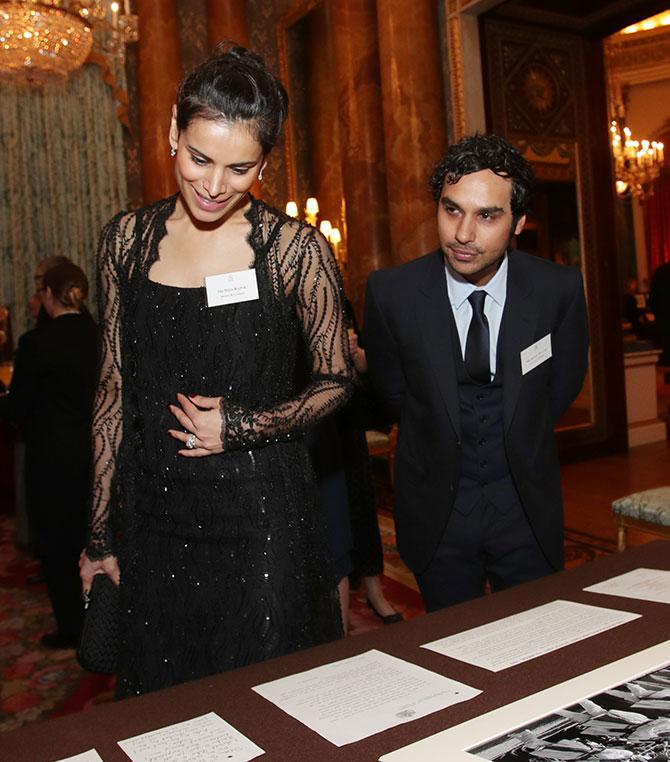 IMAGE:

Neha Kapur and Kunal Nayyar look at a display from the Royal Collection during the reception. Photograph: Yui Mok/WPA Pool/Getty Images



IMAGE: Designer Manish Arora.

The attendees included guests from the fields of performing arts, fashion, food, literature and sport. Photograph: Adam Gerrard/WPA Pool/Getty Images