Practising journalism has never been easy in the volatile Kashmir Valley. But since the state's special status was revoked, it's become almost impossible for the media to go about their job, reports Umar Ganie/Rediff.com.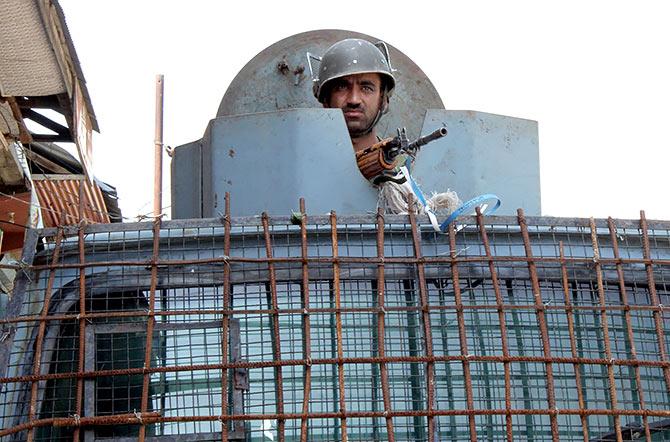 It's now 18 days since India stripped Kashmir of its special status, placed a clampdown on communication and imposed strict curfew-like measures.
In this situation, news reporting has become a herculean task and local newspapers have either not published or struggled to deliver slim editions.
That is due not just to the communication blackout caused by disconnected landlines, mobile phones and the internet, but because it has been tough to access troubled areas or sources in a region being patrolled by thousands of security forces.
Umar Ganie, a noted photojournalist from the Kashmir Valley, speaks of the frustrations of doing his job in a complete communication blackhole and trying to lead a normal life.
"Wapas jaao jahan se aaye ho (go back to the place from where you have come)," shouted a police officer who otherwise knows the journalist fraternity very well, at the main Budshah Chowk in the heart of Kashmir on August 5, the day when Parliament passed the Jammu and Kashmir Reorganisation Bill, which scrapped Article 370 and Article 35A while also bifurcating the state into the Union territories of Jammu and Kashmir, and Ladakh.
Little did we know that August 5 would be the last day we would be able to access information or even receive any news, as the government clamped down on all means of communication -- from personal phones to mobile networks and even the Internet. We were in what we can only describe as a communications black hole.
Sitting at the press enclave, journalists were left stunned; some wondered how they would go about their jobs. "We have shot pictures and videos, but how do we file them? It's better to stay with family as nobody knows what will happen," whispered one journalist to his colleague.
Soon, police vehicles arrived at the enclave and informed us of the strict restrictions which had been imposed; anyone who moved around would be at risk, we were informed.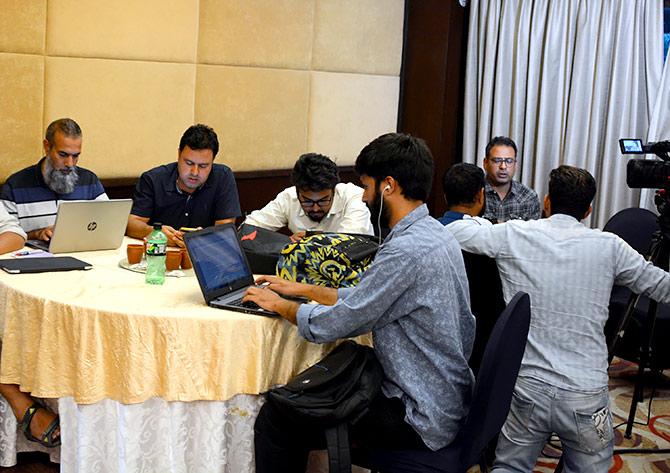 Realising that there was nothing for us to do, some journalists, including me, took the risk of leaving the enclave and heading home. Security forces stopped us at every crossing point. "Please allow us to go to home," was an appeal we had to make to several officers.
At one point, one of them, who had stopped us, after much pleading and cajoling finally relented, but on one condition -- that we move forward, not through the main road, but through the interior lanes.
As I reside in downtown Srinagar -- famous for volatile protests -- my colleagues accompanied me home, realising the danger I faced. When we bid goodbye at my house, we realised it would be a long time before I would be able to see them owing to the volatility of the situation.
Staying at home wasn't easy either. I had no way of communicating with my extended family. Due to the communication blockade, I was unable to speak to my uncle, or sister.
Suddenly, one night, a colleague appeared at my door and asked me to be ready the next day. He told me he would meet me the next morning before the arrival of the security personnel on the roads and then we would take our images and stories and pack them up and rush it over to Srinagar airport.
It wasn't easy to reach the airport, owing to the many barricades and checkpoints. However, such a situation isn't new to Kashmiri journalists and we managed to reach the airport using smaller bylanes and avoiding the glare of the security forces.
If reaching the airport wasn't tough enough, I then had to find a Delhi-bound passenger at the airport and convince him to carry my photos and work to the national capital.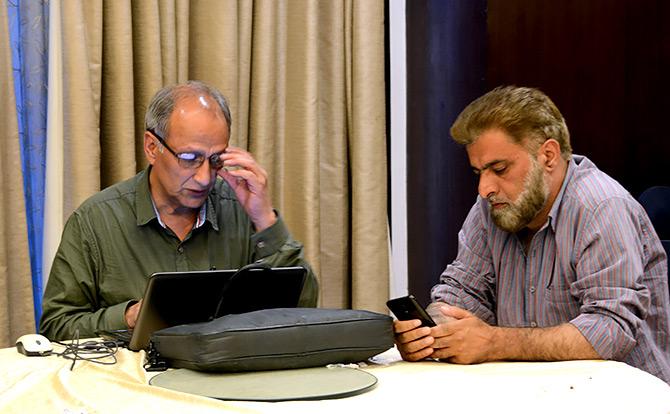 On August 15, the government finally issued curfew passes and provided us with four computers with internet access and one mobile phone. Imagine four computers and one mobile phone among 500 journalists! We had to wait in queues at the media centre to file our stories and photos.
"What is life with zero means of communications in this century; it's not possible to print newspapers," said local newspaper journalist, Syed Muzzaffar.
And what he said was so true. The situation was completely unprecedented for us as even though we have seen unrest in Kashmir, but the situation was never as bad as now. In the past, we would get public support, but this time there was no contact.
The situation has become even more untenable for journalists as we slowly lost all support, even from locals. For instance, a few days ago, while covering relaxation of restrictions at Hari Singh High Street, I was accused of working for a national news channel and not showing the country what was the truth.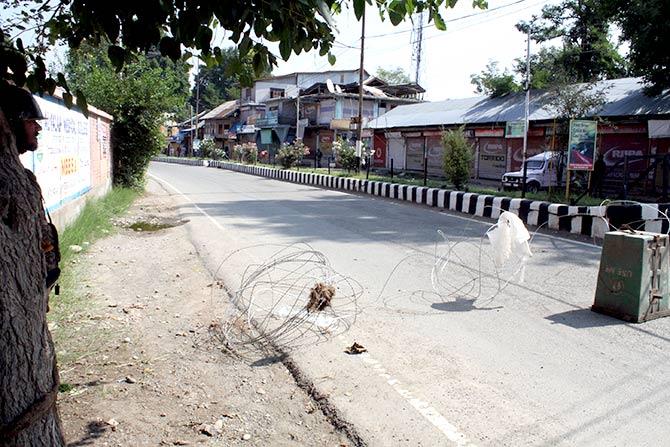 If that wasn't bad enough, a security officer then approached me and asked me to not to take pictures of the restrictions. "Have you taken permission from the district magistrate to cover these roads," he asked. When I showed him my curfew pass and told him I was from the press, he refused to accept it and asked me to leave the spot.
As journalists we face the conundrum of only covering one side of the story.
We have to accept that the ground situation was different from what we report.
A journalist summed up our situation best: "The situation is far better for the common man than it is for us journalists. At least the common man just stays put in his house, while we have to step out at our own risk."