'We are happy China has failed to disrupt the Kalachakra Puja by its repressive measures in Tibet; many Tibetans have come to attend the Puja.'
Glimpses of the Kalachakra Puja in Bodh Gaya. Text and photographs: M I Khan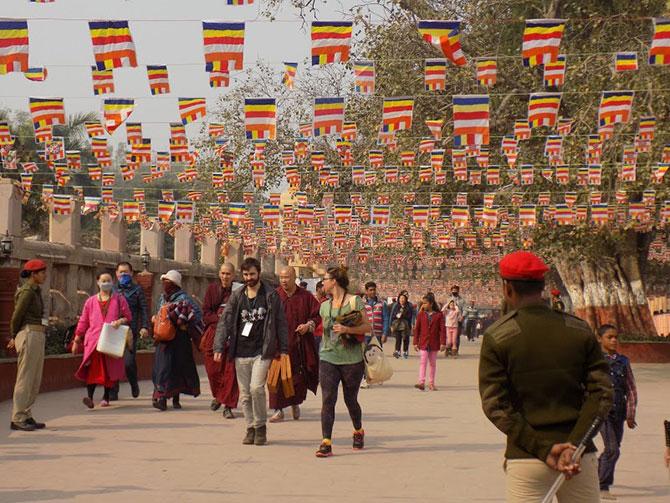 Thousands of Tibetan devotees, including hundreds of monks, robed in their traditional colours of maroon, orange, deep red and yellow, outnumber local residents in Bodh Gaya these days.
Tibetans, along with hundreds of foreigners, mostly from European countries, America China, Nepal and Bhutan have gathered at this holy spot -- Buddhists believe this is where Gautama Buddha received enlightenment over 2,500 years ago -- to participate in the 12-day Kalachakra Puja led by the Dalai Lama.
The Kalachakra Puja is one of the most sacred events of the Buddhist Mahayana sect.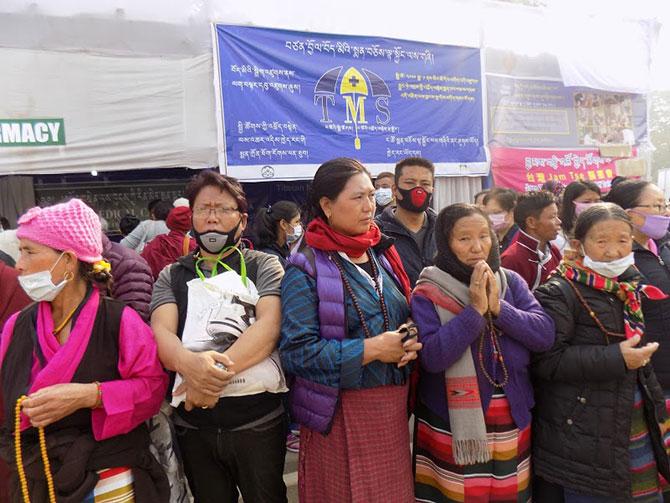 "One can find Tibetan pilgrims everywhere. They have made Bodh Gaya their temporary home in order to participate in the Kalachakra Puja, to listen to the Dalai Lama and be blessed by him," says a district police officer.
Among the lucky few to have met His Holiness are Hollywood star Richard Gere, dozens of practising Buddhists from Western countries and hundreds of Tibetans monks.
In fact, the aromas of Tibet and its culture come alive the moment one steps into the city]s main road, about two kilometres from the 1,500-year-old Mahabodhi temple, one of Buddhism's holiest shrines.
You spot colourful banners, posters in the Tibetan language, a variety of stalls and makeshift offices of the Tibetan government in exile.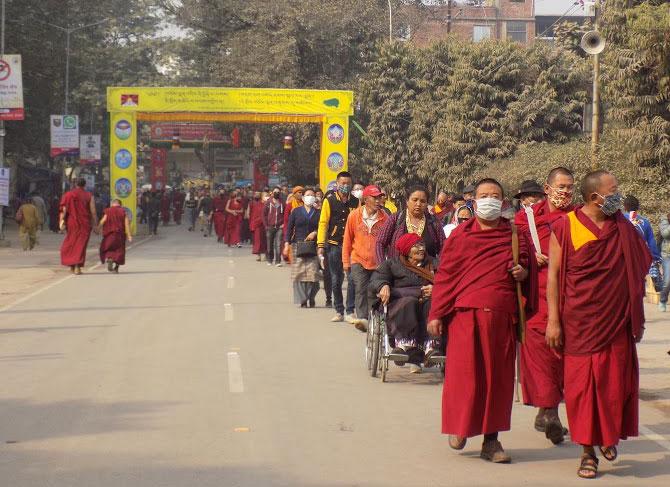 The devotees congregate at the Kalachakra maidan; this, after the Mahabodhi temple is the main attraction during the Kalachakra Puja.
Here, in an area that spans 250,000 square feet, a huge waterproof pandal has set up to accommodate over 50,000 devotees. This is where they pray and perform rituals in the Dalai Lama's presence.
Inside the pandal, a 4,400 square feet stage has been set up for the Dalai Lama.
"We are happy China has failed to disrupt the Kalachakra Puja by its repressive measures in Tibet; many Tibetans have come to attend the Puja," Karma Gelek Youthok, spokesperson for Tibetans in India and chairman of the Kalachakra Puja organising committee, tells Rediff.com
More than 9,000 monks and devotees from Nepal and Bhutan are participating in the Kalachakra Puja.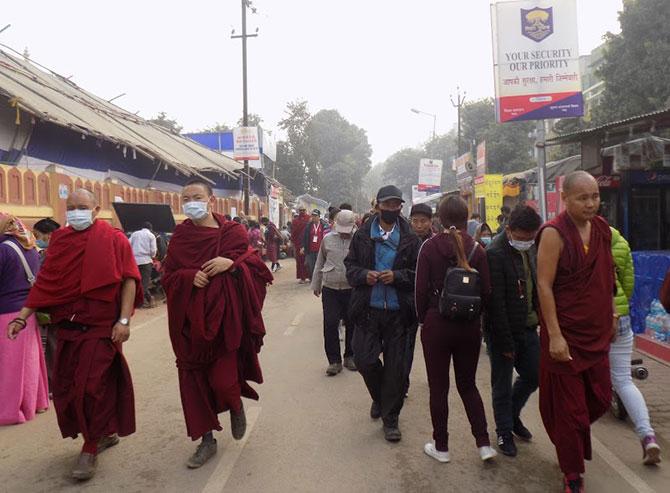 Over 200,000 devotees have already arrived and many more are expected to join the main ceremony (prayers) on January 13. These include more than 23,000 monks, lamas and nuns, Karma Youthok adds.
"About 1,000 devotees have come from China as well, but we have banned everyone from clicking their pictures or shooting their videos. These measures have been taken to protect them from prosecution or problems when they return home," he says.
Devotees from 92 countries are participating in the Kalachakra Puja that will conclude on January 14.
Only 50,000 pre-registered devotees have been allowed to participate in the prayers and rituals with the Dalai Lama at the Kalachakra an, a high security zone.
Those who are not allowed inside sit on the road outside the Kalachakra maidan.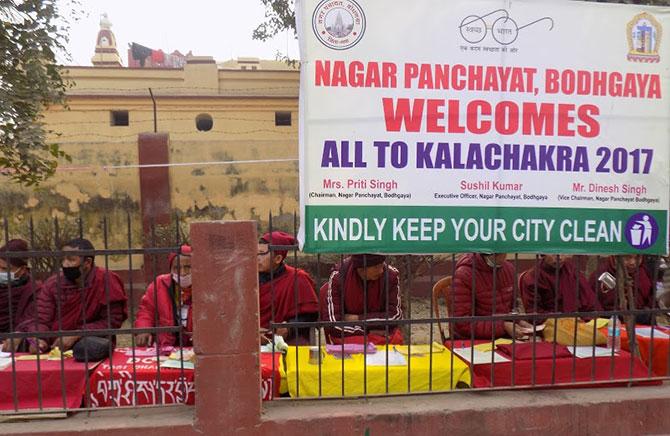 Every morning, thousands of devotees, mostly Tibetans, start to gather outside the Kalachakra maidan.
While hundreds of women and children get a place near the maidan's main gate, thousands of people either sit on prayers mat at every available vacant spot, including on the roads, or remain standing and join the Dalai Lama-led Puja.
"Thousands of Tibetan devotees line up every day to see the Dalai Lama when he leaves the Tibetan monastery for the Kalachakra maidan," Youthok says.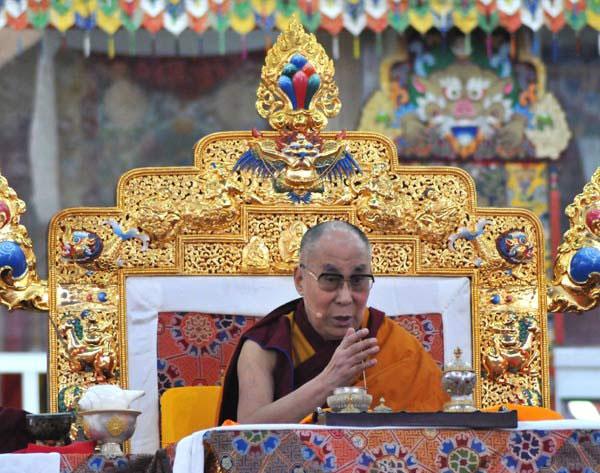 The Dalai Lama has been giving long sermons daily since the last week. "Devotees in the thousands listen to his teachings," Youthok adds.
The Dalai Lama's sermons stress on the "scientific" appeal of Buddhism and its relevance in today's world more than ever.
Tenzing Wangchuk, vice-president of the Kalachakra organising committee, says dozens of Tibetan traders-in-exile have set up traditional Tibetan tea shops. Others sell religious books, trinkets and Buddhist and Tibetan art replicas. Quite a few sell traditional materials needed for the prayers and rituals.
"Tee shirts with the 'Free Tibet' slogan, and other symbols supporting the Tibetan movement, are on sale," says Mokhon Khando, a Tibetan selling T-shirts, cotton bags, badges and wall hangings.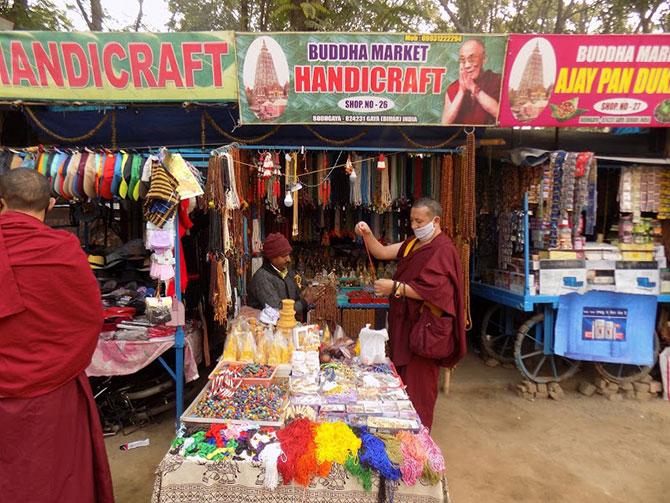 On January 10, the Dalai Lama performed a special ritual before initiating the three-day main Kalachakra Puja, which began January 11.
The preparatory rituals for the Kalachakra puja were concluded on January 9, with the Dalai Lama giving finishing touches to the mandala (platform) in the presence of hundreds Lamas, monks and nuns.
More glimpses from Bodh Gaya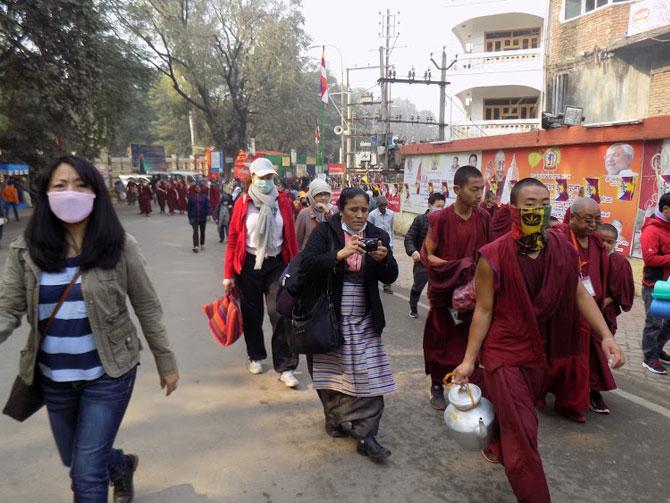 Everyone wants a glimpse of the Dalai Lama.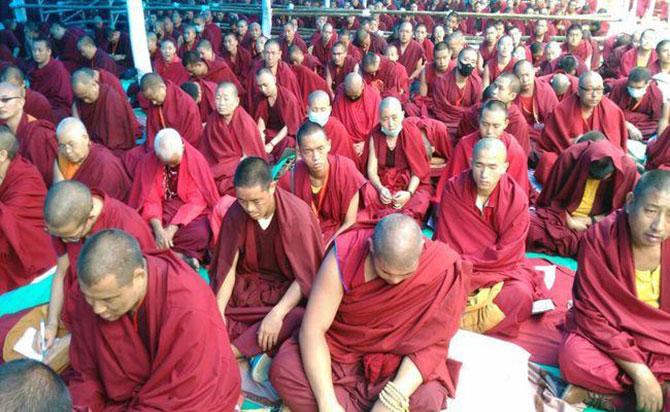 Only 50,000 pre-registered devotees can join His Holiness in the daily prayers.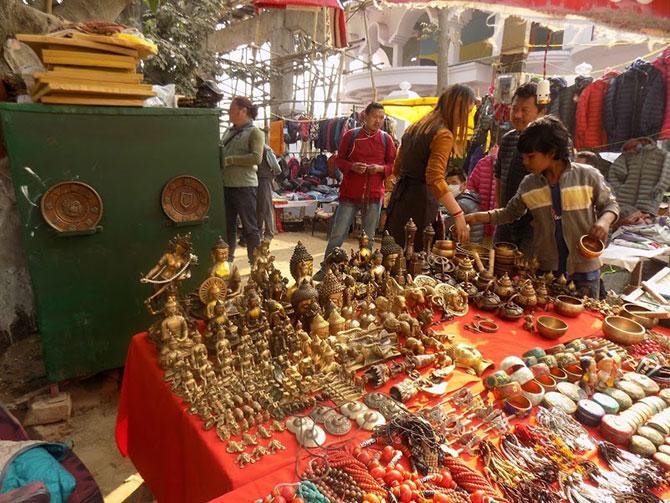 Shopping!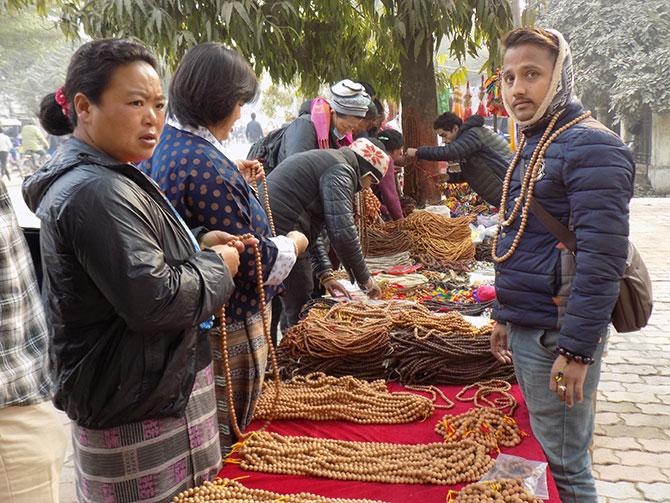 Still more shopping!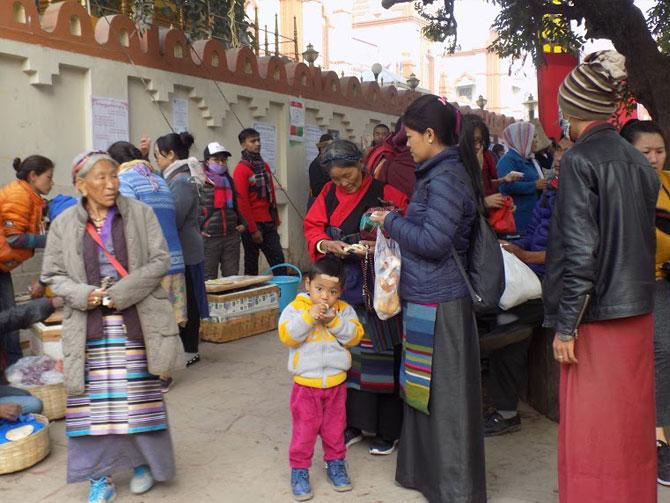 Time for a quick snack!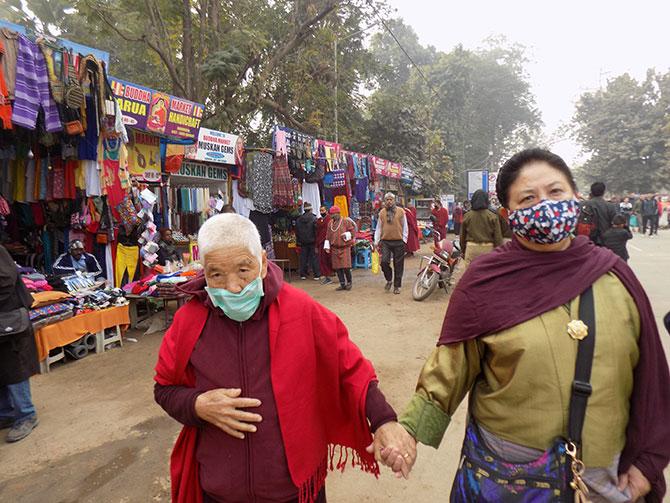 Heading back!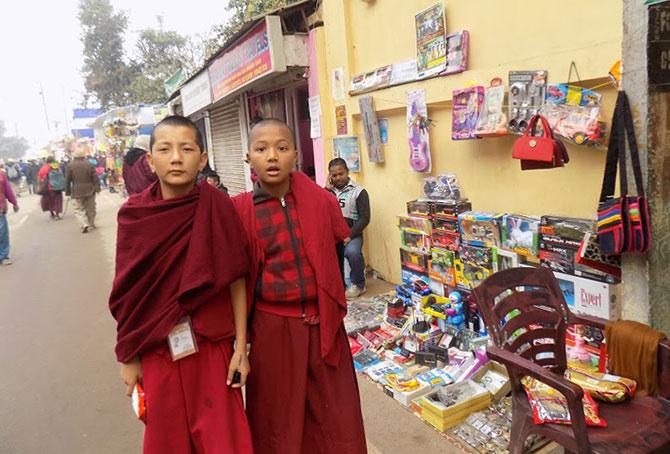 Surprised by the camera :)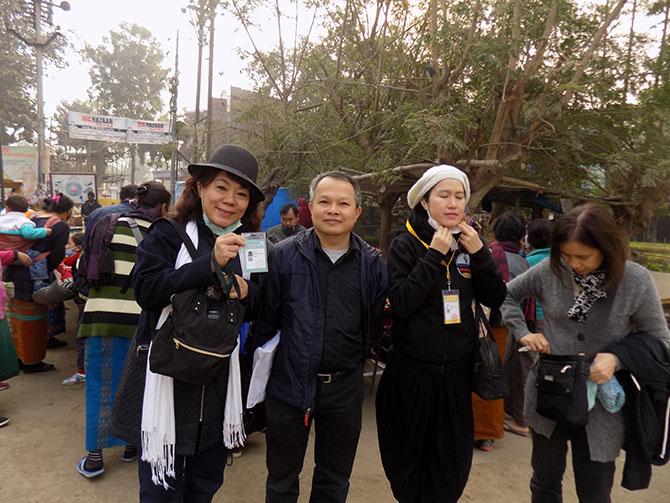 And posing for it!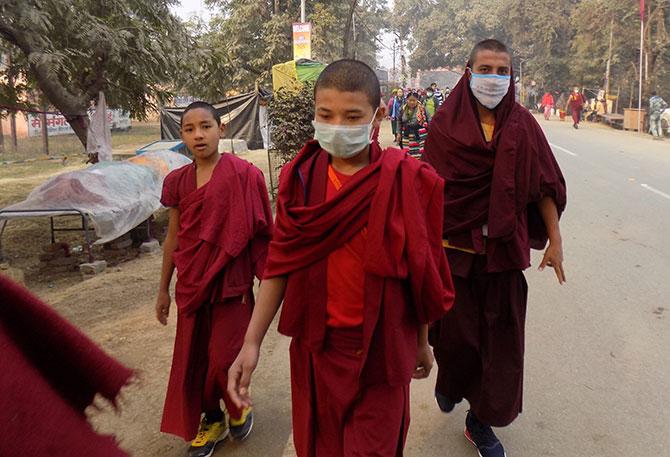 Thousands of monks of all ages have made their way to Bodh Gaya.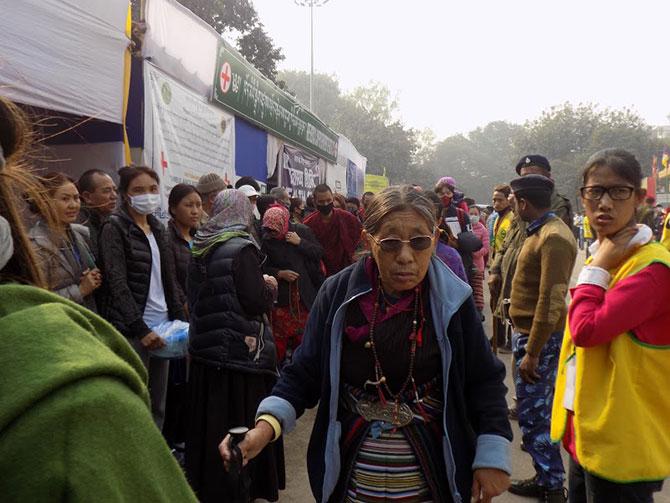 An emergency medical station can be spotted in the background.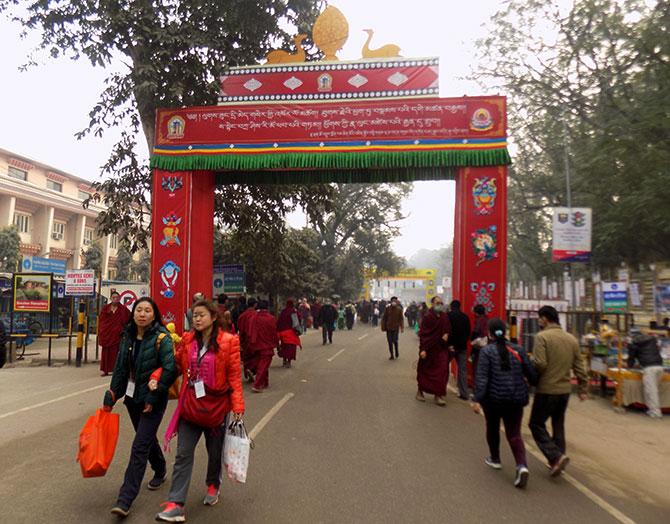 They don't mind fitting in some shopping as well.