'It was a moment when I felt what power can get. Such a reception was beyond my expectation.' George Joseph reports.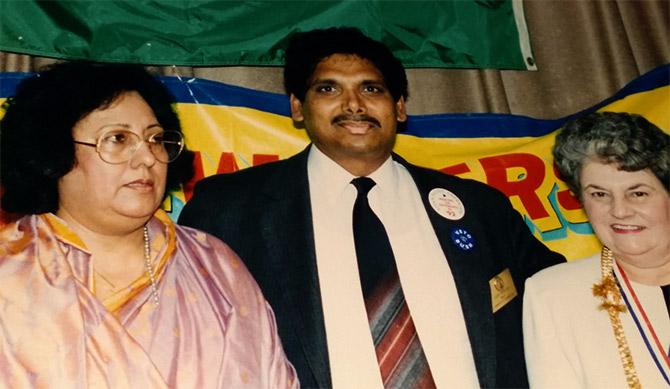 President Barack Obama is the chief guest at this year's Republic Day celebrations in India, but he may not be the first US political leader to receive the privilege.
Way back in 1993, John Abraham, mayor of Teaneck in New Jersey, was a guest of honour at the Republic Day celebrations that year.
Then British prime minister John Major was the chief guest, and Abraham was the only US official who was a guest at the event.
Teaneck is a small town, close to New York City, but when Abraham was elected mayor in 1992, it was major news in the Indian community.
Though another Indian had been elected mayor in a Midwest township earlier, Abraham's election was an inspiration for the Indian-American community.
It was a time when Indians were fewer in the US, and the community's political involvement virtually nil. Before Abraham, Dr Joy Cherian had been appointed a member of the Equal Employment Opportunity Commission, a sub cabinet position, by President Ronald Reagan, then a landmark in the Indian-American history.
The Government of India noted Abraham's achievement and invited him as a guest to the Republic Day celebrations in 1993. The invitation was issued by then President Dr Shankar Dayal Sharma. P V Narasimha Rao was then the Indian prime minister.
India's present President Pranab Mukherjee was on the same aircraft that Abraham traveled on from New York.
Abraham was greeted at the airport by Dr Najma Heptullah, then the deputy chairperson of the Rajya Sabha, Sheila Dixit, then a cabinet minister, and the police commissioner of Delhi.
A wing of the Taj Mansingh hotel was made available for his stay. Outside his room and outside the hotel, security personnel were present.
"It was a moment when I felt what power can get. Such a reception was beyond my expectation," Abraham, who unsuccessfully contested the election for the New Jersey assembly later, recalls.
He was also the guest of honour at the flag raising ceremony at Delhi's Raj Bhavan with then lieutenant governor P K Dave present.
At the Republic Day parade, he was given a prominent seat. In the evening President Sharma hosted a dinner for the guests.
The next day, P K Dave hosted a dinner, which several dignitaries including the Canadian ambassador attended.
Thomas J Pickering, then the US ambassador, visited Abraham to inquire about his well being.
"It is joyful to remember all that. It was an eye-opener for me about power and its many possibilities," Abraham says. "No wonder, many do not want to give up power."
In Bangalore, Abraham says then chief minister M Veerappa Moily and his ministers received him.
But when he arrived in Thiruvananthapuram, Kerala, where he hailed from, no minister or government official received him. After journalists interviewed him, an alerted state government arranged facilities and security.
More than a decade ago, Abraham moved to Stafford, Texas.
Later, another Indian American, Hameeduddeen, whose parents were natives of Hyderabad, was twice elected mayor of Teaneck.
Images: Top: John Abraham, centre, with Dr Najma Heptullah, left. Bottom: John Abraham, left, with Siddhartha Shankar Ray, then the Indian ambassador to the United States.