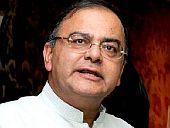 Arun Jaitley, BJP leader and a powerful voice in India's cricket establishment, speaks to Sheela Bhatt about the game.
"I am going to cheer for a good game of cricket," said Arun Jaitley, Leader of Opposition in the Rajya Sabha, member of the Board of Control for Cricket in India and a powerful voice in the world of Indian cricket, who is in Mohali to witness the mega semi-final between India and Pakistan.
Jaitley told rediff.com, "When India and Pakistan play cricket, excitement is inevitable. I have seen the Old Trafford match between the two teams in 1999. It was played against the background of the Kargil war. The competitive spirit was much more in that match than it is today."

Jaitley has an exaggerated passion for watches and cricket, and doesn't think the 'madness' for the match this time is unusual.

"No, I don't see anything unusual in it. The excitement is always aroused when India and Pakistan play. I was in the stadium in New Delhi when the match was played in the presence of (former Pakistan president) General Parvez Musharraf (in 2005). Hype was created even then."

Commenting on the high degree of nationalism behind supporting the Indian side, the senior Bharatiya Janata Party leader said, "I don't think people are concerned about politics around the game. They would cheer the Indian team. Cricket will always evoke nationalism. Nationalism is a legitimate expression in the game of cricket."
Image: Arun Jaitley