'With changing times, elections no longer are won by giving subsidies, doles and gifts before and after.'
'Entitlements, rightful gains of growth and economic development and the like are becoming important for increasingly conscious and demanding voters, especially younger voters,' points out Bheemaiah Krishnan Ravi.
A fascinating excerpt from his book, Modern Media, Elections and Democracy.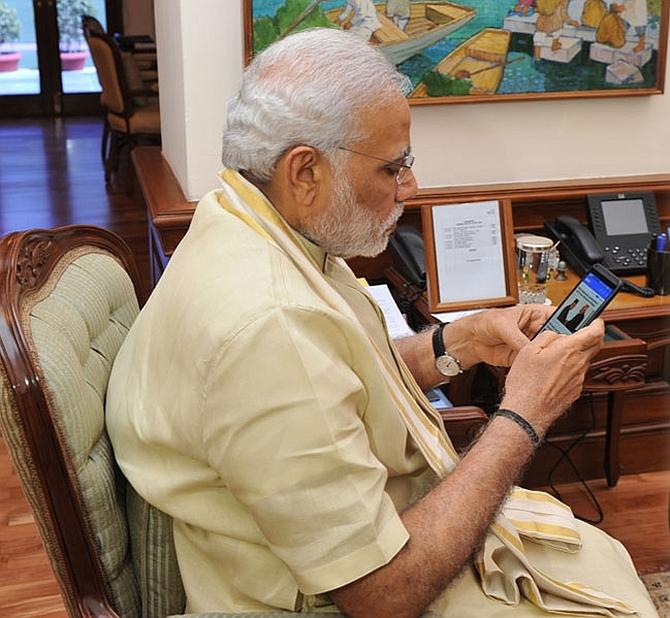 Prime Minister Narendra D Modi is one of the most followed world leaders on Facebook and Twitter.
The Internet is definitely emerging as a new force to be reckoned with in Indian politics.
In the coming days, Internet use will bring a paradigm shift to Indian politics.
Right now, the Internet is offering new possibilities for political mobilisation and participation.
These are still early days for the Internet in Indian politics, and it is difficult to predict with certainty what would be the impact of the Internet on Indian elections which usually revolve around public rallies, sentiments, television, print or radio ads and popular welfare schemes.
But now Indians are now more comfortable with social media, especially when it comes to discussing critical or sensitive issues such as politics, corruption, poverty and economy.
The 2014 Lok Sabha elections had a high social media impact, considering the fact that it has entered deep into mainstream politics.
Here is how social media played a vital role in the most influential elections in India.
Narendra Modi, popularly known as NaMo, acquired the tag of the first social media prime minister of India.
He was also the second most liked politician on Facebook.
The BJP carefully entered social media platforms engaging the users in important conversations.
The tagline Ab ki Baar Modi Sarkaar became viral on social media.
The party's social media cell carefully orchestrated the Media and Elections in India 197 conversations with common people, with its ever-obliging volunteers chipping in to create a buzz around Modi.
Direct connection with users:
Politicians were trying to form a direct contact with potential voters through Facebook and Twitter by posting and tweeting regularly.
The active users were also started to engage with each other on the political front.
Hence, social media became a tool both for party leaders as well as the voters to understand each other's perspectives.
Indian politicians also used hashtag strategy discretely on Twitter to drive home the point.
Hashtags such as #Election2014, #NaMo and #ArvindKejriwal were trending during elections.
Impact on young voters:
Youngsters were in the forefront when it came to using social networks as a tool of discussing political content.
Social media savvy politicians such as Modi and Kejriwal made the most of the opportunity and had a mind-boggling impact on young voters, especially the first-timers.
Politicians and youth had a mutual impact on each other with their active participation in social media platforms such as Facebook and Twitter.
Image boosting:
Politicians have used social media to boost their images just like big brands.
For example, every time Modi was scheduled to address a political rally, there was an update on Facebook and Twitter.
His campaigns were turned into online campaigns, thereby connecting with the people who were not part of his offline campaigns.
Social media was also flooded with images of Modi and his campaign and what he spoke on those rallies, registering his image in the minds of the users, many among them were impressionable first-time voters.
This strategy did help him to create an aura around his persona during the elections.
Overtook the mainstream media:
Social media was able to bypass the mainstream media such as newspapers and television during the elections.
Dedicated accounts and pages of the parties doled out images, videos and activities continuously over social media platforms to digital savvy party followers.
They got the minute-to-minute updates on their smart phones when on the move.
Through Twitter and Facebook, parties tried to reach out to vast number of voters and pulled them into the political conversation.
In a new changed mainstream, media is no longer the firsthand source of news for the active social media users.
Powerful media for freedom of speech:
Social media is an incredible platform to express, share thoughts and create awareness.
Manufacturing Consent, the famous treatise by Noam Chomsky, has had a major application during the 2014 general elections.
Social media has emerged not only as a medium of freedom of expression, but also as a source of content for mainstream media to develop and build stories around them.
The BJP and AAP are initiating the changes in tone and tenor, images and messages in this regard.
With changing times, elections no longer are won by giving subsidies, doles and gifts before and after; entitlements, rightful gains of growth and economic development and the like are becoming important for the increasingly conscious and demanding voters, especially the younger voters.
The Indian Left parties which were traditionally banking on the labour and lower classes along with a section of the educated middle class are increasingly being left out of the new emerging political discourse in the country partly due to social media.
It is the neo-left like AAP, which mixes Inquilab Zindabad with Bharat Mata Ki Jai, capturing the public imagination now.
AAP has managed to carve a niche for itself within a very short span of time thanks to social media.
Mass interest in politics is slowly changing.
A very large number of youth influenced by the BJP and AAP have become politically active in recent times.
Thanks to this new-found interest, women are also voting in large numbers.
With the backup of social media, ordinary and less powerful candidates, especially belonging to AAP, were able to put a strong fight in many seats.
In fact, AAP gave the media-driven, corporate-funded election juggernaut BJP a run for its money.
Some parties have begun to present constituency specific manifestoes to make their respective candidates accountable post elections.
Thanks to social media, Indian democracy went into participatory mode with millions of young voters participating in the electoral process.
One can only hope that this unprecedented participation now leads to empowerment in a holistic sense.
Excerpted from Modern Media, Elections and Democracy by Bheemaiah Krishnan Ravi, Sage, 2017, with the publisher's kind permission.