'He had decided to give his body for medical research.'
'I read that his skin was given to a burn victim that very night.'
'He would have been thrilled.'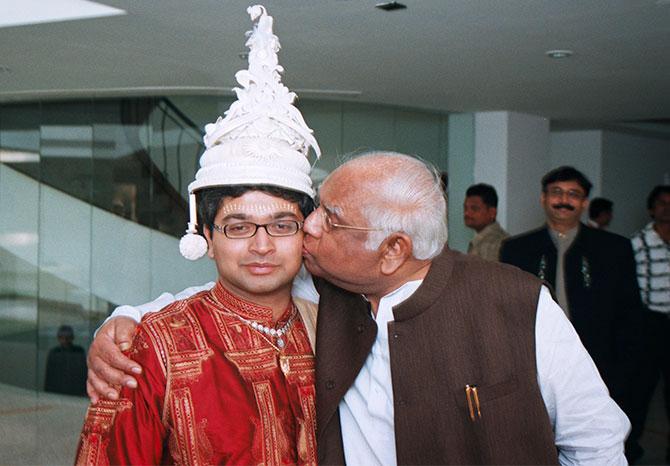 Shashwata Chatterjee, Somnath Chatterjee's grandson, tells Rediff.com's Archana Masih about watching the football World Cup, spending days in the MP's Delhi home and the day his Dadu came to visit him in his college in Los Angeles.
I don't want to be singing my grandfather's praises, but he was really a loving and lovable guy.
Many people who came to visit us after his passing had a deep affection for him. He had an effortless charm.
My brother and I grew up in the same house all our lives with our grandparents and parents. When we would come from the US -- it is an hour-long drive home from the airport -- he would call us 6 or 7 times -- asking us if we had collected the bags, were we out of the airport, where had we reached, how was the traffic etc?
My brother and I were saying we won't experience that again. He was the only one who did it.
I used to get sugar free chocolates for him from America and he would be delighted like a kid.
It was a very simple thing, not as if I was unearthing the Kohinoor for him, but he used to tell my grandmother, "Look what your grandson has got!"
He visited me twice in Los Angeles. When I left for the US as an undergrad in 1996, he wept and told my father that he would never see me again and to make sure that it did not happen, he showed up in two months with my grandmother at my college.
My grandfather was an incredibly organised guy. Every paper was in order, his pens and pencils used to be in a straight line.
When he came to visit me, he said he wanted to see my room. I panicked because even though I am reasonably organised, I am not like him!
I quickly went through my room, pushed stuff under the bed or in a neighbour's room and made it relatively neat. My grandfather was very happy. That's one fun memory.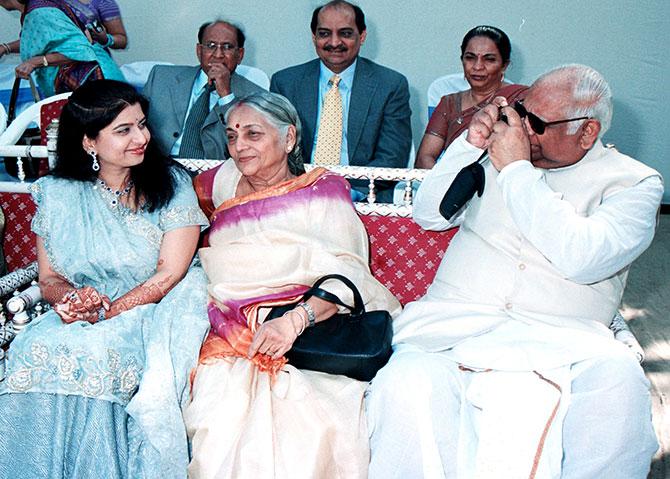 He was a man of generous spirit. I had an American college friend whose room was opposite mine. I couldn't afford a laptop, so an acquaintance of grandfather had gifted me an old laptop. I didn't have a printer and this friend helped me.
My grandfather was so grateful that he took him for a meal to a Chinese restaurant. My friend still remembers it.
My friend was very interested in politics, so it was very interesting for him to speak to a politician from a foreign country.
Personally, I am interested in politics, but we did not speak much about Indian politics with him.
My brother and I, and two of his other grandchildren, thought we should be a refuge for him from politics.
He was interested in what was happening in the US -- 'What the hell is going on with Trump?' he would say. He was genuinely curious.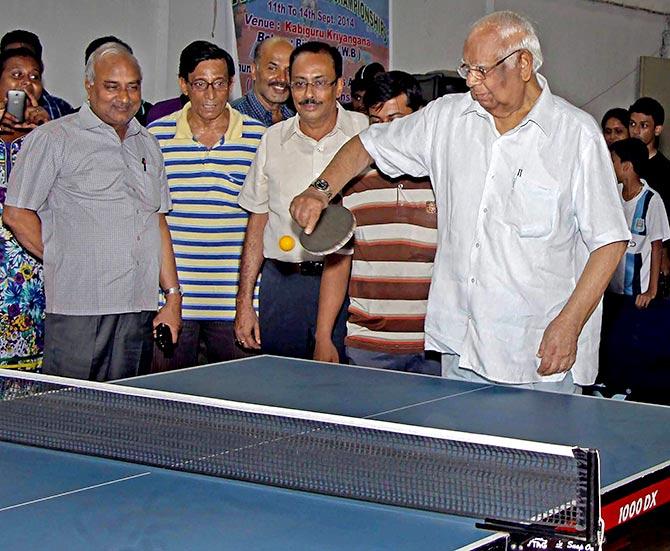 We mostly spoke about sports. He was a big football fan and one of my last memories of him is watching the Croatia-Argentina World Cup match. Argentina lost that match and I was teasing him about Lionel Messi which upset him.
He took me to a couple of World Cups in 1998 and 2006. I feel bad India did not qualify for a World Cup in his lifetime.
The biggest reason I came to India this time was the World Cup. I had memories of watching it with him. He once got me a big poster of the 1990 World Cup which I had behind my bed for the longest time.
I watched the opening game of the World Cup with him. Nine days into World Cup he took ill.
He was a voracious reader. He read everything and anything.
He was linguistically ambidextrous. He went to a Bengali medium school, but his English was perfect.
I was astonished at his intellectual capability which manifested itself in his mastery of two languages. He was adept in English and Bengali.
I mostly spoke to him in Bengali and would lapse into English.
His movie choices were all over the place. He liked serious cinema and some ridiculous Bollywood movies too.
He had a lot of personal affection for some actor-turned politicians in Parliament like Vinod Khanna and Sunil Dutt.
He was also a patron of the arts, a connoisseur. He was always impeccably dressed with a good collection of bandh galas and suits.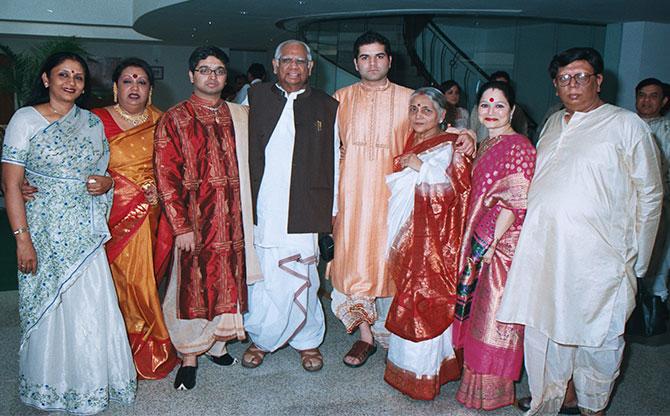 Santiniketan was his home constituency and he encouraged artists. He was interested in classical music and Rabindra Sangeet.
His love of the arts has been passed on to my younger aunt from whose school countless singers, artists and musicians have graduated. She is a Rabindra Sangeet singer herself.
My father and us inherited his love for books. He was the best of us all. His love for the arts and books have been split in us, but he was the embodiment of both.
We have great memories of his Delhi house. He would be in Delhi more often than in Calcutta (Somnath Chatterjee was elected to the Lok Sabha 10 times).
In my early teen years, till I moved to the US, we would go and stay at least once a year with him.
We would always have dinner together. It was something we did in Delhi more than in Calcutta.
My grandfather and father were both lawyers and worked very late so we never could have dinner together in our Calcutta home.
But in Delhi my grandfather's hours were slightly more regular and my dad would be on vacation.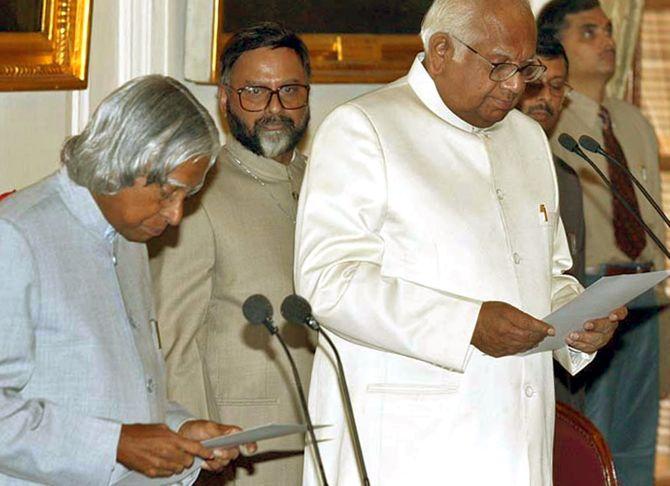 My grandfather believed in his party (the Communist Party of India-Marxist) and gave his life for it. I wasn't in India when he was expelled, but spoke to him over the phone.
He loved his party and was bitterly disappointed that it ended the way it did, but he believed in his party till the end.
I have considered politics. Maybe in the future, but it is hard to predict.
When you come from a family where your grandfather and great grandfather (Nirmal Chandra Chatterjee, Somnath Chatterjee's father, was president of the Hindu Mahasabha) were politicians, you do consider it.
I don't know what party. Ten years ago it would be a no brainier, but my grandfather was party-less towards the end.
I don't want to keep praising him, but he was an elite lawyer who gave up his practice for his party and country. This is something people forget.
He was the patriarch of the family. The last of his generation in my family.
He was an indulgent dadu, he never raised his voice at me.
Physically, he was very resilient. He had been very ill a couple of years ago and had been on a ventilator couple of times, but had come out of it.
This time also he went on the ventilator four times. I thought he would come out of it because he was physically so strong. Until the end I thought he would pull out of it like he had in the past.
I regret not having many meals with him towards the end because I would just have a smoothie or soup and I knew if he would see me have it, he would think I was crazy! He did not consider all this a proper meal.
Just the night before he took ill I was in my grandparents' bed like I used to be when visiting Calcutta and talking to them. He took ill the next morning and never really recovered.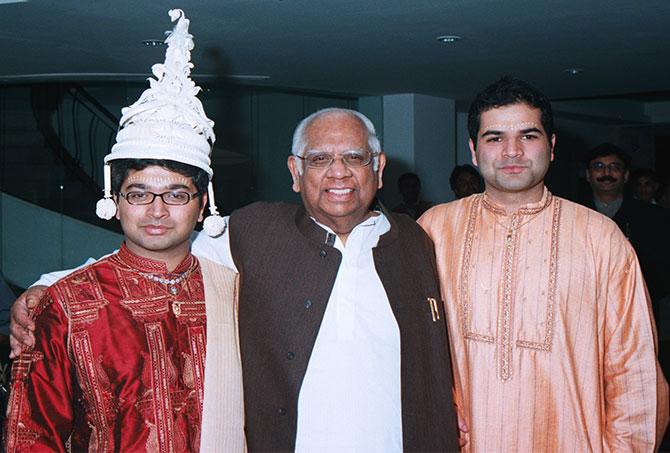 I go into his room and his chair is empty. I still have to process his loss.
The finality of it is hitting me. It has been a tough month-and-a-half. It was difficult to see him struggling that way.
He had decided to give his body for medical research. I am not going to say everybody in the family was on board, but he made that decision when he was in sound body and mind and we were going to respect it even if some of us liked it or not.
A friend told me he was a public servant all his life and it makes total sense that he did it.
I read that his skin has been given to a burn victim that very night.
He would have been thrilled.
Shashwata Chatterjee is a Los Angeles-based scriptwriter.