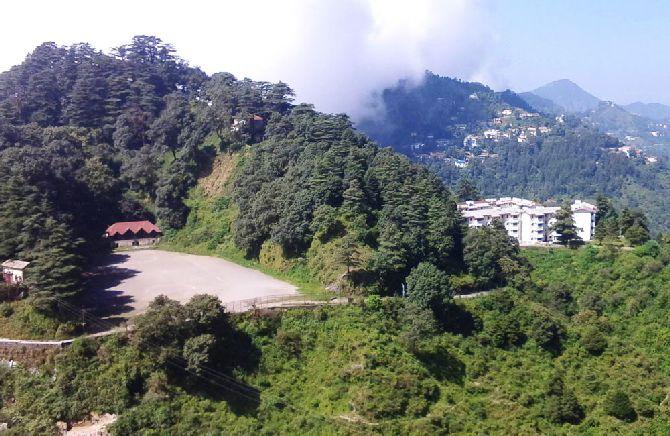 IMAGE: A view of Mussoorie. Photograph: Kind Courtesy: Akash Patwal/Facebook
Syed Firdaus Ashraf tries to escape the Mumbai heat in the hills of Uttarakhand and ends up discovering the after-effects of climate change and Swachh Bharat Abhiyan.
On May 20, as I stepped out of Dehradun's Jolly Grant airport, I was taken aback by the gusts of hot wind.
Me, a Mumbaikar, had come to the hills of Uttarakhand to escape the heat.
A fellow Mumbaikar who stepped out of the plane told me in Marathi, "Itthe tar Mumbai peksha jasta garmi aahey (This place is hotter than Mumbai)."
When I checked the temperature I was startled to discover that the temperature in Dehradun was 42 degrees Celsius -- Mumbai that Friday was seven degrees lower.
I felt foolish to come all the way to Dehradun to beat the Mumbai heat.
Mussoorie was also 42 degrees C, with the minimum temperature falling at night to 30 degrees. Our hotel room didn't have air-conditioning and we needed the fan going at full tilt to sleep.
I told my wife that we should have checked the temperature in Mussoorie before booking our tickets.
When I checked the temperatures of Indian cities located in supposedly cool climes for May 20 on accuweather.com, I was stunned.
Shimla, Manali, Nainital, Leh were all 42 degrees C. Dharamsala was two degrees hotter. Only Srinagar was cooler -- if you can call 31 degrees C cool.
Munnar, Ooty and Kodaikanal -- hill stations in south India -- were no better, the temperatures hovering around 33 degrees C.
Closer home, Lonavala and Mahabaleshwar were 36 degrees C, Matheran was a degree less.
Only Darjeeling and Gangtok were at 6 degrees C.
***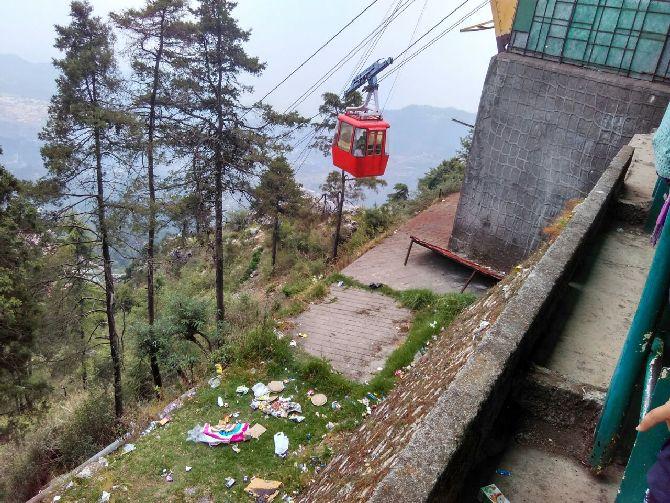 IMAGE: The only place you could see litter was near the cable car station. Photograph: Syed Firdaus Ashraf/Rediff.com
Swachh Bharat: Part 1
One thing that is working efficiently for the Narendra Modi government in Mussoorie is the Swachh Bharat Abhiyan.
The legendary Mall Road on which our hotel was located was clean. Every tourist I saw diligently flung litter into dustbins.
I tried to locate litter on the roads, but it was not to be seen. The only place I could see litter in Mussoorie was near the cable car station where people had thrown wrappers and plastic bottles.
A shopkeeper told me that the Swachh Bharat Abhiyan was working. In the last two years he said he has seen tourists more aware about cleanliness.
I pointed out that I had seen people throw litter at Gun Hill Point to which the shopkeeper said, "10 per cent of people will never improve. They throw garbage everywhere. Swachh Bharat Abhiyan is working with 90 percent of the tourist population."
"Earlier, this place used to be dirty, but now it is very clean, thanks to Modiji."
Point noted.
***
Swachh Bharat: Part 2
Talking about Swachh Bharat, I came across an altercation between a lady tourist with her two kids and a toilet supervisor at Gun Hill Point. It was over the tourist's refusal to pay Rs 15 to use the toilets.
The toilet supervisor wouldn't budge. She insisted that at Rs 5 per person, the tourist needed to pay Rs 15 for the three of them.
The tourist had a different viewpoint. She said her young child was not sure whether she wanted to answer nature's call, so why pay Rs 5 for her?
"If my child does not pee in your toilet, how can you charge me in advance?" the tourist asked. "If she pees I will pay you. What is the big deal with Rs 5? Show some humanity."
The argument took an ugly turn after the cleaning lady said, "You can pay Rs 100 for the cable car to travel 400 metres to Gun Hill Point, but not Rs 5 for using the toilet. If you don't pay, how will we keep public toilets clean?"
Just when it seemed the two women would come to blows, the little girl told her mother she wanted to use the toilet.
The tourist paid up Rs 15. End of story.
I must add here that the public toilet at Gun Hill Point was clean. Swachh Bharat is indeed working, I tell you.
***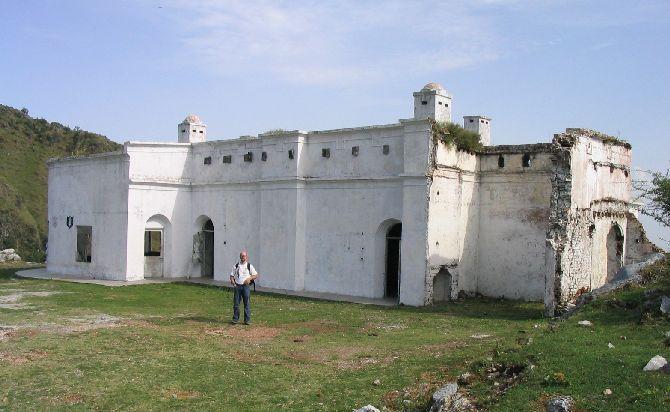 IMAGE: George Everest's bungalow, which is in pretty bad shape. Photograph: Kind Courtesy Mark Windsor/Wikipedia Commons
George Everest's bungalow
There are many tourist attractions in Mussoorie, like Company Gardens and Kempty Falls. There is also Lal Tibba where I was told Sachin Tendulkar has bought a house.
I was not interested in those places; I only wanted to see George Everest's bungalow.
George Everest who, did you say?
Sir George Everest was born on July 4, 1770 in Wales and came to India as a cadet in the Bengal artillery in 1806.
In December 1834, he bought an estate called the Park near Hathipaon in Mussoorie where he built his office and residence.
He was largely responsible for completing the section of the Great Trigonometrical Survey of India. In other words, he drew the map from South India extending north all the way to Nepal, a distance of 2,400 km.
Mount Everest is named after Sir George.
Though Sir George's bungalow is located barely 6 km from Mussoorie's Mall Road, reaching the place is quite tiresome.
There are no proper roads and the car ride is bumpy. You have to pass jungle-like areas before arriving at your destination.
Unfortunately, the house is in bad shape. Once you reach, you find the hardship was worth it as you can see the grand Himalayas from there.
A must-visit place the next time you are in Mussoorie. But just check the weather before you go!