'If Modiji likes his pakodas fresh from the pakodewala, why does his government keep making things difficult for us?'
Jyoti Punwani reports.
Illustration: Dominic Xavier/Rediff.com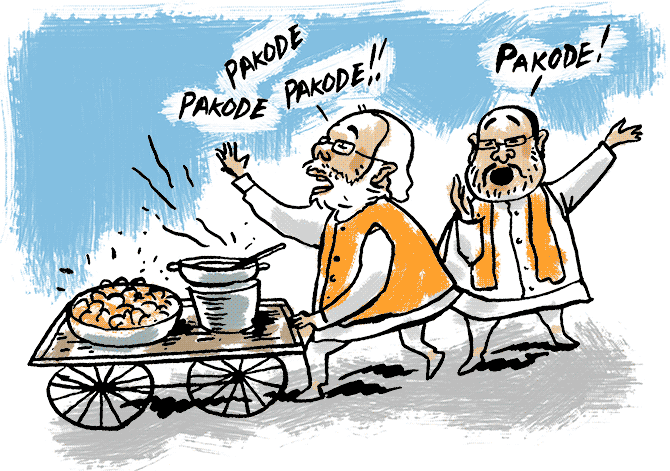 With the PM and his party chief extolling the virtues of selling pakodas as a profession, it seemed appropriate to ask those on the job what they felt about it. Rediff.com spoke to a few bajiya-pav sellers, as they are called in Mumbai, only to discover that none of them had heard of the PM's statement.
When told what he had said, one of them smiled broadly and said in Mumbaiya Hindi, "Modiji ko baat karna bahut accha aata hai. Bas, unki baat sunte raho, aisa lagta hai (Modiji likes to talk. We just have to listen to what he says)."
None of them wanted to be named for fear of retaliation by those who ruled their lives: The police and the BMC (the BrihanMumbai Municipal Corporation).
They spoke from bitter personal experience.
Years ago, a few of them had gone to the local Shiv Sena MLA to complain about the constant harassment by the BMC who would not only take regular hafta but also confiscate their goods and not return them for days. The MLA immediately called up the ward office.
The next day, the inspector from the nearby police station landed up, wanting to know who had gone to the MLA. (A police team often accompany the BMC staff on their eviction drives.)
This incident took place more than seven years ago, but nothing has changed for these bajiya wallahs, who are often the only source of hot meals during the day for Mumbai's salesmen, courier boys, and those working in small enterprises.
These vendors' lives continue to be ruled by the same two authorities: The BMC and the police.
Hafta payments to these two elements range from Rs 4,000 a month for a small box stall selling only bajiya-wada-samosa pav, to Rs 8,000 a month for a large stall selling these items as well as puri bhaji/misal pav.
But this payment is no guarantee against sudden evictions whenever a VIP (Municipal Commissioner, Mayor) visits the area.
After the Elphinstone Road stampede on September 29 last year, for which unauthorised hawkers located outside railway stations were blamed, the BMC carried out evictions of hawkers even far from the station, inside the suburbs, almost on a daily basis for about a month.
Every such eviction entails a loss of Rs 3,000 to Rs 4,000, said the vendors, counting the food wasted, the sales foregone and the fine levied (the official fine is Rs 1,200).
Then comes the long wait for the goods to be returned, and the money that must change hands at that time.
Sometimes, when the high court issues an order against cooking on the roads, or the local MLA gets in the mood for a 'clean-up', the bulldozer is sent in.
"It cost me Rs 10,000 to set up this stall," said one vendor, pointing to his stainless steel set up. "But does that matter to the bulldozer? In a trice, my money's reduced to pulp."
These vendors said they were ready to pay tax to the BMC. They were, in fact, doing that till 1998. The BMC would charge them Rs 20 a day and issue a receipt for it.
"That money went to the BMC. Now, the money goes straight to the officers' pockets."
It is a common sight to see a police jeep halt at these stalls to pick up hot food. But that is accepted by these bajiya wallahs as a fact of life.
"We tell them, 'Welcome Sahib, eat as much as you want, just don't evict us'," they said.
Apart from evictions, the vendors listed the number of ways the authorities make their jobs difficult for them.
The high court ban against cooking on the roads led to gas cylinders being confiscated at some stalls. These bajiya wallahs now use a stove, which reduces the amount that can be cooked.
"Customers want hot food. These are not items we can cook at home and bring. Isn't a kerosene stove as dangerous as a gas cylinder?" they ask.
At several places in the suburbs, the BMC has put iron grills to fence off pavements. This has only led to more people walking on the roads, since an unbroken pavement is a rarity in Mumbai's suburbs.
Earlier, these pedestrians walking on the road would stop for a bite on their way to or from work. With the stall now fenced off, customers have reduced.
"If Modiji likes his pakodas fresh from the pakodewala, why does his government keep making things difficult for us?" asked one.
"The government has not given us jobs, but we are earning an honest living. Each stall sustains at least five persons. What would we do if we didn't do this? Turn to crime?"
The bajiya wallahs also pointed out that they keep food prices low even in restaurants. "Once we are removed, customers will have no choice but to eat in restaurants. You will see the prices double there."
Tax us, regularise us, do not treat us as offenders was the refrain of these vendors.
Is Amit Shah, who waxed eloquent in the Rajya Sabha on the self-respect and honest labour of a pakodewala, listening?