Six years ago, a Mumbai college student stumped the most powerful man in the world with her question.
After Barack Obama stepped down as America's president on Friday, Afsheen Irani looks back at that moment with a smile and says it will stay with her all her life.
IMAGE: Then US president Barack Obama addresses students at St Xavier's College, Mumbai, November 7, 2010. Photograph: Jim Young/Reuters
On Friday, he left the White House after eight memorable, tumultuous, years in office.
For Afsheen Irani, Barack Obama left a legacy that will be etched in the world's memories for a long time.
More than six years ago, Afsheen, then a college student, stumped Obama when she asked him: 'Why is Pakistan so important an ally to America so far as America has never called it a terrorist State?'
The American president was addressing students at a town hall meeting on November 7, 2010 at St Xavier's College during his visit to Mumbai.
"It was a big day for us," recalls Afsheen, now a lawyer. "We were given the opportunity to question the most influential world leader on this planet, a thought that had me bursting with curiosity and excitement."
Her question wasn't the one she had planned to ask. "I wanted to know his views on education, visa processes and the like."
Minutes before she walked into the venue, a chance conversation with a friend changed her mind and as they say, the rest is history.
As soon as she asked the question, there were collective gasps from the crowd.
Her mother Taubon, who was watching the event on television at the Iranis' suburban Mumbai home, said, 'Oh my god! Did she just leave the most powerful man in the world speechless?'
After Afsheen's question, the famously cerebral Obama took about 15 seconds before he started to respond.
And the first relevant thing he had to say was this: 'Er... Pakistan is an enormous country!'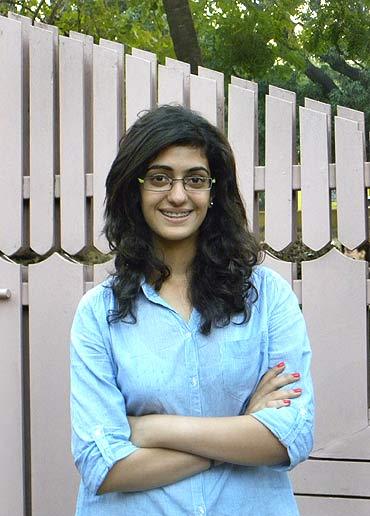 IMAGE: Afsheen Irani now works as a lawyer.
After asking the question, Afsheen became something of a celebrity, hopping from one television news channel studio to another that Sunday.
"As the first black president," Afsheen says more than six years later, "Obama already had claimed his place in history in January 2009. What intrigued me more than his power was his story."
"A man who defied the odds and endeavoured through unprecedented struggles to become not just a president, but a symbol," she adds. "His victory was an answer to the 400 years of slavery, segregation and institutional racism faced by the people of his community."
"Any presidential term is marred with controversies, alliances and treaties, judgments and policies that alter the course of future in a good or a bad way," says the lawyer about the most famous lawyer of our time.
"Obama too had his fair share of the same. But then again, with Obama, it wasn't just about the politics."
"It was the dignity and grace that he possessed, the unblemished civility that was fitting of his stature, an aura of generosity and acceptance that were the founding pillars of American values."
"His success as a president will always be a roaring debate," she says, "but no one can question the legacy that he leaves behind."
"Mr Obama," Afsheen adds, "you will be dearly missed!"