'I don't think you have anything to say to me and I certainly don't have anything to say to you.'
Bharat Bhushan recalls his encounters with V S Naipaul.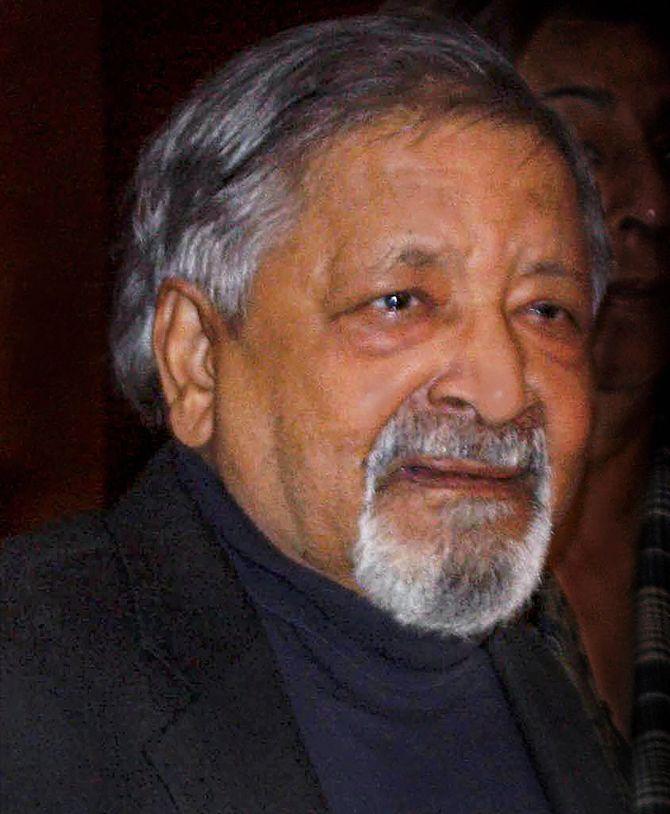 The contest was between a sitting MP who was blind and his nephew.
The blind uncle, Mukutbihari Lal Bhargava, belonged to the old order, the Congress-O (Organisation). His nephew had thrown in his lot with Indira Gandhi's Congress-R (Reformist) which was riding high on the victory in Bangladesh.
Privy purses had been abolished and banks nationalised. As it is, the royalty in Rajasthan was up in arms.
Then suddenly Maharaja Kishangarh was murdered by one Bhima Jat, the brother of his paramour.
The atmosphere in the Ajmer parliamentary constituency, of which Kishangarh was a part, was electric. The correspondent from the Sunday Times magazine had quite wisely chosen to report the mid-term elections of 1971 from Ajmer and had found accommodation in the picturesque Circuit House.
In nearby Mayo College, the students were oblivious of the momentous changes taking place in the Indian polity.
Maharaja Kishangarh's murder, of course, had everyone excited as the Maharaja's two sons were associated with the school -- one had just graduated and the other, Prithviraj Singh, was still a student.
The correspondent from London somehow found himself sitting next to the headmaster of Mayo, Shomie Ranjan Das, watching As You Like It, a co-production with the local girls' school.
When he asked for help in hiring a professional interpreter, Das suggested that he take one of his boys who would do the job.
That was how I first met V S Naipaul.
I did not know who Naipaul was nor could I guess from his appearance where he was from.
His face with its ropey lines looked like an unfinished model in clay.
He wore a floppy hat, enunciated each word clearly and spoke in an accent that I had not heard before.
All that I knew was that I would get a few days off from school.
The prime campaigner for the blind candidate was the Maharana of Udaipur. We followed his car-cade.
Although he attracted fairly large crowds, it was difficult defending a candidate so badly handicapped.
That Bhargava could see better with his inner eye than those with normal eyesight did not convince even me and I was only 15 years old.
Naipaul showed no reaction to the election speeches. He just jotted everything down in his notebook.
Once at a railway crossing, he took out a flask and poured himself some black coffee. One of the onlookers remarked that angrez sahibs drank rum whenever they felt like it. Naipaul understood that and told me to tell that irritating fellow that he was drinking black coffee, not rum.
At another time we found ourselves at a tea-shop in Nasirabad, outside Ajmer, late at night. Naipaul insisted that the shopkeeper wash his cup and saucer with soap.
The shopkeeper asked his young son -- about seven or eight years old -- to wash the cup. Naipaul wanted to know why the child was not in bed.
Did he not have to go to school the next day? How did he expect him to pay attention in class if he was forced to work till eleven at night?
The shopkeeper heard out Naipaul with a resigned smile.
One night our car ran out of fuel. We found a petrol pump but as there was no electricity, the petrol had to be pumped out by hand.
Naipaul pushed the attendant aside and started working the crank himself explaining, "I need some exercise."
The attendant told him he looked very young. Naipaul replied, "That is perhaps because I don't have any children." I have not understood that answer till today.
Some of my teachers in school were upset that I was helping Naipaul who they said had written nasty things about India. I had not read India, A Wounded Civilisation, but the next day I told Naipaul what my teachers had been saying.
"Have you read my book?" I shook my head. "Have your teachers read it?" I had no idea.
"This is what happens in India. People make up their minds before reading anything."
Naipaul then said that as an outsider he saw things which we did not.
"What would you see in the corner of even a new government building?" he asked.
"Dirt?" I ventured a guess. "No. That's where people think they can spit out betel-nut juice," he said.
Naipaul went back to England and life returned to normal. The blind candidate lost. Indira Gandhi gained a two-thirds majority in the Lok Sabha.
After the Naipaul visit, I was left with the strange revelation that people could earn a living writing about things around them. That one did not have to write novels and stories but describe things as they unfolded was an idea I found strangely exciting.
I began corresponding with Naipaul, care of his publisher Andre Deutsch.
When Naipaul's election reports from India were published in two parts, I was sent copies of the Sunday Times magazine. I frantically looked for my name somewhere, hoping that the famous man (by now I knew who he was) might have mentioned me, that this way some of his greatness might rub off on me. I was sorely disappointed.
Maharaja Kishangarh's son Prithviraj, who was in my class, was visibly upset on reading the reports.
Naipaul had printed a leaflet against his father's sexual escapades, distributed during the election campaign, in full. He blamed me for translating it.
I was upset enough to write to Naipaul about putting such hurtful stuff in print. He wrote back that sometimes truth had this effect on people but it had to be told.
The year was 1982 and I was a student at Imperial College, London. I bumped into Naipaul at a bookshop on Gloucester Road in South Kensington. By now I had read his books.
I went up and introduced myself. "Oh yes, you used to write to me as a school boy. You wanted to study English literature," he said. "Yes. And you wrote back saying that literature has been spoilt by people like professors," I said.
I told him that I was studying the impact of technology on the industrial labour process instead. "I suppose now you will now become a personnel manager," he said.
I might teach instead, I ventured. That brought on a tirade about "rejecters" like me.
"I have seen your kind. You are the type who would kill people if they disagreed with you. Are these the values your father stood for? What would he say to what you have become today?"
"Patsy," he shouted out to his wife Patricia. "Meet Bharat. I had met him when he was in school. He has become a Rejecter now."
"That is his description," I mumbled. His wife herded us out of the bookshop.
Naipaul cooled down a bit and asked me to write to him about I how felt about life now.
"Write to me care of my publisher as you used to," he said while walking away.
"I'll be damned if I do," I said to myself.
A fortnight later while walking down Gloucester road I saw Naipaul again. His wife was a few steps behind him.
"Hello Mr Naipaul," I said. "Oh, hello, hello," he replied in an off-hand way and walked past me.
His wife stopped me and apologised for his behaviour at the bookshop. "We must have you over for tea. Our apartment has been burgled this weekend, so call us next Saturday. Vidia, give him our telephone number," she told Naipaul.
An irritated Naipaul turned back to walk towards us. He looked at me in a manner which was at once condescending and arrogant.
"I will give you my telephone number only on the condition that you do not pass it on to any researcher, literary critic, journalist or other such pests," he said.
Something snapped in me and I told him, "On second thoughts Mr Naipaul, forget about it. I don't think you have anything to say to me and I certainly don't have anything to say to you."
He threw the pen and paper angrily back at me and walked away.
I still read Naipaul admiringly. I am halfway through Half A Life and my wife is re-reading A House For Mr Biswas.
When I recounted my encounter with Naipaul to her after he won the Nobel Prize for literature and expressed a desire to write about it, she said, "Write it, but there will be any number of people crawling out of the woodwork now to say, "When I was a boy, I knew Naipaul."