Bereaved families tell Rediff.com's Prasanna D Zore how they are coping with their personal tragedies after terrorists gunned down seven tourists from Gujarat and Maharashtra on July 10 in Kashmir.
Photographs and video: Hitesh Harisinghani/Rediff.com
Seven tourists were killed on July 10 when terrorists attacked a bus at Bantegoo in Kashmir's Anantnag district.
They were on their way from Srinagar to Katra.
Mostly from Maharashtra and Gujarat, these tourists had embarked from Gujarat on July 2 and visited Shrinathji, Ajmer Sharif, the Golden Temple, the Wagah border by July 8, when they reached Baltal.
From there they visited the holy cave of Lord Amarnath on July 8, and after a brief detour in Srinagar, were headed to Katra, so that they could visit Vaishnodevi and then move on to Shimla, Kulu-Manali before returning home by July 22.
But the terrorist attack on July 10 cut short their plans.
Rediff.com's Prasanna D Zore and Hitesh Harisinghani visited five bereaved families.
We could not visit the family of Ratan Jinabhai Patel from Daman and Ushaben Sonkar from Dahanu, Maharashtra, for the former's family had left for Surat for some work and the latter's family was in Nashik to immerse Ushaben's ashes in the Godavari river, considered as the Ganga of the Deccan.
***
'My mother was quite happy about the way their tour was shaping up'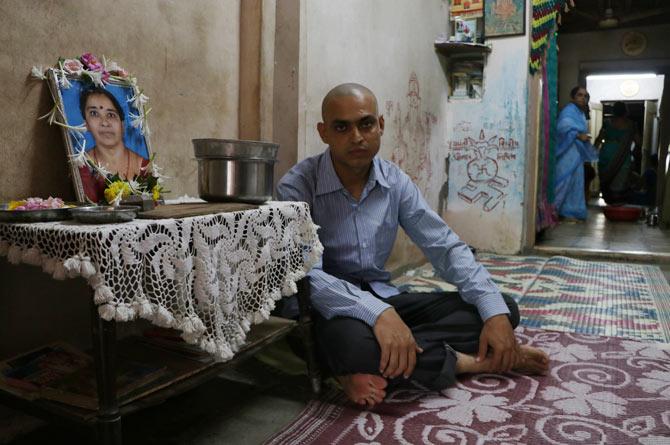 IMAGE: Pinal Prajapati's father has recovered from a severe paralytic stroke and now that his mother Champaben is no more, his wife will have to take care of his father and 18-month-old baby as he leaves early morning and comes late night from his job at Vapi, some 50 km from his home in Valsad's Gandevi village
"On the day of the attack, when I called my mother I could not reach her," says a misty-eyed Pinal Prajapati.
His mother Champaben was among the seven tourists killed by terrorists on July 10.
Champaben is survived by Pinal, her husband who recovered from a severe bout of paralysis just a year ago, a daughter, and Pinal's wife and son.
His sister, who lives in Navsari, was fortunate to speak with her that evening, an hour or so before the bus was targetted.
"When my sister tried later in the evening, around 7 pm, on my uncle's number, my mother told her they were all fine and were on their way to Katra from Srinagar," Pinal says.
State Reserve Police Force and Gujarat police troopers stood guard outside the Prajapatis' modest house in Gandevi, a small town, about 20 odd kilometres from Navsari.
The Prajapatis, ten members of whose extended family had gone on this tour, could not speak regularly with Champaben because of the network problem in Jammu and Kashmir.
At 8.30 pm when Pinal was watching the news he realised what had happened.
His aunt, who stays next door, told him that a bus had been attacked by terrorists.
He informed his aunt that his sister spoke to his mother earlier that day and that could not be his mother's bus as they were on their way to Katra.
"At midnight, my uncle called me from Vapi and informed that the bus in which my mother was travelling was attacked."
Pinal did not believe his uncle.
Reality struck much later at 2 am when the Gandevi police knocked at his door. They inquired if any person from his house had gone to Amarnath.
"At that time, to know about my mother, I called my mama (mother's brother) who was with her and asked him. He told me my mother was hit and died on the spot. He said he was coming to Surat with her body the next day."
After hearing about the tragedy Pinal called his sister and brother-in-law.
"This was the first time my mother, mama and mami went for the Amarnath Yatra," he adds.
Pinal last spoke to his mother on July 5 when they were at the Wagah border.
"She was quite happy about the way their tour was shaping up. I dropped my mother at the Chikhali bus stop on the national highway," he says sadly.
"I only wish that terrorism should be uprooted from Kashmir and I am sure this government will definitely take strong measures after this incident to finish them off," says Pinal.
***
'These terrorists should be shot at sight'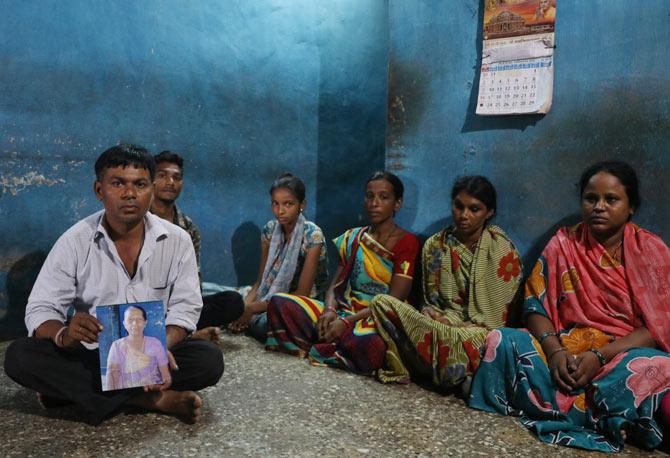 IMAGE: Suresh Patel and his younger brother work as conservancy staff for the Valsad Nagarpalika. Suresh's wife, fourth from left, works as a domestic help to help supplement the family's income.
This was Laxmiben Patel's 15th visit to the holy Amarnath cave.
Being a cook has its advantage and being a good cook raises your demand among tour operators so much that they prefer you over others each time they arrange a journey like this.
For Laxmiben her 15th visit to the holy shrine turned out to be her last one.
"My mother was a very good cook and pilgrims loved her cuisine. She did this for almost 15 to 20 years and must have been to Amarnath almost 15 times," her son Sureshbhai recalls.
Like Pinal, Sureshbhai too was unlucky when it came to speaking with his mother. But his son Ajay, whose birthday it was on July 5, called Laxmiben to seek her blessings.
"I could not speak with my mother; my son spoke with her on his birthday on July 5. She wished him well," Sureshbhai, an employee of the Valsad Nagarpalilka, says.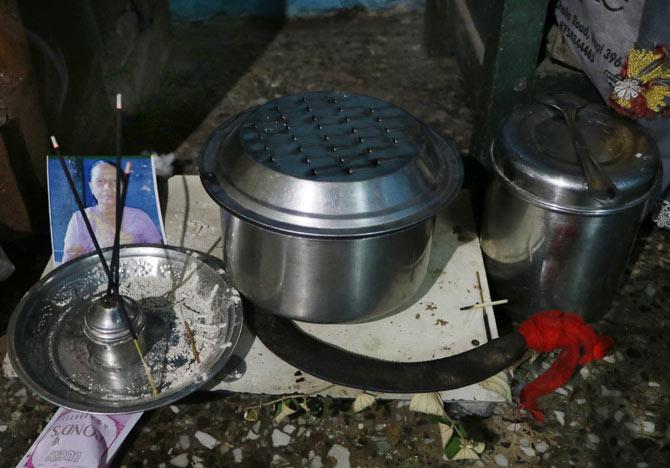 IMAGE: In a dimly lit room inside the Patel household, Laxmiben's mortal remains are kept inside a steel utensil for people to pay their last respects before the ashes are consigned to eternity.
When he saw the news about the terrorist attack on the night of July 10 he was scared.
The family of another lady, who had accompanied to help his mother on this tour, came to his house after hearing the news.
Then he got a list on WhatsApp which had the names of his mother and her assistant among the dead.
Later that night, a police picket was posted outside his house.
"Media people came visiting. The next morning the media as well as the police control room confirmed that while my mother had died, the lady accompanying her was seriously injured and recovering in an ICU there," says Sureshbhai about his mother's loss.
"I felt very weak and could not believe that my mother was no more. I did not believe it," he emphasises to overcome his shock.
A bereaved Sureshbhai has just one plea to the government: "I request the government to strengthen security at such pilgrimage places where terrorist attacks are expected."
"They should clog all the entry and exit routes of these terrorists and they should be shot at sight," he adds sternly.
He then softens his voice as he says, "Many people who cannot afford to pay for such pilgrimages save money for years together. They undergo hardships so that they can go on their pilgrimage. They go there to see the face of God; God is there in our home too, but still they go there because of the purity of that place. Then why should such people face the bullets of terrorists?"
Sureshbhai, who heartily praised Salim Sheikh, the bus driver, for driving speedily despite heavy firing from automatic weapons, says, "If these terrorists have the guts then they should come and fight our soldiers; they shouldn't act in a cowardly manner and kill the old and pilgrims."
"If they don't have the guts to face our soldiers they should wear their wives' bangles and sit at home."
***
'If your mother is not alive today, she will never come back'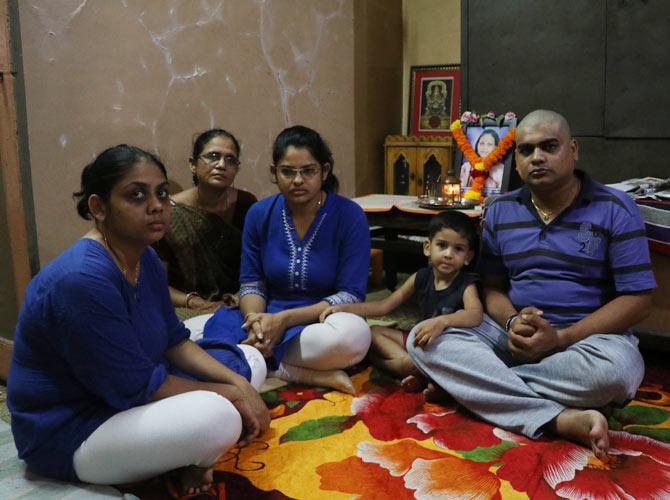 IMAGE: While Surekhaben is no more, Jigar Patel and his family are anxious to know about his mother's last moments before the terrorists' bullets killed her.
When I saw the news on TV I tried to call my mother, but nobody answered the call. Then I called tour manager Yogesh Prajapati at 10 pm who informed that my mother had been hit by a bullet and taken to the hospital. He said, he will call me as soon as he had any information about her condition. When I called him again at 2 am he confirmed to me that my mother was no more," says Jigar Patel in one breath outside his family home in Udwada, Gujarat.
His mother Surekhaben was among those who died in the terrorist attack.
"Why do terrorists kill innocents and old people? Those who go to bow before God? Why don't they try their strength against somebody who is equally strong?" he asks, echoing Sureshbhai.
"I have no idea if security lapses led to this attack. I tried to speak with three people in our area who were in the same bus. But they are so depressed and scared that they are in no position to talk to us about the attack."
IMAGE: Jigar, with the Rs 10 lakh compensation cheque issued by the Gujarat government, says the money means nothing to them.
"Keep your mother on one side and money on the other. Who will you choose?" he asks.
Jigar prays that the tragedy his family suffered should not visit anybody else's doorstep.
"Terrorists should be dealt with in the language they understand, the language they speak. Order not one, but five surgical strikes but finish these terrorists once and for all," he fumes.
"Till the time these terrorists are not finished, my mother's soul will not rest in peace. The whole world must be united and lead a fight to finish against terrorists," he adds.
Jigar's shock becomes visible when he reveals that he spoke to his mother about 30 minutes before terrorists fired bullets at the bus.
"She spoke with me, my wife and my son. She said she was enjoying the tour and they were heading to Katra that night. She was so happy and content that night," he says remembering his last conversation with Surekhaben.
Ask him about the compensation that the Gujarat and central governments have announced, and he says, "Keep your mother on one side and money on the other. Who will you choose? Obviously, your mother. Money means nothing: I have it today, won't have it tomorrow, earn it again the next day. If your mother is not alive today, she will never come back."
***
'And then my father left for his final journey'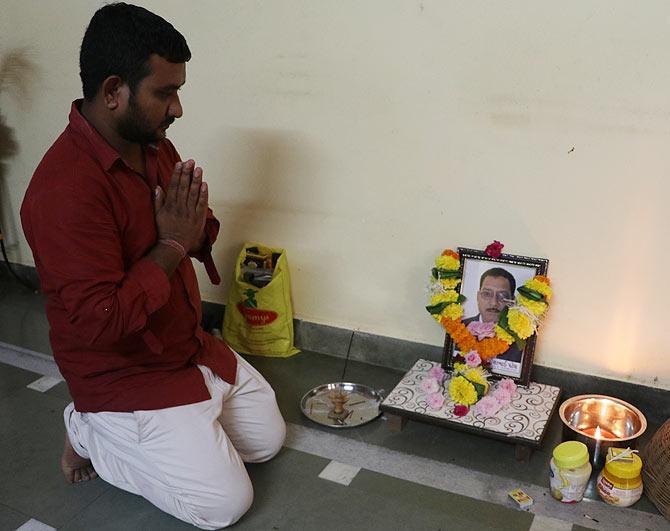 IMAGE: Though his wife survived the terrorist attack, Ratilal Patel wasn't so fortunate.
Ratilal's nephew Ramesh Patel and his wife, who were seated next to them, survived the attack.
When Ratilal Jinabhai Patel's last rites were being performed on July 11, his wife, who was also hit by bullets in the July 10 attack, stood beside her husband's body at their ancestral home in Vadoli, Valsad.
Later that evening when the bereaved came back home after conducting Ratilal's last rites, his wife was admitted to a hospital in Vapi.
The next day she was operated upon to remove bullet shrapnel still lodged in her hand.
"My mother is in shock and we have not discussed what happened that night," Santosh, Ratilal's son, tells Rediff.com on July 12.
On the night of the attack, around 10 pm, one of his uncle called to inform him that a bus full of Amarnath Yatris had been attacked by terrorists in Kashmir.
When they saw the number of the bus flashing on news channels the family knew it was the same bus in which his father and mother were travelling.
When they called the phones of his father, mother and two relatives who were with them, nobody answered their call.
"We desperately called my parents on their numbers, but nobody answered the calls. I didn't even know if they were alive or dead," Santosh recalls the harrowing time the Patel family had that night.
When the media visited their home at 6 am he knew something was wrong.
The day before the attack Santosh spoke with his parents when they had finished the Amarnath Yatra.
"My father told me they would be staying that night there (Baltal) and start their journey the next morning."
"And then my father left for his final journey," says Santosh.
***
'My mother is Modi's mother too; he will punish the killers of his mother'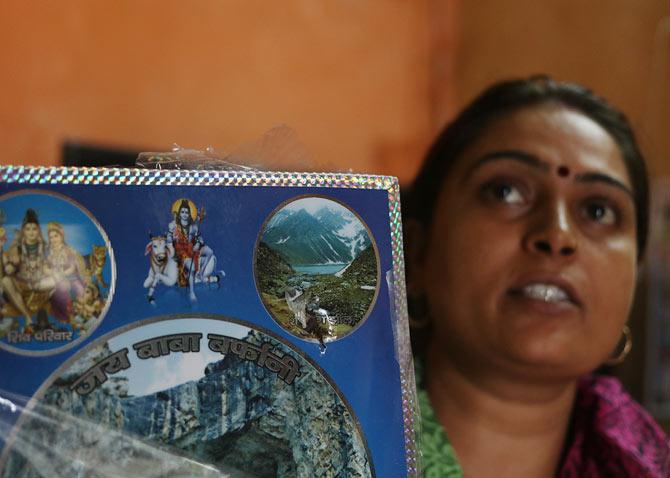 IMAGE: It was not just Nirmalaben's body that was riddled with bullets, says Neetu Singh Thakur, her daughter; even her belongings stored in the bus's boot were in tatters.
Neetu Singh, Nirmala Thakur's daughter, was left with no doubt her mother's bus was attacked by terrorists on July 10 when she saw the bus on TV.
"I recognised the bus the moment I saw it because I had gone to drop my mother at Udwada on July 2 when they started their journey," says Singh, who was at her mother's house in Maharashtra's Dahanu on July 13.
Nirmalaben wanted to meet her daughter on her way to this 20-day tour so she had travelled to Udwada, her pick up point, from Dahanu.
A week after she dropped her mother on that ill-fated bus in Udwada, Singh heard about the terrorist attack on television.
Singh called Pallaviben, who was also travelling on the same bus, the person who had booked her mother on the tour.
"When we called Pallaviben that night she said my mother was alive but injured and so we could not talk to her. But if my mother was alive, if she had even an iota of life in her, she would have made sure to call us and inform us about her condition. I know my mother well," says Singh.
Her brother Pradip had left for Nashik that morning to immerse her mother's mortal remains in the Godavari.
The next morning, television channels flashed Nirmalaben's name among those who had died in the attack and the Thakurs' worst fears had come true.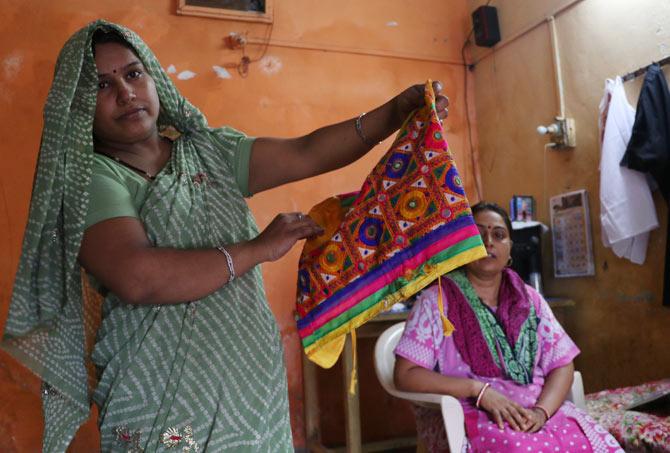 IMAGE: Nirmalaben's daughter-in-law shows the bullet-riddled jacket she had bought as a gift for Neetu Singh Thakur's son.
Singh wants this terrorist attack to be avenged.
"I know I have lost my mother, but have full faith in my brother Narendrabhai that he will not spare even a single terrorist. He will hunt them out and finish them off," she says.
"My mother is his mother too. He will punish the killers of his mother," Singh adds.
"Lakhs of faithful are going for the Amarnath Yatra. I would request him to provide more security to them so that they can bow before God without fears of terrorists."