Look! Who came to meet NaMo!
How often does the prime minister of India have a toddler come by to meet him?
Bhutan's 21-month-old Crown Prince Jigme Namgyal Wangchuck accompanied his parents King Jigme Khesar Namgyel Wangchuck and Queen Jetsun Pema Wangchuck when the Bhutanese monarch met Narendra D Modi at the prime minister's office at 7, Lok Kalyan Marg -- nee 7, Racecourse Road -- on Wednesday, November 1.
The visitors from Thimpu chose not to leave their only child with a nanny as they caught up with Indian leaders.
Earlier in the day, little Jigme was spotted with Sushma Swaraj when his parents called on the external affairs minister.
Both NaMo and Jigme seemed understandably awkward at first, but the little prince and India's current Shahenshah clearly warmed up to each other as the photographs below -- kind courtesy, the Press Information Bureau -- indicate.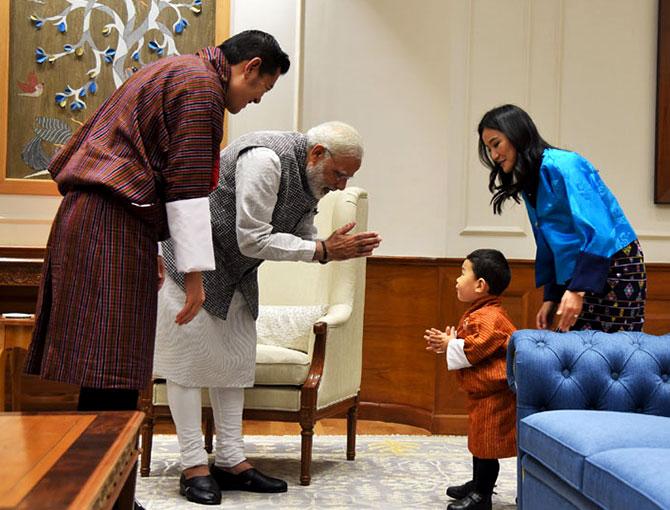 IMAGE: 'Agay (that's grandfather in Dzongkha, the Bhutanese language),' Crown Prince Jigme Namgyal Wangchuk seems to say, 'I wasn't around in Thimpu when you came to see my Apa and Ama, having been born 18 months later.'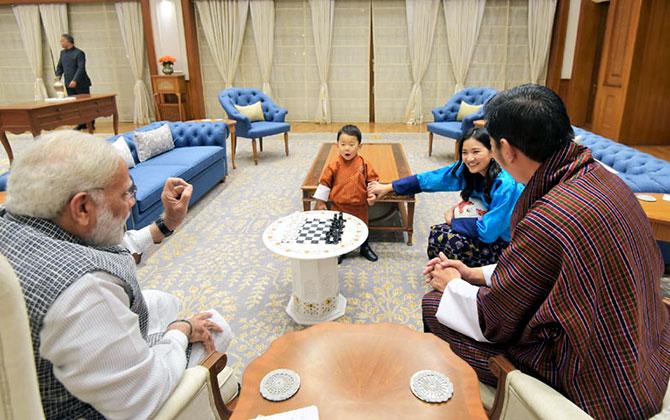 IMAGE: Agay explains the origins of the chess set he presented the little prince to his parents. Jigme, who is much too young to play the game, seems pleased with the gift.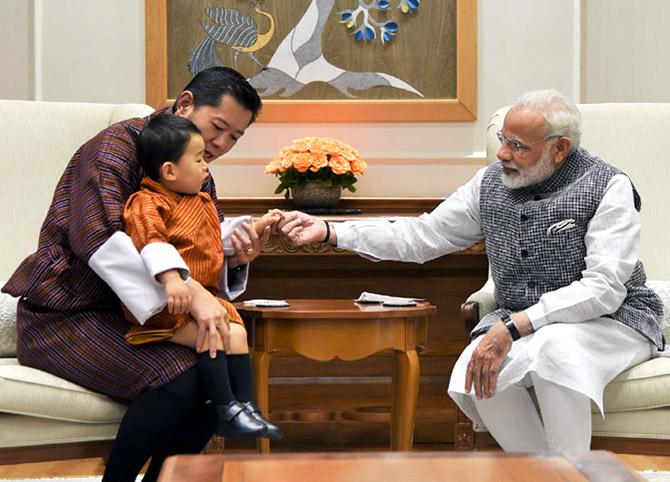 IMAGE: Jigme and Agay have a little finger tugging contest.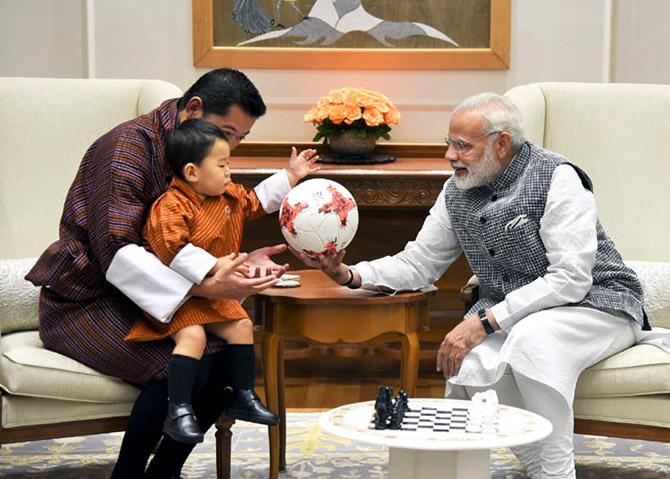 IMAGE: Look what Agay got little Jigme! A football from the Under-17 World Cup, no less. We bet the king can't wait for his little boy to grow up a tad bit to kick that ball with him.