By July, Modi could decide to call an early Lok Sabha election in December 2018 along with 20 state assemblies where the BJP is sure of winning, reports R Rajagopalan.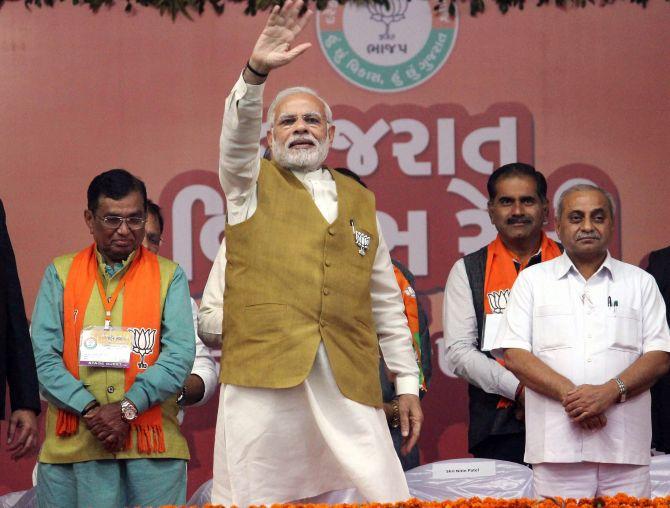 IMAGE: Prime Minister Narendra D Modi at an election rally in Gujarat. Photograph: PTI Photo
After a closely fought battle in Gujarat in December, Prime Minister Narendra D Modi seems to have kick-started preparations for the next round of assembly elections this year and the 2019 Lok Sabha election.
Modi met with Bharatiya Janata Party President Amit A Shah and his team this week to plan the critical electoral battles ahead.
Lasting over three hours, the dinner meeting saw Modi urge BJP leaders to employ fresh communication strategies in election-bound states.
"The PM has reiterated the importance of millennial voters in his speeches, and the Bharatiya Janata Yuva Morcha has begun making plans for that," a source privy to the meeting said.
By July, Modi could decide to call an early Lok Sabha election in December 2018 along with 20 state assemblies where the BJP is sure of winning.
In the normal course, assembly elections are scheduled in three north eastern states -- Meghalaya, Nagaland and Tripura -- by March.
Karnataka is scheduled to go to the polls in April-May.
Rajasthan, Chhattisgarh, Madhya Pradesh and Mizoram go to the polls by December.
At a recent Niti Aayog meeting, Modi tossed up the idea of holding simultaneous Lok Sabha and assembly elections.
Modi has been asking searching questions of the ministers who enjoy his confidence -- Finance Minister Arun Jaitley, Home Minister Rajnath Singh, Transport Minister Nitin Gadkari, Minister of State for Railways Piyush Goyal and Defence Minister Nirmala Sitharaman -- about the desirability of an early Lok Sabha election.
Last week, Modi put this question to two governors whom he respects for their analytical approach.
The PM feels emboldened to announce an early general election along with state assemblies as he believes he does not face any opposition either inside or outside his party.
The Modi-Shah combine faces no discernible opposition within the BJP. Even the Rashtriya Swayamsevak Sangh, which has a history of interfering in previous BJP-led governments, has virtually no say in the Modi-led National Democratic Alliance government.
The main Opposition party, the Congress, is still settling down under its new president Rahul Gandhi.
Even though Modi enjoys the cushion of his popularity, the main obstacle to an early general election is the unpredictable monsoon.
A bad monsoon can easily ruin Modi's plans.
If the rain gods don't play ball, Modi's plan B is to win over farmers with a soft Budget.
He wants to get the monsoon session of Parliament going and ensure that the nation debates the holding of simultaneous elections to the Lok Sabha and state assemblies.
A final political call is likely to be taken by July, by all available indications.
But it's not that the Modi-Shah plan faces no problems.
According to reports, some BJP MPs do not attend Parliament over reports that the leadership is not interested in giving tickets to at least 50% of sitting MPs.
There is also the matter of clashes between ministers, including those who are seen as close to Modi.
Defence Minister Nirmala Sitharaman and Transport Minister Nitin Gadkari sparred over the latter's statement that 'not an inch' of land would be given for naval housing in south Mumbai and that naval personnel should instead be deployed at the Pakistan border.
Information and Broadcasting Minister Smriti Irani faces the wrath of officials in her department after she transferred some 125 officials this week.
RSS leaders are unhappy with Finance Minister Arun Jaitley's 'soft handling' of his predecessor P Chidambaram's cases.
Incidentally, the Atal Bihari Vajpayee government, buoyed by its India Shining campaign, had advanced the 2004 Lok Sabha election, apparently against the then prime minister's wishes.
Much to the BJP's shock, the Congress and its future allies -- what came to be known as the United Progressive Alliance -- won the 2004 election, and the one that followed five years later.
R Rajagopalan is a senior journalist based in New Delhi.