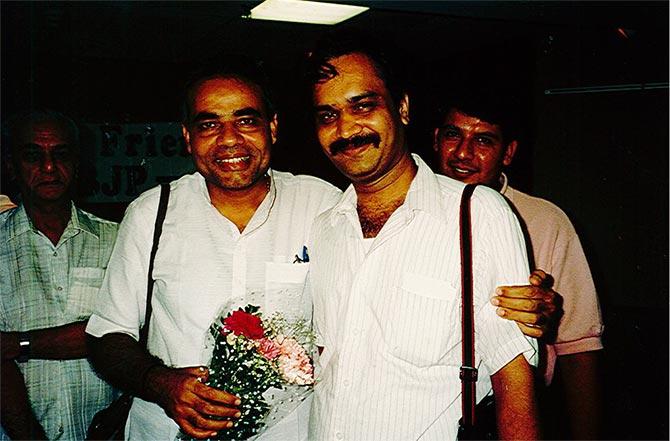 'Only he can bring change in India that all of us have been dreaming of since we saw America for the first time when our plane touched down at JFK airport.'
Narendra Modi's friends in New York and New Jersey travel down memory lane and remember a simple man with great ambition.
Sheela Bhatt/Rediff.com tracks down the Modi bhakts, who knew since his first visit in 1993 that he was destined for bigger things.
'I will visit the US only when they spread the red carpet.' This is what then Gujarat chief minister Narendra Modi told his friends Suresh Jani and Rasik Patel in early 2013.
When they asked about Modi's visa status, he sternly told them not to lobby for it. Instead, they say, his confidence suggested that a time would come when the US government would invite him honourably to Washington.
Modi must have the last laugh today.

Patel and Jani belong to Mehsana, a city located in the same area of Gujarat from where Modi hails. Patel runs the Real Coconut Water Company that procures coconut water from his company in Sao Paolo, Brazil and imports it to the US. Jani is the founder member of the Overseas Friends of BJP in the US along with Dr Mukund Modi.
The OFBJP has flourished and now has 22 chapters across the country. Dr Modi is no more, but Atal Bihari Vajpayee inspired them to work for the BJP in America. The saffron network has created a frenzy around Modi amongst his followers since he become prime minister.
Jani and Modi met at one of the Rashtriya Swayamsevak Sangh shakhas in Gujarat when Modi was studying and cycling to work, Jani remembers.
He is an old-style RSS grassroots level worker who owned a convenience store in midtown Manhattan. Jani is thrilled that the man who once stayed at his humble home in Jersey City is today India's prime minister.
Humbly showing pictures of Modi and him at New York's John F Kennedy airport in 1993, he tells Rediff.com, "Our story is like Krishna and Sudama. I have remained where I was and Modi has moved on to become prime minister of India."
"I went to the airport to receive Modi when he arrived in the US for the first time in 1993. Then he came in 1997 and once more in 2000."
"Modi," says Jani, "always wanted to do something for India. He had ideas. He always wanted to make it big in life. Even in 1993, he had an inner desire that he should become something great. (Ene andarni ichcha hati ke hun kai banu)"
America is not new for Modi, says Jani. He knows America well, particularly New York.
When he first came in 1993 he travelled to the East and West Coast and also to Chicago and Boston. Then for four days he stayed at Jani's home in Jersey City. He had come with two jholas (bags) and another small bag. He was wearing simple cotton clothes and an HMT watch, Jani recalls.
"Over the years there is not much difference in him. I find his clothes have improved a lot though now," he adds.
"What I remember distinctly is that after arriving in the US he behaved differently from other Indian politicians. He had migrated from the RSS to the BJP and was already an office bearer, but he was simple. He is quite a religious man. On arrival when asked he requested my mother to cook khichdi. He told my mother to cook a little more."
"At breakfast, he likes to consume khichdi that is kept overnight and warmed up with oil and chillies or garlic. On the day of his arrival he slept early and got up around 5 am. He does puja every day. He did it in my home too, wearing pitambar (a saffron-yellow dhoti) and kurta."
"My mother liked Modi so much that when he was leaving, she blessed him and predicted that one day he would become a great man. She gifted Modi $51 as a shaghun (an auspicious symbolic gift). Around eight years later, when he was about to be sworn in as chief minister, Modi called and asked me to connect him with my mother. He said he still remembers the shaghun and her blessings. Then my mother told him 'You will become bigger'," he says.
Once, Jani remembers, they went to Lexington Avenue where many Indian restaurants are located. Modi preferred a North Indian restaurant. The waiter told them that the meal would cost $13 for 13 items.
When Jani was paying the bill, Modi went to the cash counter and said they were served three items less, so how could the restaurant charge the full amount without serving what was promised. So he got a discount of $6 on the bill. That amount Modi asked Jani to give the waiters as a tip. Then Modi advised Jani, 'Never pay money in haste.'
Modi, Jani says, had come to America prepared. He had read all about the sight-seeing and historic places. He wanted to see the Empire State Building and the Statue of Liberty. When Jani and Modi visited the Statue of Liberty, he asked Jani, 'Why can't we make such statutes in India?'
Modi and other BJP leaders in those days were actively involved with Mahesh Mehta in promoting the Vishwa Hindu Parishad in America. Arvind Patel, another fellow Gujarati from Mehsana, is also a Modi bhakt. Hundreds of Indian Americans like Rasik Patel and Arvind Patel have contributed time and money to make the VHP and OFBJP hyper-active.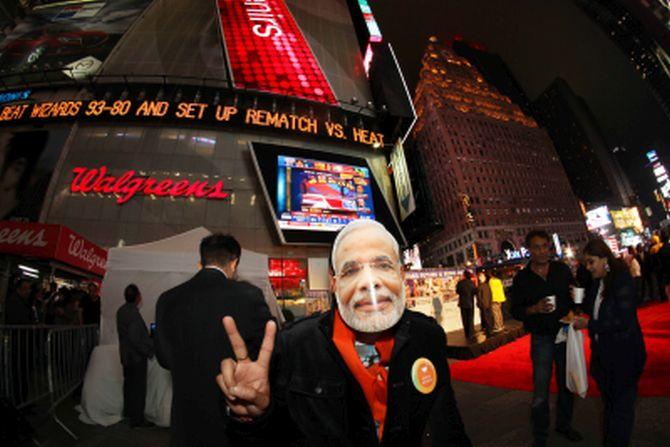 When Modi and the BJP won the general election on May 16, these Gujaratis celebrated at midnight at New York's Times Square. Arvind Patel distributed more than 50,000 packets of sweets to celebrate Modi's elevation as prime minister.
Modi's visit to the 9/11 memorial on September 27 will be his second visit to the World Trade Centre area. During a previous visit he had been to the World Trade Centre where Rasik Patel's family owned a store. They were, then, the biggest sellers of Lotto lottery tickets in New York. "We just want that the Modi magic must work," says Rasik Patel.
Modi has unusually loyal friends in the BJP chapter here. One is Rupesh Trivedi who owns the Duraport Rail and Marine Terminal. He is the first Indian American who owns a private port handling 4 million tonnes cargo annually near New York and exports metal to India. He is now expanding into the green energy business.
Trivedi works for the VHP. People like Trivedi, Jani and Patel are the backbone of Modi's support base in America. America is their adopted country, but India lives in their hearts.
"We want to see India progress. Modi is our dream merchant," Rasik and Arvind Patel say. "Only he can bring change in India that all of us have been dreaming of since we saw America for the first time when our plane touched down at JFK airport."
Photographs: Top: Narendra Modi with Suresh Jani in 1993. Below: Modi supporters celebrate at Times Square on May 16, 2014.