Behind the movement are shock-workers functioning quietly to ensure that a seemingly spontaneous, apolitical, grassroots mobilisation sustains itself without dribbling into chaos or violence. Sai Manish lists some of them.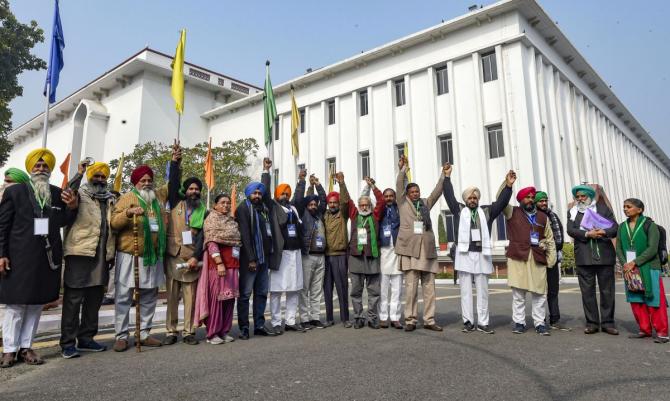 There are visible faces. And there are the unseen forces.
The farmers protesting outside Delhi for more than a month against the three farm laws passed by the National Democratic Alliance government seem to be a confusing mass of discordant voices, mostly from Punjab.
This is only part of the story.
Behind the movement are shock-workers functioning quietly to ensure that a seemingly spontaneous, apolitical, grassroots mobilisation sustains itself without dribbling into chaos or violence.
The challenges are many.
These are hundreds of villages on wheels, congregating as a small town on Delhi's doorstep.
The movement needs to fuel itself adequately to hold the fort till its demands are met.
Someone needs to provide constant ideological ammunition to keep the faith in the cause.
These are the cogs that have kept this wheel moving so far.
Here are some of the faces -- behind the mass.
Back-end manager: Jagtar Singh (40)
The Bharatiya Kisan Union (Ugrahan) has mobilised over half the estimated 3,00,000 protestors assembled outside Delhi from all corners of Punjab.
And Jagtar Singh, 40, is one of the 22 in charge of districts and one of the thousands of BKU (Ugrahan) workers spread across most villages in Punjab, mobilising farmers.
As the person in charge of Sangrur district, he also deals with the local press but much of the time was and is being spent on building the protest.
"We go to villages and tell people how the new farm laws will destroy their future by making them slaves of big companies. The sarpanches then go to every street in the village to spread the word. Villagers have come forward in such huge numbers because they have realised that privatisation has harmed them," said Jagtar.
So when passions are aroused and villagers come forward to join the protests, the work of Jagtar and his team increases.
"We are actually restraining people from moving to Delhi at the moment. Many approach us to join the protest every day, but we have to coordinate movements to Delhi to ensure it remains manageable. We form teams of 20-50 people to travel in convoys, depending on the size of the village and our teams help in deciding the amount of ration each can carry in their trolleys," he said.
Millennial force: Parminder Singh (27)
While Jagtar and others of the BKU (Ugrahan) back in Punjab are coordinating movements of entire villages to Delhi, Parminder Singh and his team of 20 people ensure that these protestors are made visible to the whole world.
Parminder is in charge of the social media of the union and hails from Gharachon village, Sangrur district.
A Legum Baccalaureus (LLB), Parminder is training to be a lawyer but has been on the Delhi border since the protests began.
There are protests within the protest at Singhu and Tikri, which Parminder's team live streams on Facebook, and posts pictures on Instagram and other platforms.
"Around five- to seven-member teams are always on motorcycles or tractor trolleys and trucks, capturing every protest and streaming it live.
"Since the protests began, we have increased our Facebook following from 40,000 to 170,000. More people are following our pages every day."
Communist thrust: Vijoo Krishnan (46)
A common defining factor among all farmer unions irrespective of their political affiliation is the sheer mistrust of corporates and privatisation of agricultural markets -- something core to communist ideology.
And while his senior colleague Hannan Mollah, a Communist Party of India-Marxist MP, is leading the talks with Amit Shah and company, Vijoo is on the ground, helping farmers understand the new laws minus the legalese.
Vijoo explains that the coming together of around 40 farmer unions with millions of members wasn't as spontaneous as it looks.
"Since 2014, we have been working with various unions over the adverse impact of the land acquisition ordinance and later through the Bhumi Adhikar Andolan to prevent it from becoming an Act. The coordination further strengthened after the Mandsaur firing on farmers when everyone came together to make farmers free from debt," said Vijoo.
He further strengthened his credentials as an efficient mobiliser by playing a critical role in the Mumbai long march of farmers in 2018, which put the then Bharatiya Janata Party-led government in a spot.
"When these laws were introduced as ordinances in June last year, we held public meetings with farmers at 3,600 locations across India to explain their impact on them. Then we planned a nation-wide mobilisation. But farmers from Punjab took the lead. It is unprecedented," he said.
Secret strength: Shiromani Gurudwara Prabandhak Committee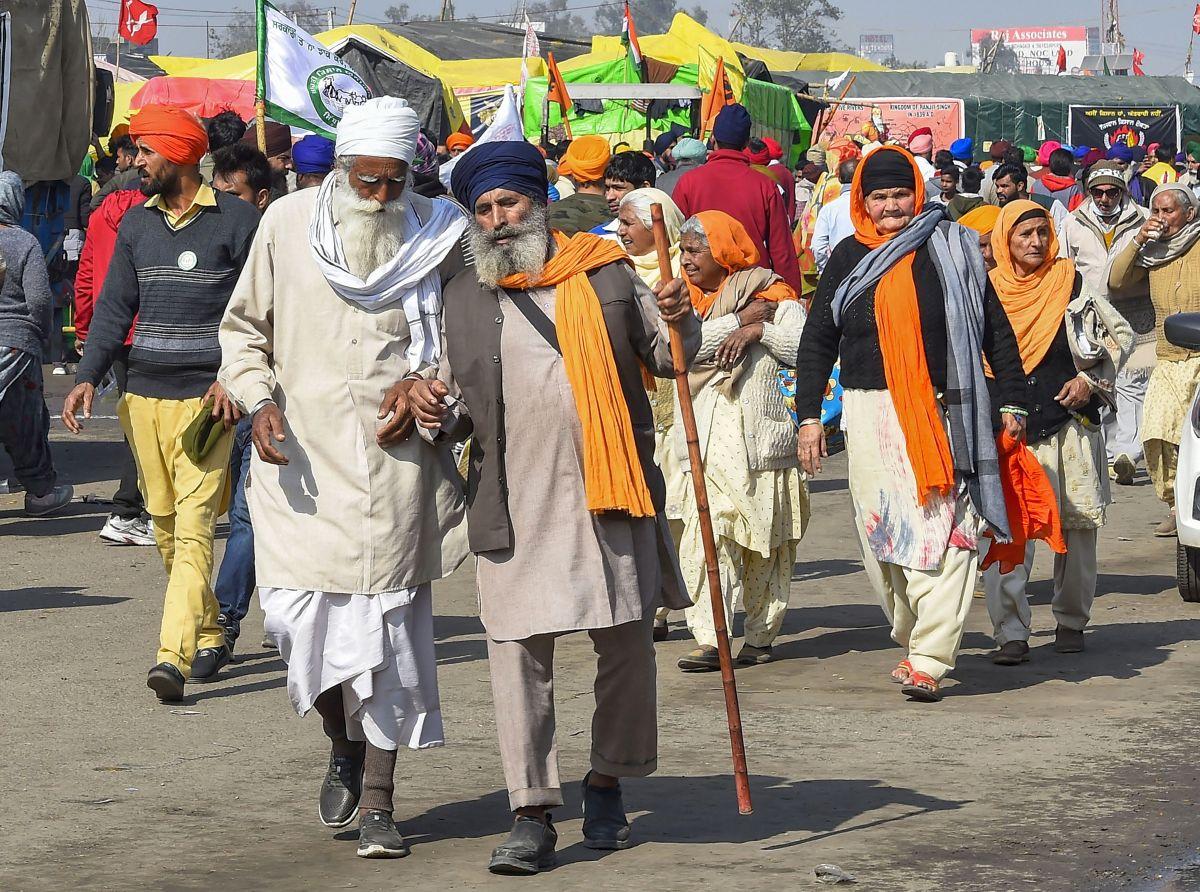 The Akali-controlled SGPC has played a key role without its President Bibi Jagir Kaur hogging the limelight.
The body, which is responsible for managing Sikh places of worship and preserving religious texts, has been involved in quite literally everything at the protest site.
Its Delhi arm, the Delhi State Gurudwara Prabandhak Committee, has ferried hot food, often more "luxurious" dishes like saag-paneer, from the Gurudwara Bangla Sahib to supplement the relatively simple meals of lentils and potatoes, being cooked on the road by farmers.
Harjinder Singh, chief secretary to the SGPC, said: "We have provided eight large tents capable of housing hundreds of people. We organise four langars every day. We have provided 400 buses to farmers to stay in, and over 5,000 mattresses and blankets, in addition to books and other literature. We have three medical teams and provided Rs 1 lakh to the family of a farmer who died recently. We will provide whatever the farmers ask for."
Rural Robin Hood: Sukhdev Kokrikalan (71)
While few can match the CPM's mobilisation efforts, many in the CPM are in awe of how the BKU (Ugrahan) led the protests in Punjab, and later brought lakhs to Delhi from the state.
While the most visible face of the BKU-Ugrahan is Joginder Ugrahan, the union's general secretary Sukhdev Kokrikalan has played his part in getting the masses on board.
Kokrikalan explains that the union's history of fighting for the rights of those without a voice helped it gain universal support for the present protest.
From protesting for teachers being paid reduced wages to ensuring release of farmers arrested for cheque bounce cases, or launching agitations for better civic facilities, Kokrikalan has built a big base for the BKU-Ugra­han to tap into.
"Since launching protests against Narasimha Rao's decision to join the World Trade Organization to this movement to repeal of draconian farm laws against PM Narendra Modi, we have worked for vulnerable people, which has earned us their trust and respect. Even in villages where we do not have units or workers, people ask us for our flags and batches to protest under our banner. Many have joined us to be part of this movement voluntarily. They know that if these laws are not repealed, big corporates will turn Punjab's proud farmers into landless computer operators."
The Akali factor: Sikandar Maluka, 71
The Shiromani Akali Dal (SAD) walked out of its alliance with the Bharatiya Janata Party and has made every moment count ever since.
As the head of the farmers wing of SAD, Maluka along with others have ensured that affiliated unions play their part.
The Badals' hold on the transport sector has helped in steady requisitioning of trucks and buses. Many truckers' unions too have lent their support to the cause. The party has ensured a large- scale fund raising and mobilisation exercise across Punjab.
"All our rank and file from the circle heads to senior leaders are working in their strongholds. We raise anywhere between Rs five lakh to 10 lakh in villages and use them to buy and transport essentials. The SGPC has also helped a lot."