The future is uncertain and the past painful.
So, Abdul Samad chooses to focus on the present, taking one day at a time, seeking solace in a game of chess in a bustling city.
Shivani Khandekar meets Chess Uncle.
Illustration: Dominic Xavier/Rediff.com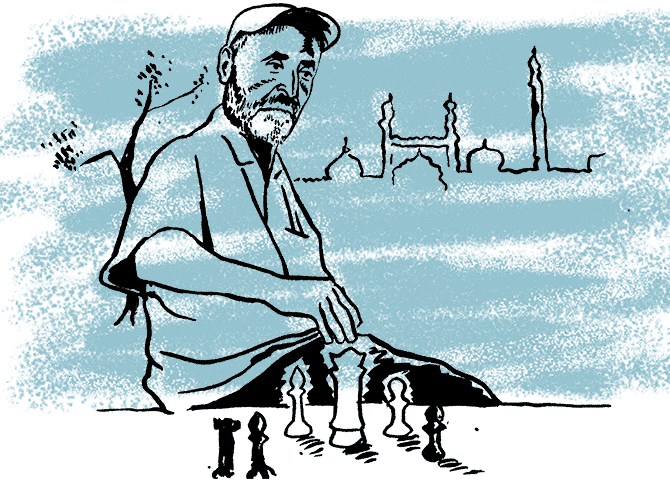 It is a warm afternoon at Central Park in Connaught Place, New Delhi.
A group of people is gathered around a man with salt-and-pepper hair and eyes that crinkle every time he smiles.
There is nothing out of the ordinary about him, except that he is accompanied by a small chess board made of paper that he places his chess pieces on -- something he hasn't left home without in over 40 years.
Abdul Samad, or 'Chess uncle' as he is fondly called, left his native town in Jalalabad, Afghanistan, and came to Delhi over three years ago.
He picked up chess while in college (he couldn't complete his graduation though) and the chequerboard has been his companion ever since -- a passion that gives him solace as he lives the life of a refugee in Delhi.
So, every day, from 11 am to 8.30 pm, and sometimes till 9.30 in the night, you will find this 58 year old sitting in Central Park playing chess with anyone who would care for a match. He takes a bus every morning to reach here. The journey, he says, costs him Rs 10.
His earlier spot was outside Palika Bazaar, the bustling underground market at Connaught Place, before the police politely escorted him to the new location.
"People thought I was taking away their audience (and perhaps even customers)," he says.
Samad is also a regular at the Azad Chess Club near Gate No 2 of Jama Masjid.
Besides those who come to have a match with him, there are some who want to learn the strategy game from him.
He never charges them, but plays for the joy of it.
The spectators are always welcome to challenge him. He has some regular opponents, too, who sometimes come for multiple bouts of the game during the course of the day.
A peek inside his backpack reveals a worn out piece of cloth that he says he uses to place his board on.
He also carries a small sandpaper to sweep off dirt from the public tables or benches where he places his chessboard.
"Mujhe saaf-safai pasand hai (I like things to be clean)," he says.
Samad refuses to reveal where he lives in Delhi. His children -- two of his daughters live in the US -- send him money that sees him through the month.
He has never visited them in the US, though he says he has been to Russia (Moscow), Germany and The Netherlands.
He recalls how he crossed the Pakistan border once and was put in jail there for three years.
"I would play with the inmates," he says with a grin. "In the absence of proper chess pieces, we used to make them with aata and rice that was available in plenty."
When not playing chess, Samad listens to Bollywood songs, another interest he developed while in college. They make him both happy and nostalgic.
"(Mohammed) Rafi is my favourite," he says. His Hindi is crisp, much of which he picked up from watching Bollywood films since he was 15. He rattles off the names of singers and actors: Kishore Kumar, Dharmendra, Raaj Kumar... He says he has watched Sholay multiple times.
Earlier this year, BBC (Hindi) made a documentary on him titled, well, Chess Uncle.
Born to a family of five sisters and three brothers, Samad briefly worked in a German company in war-torn Afghanistan.
As things got tough, he sought asylum in India. "Mujahideen groups have rendered the country lifeless," he says sadly.
"There is no aman (peace). It compelled us to flee the country."
This year in May, his refugee card expires. If he does not get permission to stay on in India, he will have to return to Afghanistan.
The future is uncertain and the past painful.
So, Samad chooses to focus on the present, taking one day at a time, seeking solace in a game of chess in a bustling city.