A Ganesh Nadar/Rediff.com visits the village in Tamil Nadu that shot into national prominence in 1981 when half the Dalits there converted to Islam. He spoke to the Hindus and Muslims and came back with two very different stories.
In 1981, Meenakshipuram, a small village near Tenkasi in Tamil Nadu's Tirunelveli district, leapt into the national limelight when half the Dalits there converted from Hinduism to Islam.
Now 33 years later, those who converted to Islam say they are happy, but don't want anyone to know and those who remained Hindus say they are not and want everyone to know.
In Meenakshipuram you will find neighbours, belonging to different religions, but from the same family.
The Muslim story: 'We are happy to be equals'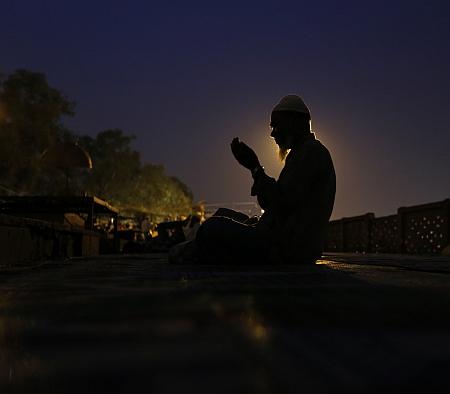 A middle-aged man tells Rediff.com, "It is more than 30 years since we converted. How the hell does it matter today? Why can't you leave us alone? By reporting this, what goals are you helping us achieve?"
A young man nearby says, "I am very happy that my parents converted. I studied up to the 10th standard and I am working in a shop. We cannot talk to you, our village elders have told us not to talk to the press, so please go and speak to them."
The village elders agree to speak to Rediff.com as long as we did not ask for their names or take photographs.
The eldest, who seems around 70, says, "We converted to Islam because there is no social discrimination and we are all equals. We wanted to be treated as equals and now we are happy that we chose to convert. We are being treated as equals."
This is what he told Rediff.com:
Why the diktat that no one should talk to the press?
Journalists from an English newspaper and a Tamil magazine came here and we spoke to them. Another Tamil magazine published a story about our village without even coming here.
After the interviews, many of our friends called, asking us why we were drawing attention to ourselves.
When we go outside the village, we don't want to be attacked. I agree that we have never been attacked for being Muslims. I don't even know if you will write what I tell you or what you perceive.
Why are you so opposed to journalists?
I am not against the media. Don't you read the newspapers? Conversion is a big issue today. They are converting people back to Hinduism. So we don't want to talk about conversion even if ours happened over three decades ago.
How does reconversion help? It is a volatile issue. We don't want to talk about it.
How many families live here?
There are 215 families with 860 members. We are farmers. There are a few who own land. We work in each other's fields even if we own land.
What about education?
There is a primary panchayat school in the village, then till 12th we have to go to Panpoli village which is 3 kilometres away or Chengottai which is 5 km away. There is a matriculation school, English medium, near our village, those who can afford their high fees go there.
And higher education?
There is an arts college for girls at Kuttalam, 10 km away and another 28 km away and a private engineering college about 15 km away. The nearest government engineering college is in Tirunelveli.
How many of your children have gone for higher education?
We have 10 engineers, another 10 in engineering college and one girl in medical college.
I know we lost out on reservation, but that doesn't bother us. We don't want reservation. We are happy to be treated as equals.
What about marriage?
We marry within our religion. Most of the marriages have taken place in and around Tenkasi. We like our kids to be nearby.
Image, published for representative purposes only.
The Hindu story: 'Nothing has changed for us'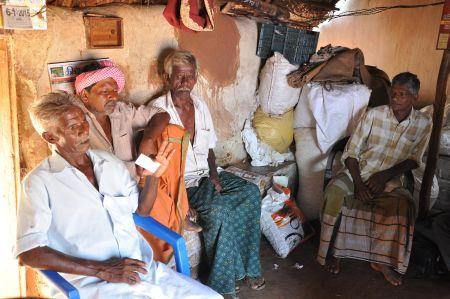 Like the Muslims, the Hindus also have their village leader and we are directed to speak to him.
He meets us in the village tea shop surrounded by people. Everyone interacts with us, but the leader does most of the speaking.
M Karuppiah, 67, is a farmer. He says most of the Dalits are farm labourers with a few having small land holdings. When we ask him about the conversions in 1981, he says, "We have our village temple here. We have our God. We did not want to change our God and therefore we did not convert. We have no regrets about not converting. We are happy as Hindus. But the problem we faced then, we still face today."
Here is what he tells Rediff.com:
Are any of you involved in business?
We have 500 families here and no one is doing business. You know why? Except our people, no one will come to our shop to buy anything.
Even if we open a shop in the nearby town of Tenkasi the minute they find out we are from Meenakshipuram, they will not come to our shop.
Maybe if we go to Chennai and do business then people might interact with us, but who has the money for that.
If you sell everything cheap, people will come to your shop.
You want us to run a business at a loss just to make people come to us. The business won't run very long.
Another villager interjects, "People hate us, we don't know why."
How many have regular jobs?
We have two doctors, six in the police, two working in the railways, two teachers and one of our villagers works in the Koodangulam Nuclear Power Project.
What about marriage?
We marry among our own people settled all over Tamil Nadu.
You said the problems you faced then, you still face today.
At that time, an upper-caste Hindu was murdered. Our entire village was targeted with violence. The police should have been impartial, but they supported the upper-castes. So many villagers left because of that.
In sheer desperation, half our villagers converted. After that, leaders came down from Delhi. Our village was in every newspaper in the country. We told them our problems and the government became impartial after that. We were safe from police action.
Today the government is impartial, but the caste clashes haven't stopped.
You must have seen policemen sitting in the middle of the village. A month back some young boys from our village got involved in a brawl with upper-caste boys from another village. It could have stopped with that as both groups were drunk.
But it did not. Since then, their people have attacked our boys twice and our people have attacked their boys twice.
When the police called for a peace meeting, from our side we and our Muslim brothers went together. The upper-caste people brought their own people.
So you see we are peace with the Muslims here, but we are not at peace with people from our own religion.
That is why I said nothing has changed in over 30 years.
Image: Hindu villagers in Meenakshipuram with their headman, M Karuppiah.