'Serious crimes of this sort cannot be excused merely because he has a family.'
P Rajendran/Rediff.com was in the courtroom last week when Mathew Martoma was sentenced to nine years in prison for insider trading. This is what he saw:
Accused, convicted and condemned in a five-week trial in February, Mathew Martoma had a long wait -- at least partly driven by his own law team -- before he could actually get sentenced at the Thurgood Marshall United States Courthouse in downtown Manhattan.
So first it was to be June 10, then July 28, and finally September 8. And then the courtroom moved from 705 to 110. Not that it mattered but these things prey on the nerves.
How much longer it took while waiting for the judge is harder to gauge since cellphones, which nowadays double up as timepieces, were banned from the courtroom.
The room was inanimate witness to the trials of Ethel and Julius Rosenberg (on charges of spying, 1951), WorldCom's Bernie Ebbers (accused of securities fraud, 2005) and Martha Stewart (like Martoma, pulled in for insider trading, 2004). Still noticeable is the odor of varnish on the 13 long spare benches with their ends topped with small fleur de lis moldings. The varnish is perhaps a lingering legacy of last year's courthouse restoration.
Wait long enough for things to get going and visitors can count the 40o recessed lights, and four pendant lime-green chandeliers that look like inverted jellyfish, with an indeterminable number of lights within; the black granite walls that go up about eight feet before giving way to another 15 feet of wood -- decorated with Ionic pilasters that flank the 12 rounded arch windows that are complete with faux keystones and rosettes and of which only six actually let in light; and a limp American flag draped decorously around a pole a little to the left of the judge's chair.
On the right of the chair, atop the granite, is the baleful still eye of a white camera. An equal distance to the left of the chair is might be another one -- black, though.
The burgundy floor is covered with golden laurel wreaths surrounded by a plenitude of stars. By contrast, the roof is covered with a mosaic of blank squares bordered with swastikas much like that at the Haus der Kunst in Munich. It risks giving the wrong idea in a court named in honour of an African-American judge.
On the benches, at least two people had found refuge in The New York Times, while another located something particularly riveting in The Economist. One man fidgeted in the throes what looked like stress, and one woman read a book, but most others just sat around waiting for the waiting to end.
Members of the family and friends sat in the first two benches to the left of the room -- as seen from the entrance. For the most part they sat in lonely silence, leaning over to speak to one another and then swinging back into their private zones.
Three court artists industriously sketched away, peering myopically -- and perhaps intrusively -- at the family through small binoculars. Official photographs and actual recordings may have the benefit of accuracy and detail, as the United States Congress may have discovered to its detriment, but the courts keep them out.
Two court officials seated right beneath the judge's chair and facing the audience appeared to have evolved their own responses to ennui: A black-suited one arising at intervals and looked around the courtroom, the other, in a fawn coat, just looking nervous.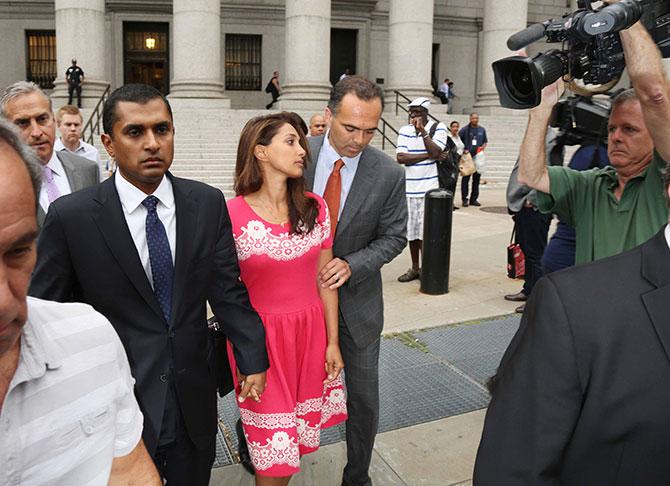 Hunched up, the black-suited Martoma, 40, sat facing the judge's empty chair, separated by a divider from his family and friends behind.
When he did come in, Judge Paul Gardephe got going fast, speaking in a low monotone as he went over the matter of forfeiture. He let the defense and prosecution argue for the length of sentence each thought appropriate before he began speaking at some length about Martoma's insider trading deal with Dr Sidney Gilman and Dr Joel Ross, who were involved in the research.
Despite signing a non-disclosure agreement Dr Gilman let Martoma know of the failure of tests on bapineuzumab, a drug developed by Elan and Wyeth, which SAC Capital, Martoma's company, had pushed a lot of money into. Just before the failure of the drug was announced, SAC Capital sold Elan and Wyeth securities.
Martoma had cultivated Dr Gilman for two years, who turned federal witness later.
Describing Martoma's deals as deeply corrosive to the financial markets, Judge Gardephe made clear his interpretation of the laws of forfeiture. Yes, Martoma would have to pay the illegally earned $9.4 million and, no, he could not waive the tax he paid on that. This was, after all, a punishment, not merely a collection.
The defence had asked that the restitution amount not exceed $6.5 million; as per court filings, Martoma's current assets are only worth about $7.4 million as he had to pay about $3.1 million in taxes.
The court ordered the forfeiture of Martoma's house in Boca Raton, Florida; funds on deposit in banks in his and his wife's accounts and also in the name of the Mathew and Rosemary Martoma Foundation.
Judge Gardephe sentenced him to 9 years in jail -- 5 years imprisonment on count one of conspiracy and 9 years imprisonment on each for counts two and three for securities fraud, all to run concurrently -- and probation for 3 years after the release.
He rejected concerns expressed about the effect a long sentence would have on Martoma's family -- defence lawyers had asked him to show mercy and sentence Martoma to a term of no more than two to three years in prison -- saying that if he considered just that he would not be doing his job as a judge.
Martoma should have considered that when he decided to make his desperate play to collect big winnings, the judge said.
He said that while he had read around 140 letters describing Martoma as a good man, there was good and bad in everyone. Martoma's dark side, he added, had been evident even at Harvard, where he forged transcripts.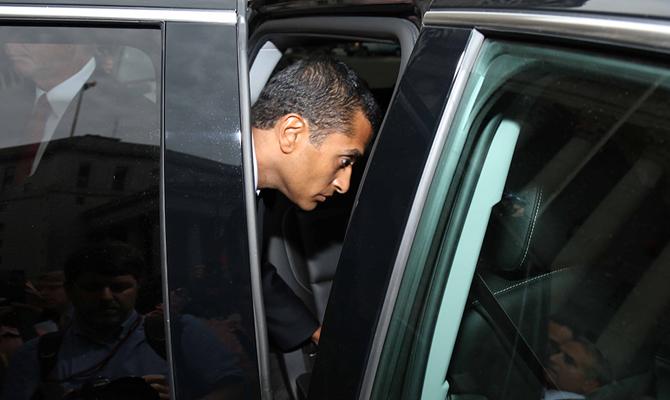 Judge Gardephe said there was nothing accidental about what had happened; Martoma had planned it.
'I don't think Martoma's offence was limited to a two-week period,' he said, adding that the former trader 'put all of his eggs in one basket... One big score that will give him financial gain. The plan worked. Now he has to (pay the price for it).'
The defence had argued that it was unfair to give a long prison sentence for a single incident of insider trading. In his 25-page decision Judge Gardephe said it was appropriate for him to consider all of the $275 million in profits and avoided losses made by Martoma and Cohen: 'The sums here are staggering, and the size of the punishment must be sufficient to deter others.'
'It's always tragic when parents are separated from children,' he said at one point.
'The sentence is a catastrophe for the family (and) always unfair to children,' he said. 'Serious crimes of this sort cannot be excused merely because he has a family.'
The court ordered Martoma to surrender for service of sentence at the institution designated by the Bureau of Prisons before 2 pm November 10.
Images, top and center: Mathew Martoma with his wife Rosemary after the sentencing. Bottom: Mathew Martoma leaves court after the sentencing. Photographs: Paresh Gandhi/Rediff.com