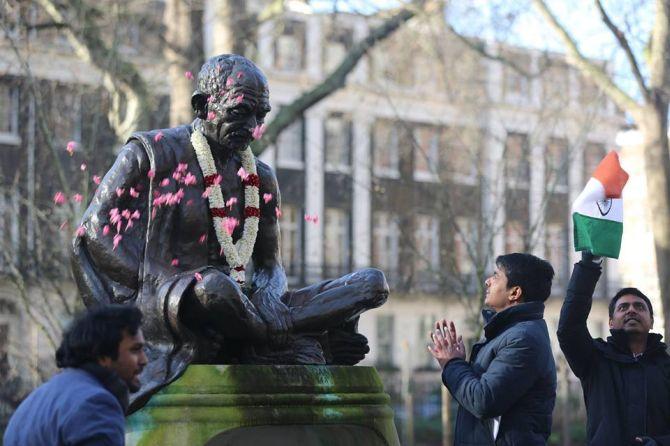 'Gandhiji, Dr Ambedkar were both non-resident Indians during their lives and would've potentially missed the opportunity to vote in times such as ours.'
Nagender Chindam, founder and chairman of Pravasi Bharat, a UK-based right group that has been campaigning for the right to an absentee ballot, on his journey and experiences as a NRI professional turned voting rights campaigner. Exclusive to Rediff.com
When I first came to London, I was fascinated by many things in this country -- underground tubes and motorways, the rigorous tests for driving licences and especially the State education and public healthcare system.
A common man could approach an MP directly and the children of public figures and the average Joe's studied together in the same schools.
I had written a letter on the issue of medical facilities to a local MP and although I was a foreigner, I was replied to within a couple of days. This interest in the public good left me speechless.
Of course, an absolute comparison to India is not right because the two nations are different. We have different populations, standards of economic development.
But one area where we needed to and certainly could improve was one of increasing our voting percentage. Back in 2009, it was only about 59 per cent in India, which I felt very low.
As a working software engineer, my understanding was that most professionals were not using their right to vote due to busy work schedules or their location.
As an Indian citizen, I thought of writing to CEOs of all major corporate offices requesting them to allow and aid their employees to exercise their fundamental right.
In doing so I became acutely aware of how I had not exercised this right myself. It was and is my opinion that every vote is important in a democracy.
As a proud Indian citizen living abroad, the one thing that always bothered me when I came to the UK was that I was unable to vote in Indian elections unless I was in the country.
I began researching absentee ballot policies adopted by other countries in the world and discussed the issue with people I knew.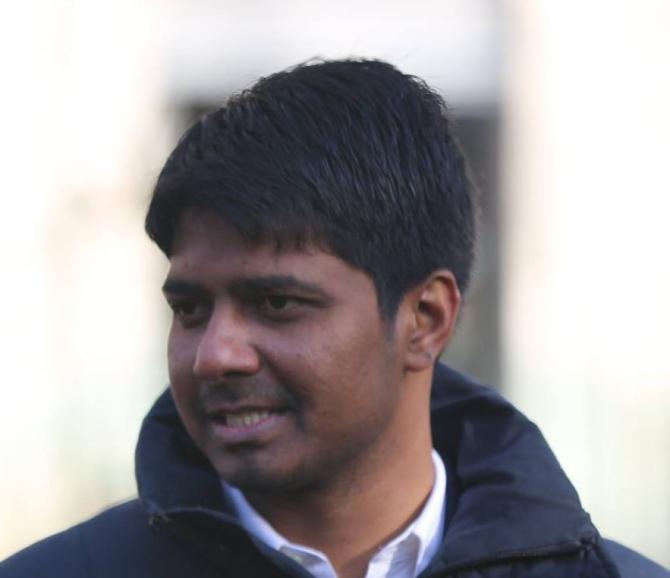 That led to the commencement of a campaign group in 2012.
I started from scratch -- created a website and Facebook page, online petitions and writ petition drafts for the Supreme Court of India -- the whole nine yards.
Approaching the Supreme Court was in my mind before even starting the campaign group -- however, I felt if we directly approach court without any basis, the case will not stand.
We formed a core team to do a step-by-step process; we held our first demonstration on August 31, 2012, urging the Government of India to provide an absentee voting option for NRIs.
We submitted the petition addressed to the prime minister of India and the Election Commission of India through the high commissioner's office in London.
In October 2012, taking inspiration from Gandhiji's Salt March, we organised a London March as a form of protest.
Gandhiji, Dr Ambedkar were both non-resident Indians during their lives and would've potentially missed the opportunity to vote in times such as ours.
We submitted our material to the Supreme Court first in February 2013.
Last month, the court asked the government to assure that our right to vote is ensured within eight weeks.
In 2014, when the general elections were only a few months away, I went on a three-day hunger strike that ended on Republic Day. I broke my fast in front of the Gandhi statue at Tavistock Square. For someone who eats rice three times a day, it was a tough three days.
There are about 10 million Indian citizens staying abroad, and with 543 parliament constituencies, this means an astonishing average of 18,000 votes per constituency may get polled from abroad. These additional votes, if polled, will obviously play a crucial role in providing greater representation to the public in our democracy.
The point we raised was 'If India can reach out to Mars, can't it enable its citizens abroad to vote?'
I recently read a recently published article on 'NRI Voting' by a former election commissioner of India, in which he says, 'The demand for absentee ballot continued to snowball, and many PILs were filed. The Supreme Court did not entertain any of the earlier PILs as a matter of policy.'
To my and my team's pride, ours was the first case on 'NRI voting' that the Supreme Court accepted.
Whenever I say Pravasi Bharat is like my baby, my wife retorts saying I spend more time on Pravasi Bharat events than on my little boys' birthday.
33-year-old Nagender Chindam is the founder and chairman of Pravasi Bharat on whose petition the Supreme Court of India cleared the decks for NRI voting rights. Chindam, a Hyderabad transplant currently living in Milton Keynes, the UK, obtained his mechanical engineering degree from National Institute of Technology, Warangal. He founded Pravasi Bharat in 2012 as a campaign group for NRI voting rights.