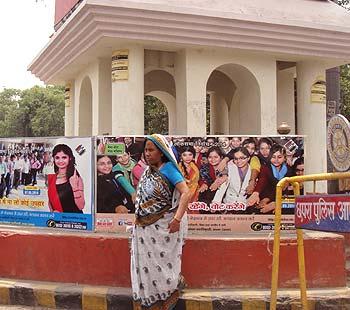 An army of government staff all over India conduct the world's greatest democratic exercise. Archana Masih/Rediff.com glimpses how they do it in the pivotal Saran constituency in North Bihar.
This morning, P2 will get on his motorbike and make his way to Amnaur in Bihar's Saran district to assume his duty as a polling officer.
"In this election, I have become an officer," laughs the clerk at a government school, who is called 'Polling Officer 2' in the election scheduled to be held on May 7.
Amnaur is one of the two Naxal-affected districts in Saran. Here polling will close at 4 pm -- two hours earlier than other constituencies.
P2, the government clerk, who has done poll duty in five or six past elections, is part of a polling party of five. He has been paid Rs 1,650 for his poll duty; Polling Officer 1 gets Rs 2,250 and P3 Rs 1,050. For the first time this amount has been paid well in advance of polling day to the staff.
There have been other firsts for poll staff in this election -- electricity, water at all polling booths, a cook who will provide meals for Rs 20 and Rs 30, and rigorous training -- conducted via audio, video and textual manual conducted over 5 days.
"Earlier, training for the election used to be a formality, this time we were made to sit in batches of 50 each from 10 to 4," says 'P2', adding that they were provided filtered drinking water and biscuits on those days, something that never happened before.
"The district magistrate got a training manual published separately, apart from the one issued by the Election Commission -- and I must confess, the DM's manual seemed more useful for us,' says 'P2'.
Kundan Kumar, an Indian Administrative Officer of the 2004 batch, is the district magistrate of Saran. On the eve of this Republic Day, he was among three IAS officers in the country to receive the best electoral practice award for achieving 100 per cent photo identity cards to voters and increasing the women voters' percentage.
In the constituencies that have voted so far in Bihar, women have outnumbered men in casting their vote.
Kundan Kumar is a strict administrator who has actively monitored the training process, reveals a master trainer in the polling programme, and randomly asked questions from attending staff to gauge what they learnt.
In earlier elections, the polling party of 4 or 5 met just before Election Day but this time they have been introduced during the training phase itself. On Sunday, May 4, for the first time, a health check-up was conducted of the polling and security personnel at different places in the constituency.
The Electronic Voting Machine is given to polling staff at the booth and a mock poll is conducted before voting commences on polling day. Hourly reports are sent by sms to the control room about the percentages of votes polled by men and women separately.
Polling staff spend the night before the election at their polling booth. Staff have to make do with whatever facility is available -- which is mostly a school room and very rudimentary.
Staff take bedsheets along and spread it on the floor to catch a shut eye in the night.
"We shudder at the thought of how we will spend the night. That is one aspect that hasn't changed," says another government employee and a veteran of several elections.
"We take it in our stride and see it as enduring one night of discomfort in doing our duty for the country," smiles P2, adding that it is almost impossible to slink away from poll duty giving fictitious medical reasons.
At 6 pm when polling ends, the staff has to ensure that voters that have queued up till that time, exercise their franchise. At the end of polling, the EVM is sealed by the presiding officer who then along with the patrolling magistrate deposits the EVM at a central collection point.
The fate of Saran's candidates -- former Bihar chief minister Rabri Devi and Rajiv Pratap Rudy among others -- will remain sealed there under armed escort till the final day of reckoning on May 16.
Photographs: Archana Masih/Rediff.com