Saeed Mirza on two young men who have broken barriers and emerged as beacons for a New India.
Here now is a short note about two very special young men.
The first is a student who has courageously entered the overcrowded and largely corrupt political arena in India.
He was born and studied in a small village in Bihar, continued his educational journey and finally ended up in Delhi to do his PhD.
His name is Kanhaiya and I have just finished reading his book From Bihar To Tihar, which simply and eloquently documents his growing political and social awareness.
For those readers who are unaware of certain ironies in the title of his book, Bihar is considered a backward state in India, and Tihar is the country's most famous prison.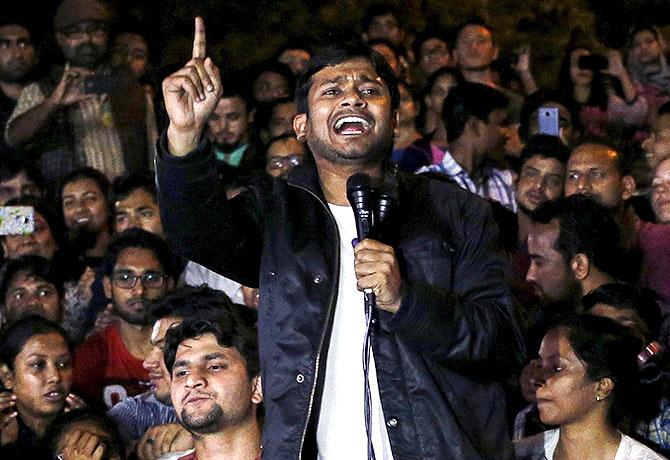 Kanhaiya belonged to a very poor family, but what he inherited was an intuitive and analytical mind and innate curiosity, which helped him evolve into a mass leader.
This is manifested clearly in the vast crowds of students, the disenfranchised and the marginalised and just ordinary citizens who flock to his rallies as he talks about freedom: From hunger, from hate, from joblessness, from caste and communal violence, from gender inequality, from disease, from homelessness, from illiteracy, from corruption, from malnutrition, from sectarianism and from hopelessness.
It is a kind of freedom that Martin Luther King, Gandhi, Fidel Castro, Jeremy Corbyn, Pope Francis, Nelson Mandela, even Bernie Sanders have all espoused.
Yet Kanhaiya has chiselled his message not only from the textbooks he has read, but also from his own experiences and the people he met as he journeyed from his village to the capital of India.
It is a journey so tangible and evocative that it strikes a chord in the hearts of millions of young people as they try to negotiate their desperate lives in an emerging and uncaring new world.
His message of freedom was considered so dangerous that the regime in power had him arrested on charges of sedition and treason, but the courts overruled the preposterous charges.
I am glad that the freedoms Kanhaiya talks about still resonate across my land.
The second young man came as a surprise to me.
His name is Jignesh Mevani.
He isn't a student but a young man who has picked up his political and social acumen from belonging to one of the most oppressed communities India has to offer.
He belongs to the scheduled castes, the 'untouchables' that the Brahminical code has imposed on the rest of humanity.
The tragedy is that I had never heard of Jignesh till about a few months ago when a senior television journalist, an upper caste of course, interviewed him in relation to the coming elections in the state of Gujarat.
Jignesh was part of a major revolt that the state was experiencing. Large sections of disenfranchised citizens were questioning the empty slogans of the same right-wing party that had promised them a paradise.
As a young man, Jignesh had been taken in by these slogans. Then, he began to question them.
With a little bit of common sense and a larger dose of political understanding, he realised how hollow they were.
The next thing he knew he was standing for elections -- and against the mightiest political machine the country had seen.
Jignesh won.
So when the journalist began to ask questions, he quickly realised that he couldn't deal with Jignesh's anger, wit and carefully calibrated political acumen.
Jignesh had smashed through the barriers of being just an oppressed scheduled caste citizen to being a voice for all the oppressed people in the country.
Excerpted from Memory In The Age Of Amnesia: A Personal History Of Our Times by Saeed Akhtar Mirza, with the kind permission of the publishers, Westland Books.