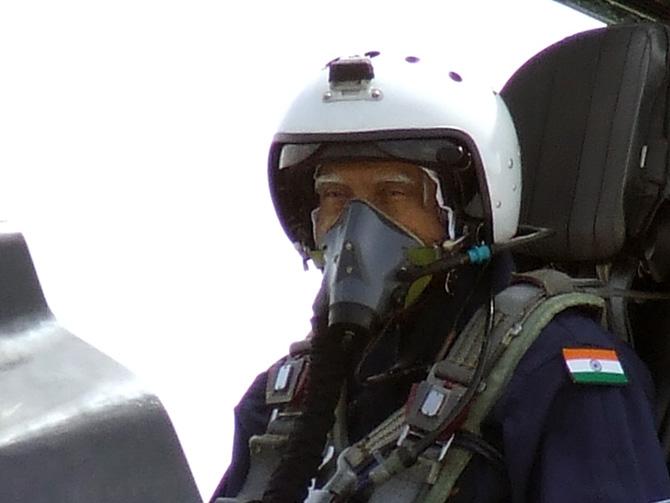 On June 8, 2006, President A P J Abdul Kalam became the first Head of State to fly a fighter plane, when he flew the Sukhoi-30 MKI at the Lohegaon Air Force Base in Pune.
President Kalam, then 74, revealed that he had always wanted to be an IAF pilot, but was rejected in 1958, after which he became a scientist.
Rediff.com's Syed Firdaus Ashraf and Rajesh Karkera had then reported on the President's historic flight.
WATCH THE VIDEO OF PRESIDENT KALAM FLYING THE SUKHOI-30!
On Thursday, President A P J Abdul Kalam, Supreme Commander of the Armed Forces, fulfilled a childhood dream when he became the first Indian Head of State to fly a fighter plane.
"I always wanted to be an air force pilot, but was rejected in 1958 and therefore I became a scientist," the 74-year-old Kalam said soon after his 40-minute supersonic flight on a Sukhoi-30 MKI at the Lohegaon Air Force base in Pune on June 8. The President's flight marked the airbase's 50th anniversary.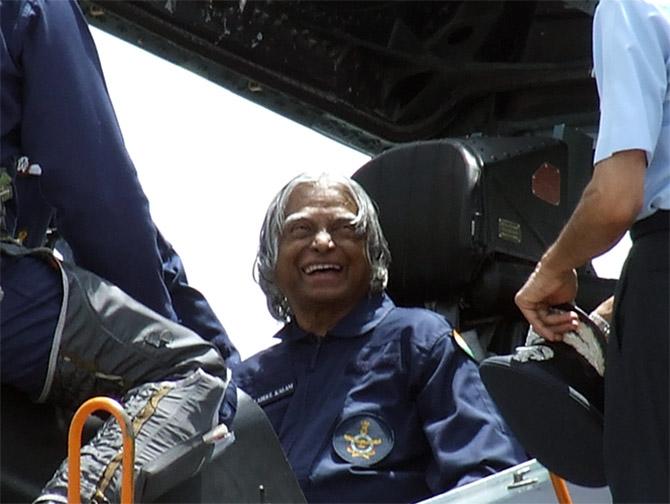 IMAGE: President A P J Abdul Kalam in the cockpit of the Sukhoi-30 MKI fighter plane before takeoff at the Lohegaon Air Force base in Pune. Photograph: Rajesh Karkera/Rediff.com
The Sukhoi-30 MKI with its special payload took off at 10.30 am even as hundreds of Indian Air Force officers and some three dozen journalists watched. President Kalam co-piloted the plane with Wing Commander Ajay Rathore, commanding officer of the Lightning Squadron based at Lohegaon.
The President had called on Commander Rathore on May 18 when he was given instructions on what he needs to do as co-pilot and how to operate a fighter plane.
Last night when he arrived in Pune, he was again briefed and given a demonstration about how the flight would go.
This morning half a dozen IAF pilots accompanied the Supreme Commander to the aircraft and gave him further instructions before takeoff.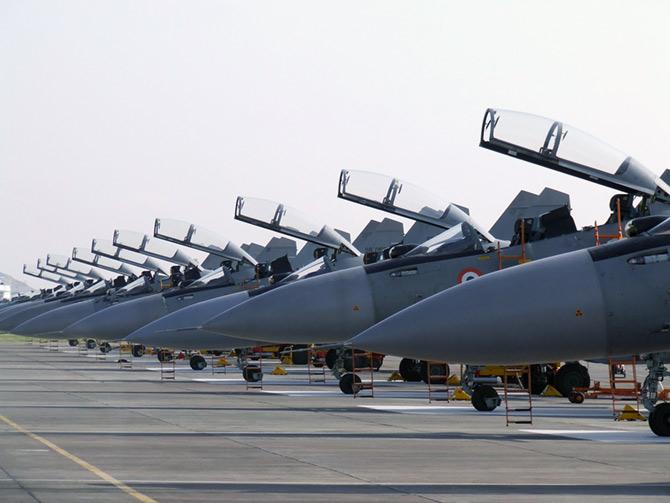 IMAGE: Sukhoi-30 MKI fighter planes lined up at the Lohegaon Air Force base. Photograph: T S Ashok/Rashtrapati Bhavan
Before taking off, the President was given a guard of honour and met senior defence officials. He then went on to change into the G-suit required on the Sukhoi.
The G-Suit is an anti-gravitational suit and helps in proper blood circulation when the flight flies at supersonic speeds.
The President's day began with a light breakfast. Two hours later he had to undergo flight training exercises.
When the time for the flight came, President Kalam calmly waved out to the assembled crowd and got into the cockpit.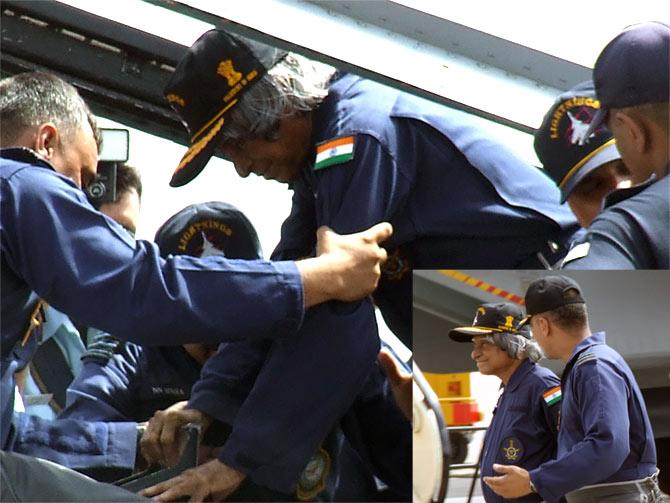 IMAGE: President Kalam boarding the Sukhoi; Inset: With Wing Commander Ajay Rathore who piloted the flight.
On his return, when asked whether he was nervous, President Kalam quipped: "There was no time to be nervous."
"I went up. I went down. I took right and left turns," he said in his typical child-like manner. "I did every thing that Commander Rathore told me to do. He is a great teacher. I feel proud that our country has such great and good pilots."
Asked about the purpose of the entire exercise, he said, "I want to give a message to young Indians that they should join the Indian Air Force. They should be adventurous and feel proud of our defence forces. We have a great team of IAF pilots and after flying today I am proud to say that our country is in safe hands."
Before the President's plane took off, two other Sukhois demonstrated the aircraft's mid-air combat capabilities.
Since passing out of the Madras Institute of Technology where he specialised in aeronautical engineering, President Kalam had been associated with avionics. In particular, he was deeply involved with the country's Light Combat Aircraft project. A year ago, he visited the Sukhoi design bureau in Moscow where he held discussions on a fifth-generation aircraft.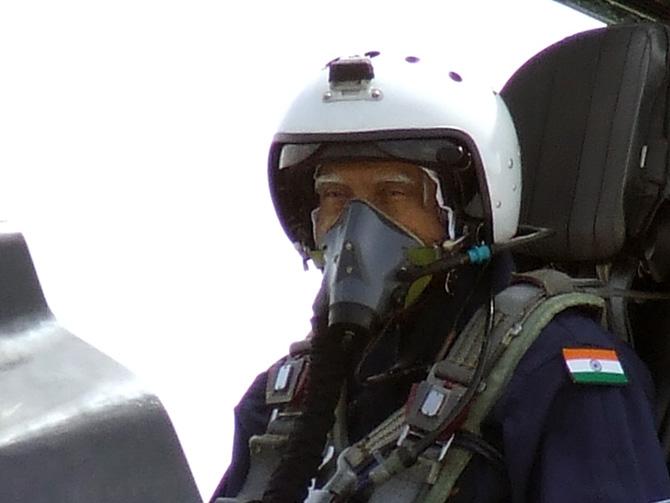 IMAGE: The President all geared up, wearing an oxygen mask before take-off.
The President's flight went into twists and turns and also stalled mid-air in order to give him a first-hand experience of the fighter plane's capabilities.
When told to comment on what he saw from above, the President joked, "The sky was looking blue everywhere. The plane was travelling at a great speed. During the twists and turns I too had to help out in operating the flight, so the only thing I remembered in mid-air was that the colour of the sky was blue."
The President was also shown how the planes acquire targets and shoot. He was also shown by Wing Commander Rathore how to spot enemy ground targets.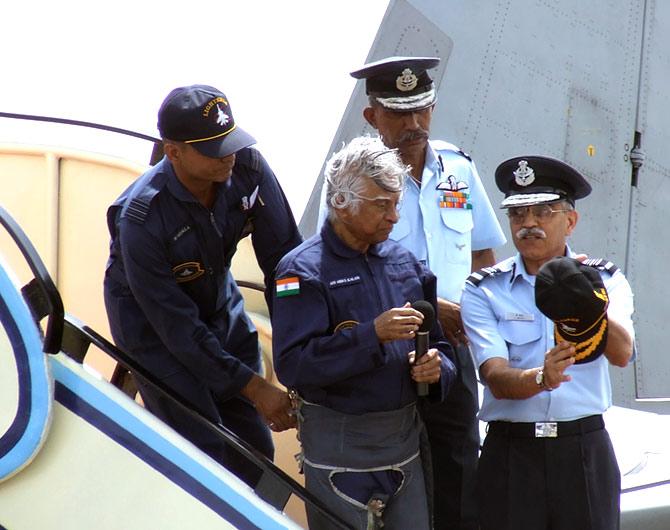 IMAGE: President A P J Abdul Kalam alights from the Sukhoi-30.
President Kalam had last month undertaken a sea journey in a kilo-class submarine of the Indian Navy, becoming the first Indian Head of State to go underwater, and had also visited soldiers at the Siachen Glacier.
Wing Commander Rathore took the flight to about 7.5 km above ground level and flew at 1.25 Mach (one-and-a-quarter times the speed of sound).
"The President took control of the flight for roughly five to 10 minutes. He had absolute control over the flight in mid-air," Wing Commander Rathore said.
The President also had to operate switches that were important in helping the pilot, which he did smoothly without any hindrance, Wing Commander Rathore added.
Asked what they spoke about on the flight, Wing Commander Rathore said, "I was giving him more technical instructions on how to operate the plane. He also told me how eager he was to fly an air force plane since his childhood."
"I am happy that I was the chosen one for this duty," Wing Commander Rathore said. "It's one of the proudest moments of my life. He is a scientist and he has helped our country to move ahead in defence. I am proud to do this service for him and our country."
After landing, the President was treated to combat exercises by IAF squadrons.
An hour later as he waved goodbye he said, "I feel proud to tell every Indian that they are in very safe hands and our borders are very well protected and there is no danger from any enemy."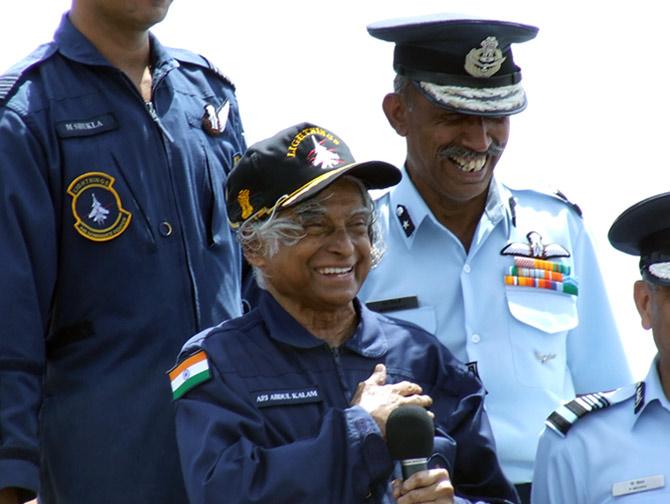 IMAGE: After the Sukhoi touched down a visibly-delighted President Kalam said he was very proud that he will get to keep the uniform.