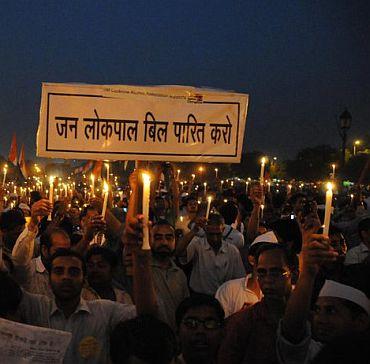 The Delhi assembly witnessed unprecedented noise and cacophony on Friday as Chief Minister Arvind Kejriwal made a fervent attempt to table the Jan Lokpal Bill. After his plans to introduce the anti-graft Jan Lokpal Bill in the Delhi legislature failed, he reportedly put in his papers.
With 42 members of legislative assembly opposing the bill, Delhi's tumultuous relationship with the Aam Admi Party has entered a critical phase.
Tagged with dissonance from the Lieutenant Governor Najeeb Jung's warning that the bill does not have his approval and marred by strong protests by the state Congress and opposition Bharatiya Janata Party, the Delhi assembly session was marred with high voltage drama.

The BJP and Congress MLAs broke mikes demanding Bharti's resignation over his midnight raid against African women, forcing the Speaker M S Dhir to adjourn the House four times.Theyeven shouted angrily as Kejriwal said he was tabling the proposal to set up an ombudsman agency to investigate corrupt government officers.
When contacted earlier in the afternoon, AAP spokesperson Ashutosh, said "Everything depends on how the things turn out in the Delhi assembly and it was too early to talk about the next step."
When asked to comment on the manifestation of Friday's developments on AAP's national campaign, he said, "The national campaign, selection of candidates, overall planning is going on irrespective of the developments in Delhi."
This may be a victory of sorts for both the BJP and Congress, who have been targeted by Kejriwal for "being in cahoots with each other for a brilliantly coordinated protest in the assembly."

The Union law ministry has earlier issued an advisory that the decision to do so without the consent of the lieutenant governor was unconstitutional. This was brushed aside by Kejriwal, who cited Article 239AA of the Constitution, which does not state anywhere that the government needs prior approval for tabling bills in the assembly. The entire reference was to the Transaction of Business Rules for the Delhi assembly, 1993, prepared by the Union home ministry and sent to the Delhi government with the direction to implement them.
The Delhi government had called for the four-day assembly session for passage of the contentious anti-corruption legislation and Swaraj bill, which was adjourned sine-die on Friday evening.
Political temperatures are expected to remain high, as the Aam Admi Party would try to make the Jan Lokpal Bill the central issue in its ongoing political campaign, which Kejriwal would hope to carry forward to the upcoming Lok Sabha elections.
While both the BJP and the Congress have made an attempt to 'expose' Kejriwal's 'political game,' the key question now is if the people of Delhi, and perhaps the nation, look at the AAP as a disruptors who failed to make an impact or reformers who were not able to make a significant change in the 'system.'