Opposition leaders believe this entire plan has been put in place to ensure that Mamata Banerjee is kept out of office in West Bengal.
Rashme Sehgal reports.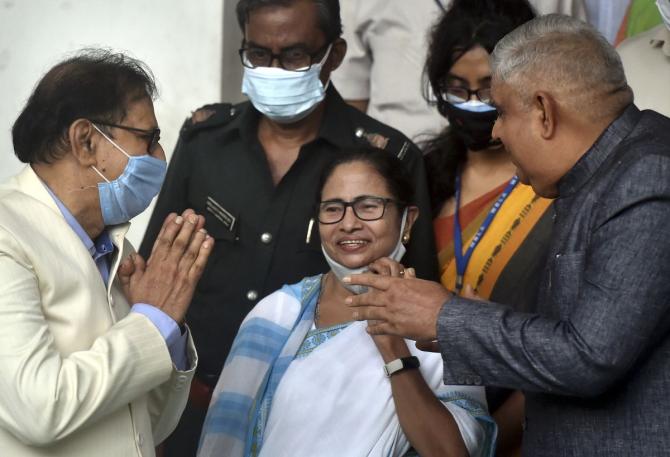 Is Uttarakhand Chief Minister Tirath Singh Rawat's resignation one more ploy for the Bharatiya Janata Party to hit out at West Bengal Chief Minister Mamata Banerjee?
Rawat emerged from a closed door meeting with BJP big wigs in Delhi on Friday claiming he was tendering his resignation in order to avoid a 'Constitutional crisis' in the state.
His reference was to the fact that the Election Commission was unlikely to conduct by-elections in Uttarakhand in the near future due to the prevailing COVID-19 situation.
Was such a comment made after consulting the EC and Constitutional experts or was this just a face saving device allowing him to make an easy exit?
Opposition leaders believe this entire plan has been put in place to ensure that Mamata Banerjee, a chief minister who is not afraid to spar with the prime minister, be kept out of office in West Bengal.
Congress MLA Karan Mahara, deputy leader of the Opposition in the Uttarakhand assembly, described Tirath Singh as 'the sacrificial goat' who had been sacrificed to ensure that Mamata did not get elected.'
'The target is not Rawat,' Mahra said, 'but Mamata Banerjee. 'The way she has challenged the prime minister. We all know the PM does not accept any challenges. We have seen what happened to L K Advani and Murli Manohar Joshi.'
State Congress vice president Suryakant Dhasmana pointed out that the BJP was determined to ensure that "not holding a by-election in Uttarakhand provided them with the pretext of putting pressure on the EC to stall Mamata Banerjee's by-election."
Tirath Singh Rawat, a member of the Lok Sabha, had to get elected to the state assembly within six months of his appointment as chief minister.
Tirath Singh had two opportunities to fight by-elections, but failed to capitalise on either because he feared he would lose both.
In May, a by-poll for the Salt assembly seat in Uttarakhand was held, but Tirath Singh did not fight it because he stated he was then suffering from COVID-19.
Two other assembly seats are presently vacant, the Haldwani assembly seat and the Gangotri assembly seat.
The former seat falls in the Kumaon region. Tirath Singh is a Garhwali and since both regions share a history of animosity, this is one Laxman Rekha he did not want to cross.
Gangotri falls in the Garhwal region and is a celebrated place for Hindu pilgrimage.
Rawat was not keen to contest this seat either. The cancellation of the Char Dham yatra this year made him unpopular with the local populace who earn their livelihood from tourism.
BJP President Jagat Prakash Nadda and his think-tank also wanted to avoid a by-election at this stage.
The Covid death figure in this small hilly state is said to have touched the 50,000 figure though the official number of deaths are around 10,000.
But with Uttarakhand having the second highest death rate in the country, people in the state have become extremely critical of the lack of health facilities especially in the interior areas.
Dhasmana points out that Uttarakhand is still recovering from having a chief minister foisted on them who moved from one blunder to another.
From stating that women should not wear 'ripped jeans' (as these were indecent) to claiming America had ruled India for two hundred years.
During the Kumbh Mela celebrations at Haridwar he waxed lyrical on how goddess Ganga would ensure 'the Corona virus would not spread'.
The Kumbh Mela did turn out to be a super spreading event which was one of the key factors that triggered the second wave in north India.
Tirath Singh Rawat's undoing was his reported proximity to Sharat Pant, the owner of a company accused of having conducted nearly 100,000 fake Covid tests during the Kumbh Mela.
The BJP leadership was upset that Pant flaunted his links with senior party leaders on social media prior to getting this contract.
Pant posted photographs of himself with senior BJP ministers including Agriculture Minister Narender Tomar, HRD Minister Ramesh Pokhriyal and Textile Minister Smriti Irani and Tirath Singh Rawat.
The proposal for Pant's company to conduct the tests had reportedly been rejected by the earlier Trivendra Singh Rawat government.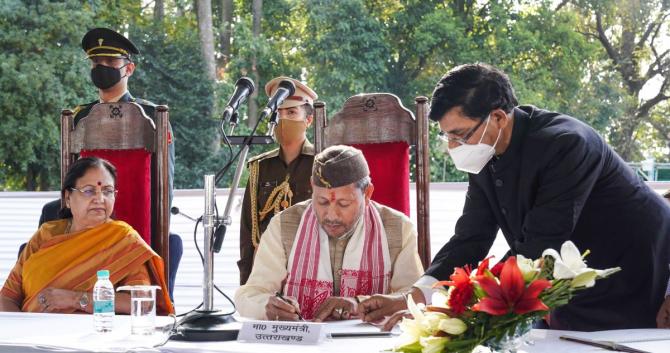 Tirath Singh Rawat has not resigned from his Lok Sabha seat even though he was chief minister of the state for four months.
He would have had to resign if he had won an assembly election which did not happen.
There is an earlier precedent of a chief minister retaining his parliamentary seat. Giridhar Gamang, who remained an MP and was appointed Odisha chief minister.
And so, two months later, Gamang went to Parliament and cast his vote in a no confidence motion moved against the Atal Bihari Vajpayee government. This resulted in the fall of the BJP-led National Democratic Alliance government in 1999.
"Four months are left before the code of conduct will be announced in our state. We have already seen three chief ministers in one year. What will this new chief minister be able to achieve in a period of four months?" asks Dhasmana.
Would the Election Commission have opposed the holding of a by-election in Uttarakhand as had been declared by Tirath Singh Rawat? This question was posed to Om Prakash Rawat, a former chief election commissioner, who stated that while the Representation of People's Act 1951 categorically states that in case of a vacancy in either House of Parliament, if the remaining term of that seat was more than one year, the EC was mandated to hold a by-election.
"They cannot do away with this law," says O P Rawat.
Going on to explain Mamata Banerjee's position, Rawat explains, "In the case of Mamata Banerjee, she has to get elected within six months of having taken the oath. She has till November 5 to get elected."
"There is no compulsion on the EC to hold it within the six month period. If corona is getting worse, then they may not hold it," says the former CEC.
"Since the Election Commission of India has stated that they will not hold election till September end, they can hold it in October which gives her enough time to contest. But the final decision rests with the EC," O P Rawat added.
Commenting on Tirath Singh Rawat's statement that he had resigned because this was not the appropriate time to hold an election, the former CEC said, "It is not within his jurisdiction to make comments on the Election Commission. His comments do not hold any water as he has not officially consulted the Election Commission either."
"Holding an election is always a tricky affair and especially one in tOctober since that will be close to the state assembly elections and will be a clear indicator of which way the wind is blowing," O P Rawat explains.
"Of course a by-election could be held in Uttarakhand in October. In any case, corona is ebbing throughout the country except in a few pockets in Maharashtra and Kerala," adds the former CEC.
Drawing a comparison between the situation in Uttarakhand and West Bengal, Indira Jaising, the former additional solicitor general, believes the BJP game plan to thwart Mamata Banerjee's bid for re-election will unfold only if they can 'persuade' the EC to issue an order delaying the holding of this crucial by-election.
Says Jaising, "Right now we do not know. There is little doubt that Mamata Banerjee needs to gets elected within a six-month time frame. But if the EC does issue a formal order, the West Bengal CM can question it and appeal against it before the Supreme Court."
Jaising also points out that the coronavirus situation was different in different states."Covid is presently receding in a majority of states," she maintains.
When this question was posed before legal luminary Dushyant Dave on whether the EC could cite Covid to disallow a by-election elections in West Bengal, Dave replies, "I don't think this argument will hold water before the law court. Elections were held in Bihar, West Bengal, Tamil Nadu and Puducherry at the height of the pandemic. How can they stop this now? The courts will not permit it.'
There is a new chief election commissioner. All eyes are on him as to what decisions he will take.
Feature Presentation: Aslam Hunani/Rediff.com